2021 NCAA Men's Basketball Tournament's First-Round Betting Odds Released
The brackets have been revealed for the NCAA men's basketball tournament, and so have the betting odds for each game in the first round. That includes the first four games Thursday night.
All games for this year's March Madness will be held in Indiana, with the vast majority of those inside Indianapolis. Gonzaga is the top overall seed in this year's tournament and the No. 1 seed in the designated West Region. The other No. 1 regional seeds are Michigan, Baylor and Illinois.
In betting odds, the only higher-seeded team that's not favored in the first round is No. 8 Clemson in the Midwest Region. The Tigers are a 1-point underdog to No. 9 seed Rutgers. There are nine teams who are double-digit favorite. So far, Baylor is the highest seed at 26 points. The Gonzaga and Michigan lines aren't out yet as they both play a 16 seed to be determined from the first night's games.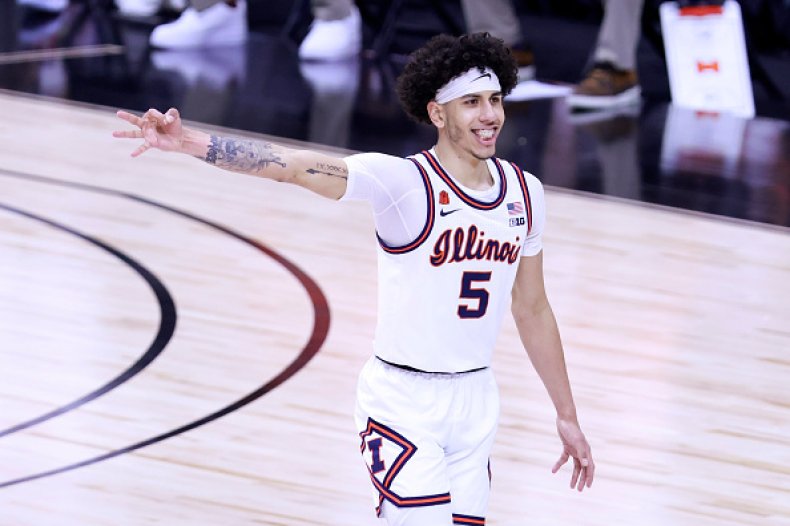 Here are the odds for the games Thursday through Saturday, according to sportsbetting.ag:
Thursday, March 18
No. 11 Wichita State vs No. 11 Drake (+2)
No. 11 Michigan State vs No. 11 UCLA (+1.5)
No. 16 Norfolk State vs No. 16 Appalachian State (-3)
No. 16 Mount St. Mary's vs No. 16 Texas Southern (-2)
(Note: Higher seed is listed first, the over/under is next)
First Round Games
Friday, March 19
South Region
No. 1 Baylor (-26, 142) vs No. 16 Hartford
No. 8 North Carolina (-2, 139) vs No. 9 Wisconsin
No. 5 Villanova (-6, 139.5) vs No. 12 Winthrop
No. 4 Purdue (-7.5, 125.5) vs No. 13 North Texas
No. 6 Texas Tech (-4.5, 131.5) vs No. 11 Utah State
No. 3 Arkansas (-9.5, 162) vs No. 14 Colgate
No. 7 Florida (-1, 137.5) vs No. 10 Virginia Tech
No. 2 Ohio State (-16.5, 154.5) vs No. 15 Oral Roberts
Midwest Region
No. 1 Illinois (-23, 144.5) vs No. 16 Drexel
No. 8 Loyola-Chicago (-2, 144.5) vs No. 9 Georgia Tech
No. 5 Tennessee (-7.5, 133.5) vs No. 12 Oregon State
No. 4 Oklahoma State (-9.5, 142.5) vs No. 13 Liberty
No. 6 San Diego State (-3, 138.5) vs No. 11 Syracuse
No. 3 West Virginia (-12.5, 138) vs No. 14 Morehead State
No. 7 Clemson (+1, 127) vs No. 10 Rutgers
No. 2 Houston (-19.5, 135) vs No. 15 Cleveland State
Saturday, March 20
West Region
No. 1 Gonzaga (26-0) vs No. 16 Norfolk St./Appalachian St winner (Line not set yet)
No. 8 Oklahoma (-2, 141) vs No. 9 Missouri
No. 5 Creighton (-6.5, 139.5) vs No. 12 UC Santa Barbara
No. 4 Virginia (-8.5, 132.5) vs No. 13 Ohio
No. 6 USC (22-7) vs No. 11 Wichita St/Drake winner (Line not set yet)
No. 3 Kansas (-11, 143.5) vs No. 14 Eastern Washington
No. 7 Oregon (-6, 138) vs No. 10 VCU
No. 2 Iowa (-14.5, 144) vs No. 15 Grand Canyon
East Region (First round on Saturday)
No. 1 Michigan (20-4) vs No. 16 Mount St. Mary's/Texas Southern winner (Line not set yet)
No. 8 LSU (-1.5, 144.5) vs No. 9 St. Bonaventure
No. 5 Colorado (-5, 138.5) vs No. 12 Georgetown
No. 4 Florida State (-11.5, 145.5) vs No. 13 UNC Greensboro
No. 6 BYU (20-6) vs No. 11 Michigan State/UCLA winner (Line not set yet)
No. 3 Texas (-8.5, 140) vs No. 14 Abilene Christian
No. 7 UCONN (-2.5, 129.5) vs No. 10 Maryland
No. 2 Alabama (-17.5, 146) vs No. 15 Iona