2021 NFL Schedule: Opening Weekend Games Announced, Tampa Bay Hosts Dallas
The National Football League will officially announce its full 2021 schedule on Wednesday night during a prime-time special on the NFL Network. The first weekend has already been leaked, as have the teams playing their games in London this season.
It's a tradition for the Super Bowl champion to host the first game of the season on a Thursday night kickoff. The Tampa Bay Buccaneers get that honor this season, and they'll see the Dallas Cowboys on Sept. 9 at Raymond James Stadium, where the Buccaneers won Super Bowl LV over the Kansas City Chiefs in February.
The Buccaneers' title defense comes as all 22 starters return. No defending champion has had all starters on both offense and defense return the next season since the 1977 Oakland Raiders.
The NFL concocted an interesting opening weekend with intriguing matchups, budding rivalries and having its newest stars in the limelight. It starts with Dallas at Tampa that Thursday night, a full slate of Sunday afternoon games, the Chicago Bears at the Los Angeles Rams on Sunday night and the Baltimore Ravens at the Las Vegas Raiders on Monday night.
The two London games are already known. The Atlanta Falcons will "host" the New York Jets on October 10, and the Jacksonville Jaguars will "host" the Miami Dolphins the following week on October 17. Both of those games will be played at Tottenham Hotspur Stadium. Jacksonville had the overall No. 1 pick this year and selected quarterback Trevor Lawrence from Clemson. The Jets had the No. 2 pick, taking BYU quarterback Zach Wilson.
The NFL Network will go live at 8 p.m. ET tonight to reveal the remainder of the 2021 NFL schedule. This is also the first season that all teams will have 17 regular-season games.
Here are the Week 1 matchups for the 2021 NFL season. (All times ET)
Thursday, September 9
Dallas at Tampa Bay, 8:20 p.m.
Tom Brady is 3-1 in Kickoff games following a Super Bowl victory, all as a New England Patriot, though. It's a good bet that he'll be 4-1 after the Cowboys visit, and quarterback Dak Prescott makes his return from a gruesome, season-ending ankle injury in 2020.
Sunday, September 12
Philadelphia at Atlanta, 1 p.m.
The Eagles will have Jalen Hurts at quarterback, and the Falcons are looking for a run back to the playoffs.
Pittsburgh at Buffalo, 1 p.m.
The Buffalo Bills will be hungry to get one step further this year after making the AFC Championship game last season.
N.Y. Jets at Carolina, 1 p.m.
Former Jets quarterback Sam Darnold is now with Carolina, and he's a good fit for offensive coordinator Joe Brady's offense. For the Jets, this should be the debut of No. 2 overall pick Zach Wilson, who was the BYU quarterback.
Minnesota at Cincinnati, 1 p.m.
The Vikings travel to play Joe Burrow and the Bengals, who now have Burrow's old college teammate, wide receiver Ja'Marr Chase, on the roster. For the Vikings, they have wide receiver Justin Jefferson, who was also a big part of LSU's 2019 national championship with Burrow and Chase.
San Francisco at Detroit, 1 p.m.
The Jared Goff era begins in Detroit, and he'll face the 49ers, a rival from his old NFC West team—the Rams.
Jacksonville at Houston, 1 p.m.
Too many storylines for this game of also-rans in 2020. Does Houston quarterback Deshaun Watson need the season to start so he can put his tumultuous offseason behind him? How will Urban Meyer look as an NFL coach (Jaguars)? Oh yea, the Jaguars have No. 1 pick Trevor Lawrence, who played at Clemson and won a national championship, just like Watson did.
Seattle at Indianapolis, 1 p.m.
Russell Wilson and the Seahawks are never easy to deal with. The Colts have former Philadelphia quarterback Carson Wentz leading them now, hoping to resurrect his career.
Arizona at Tennessee, 1 p.m.
The Cardinals are poised to move up the standings this season and challenge for a playoff spot. Arizona quarterback Kyler Murray has what it takes to get them there. The Titans also have a good offense and are hard to beat in Nashville.
L.A. Chargers at Washington, 1 p.m.
This game will be fun to watch solely for their top draft picks in 2020—quarterback Justin Herbert of the Chargers and defensive end Chase Young of Washington.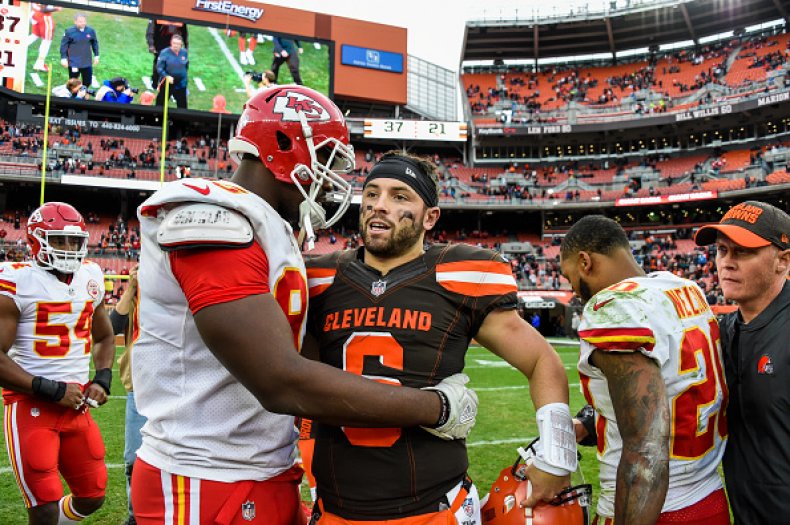 Cleveland at Kansas City, 4:25 p.m.
This is the second-consecutive season the Chiefs will host a team on opening weekend they beat in the previous season's divisional round. This one could be a dandy with Baker Mayfield against Patrick Mahomes.
Miami at New England, 4:25 p.m.
The Tua Tagovailoa era begins in Miami, and it happens against the Dolphins' longtime nemesis—the New England Patriots—who hope to get back atop the AFC East.
Green Bay at New Orleans, 4:25 p.m.
The Drew Brees era is over in New Orleans, but is the Aaron Rodgers era still going to happen in Green Bay? Time will tell. Green Bay went to New Orleans and crushed the Saints in 2020. It could happen again.
Denver at N.Y. Giants, 4:25 p.m.
Teddy Bridgewater versus Daniel Jones doesn't sound like a sexy matchup for the Dan Reeves Bowl, but this game could be better than most people think it'll be.
Chicago at L.A. Rams, 8:20 p.m.
Matt Stafford will make his debut for the Rams after spending a career as Detroit's quarterback. The Rams should have in-person fans for the first time in their stadium that opened in 2020. This will also be the first of many games in the stadium that will host this season's Super Bowl.
Monday, September 13
Baltimore at Las Vegas, 8:15 p.m.
The Raiders get to host the first Monday night game of the season, and it won't be an easy task as Ravens and quarterback Lamar Jackson come rolling into town. This could be a high-scoring affair, something the league probably wouldn't mind as an exclamation point on its first weekend slate of games.