The 2021 Rose Parade Is Cancelled, Has It Ever Happened Before?
The 2021 Rose Parade in Pasadena, California has been canceled due to the pandemic. This is the first time that the Tournament of Roses Parade will not take place in 75 years.
Thousands of volunteers are needed to construct the floats and decorate them with flowers, according to a statement by the Pasadena Tournament of Roses Association Wednesday. In addition, the public would have a difficult time following social distancing guidelines while watching the parade.
The Rose Bowl Game, which follows after the parade, will continue as a College Football Playoff (CFP) Semifinal. The game might possibly take place at a reduced capacity, or in an empty stadium, according to USA Today. The association is still looking at other options to celebrate the new year.
"We may not be able to host our traditional five-mile march down Colorado Boulevard, but we are exploring new and safe ways we can collectively share in the celebration, and we look forward to announcing further details about our exciting new plans in the coming weeks," Executive Director David Eads said on the Tournament of Roses' official website.
Eads said that the organization initially hoped that it would not have to cancel the parade, hoping that the coronavirus pandemic would be over by New Year's Day.
"Like most people, having never lived through a pandemic before ... our thoughts were that the parade was 10 months away and we would be fine," Eads told the Los Angeles Times.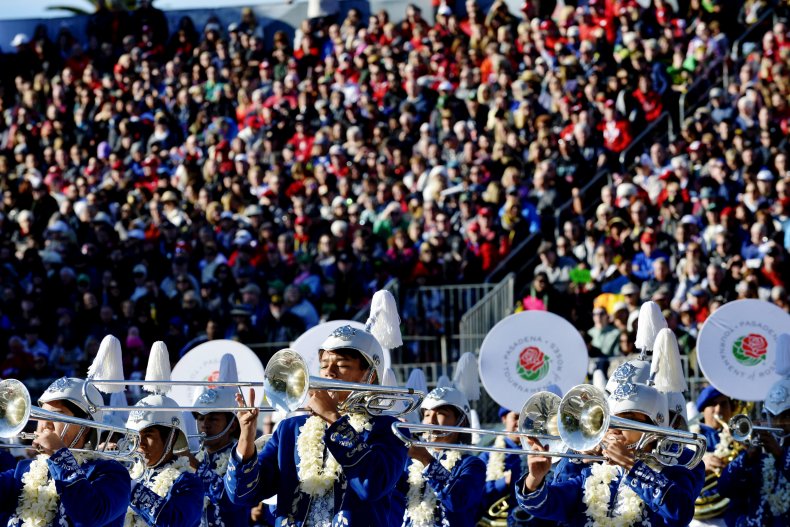 This marks the first time that Rose Parade has been canceled for health reasons, however, it is not the first time the event has been cancelled. During World War II, the annual Pasadena event has been shut down three other times.
In 1942, shortly after the attack on Pearl Harbor, organizers cancelled the parade. The parade was cancelled again the following year due to the war effort. The procession resumed again in 1944 but at a much smaller scale. Just three vehicles were decorated, and due to material shortages, the floats could not be built.
"In the war effort, there was no availability of materials," Eads explained to the Los Angeles Daily News. "You couldn't get iron or steel to build the floats. All of that was going into the war effort."
The parade was postponed once again in 1945, however that would be the last time World War II got in the way of the parade—the war ended in September that year.