Nikki Haley was a Donald Trump loyalist, one of the rare high-profile cabinet members to leave the White House on good terms. Trump son-in-law Jared Kushner even told Newsweek last summer that she'd be welcome to return, anytime she chose. But there she was on the Laura Ingraham show on Fox News in late January, offering a distinctly non-Trumpian view of the 2020 election.
"We lost a lot of women and a lot of college-educated. We want to bring them back in and expand the tent," she said. "January 6 was a tough day, and the actions of the president since election day were not his finest, and [that] troubles me greatly because I'm really proud of the successes of the Trump administration, whether it was foreign policy or domestic policy. [But] the actions of the president, post election day, were not great."
Haley's statement rocked the GOP and, not coincidentally, articulated a rationale for her own 2024 run, assuming she wants one. She was careful to praise Trump's achievements, but she unmistakably distanced herself from her former boss in a way that other potential 2024 candidates—Ted Cruz, Marco Rubio, Rand Paul—have not. In Trump-world in Mar-a-Lago, says a former senior campaign adviser who was granted anonymity in order to speak candidly, "heads were exploding."
As a pro-business, fairly conventional Republican governor in South Carolina, Haley had won the support of women and college-educated voters in two statewide elections. Left unsaid—it didn't need to be said—was that she didn't think Trump could win those voters back, and that she could. It also went without saying that as an Indian-American woman, she would be perfect casting to run against Vice President Kamala Harris.
Haley's comments made clear how profoundly the Capitol debacle has altered the party landscape. With his Republican-record 74 million votes in 2020 and his close defeat (which his base didn't accept, in any case), Donald Trump was the overwhelming GOP frontrunner for 2024. If the former president himself didn't run, the leading spot would surely go to a Trump-anointed surrogate like Don Jr or Cruz. But the violence in D.C. shriveled the Trumpists' political power, and even Trump's acquittal in the Senate impeachment trial is unlikely to restore their hold.
Trump "went down a path he shouldn't have, and we shouldn't have followed him, and we shouldn't have listened to him," Haley told Politico, doubling down on her criticism. "And we can't let that ever happen again."
Many analysts had already speculated about Don Jr's prospects. During the 2016 campaign and ever since, the elder son had taken a high profile political role in speeches, TV appearances and on social media, defending his father and eviscerating his critics. He was good on the stump, energized crowds, and seemed to relish political combat. He had no political experience—he still works as an executive vice president of his father's company—but as his father's 2016 win made clear, that can be a plus.
In the weeks since the 6th, Trump and his supporters comforted themselves with polls that showed the former president retained significant support among GOP voters. An NBC survey taken in late January showed 87 per cent approved of Trump's performance as president—just two points lower than his approval rating among Republicans just before the election.
But Junior's political ambitions fell along with the Capitol barricades. He had been a warm-up speaker at the "Stop the Steal" rally that turned deadly. Since then he has been on social media, defending the rally and bashing Democratic critics—almost as if nothing important had happened. Most political analysts and even some Trump loyalists can't believe he actually thinks that. "If any of [the Trumps] are thinking about a political future, then rehabilitating the 'brand's' post-January 6 image has to be a 24/7 operation," says the former campaign adviser.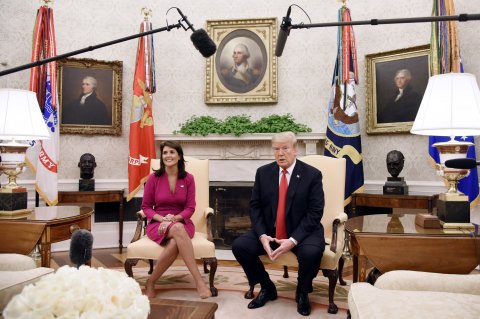 Haley to the rescue?
For those Republicans who believe the party should simply move on from the Trumps—just as it did from the Bushes after George W.'s disastrous eight years in the White House—there stands Nikki Haley. She's an obvious choice for a party that needs to expand beyond non-college-educated white men. She's an Indian-American woman, the daughter of immigrant parents, and has a record as a capable, two-term governor. As U.N. ambassador she worked quietly and, to hear several of her fellow ambassadors tell it, effectively in pushing Trump's foreign policy. She has none of Trump's sharp edges, but would bring, political allies believe, similar policies to the White House.
The idea of "Trump-ism without Trump" has serious appeal for many Republicans who believe Haley is positioned to be the bridge between "Trump-ism" and more conventional conservatism. For a long time after his shock victory in 2016, most establishment Republicans believed Trumpism was like a hurricane blowing through town: an isolated event that causes damage but won't be repeated anytime soon. The narrow 2020 loss—and the 74 million votes Trump received—put the lie to that idea.
Haley, her friends say, long ago came to the conclusion that the establishment view of Trump and what he stood for was wrong. She understood that the key policy tenets of Trumpism that differ markedly from what used to be GOP catechism are here to stay: skepticism of free trade; deep reluctance to deploy U.S. troops in protracted ground wars; a demand that allies pay more for their own defense; opposition to illegal immigration; and most important, a willingness to defend all of the above unapologetically. Many of these were fringe positions pre-Trump; they are now the new GOP catechism.
Haley is "a principled neo-Trumpian," says Cliff May, founder and president of the Foundation for the Defense of Democracies, a Washington think tank. In the eyes of her advocates, she would sand down the rougher stylistic edges of Trump-ism—the constant tweeting, the rhetorical combativeness that exhausted so many Republicans over the last four years—while adhering to most of Trump's policies.
The one issue on which she differs markedly from Trump is race. Her friends cite what was arguably the signature moment of her two terms as governor in South Carolina: the 2015 killing of nine African-Americans at Mother Emanuel African Methodist Episcopal Church, a Black congregation outside Charleston, by a white supremacist.
The murders devastated Haley, and convinced her that the time had come to remove the Confederate flag which still flew above the state house in Columbia. The battle flag had long been a political flash point in South Carolina and throughout much of the South. She knew she would need widespread, bi-partisan support, including from some politicians who in the past had rejected any efforts to remove the flag. In the wake of the Mother Emanuel murders, South Carolina Senator Tim Scott, whom Haley appointed to his Senate seat in 2012, told Newsweek that the only way to pull together that coalition was to lead "from a place of tenderness, of brokenness, of vulnerability, and that's exactly what she did. It was very impressive."
She drew predictable support from prominent Democrats such as African-American Congressman James Clyburn. But she also managed to persuade Paul Thurmond, a state senator and the son of segregationist Senator Strom Thurmond, to back the flag's removal.
Haley understood, as she put it, that some South Carolinians looked upon the flag "with reverence." But she made clear that it was also a symbol of the ugliest chapter in American history. The day the flag was taken down, Haley said, "was a great day for the state of South Carolina."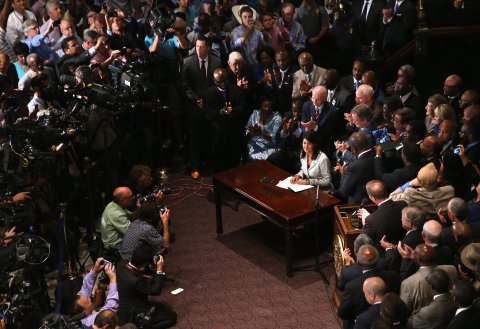 By 2024, her allies hope the type of political judgment she demonstrated could be exactly what Republicans will be seeking. "You'd get a lot of the Trump policies, but none of the mess that comes with it," a senator friendly with Haley told Newsweek before the election, granted anonymity in order to speak frankly. "You'd get someone who demonstrated calm, pragmatic competence as a successful two-term governor, plus the foreign policy experience at the U.N., plus the immigrant story, all presented in a very elegant package. Do you honestly think Don Jr., or anyone else for that matter, is likely to beat that? I don't."
That argument, to Haley's supporters, became even more compelling after January 6—and is no doubt part of the reason Haley was willing to criticize Trump just weeks after the riot.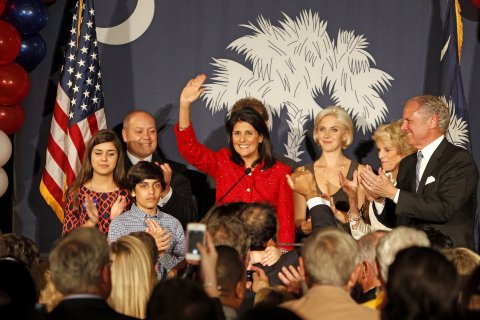 Eyes on the prize
Few in Haley's orbit doubt that her eyes are on the prize. At a conservative political convention just before Christmas 2019 in Palm Beach, a number of Republican luminaries, Fox News personalities, GOP donors and current and former Trump advisers gathered for cocktails one evening. The off-the-record conversation got around to what the post-Trump GOP would look like. Haley's name quickly came up. "Well, she's sure got the fire in the belly," said a GOP senator who may be mulling a run for the White House. "Hell, she's got a furnace in that damned thing."
This reporter reminded the group that in her memoir, Haley said she doesn't consider herself ambitious: she calls it "the A word." ("I've never thought of myself as ambitious," she writes, "at least not in the calculating way people use this word to describe women.") A prominent conservative pundit looked at the senator, who looked at a big Trump financial backer, who looked at one of the Trump aides. And then, more or less simultaneously, they all laughed out loud.
However former Governor-and-Ambassador Haley wants to characterize her own ambition, it's pretty clear it extends to residing at 1600 Pennsylvania Avenue. Having formed an advocacy group in 2019—Stand For America—to give her a voice in policy debates, Haley, like the rest of the GOP, waits to see what Trump will do about 2024. If he stands down, Haley will be among the GOP front runners. And even if he doesn't, she may, friends say, go for it anyway--and run against her former boss. "I'm not saying she's 100 percent all-in at this point," says a longtime South Carolina political ally, who requested anonymity in order to be candid. "But January 6 shook her, and disgusted her. She's gonna look around pretty soon and ask, can I clean up this mess? And her answer's gonna be, yes."