Japanese Prime Minister Yoshihide Suga came to Washington at a tumultuous moment: The world is still dealing with the pandemic, the economies of the world's richest countries—the U.S. and Japan included—haven't yet recovered, and relations with China are increasingly tense. Last Friday, Prime Minister Suga met with President Joe Biden for nearly three hours. The following day, in an exclusive interview, he spoke to Newsweek Global Editor-in-Chief Nancy Cooper and Chief Washington Correspondent Bill Powell.
The transcript has been lightly edited for space and clarity.
NEWSWEEK: You're the first foreign head of state President Biden has met with during his presidency, which seems like an important statement. Many analysts say the U.S.-Japan alliance is now on a par with the "special relationship" between the U.S. and Britain. Could you speak to us about how you see that relationship, what role Japan will play for the U.S. in the region, and whether you think you need a personal relationship with President Biden for the U.S.-Japan relationship to work?
I was welcomed by President Biden as the first foreign leader to meet him in person as the president of the United States. To me, it was evidence of the high level of importance that he himself and the U.S. government attaches to Japan.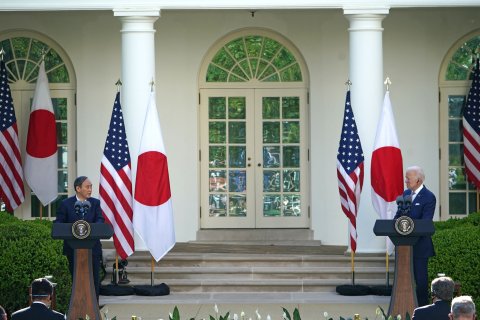 The alliance between Japan and the United States, which is tightly bound by universal values, including freedom, democracy, fundamental human rights, as well as the rule of law, has served as an important foundation for peace and prosperity in the Indo-Pacific region and in the international community. And against the backdrop of the current regional situation, and the security environment that has become even more severe, the importance of our alliance has reached new heights.
To date, I have had discussions over the telephone and video conferencing with President Biden twice, but this was the first time I got to meet him in person. I came here, wanting to engage in confidence-building at a personal level with the president. And when I met him, we got together immediately.
Both of us made our way up to become a politician and leader of the countries, and I feel as though we have been friends for several years and we immediately got along. He showed me photographs of his family; he talked about the son he had lost, about his father and the messages that he learned from his father, and spent much time talking about those personal memories as well.
In this context, we were able to agree that the United States and Japan will be leading the way in harnessing the vision of a free and open Indo-Pacific region through concrete efforts. Along with President Biden and based upon our strong partnership, I hope to further spread the universal values embedded in this vision to all places around the world, with the U.S. and Japan alliance as the linchpin, and spreading that through various multilateral frameworks, including the quadrilateral [the U.S., Japan, India and Australia], and I believe that would be the means to reach universal happiness.
As you mentioned, regional tensions and security issues are increasing. Where do you see those coming from? Can you tell us what the U.S.-Japan response can be and should be?
It is true that the security environment surrounding the country is increasing in severity. And in this context, it is very important to strengthen the partnership and cooperation with other regional parties, to secure peace and stability.
With our alliance with the United States serving as the linchpin, we must further ensure our collaboration with countries with whom we shared such basic fundamental values, and take various opportunities in order to promote the free and open Indo-Pacific concept. For us, it is of great importance to try to disseminate the notion of universal values, including freedom of democracy, human rights, as well as the rule of law.
In this context, with the peace and security legislation enacted in Japan in 2015 under the policy of proactive contribution to peace, and based upon the principle of international cooperation, Japan is now able to make more proactive contributions to regional and global peace and prosperity. And these contributions are being highly appreciated by the international community. We enjoy taking such initiatives. We will surely add steadfastly to our role in order to secure regional peace and stability.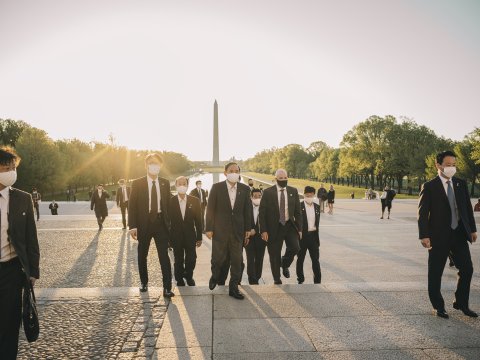 Mr. Prime Minister, in order to deal with the severe or increasingly severe security conditions in the region you alluded to, does Japan's military need more flexibility to play a greater role in regional security? Would you support an amendment to the Japanese Constitution in order to give the military more flexibility in dealing with the regional security environment, or is an amendment to the Constitution not necessarily required?
Talking about the amendment of the Constitution: Our Liberal Democratic Party was in a way inaugurated with the amendment of the constitution being part of our motto or manifesto, and that has continued to be one of our goals for decades now. Talking about the procedure for constitutional amendments, it will have to be initiated at our Diet, or parliament, and will eventually have to go through a referendum to seek the votes of the people who have popular sovereignty in a referendum. Before that, the process would have to secure two thirds, or higher number of votes, both in the House of Representatives and in the House of Councillors before putting it to a referendum.
So the system is multi-layered and it is not such an easy task. However, the current constitution was adopted in Japan, immediately after the end of World War II. And it is true that it has not been able to catch up with the reality of today.
We have, in fact, tried to challenge the amendment of the constitution several times, but must admit that the situation is very difficult. So it will have to go through the parliamentary process and the Diet, and therefore it is not something that the government or the administration can easily change.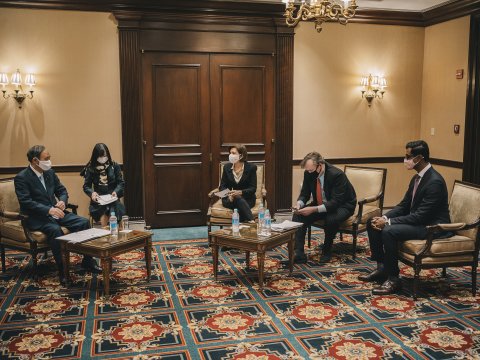 China has come under increasing criticism in the international community of late, particularly on the human rights front for its abuses in Xinjiang and for its suppression of freedoms in Hong Kong. President Xi was supposed to visit Tokyo last May, but the visit was postponed. Are you willing under the current circumstances to either go to Beijing for a bilateral summit with President Xi, or are you willing to invite him to Tokyo to come and visit you there for a bilateral summit?
A stable relationship with China, an important neighbor of ours, is of crucial importance—and not only for the two countries of China and Japan but for the region and for the international community. There are pending issues between China and Japan, including the challenges that you have mentioned, but these are concerns not only for Japan but for the international community, and resolving these challenges is important not only for the Sino-Japanese relationship, but for the global community at large.
To secure the peace and prosperity of the international community, our policy is to continue taking advantage of high-level contacts and other opportunities to firmly assert that which should be asserted, and strongly request China to take specific action. On the possible state visit to Japan by President Xi, at this moment, we must concentrate on the resolution of the pandemic, and we are not at a stage to coordinate any specific dates. However, as I mentioned at the outset, ensuring a stable relationship with China is of great importance, and therefore I am constantly thinking about how we can ensure that.
In the latter days of the Trump administration, the outgoing Secretary of State MIke Pompeo publicly used the word "genocide" to describe what is happening in Xinjiang. Upon taking office as Secretary Pompeo's successor, Secretary of State Antony Blinken agreed with that characterization. He too used the word "genocide" to describe what is happening in Xinjiang. Do you believe that China is committing genocide in Xinjiang? Is that also the Japanese government's position, as it is now the U.S. government's position?
It is the strong policy of the Japanese government, as I have been reiterating, to uphold fundamental and universal values including freedom, democracy, human rights, as well as the rule of law, and it is my belief that even China should uphold these values.
As to the situation in Xinjiang Uighur autonomous region, as well as the situation in Hong Kong, there have been statements made through the Human Rights Commission of the United Nations, and Japan is the only Asian nation that has subscribed to such a description of the situation.
What needs to happen for Japan's economy to recover, and when would you predict Japan will see a robust recovery?
Since the COVID-19 situation began last year, we have implemented economic packages with a total budget of 300 trillion yen [$2.77 trillion]. We also took targeted measures, mainly requesting restaurants and bars to shorten their business hours. And that has resulted in the mitigation of the surge that had begun earlier this year.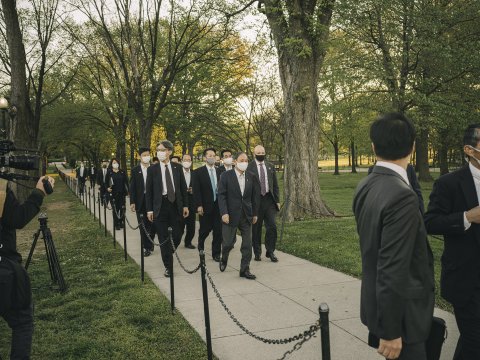 So, unlike some other foreign governments, our measures have been rather targeted and efficient. As a result, the number of cases in Japan is relatively lower than in Europe and in the United States, and unemployment is the lowest amongst developed countries, at 2.9 percent. It is also true that since last year, equity prices have continued to rise, and according to the IMF, the Japanese economy is projected to recover to pre-COVID-19 levels by the end of this year.
The government will continue to support loans to businesses to provide support to cover personal expenses for businesses that have had to suspend operations, provide assistance to low-income earners, including families in the child-rearing stage. And since the 12th of this month, we've begun vaccination of the elderly, which I believe will be the key determinant in the effectiveness of these countermeasures.
In this context, we attach high importance to multilateral frameworks—for example, TPP 11, the Japan-EU Economic Partnership Agreement that covers more than 20 nations. [As such] we have been quite actively promoting such multilateral economic partnership in various regions around the world, as well as placing importance on bilateral ties with the United States, as well as with the United Kingdom.
In order to ensure that Japan continues to take the lead in the world in the post COVID-19 environment, we will promote reform with green and digital as the two wheels of the vehicle to cause industrial transformation, to facilitate investment and to increase employment. In this context, I came up with a very ambitious objective of achieving carbon neutrality by 2050, without consulting with any advisors and made that decision on my own as the Prime Minister of this nation. Under such a goal in this fiscal year, we have earmarked a 2 trillion yen for the fund established by the government.
We will also be mobilizing other measures, such as a tax system as well as regulatory reform, to facilitate investment and accelerate innovation. According to some estimates, by 2050 that will deliver annualized economic impact of 190 trillion yen ($1.75 trillion). And we'll create 15 million jobs.
I believe that the strength of Japan lies in the private sector, and it is estimated that there is approximately 242 trillion yen ($2.2 trillion) in cash deposits on the balance sheet of the corporate sector. If we also include retained earnings of these Japanese businesses, there are some estimates that say that there are 410 trillion yen ($3.8 trillion) of funds out there, and adding to that, there is an estimated 1950 trillion yen ($18.05 trillion) of personal financial assets in the household sector, which could be channeled into the growth strategy to raise momentum and economic growth. And in addition to that, it is estimated that there are 3000 trillion ($27.77) of investment out there looking for environmentally related investment targets, which we also wish to attract to Japan.
We are fewer than 100 days out from the scheduled start of the Tokyo Olympics. How are preparations going, and how confident are you that the Olympics will start on schedule?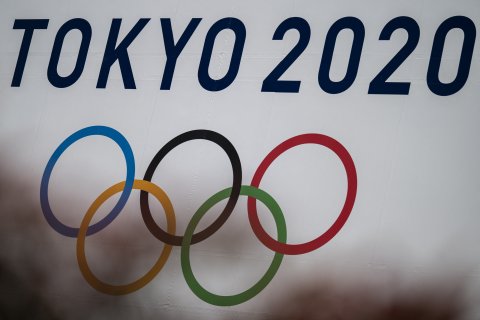 An Olympic banner displayed on the wall of the Metropolitan Government building in Tokyo.
CHARLY TRIBALLEAU/AFP via Getty Images
Last month at the five-party meeting between President [Thomas] Bach of the IOC [International Olympic Committee], the Tokyo 2020 Organizing Committee, the Tokyo Metropolitan Government and the national government represented by myself, was held, where a decision was made to give up the idea of accepting spectators from overseas in order to secure full implementation of necessary countermeasures. And based upon the decision, preparations are underway, including infection prevention measures. But even under the pandemic, we truly hope to realize a safe and secure Games, to deliver hope and encouragement from Japan to the people around the world.
Do you have a date by which time you will know for sure whether it will go forward?
It's already decided that the Games will take place. So based upon that decision, preparations are underway.