At sunrise on the day after his first face-to-face meeting with President Joe Biden, Japanese Prime Minister Yoshihide Suga set out on a walk to the National Mall and the Lincoln Memorial, several aides and a few photographers in tow, to take stock of his whirlwind visit to Washington D.C. and, perhaps, to remind the public at home that the strategic importance of the U.S.-Japan alliance had been restored.
During the Cold War, the decades-long stand-off between the United States and the Soviet Union, a former Japanese Prime Minister proudly described his country as "an unsinkable aircraft carrier'' in the Pacific, one strategically located off the enemy's coast. It was the threat of Soviet expansionism that made the post-World War II alliance between two former enemies the bedrock of U.S. security in east Asia. Without that threat, after the Soviet Union imploded, the alliance foundered. For a time, economic rivalry displaced strategic cooperation, and under Barack Obama, Japan pouted as the U.S. focused its attention on wooing Beijing.
That all changed in the past four years. Led by Donald Trump, the U.S. foreign policy establishment's view of China changed dramatically. Beijing is now viewed as a strategic adversary, if not an outright enemy of the U.S. and its allies in east Asia. And that means Japan is back—in a big way. "The U.S.-Japan relationship is the most important alliance the United States has," former National Security Adviser H.R. McMaster tells Newsweek. Countering China's increasing clout in east Asia is impossible without Japan. "Even if seldom mentioned by name," says Patrick Cronin, Asia Pacific Security Chair at the Hudson Institute, a Washington think tank, "China is the unmistakable fulcrum around which alliance policy on all issues turns."
That fact was made plain by Japanese Prime Minister Yoshihide Suga's arrival in Washington on April 16—the first foreign leader to meet President Joe Biden at the White House. He and Biden spent nearly three hours in talks, focusing heavily—though not exclusively—on the China challenge.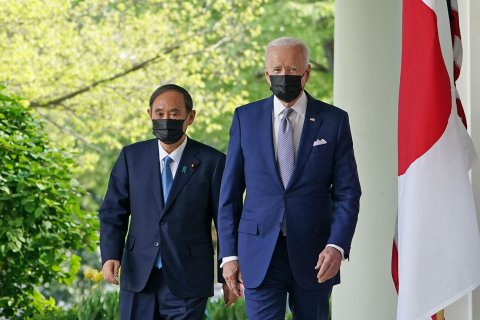 For decades, it has been diplomatic conventional wisdom that the U.S. and the United Kingdom shared a "special relationship," closer even than Washington's ties to Canada, Australia or Mexico. The reinvigoration of the US-Japan alliance, driven by shared interests in containing and competing with China, means the U.S.-U.K. is no longer Washington's only special relationship. In an exclusive interview with Newsweek the day after his meetings at the White House, Suga avoided using the phrase "special relationship" (perhaps not wanting to step on U.K. Prime Minister Boris Johnson's toes) but straightforwardly acknowledged what the meeting meant. "It was evidence of the high level of importance that [President Biden] and the U.S. government attaches to Japan," he said.
Suga is the prime minister now tasked with defining what that relationship will be. He succeeded Shinzo Abe (who served as prime minister for nine years in two separate stints) at a moment of mounting concern among U.S. allies about China's evident—and increasing—contempt for established international rules laid out and maintained by the United States and its allies since the end of World War II. Twice in his interview with Newsweek, Suga used the word "severe" to describe the increasingly tense security environment in east Asia.
Unlike many prominent elected officials in Japan who come from dynastic political families, Suga had a humble upbringing. He was born to a strawberry farmer in northern Japan. He says in his first face-to-face meeting with Biden the two men bonded over the fact that both had relatively modest backgrounds "and then worked our way up to become politicians, and then leaders of our countries." He was first elected to the Yokohama City Council in 1987, then to the Diet (Japan's legislature) in 1996. There he befriended Abe, who when elected Prime Minister named Suga his Chief Cabinet Secretary. Suga served in that job for eight years, longer than anyone who had held the post previously, and succeeded Abe in September of last year.
Reshaping the U.S. Japan alliance for the 21st century will not be easy. Confronting the Soviet Union was child's play compared to the challenges Beijing presents to the U.S. and its allies—Japan chief among them. While China does not yet have the military power Moscow once had, its huge economic clout complicates any containment strategy the West may contemplate, and gives Beijing a huge strategic card to play that the Soviet Union never had. The U.S. and Japan must compete with Beijing economically, deter it militarily in what both countries call the "Indo Pacific," and figure out how to confront China for its egregious human rights abuses.
None of that will be easy. China today is Japan's largest trading partner, having surpassed the U.S. in 2017. Tokyo's economy is far more intertwined with Beijing's than the U.S.'s is. Japan exported $141.2 billion of goods to China in 2020, accounting for 22 percent of its exports. The U.S. exported $124 billion to China: just seven percent of U.S. exports. Japan's foreign direct investment into China in 2019 was $14.4 billion; U.S. foreign direct investment into China was just $7.5 billion. And though Abe, while prime minister, began to pay Japanese companies to move supply chains out of China, that program has had limited success so far. The country last year budgeted just over $500 million in subsidies targeting just 87 companies—relatively small numbers given Japan Inc.'s large presence in China.
Still, it's an issue that both Biden and Suga pledged to work on. According to Masashi Adachi, a member of Japan's parliament and a special adviser to Suga, in the wake of the COVID-19 pandemic, both the U.S. and Japan have come to recognize the importance of "supply chain resilience." (In other words, ensuring that no single country dominates the production of any vital product, whether face masks in the midst of a pandemic or rare earth metals needed in the making of many high-tech goods.) They have "pledged to cooperate on supply chain issues in industries such as semiconductors and 5G [telecommunications networks]," Adachi tells Newsweek. That's code for finding other alternative locations in the region as a way to reduce dependence on chip factories based in China.
"If some natural disaster or something happens—some unexpected event—then we have a serious problem, and that's what happened [over the past year with COVID-19]. In that sense, we don't say 'China is a problem,' but we have to consider what is the best portfolio for a smooth global supply chain," Adachi says.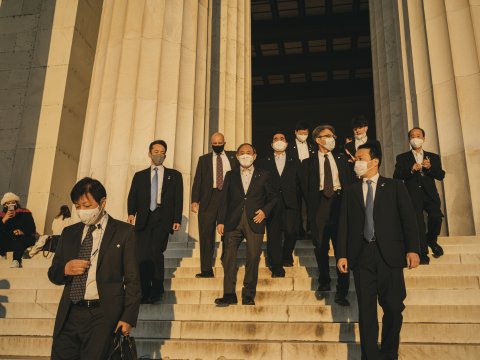 Critics on both sides of the Pacific believe supply chain resilience is only a piece of what should be a much broader strategy for competing with Beijing economically—one that many in Tokyo believe is lacking in Washington. A common strategy between the U.S. and its key allies has been foundering, many believe, ever since Trump pulled Washington out of the Trans-Pacific Partnership—the trade deal that even Hillary Clinton said she would not have implemented had she won the 2016 election. As former NSC adviser McMaster told a recent press briefing, TPP is a dead letter in Washington. It will not be revived. But it's not at all clear Biden has any firm ideas as to what, if anything, might replace it as a way to counter China's ever-increasing economic heft in the region.
Meanwhile, Tokyo soldiers on, pressing a version of the TPP that doesn't include Washington. Beijing is clamoring to be a part of that pact—the better to shape it to their desires, analysts suspect, and thus defeat the purpose of blunting China's regional economic hegemony.
Disentangling Japanese and U.S. economic interests from China is difficult. Their companies are there to serve a massive market, or to use it as an inexpensive export platform, or both. General Motors wouldn't dream of "decoupling" from China because it knows Toyota and BMW wouldn't either. The focus for both countries, as Adachi said, is to ensure supply chain resilience in key selective industries, including those that drive artificial intelligence and quantum computing, which have key defense applications that are only getting more important.
The Suga-Biden summit came amidst palpable nervousness on both sides of the Pacific. The concern: China's "coercion and destabilizing behavior in east Asia," according to a joint statement issued March 13 by Antony Blinken and Lloyd Austin, U.S. Secretaries of State and Defense respectively, and their Japanese counterparts. Specifically, the concern centers on Beijing's incursions near Japan's Senkaku islands, threats to Taiwan as well as human rights violations in Hong Kong and the mostly Muslim region of Xinjiang in China. "The security environment surrounding the country," Suga acknowledged to Newsweek, "is increasing in severity."
Against that backdrop, the summit ticked off the standard security commitments between the two nations. Dedication to, as Suga said repeatedly in the Newsweek interview, a "free and open Indo Pacific"—a formulation that former Prime Minister Abe originated, which was adopted wholeheartedly by the Trump administration and, now, by Biden; the U.S. reaffirmed its treaty commitment to defend Japan if it is ever attacked, and it specifically referred to the Senkakus (a chain of islands in the east China Sea also claimed by the People's Republic of China). The message to Beijing: Don't even think about using force to retake the islands.
Under Abe, Japan increased its defense spending steadily for nine straight years. American officials appreciated that, but want more. Specifically, the Defense Department under both Trump and Biden would like Japan to think not just about defending itself against both China and North Korea—the two obvious threats—but of participating more in what defense analysts call "area denial": working with the U.S to defend the disputed islands in the east and South China seas by various means, including by acquiring land-based missiles that can strike Chinese forces. "The more missiles we and our allies have in place in the region that could strike Chinese forces in defense of the various island chains, the greater our deterrent will be. This should be one obvious area of mutual focus," one Pentagon official deeply enmeshed in the issue told Newsweek.
The biggest flashpoint in the region, of course, is Taiwan. Analysts noted that the statement issued by the two sides in March mentioned Taiwan specifically—a seemingly innocuous line that read: "The Ministers underscored the importance of peace and stability in the Taiwan Strait." The mention of Taiwan, which Beijing regards as a renegade province, angered the PRC. Biden and Suga did not discuss Taiwan in great detail during Friday's getting-to know-you meeting. But current and former U.S. defense officials and diplomats believe Japan needs to be brought more into the conversation about how the U.S. and its allies would respond should Beijing move against Taipei.
The problem is, that's something Japan may not yet be ready for. As Toshihiro Nakayama, professor of American politics and foreign policy at Tokyo's Keio University, says, "let's be honest, Japan is the only ally that could play an active role in a Taiwan contingency." But the issue for Suga and the current political leadership in Tokyo is straightforward. "Are we really willing to play an active role," asks Nakayama. "It's not something we've really talked about in Japan yet. The conversation needs to be initiated by the political leaders."
But the conversation is constrained by Japan's so-called "peace constitution," originally drawn up under the occupation of General Douglas McArthur after World War II, which still effectively limits Japan from doing anything militarily except defending the homeland. Talking with Newsweek, Suga said it remains the Liberal Democratic Party's position to amend the constitution to allow Tokyo to play a more robust defense role in the region. But he also acknowledged it would be a laborious effort to get that done, and as such, "we must admit that the situation is very difficult."
Japan's diplomatic renaissance, its position as Washington's Number One ally in the 21st century's central geopolitical issue—how to deal with Beijing—comes with risks, analysts say. The possibility of a sudden conflict with Taiwan illustrates those risks. "If it actually happens, and Japan is not forthcoming in playing an active role, it might be a crisis moment for the alliance," says Nakayama.
One thing Suga signaled is that he is not going to be shy in publicly voicing Japan's commitment to the core principles of the United States and its democratic allies across the world. His comments were surprisingly strong given Japan's close economic relationship with Beijing. Asked if he supports the U.S. government's position that the PRC has committed "genocide" in the Muslim region of Xinjiang, he responded: "It is the strong policy of the Japanese government...to uphold fundamental and universal values, including freedom of democracy, human rights, as well as the rule of law, and it is my belief that even China should uphold these values." That, to put it mildly, will not go over well in Beijing. But it's a message the Biden administration welcomes as it seeks to stiffen the spines of like-minded nations to more publicly challenge Beijing when necessary.
Still, Suga is unlikely to bend to pressure from some Japanese lawmakers not to meet with Chinese President Xi Jinping because of human rights concerns. While noting that a visit by the Chinese president to Tokyo is not in the cards because of COVID-19 concerns—one had been planned for last year—he said a stable relationship with China is of "great importance," and that taking advantage of high-level contacts is key to maintaining that stability.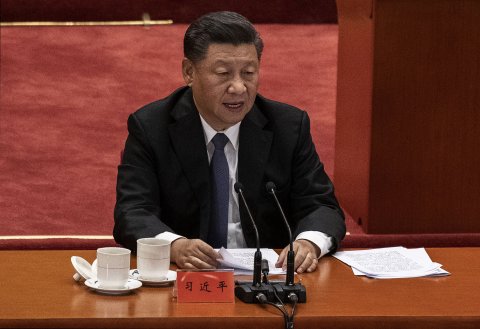 Suga has other, pressing concerns at home. The COVID-19 pandemic continues to crimp its economy, and a recent increase in cases has prompted concerns that this summer's Olympic Games might be threatened yet again. In the interview, he spiked those concerns. Asked if there is a final date by which he'd decide whether the Games would go forward, he replied: "It's already decided that the Games will take place."
When Prime Minister Suga departed Washington on Saturday afternoon, he left knowing that even if he might hesitate to say the U.S.-Japan alliance has now become the 21st century's "special relationship," a lot of other folks in town and around the world believe that's the case. There's pride of place in that, to be sure. But it also comes with responsibility, and that now falls on the shoulders of the slight 72-year-old, who started as a city councilman in Yokohama and is now Joe Biden's Ally-in-Chief.