"I don't think anybody's shown more of the world, to the world, on television, than Tony."
It's been over three years since the death of Anthony Bourdain—explorer, chef, storyteller, and one of the most influential cultural correspondents of our time. Throughout his career as an NYC chef, best-selling author and eventually an Emmy-award-winning TV host of No Reservations and Parts Unknown, Bourdain shed a light on the human experience and showed the power of sharing a meal with a stranger to be a great equalizer.
A new documentary, Roadrunner: A Film About Anthony Bourdain, by Academy Award winner Morgan Neville, director of 20 Feet from Stardom and the Mister Rogers documentary Won't You Be My Neighbor? follows Bourdain's trajectory as he became the beloved star so many grieved for when he took his own life.
"I didn't want the film to feel like a eulogy. We tend to read history backward, but life lives forward," Neville says in an interview with Newsweek. "The film itself should at least help people process his death enough so we can start to think about his life again." So, rather, this film is an ode to the life unknown of Bourdain, the journey of what made his brutally honest star rise.
You never met Bourdain. How did that shape the way you told his story?
I never met Mister Rogers either, but you feel you have a relationship with them through the television. They were both people that played pretty authentic versions of themselves on TV.
Tony was a complicated person but I think that's actually why people liked him so much. People fell in love with Tony not in spite of his flaws but because of them. Through everything he did from Kitchen Confidential on, there's this kind of wounded, self-deprecating, brutally honest voice that makes you trust him.
"This guy is so honest about himself, he's not gonna BS me about things"—I feel like that's part of what people really liked about him. As he says in the film, he loved nothing more than to be proven totally wrong.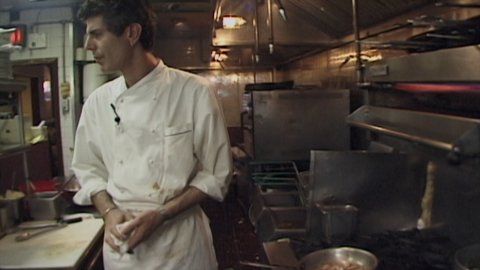 Was there anything surprising you learned about Bourdain while working on this doc about his life?
I didn't really understand how shy he was. Which I thought was really interesting because he seems like the opposite of it and certainly played that publicly for so long. He joked about suicide all the time, too. I think it's part of his own complicated defense mechanism, "I'm trying to be honest, but I'm always hiding it behind the veneer."
Is there anything that didn't make it in the doc you wish wasn't cut?
I'll mention one little thing. One of the many things that got cut out was that he had many fake Twitter accounts. It's true, I've seen the accounts. I know at least one of the characters very well.
Wow, so was this for entertainment or so that he could hide behind his celebrity?
He wants to stir shit up. He would criticize himself with other Twitter accounts and he's a writer so he creates these characters.
When Bourdain died the whole world was grieving, even people that maybe didn't even realize they were a fan of his. Why do you think that Bourdain left such a large hole in the world when he left?
It feels like when you read him or watch him, you're hanging out with your friend or you're on a journey with a friend. This kind of sense of "I really know you, I traveled the world with you." And that sense of loss like we're never going to take a trip again. I don't think anybody's shown more of the world, to the world, on television, than Tony.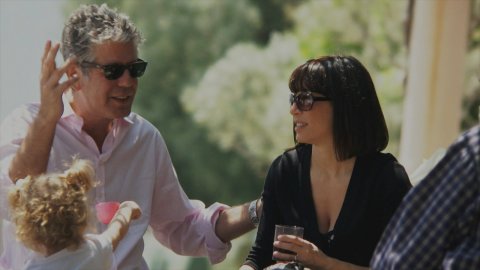 What do you hope this film says about Bourdain's life and legacy?
He was a super-seeker, profoundly curious about learning and understanding more. If there's anything you want people to be reminded of, it's that you should get out there and see how other people live. What Tony was about more than anything is just to be as open-minded as possible. He got this tattoo later in life that said, in ancient Greek, "I am certain of nothing."
I don't want to spoil the ending for the readers, but it seems that you thought about how Bourdain would like the ending of his story told. So what do you think Bourdain would say about this film?
There's a moment in the film where very early on somebody's filming him, and he says, "Oh, guess what's happening tomorrow. Oprah." And then he says, "I hate myself." But he's smiling and he kind of loving it.
I think a big part of him would have really liked it. I got an email from somebody who's in the film, who had just watched it and they said, "I think Tony really would have (begrudgingly) approved" and that ending is a very Tony ending. I feel like Tony's whole creative ethos was "swing big, succeed bigger or fail bigger, but don't ever play it safe." And so, I felt that gave us a license to try and take more chances because that's who he was.
If you have thoughts of suicide, confidential help is available for free at the National Suicide Prevention Lifeline. Call 1-800-273-8255. The line is available 24 hours every day. If someone you know appears to be contemplating suicide, visit Bethe1To.com for assistance.