We get it. You're ready to have an adventure somewhere in the world again. With borders opening back up, vaccinated travelers are starting to pack their bags again, looking for a next-level escape to make up for dream trips canceled or put on hold. From soaring over the peaks of the Himalayas with a world-record glider pilot to trekking with chimpanzees in Uganda like Jane Goodall, or even experiencing space with zero gravity on a flight minus the millions price tag, these back-to-travel thrills will make up for lost time.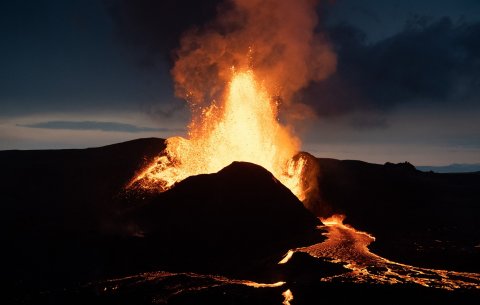 Hike to an Erupting Volcano
Iceland
Want to witness lava spewing out of a volcano in Iceland? This once-in-a-lifetime trip will make up for all those grounded days watching Netflix. You can hike or take a helicopter ride over the Fagradalsfjall volcano eruption in Geldingadalur, which has been going on since March. Book this trip fast to catch the eruption (no one knows how long it will continue), or try ice climbing Skaftafell, the highest mountain in Iceland—easy access and no experience necessary—for a "break-out-the-passport" thrill.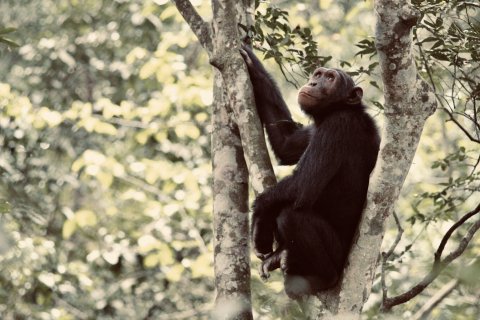 Go Trekking With Chimpanzees
Queen Elizabeth National Park, Uganda
The pandemic caused many of us to rethink our relationship to the planet and our place in trying to protect it. Be like Jane (Goodall) and go trekking with endangered chimpanzees in Uganda's jungle. You'll be putting your tourism dollars toward helping safeguard the animals through a series of conservation initiatives with Jane Goodall Institute and Volcanoes Safaris.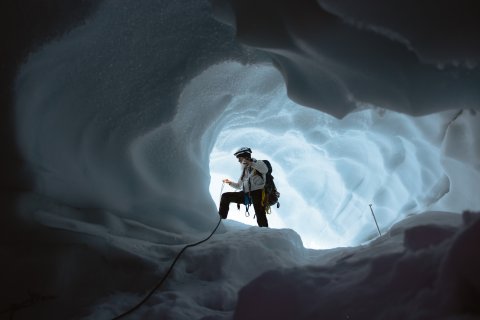 Explore Ice Caves
Denali, Alaska
Trek through ice caves in Denali National Park with expert guides as you are led into caverns of millennia-old layers of ice and snow. Or take in the aurora borealis (September to April) from a warmer perch on a 6,000-foot high nunatak (or glacial ridge) at Sheldon Chalet, the only lodging in the park and only accessible by helicopter from Anchorage.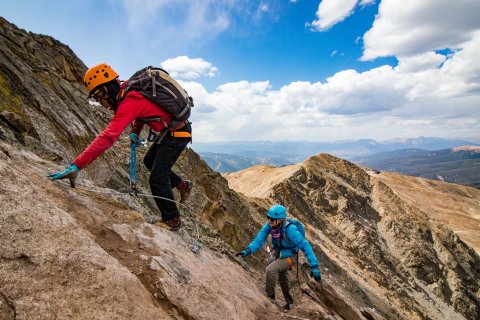 Climb North America's New Via Ferrata
Rocky Mountains, Colorado
If a trip with a challenge is what you're looking for, then consider North America's newest and highest via ferrata at Arapahoe Basin in the Rocky Mountains. Via ferrata ("iron way" in Italian) is a method of rock climbing with ladders, fixed rungs and cables allowing non-mountaineers a leg up. No rock climbing experience is necessary to climb 12,900 feet to the summit on this protected climbing course with a guide.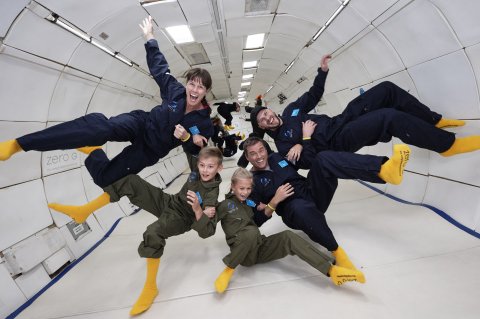 Experience Space with Zero Gravity Flights
Throughout the U.S.
Don't let Bezos and Branson have all the fun. Experience the weightlessness of space (at a fraction of the cost of consumer space flights in development) with a Zero-G flight experience that's heading to cities in New York as well as California, Florida, and more this year. Specially trained pilots perform parabolas, or aerobatic maneuvers, to keep you floating in space, a feeling no longer reserved only for astronauts.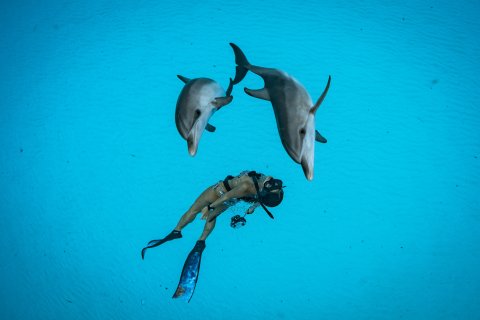 Swim With Wild Dolphins
Bimini, Bahamas
No, this isn't SeaWorld—these dolphins are not in captivity. But with ecotourism-certified company Dive Ninjas Expeditions, you can swim with dolphins— in the wild. You don't need to be a scuba diver to play with them in Bimini's crystal-clear waters, home to some of the friendliest pods of dolphins in the world. By snorkeling or free diving, you'll be able to see them free as can be in their natural environment.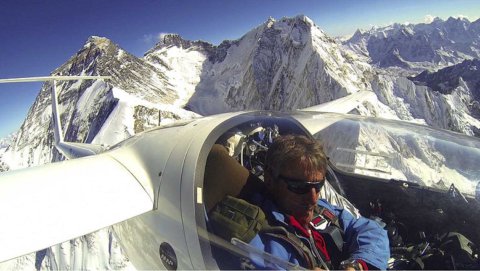 Glide Over the Himalayas
Nepal
If climbing mountains isn't your thing, soaring over them may be more your style? How about hopping in a motor glider flown by record-breaking pilot Klaus Ohlmann and taking a thrilling ride to appreciate the giant peaks of the Himalayas? It's also eco-friendly, as the glider is nearly an emissions-free way to travel as it rides mostly on jet streams. Even more exciting? Gliding over 8 peaks over 8,000 metres would be a world record, too. Untold Story Travel is offering this exclusive experience with Ohlmann, the most successful glider pilot of all time—he holds 60 world records, and is also a four-time world champion.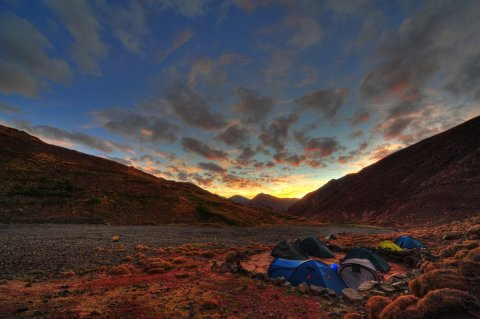 Take a Mystery Tour
Somewhere on the Globe
The pandemic made novelty a thing of the past and (almost) took the joy out of flying by the seat of your pants. But if you leave it to the experts at Black Tomato, you can have no idea where you're going and still be in safe hands with their Get Lost service. Tell them what gets your heart pumping and how lost you want to be, and they'll design a surprise tailor-made itinerary somewhere in the world from Mongolia to the Arctic.