"It's more about just being open and that means having a heart, and I think that's always been a part of comedy."
There isn't that much distance between funny and sad. As Saturday Night Live's Cecily Strong says, "When people talk about comedy, you talk about tension. It's one and the same."
Take for example, Strong's own life during 2020. First there was shooting SNL during the pandemic. Then it was figuring out how to safely film her new Apple TV+ musical comedy series Schmigadoon! At the same time, amid waves of anxiety and depression, Strong was grappling with having to put a new relationship on hold over a COVID-19 diagnosis and the death of her beloved 30-year-old cousin, Owen Strong, from brain cancer.
"My cousin just passed away and the guy I finally started dating gets COVID. I had this busted thermometer, and I'm like, 'Am I gonna die? Is he gonna die?' That's over two weeks!"
Strong writes about it all in her new memoir This Will All Be Over Soon, set for release August 10 by Simon & Schuster. "It was such a weirdly personal thing to write this, and I didn't quite know what it would ever turn out to be. I wasn't even sure I wanted to write about Owen in the first place. How can I find the right words to explain something that's so devastating and so full of love?"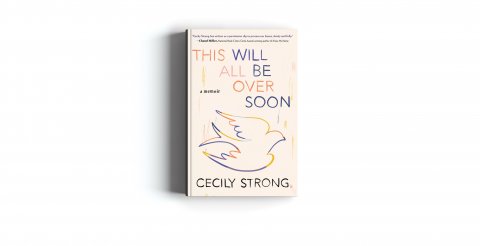 Strong says she and her cousin had been close as kids but had since lost touch. "When I came to New York for SNL, Owen met me the night of my audition. I was like, 'Who are you even? I don't even know you as an adult.'"
"All of a sudden he just kept showing up and was always there. It made me see what it is to be loved by family. And that it's okay to accept and give into. He was teaching me about love. Then when he was diagnosed, we have so many texts to each other just being like, 'I love you so much.' That's such a gift to have, I'm choked up talking about. It's such a gift that we got to say that to each other so often."
Grieving Owen led Strong to look at other painful losses she hadn't wanted to face. "I started talking about my friend Liz," she says. "My best friend from like 13 to 16, joined at the hip, wound up dying five years ago of a heroin overdose. I didn't know how to talk about that. I didn't even know how to think about it. I don't want her to be defined by heroin now. I felt so weird. How did I end up here and how did she end up there? I took it for granted that I could always go back and find that friendship again. So I think writing about any kind of loss, I got to go back and explore Liz and how people stay in your life."
Strong says the process helped her develop a greater understanding of life. "Even trying to understand Owen. What was his thought process like? What made him so courageous and funny and bright? How did he do that? Trying to think about that stuff got me to sort of try to trick myself into handling COVID and grief better."
Meanwhile, while Strong was struggling personally, she was busy as ever, even thriving, in her career. "I think people think I was much busier than I was," she says. "I spent so much time in my bed, some days were spent writing and some days just going outside with Lucy [her dog] to walk around." She adds, "It's sort of cathartic to hear people say I had a good year during the pandemic, because my favorite thing to say about Owen is his saying, 'Minus the brain cancer, it's the best year of my life.'"
"I love when it's something that can make you cry, and that doesn't make it not funny. It's like people have been to funerals and have been through hard things. There's a lot of laughter involved there, too. So I think for me, it's more about just being open and that means having a heart, and I think that's always been a part of comedy."
Now that people have started to read the book, Strong is able to see she isn't alone in grief.
"Even this wonderful guy who ran the studio [where she recorded the audiobook for This Will All Be Over Soon], we were all crying by the end. He said he had recently lost people, and was like, 'I don't think I was grieving yet. I feel like I can start. I think this will help a lot of people.' And to do that in the name of my cousin, could there be anything better? How could I honor him any more?"
Owen's impact also helped Strong do something else she had long avoided: falling for her boyfriend, Jack. "Owen taught me about love during his life, and he's teaching me about love after," Strong says, adding she could "very easily stay single and not open myself up when it's scary."
"It's very different for me, but it's been great. There was a while we kind of split apart and I hadn't seen him. Like I went from, 'Do you want to date?' 'Yeah, let's date!' and then four days later he got COVID. Then I didn't see him for three months. It was very difficult. Then he came back into my life. I'm really enjoying having somebody who wants to hold my hand in the sun."
"What I like about him is we can talk through things," she says. "And that's been rare for me, not having that one person just go like 'Nope, I'm walking away.' I have to be able to talk through things. It's worth it. It's like my edges were softened by this last year."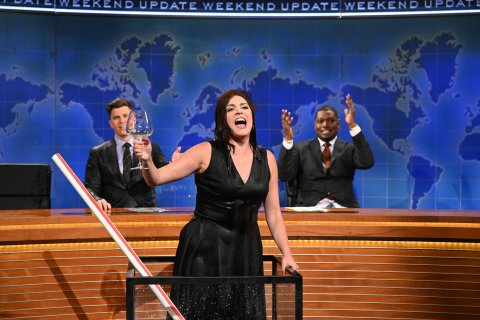 So far, 2021 has been a lot better. Last month, Strong received an Emmy nomination for her work on SNL. "I feel very lucky," she says. "Obviously an Emmy nomination is lovely, but it's especially lovely when I feel so proud to have been part of SNL last year. I'm so proud of everybody. I think that's for all of us. I feel like I want to share it with the entire crew there because it was just such a tough year, and I'm really proud of what we did."
As for Schmigadoon! Strong says, after everything that happened in 2020, working on the musical comedy was the light at the end of a dark time, "I felt like I was healed, personally. I'm a little bit less afraid now and more open to a little bit of the magic and the joy. I'm so happy we get to share [Schmigadoon!], and I do think people need it."
"Everybody is so angry and there is so much trauma. We just need to be gentle with ourselves and each other. Let's make it a cool thing to say, 'I love this' instead of 'This sucks.'"