The COVID-19 pandemic has obviously been bad for a lot of things. But it might end up being a good thing for entrepreneurship. For instance, it has forced many folks to rethink their careers. In 2020, per Bloomberg citing IRS numbers, 4.3 million people applied for employer I.D. numbers, up nearly 25 percent over 2019.
But like anything—and especially going into business for yourself—there are things to consider before taking the plunge. Success, after all, is far from a sure thing. History and the U.S. Bureau of Labor Statistics tell us that about 20 percent of those new pandemic-era businesses will fail within the first two years. The first five years? About 45 percent of those businesses won't make the cut.
So, what does it take to make it? To get to the promised land? Here are some of the key traits of successful entrepreneurs.
Curiosity
If there's one inherent trait in almost every entrepreneur I've met over the years, it's curiosity. Entrepreneurs have the drive to solve problems. Not because they have the answer, but because they want to find out the answer.
In 2001, for instance, I decided to take a break from my role in tech at AOL. It was time to figure out what was next. But I also had some health issues that I wanted to solve and part of the solution was coming up with new, healthier drinks.
So one day, while looking at all the indecipherable ingredients on my diet soda can, I decided to make the switch to water. Quitting 20 years of Diet Coke wasn't easy, but the hardest part was I didn't like the taste of plain water. I solved that by adding different fruit essences I had created that didn't have any sweeteners in them to make the water that much more interesting. And it did.
But here's where the "curious" part kicked in: Why wasn't there a product making water taste better without sweeteners or preservatives to date? Why was everything sweetened? Even the things that seemed healthier like my "diet" soda?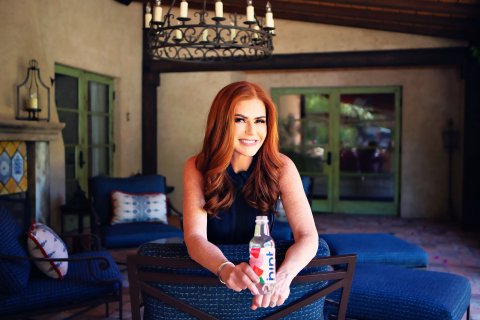 I didn't realize it immediately, but I soon was combining my search for a new career with my curiosity about a healthier drink. Some 18 months later, my product Hint hit the shelves of my local Whole Foods in San Francisco. Of course, the journey wasn't all that simple or easy. All along, my quest to satisfy my curiosity about an industry I initially knew nothing about was helping me overcome countless roadblocks. And that curiosity would soon lead to developing not only a new product and company, but also an entirely new category in the crowded beverage industry.
Doubt Conquering
Every entrepreneur wonders whether they have enough experience to take on the challenges of starting a business. When I launched Hint back in 2005, I had no experience in the beverage industry. And while I had worked for incredible entrepreneurs and start-ups, this was the first one that I was founding.
I definitely had fears and doubts about whether or not I could do what I was setting out to do, but decided I needed to face those fears and doubts too if I had any hope of getting this idea, and company, off the ground. Instead of being obsessed with the big picture, I focused on each step—one by one—on the road to ultimately launch Hint.
First: how to bottle this drink I'd concocted in my kitchen. Then, how to get Hint on to the shelves at my local Whole Foods. Then, when I knew that I had traction, how to get this product on shelves, and eventually online, for all to buy everywhere. Each victory, each success, gave me the confidence to overcome my doubts and second thoughts.
But it doesn't stop with your own doubts for sure. You also have to overcome the doubts others have that you can actually accomplish what you are setting out to do. For instance, there was no shortage of opinions from friends and family when I started Hint. And so often, especially in the beginning, their opinions matter a lot. But I found that the ability, and the will, to compartmentalize their advice and take it for what it is worth is the best strategy.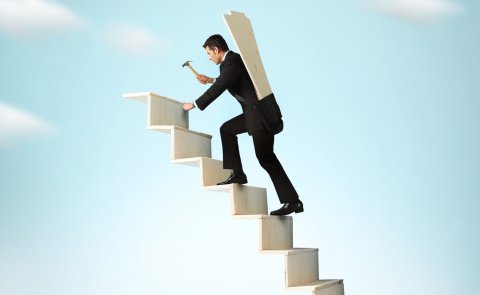 Remember this: Friends and family mostly just want to help you prevent any failures or risk. What they don't pause to think about is that the ability to take risks is what often separates successful entrepreneurs from the pack. Sometimes, the best of friends and family with great intentions just don't get that.
Consumer Obsessed
Whether you're launchIng a service or a physical product, the key to scaling your business is knowing your consumer. Really understanding what their needs are. What makes them tick.
The best entrepreneurs are the ones who are constantly watching consumers. Or if you are like me, spending hours lurking in the beverage aisle of supermarkets and talking to shoppers or reading Hint customer service emails. It's those critical conversations with consumers that allow entrepreneurs to really see things from the consumer point of view.
I remember hearing from a Hint customer that first week of launch. He had purchased Hint and was excited to reach out via our customer service email that we had put on our bottle. What he might not have realized was that the recipient of his email, given we were a very small company at the time, was me!
He told me that he had been look- ing for an unsweetened beverage that tasted good because he was trying to manage his Type 2 diabetes. He explained that although he was healthy overall, he felt that his diabetes was triggered by diet sweeteners. (Understand that 16 years ago, only about 1.5 percent of the U.S. population knowingly had Type 2 diabetes, while today the CDC says that 40 to 45 percent of the U.S. population has Type 2 or Pre-Type 2).
With this conversation, I saw the possibility of how the product that I created COULD also help people who had chronic health issues—Type 2 diabetes and others. Knowing what problems you are solving for, even if they aren't your own, is key. And having a way for customers to communicate with you who are interested in engaging with your brand is critical.
Conversations like the one I had with this customer early on definitely informed how I communicate with our consumers. While not everyone may have the same health issues, sharing stories about how a product like Hint has helped various consumers is key. And we have found when you share those stories with a broader audience, the consumer shares your message, too. Understanding your consumer and their "why" for engaging with your product is critical.
Learning From Mistakes
In 2010, Hint was fortunate enough to strike a partnership with Starbucks to be in all of the Starbucks cases nationwide. Unfortunately, after a successful 18-month run exceeding our sales goals threefold, that relationship came to a halt. Within months of being in the cold cases of over 7,000 Starbucks stores, a decision to replace Hint with higher-margin food items like sandwiches forced Hint out of the mix. One day, we were on cloud nine with our success with them, and the next, witnessing our demise.
The hardest part was recognizing that we had put all of our focus into making sure that this partnership with Starbucks worked, instead of focusing on making sure that we had other new business should that business with Starbucks end. With 40 percent of our total revenue now going away (and within two weeks), this jolt presented a big challenge for us to overcome.
What did I learn from that?
Don't put too many eggs in one basket. Too much business with one retailer, in our case Starbucks, was terrific while it was there, but when it went away, it hurt. And when they made a decision to discontinue us, we were left holding the eggs.
Something else I realized from this experience: Not having a direct relationship with the consumer, which we now have through our direct-to-consumer business, left us vulnerable. When Starbucks discontinued us, we had no way to communicate with the consumer that we were available at other outlets or online. Those consumers who loved our Blackberry Hint, the only flavor Starbucks carried, didn't know where to find us once we were gone.
Thankfully, many who had been purchasing at Starbucks soon found us through Amazon and then our own site at drinkhint.com, as well as retailers which soon started to grow, but had we had a direct connection then with our customers, it might have been faster. And today, direct to consumer is almost half of our overall sales for the company.
Lesson learned!
Kara Goldin is the founder and CEO of Hint, Inc., known for its Hint unsweetened flavored water. Her first book, Undaunted: Overcoming Doubts and Doubters, was released in October 2020 and is a WSJ and Amazon best seller.