In response to the devastation of 9/11, an unprecedented number of Americans surged forward to help provide support to survivors, first responders and the families of those who died.
By 2004, $2.8 billion had been donated to nonprofits for 9/11 relief and recovery programs—at the time, the largest sum ever collected in response to a single disaster. While corporations and foundations contributed $1.1 billion of the total, more than half came from individual Americans, according to a report by the Foundation Center, a nonprofit that studies the philanthropic industry.
Nearly 75 percent of the nation made a donation of some kind (money, food, clothing, blood or volunteer hours) in the three months that followed the attack, with 65 percent saying they or their household financially contributed to relief efforts, according to a survey by the Center on Philanthropy at Indiana University. Among those who gave, the average contribution was about $134.
"People were motivated to give not just out of sympathy or concern for the victims, but also by a sense of patriotism and fear," says Patrick Rooney, an Indiana University economics and philanthropic studies professor who co-authored the survey. "After it happened, people were sending blood, water, trying to do tangible things. There were people that got in their cars and just started driving to New York City with blankets, food, and other things."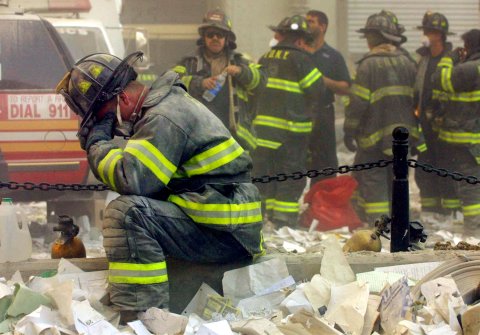 It stands out among disasters and remains the second largest single event donated to after 2005's Hurricane Katrina.
Contributions went to more than 369 different organizations working to provide 9/11 relief. That included well-established nonprofits like the American Red Cross, and also about 260 new nonprofits created in the wake of the attack, according to a report from the Internal Revenue Service.
The outpouring of donations was so great that several charities tried to end collections after just a few months to better manage and disperse the millions they had already received. The Red Cross stopped soliciting for its 9/11 Liberty Fund on October 31, 2001, having raised $543 million, and yet by June 2002 it had received another $424 million. The September 11th Fund collected more than $425 million within four months and announced in January it no longer wished to receive contributions, but by July 2002 another $76 million had been gifted.
It's a rare problem for nonprofits. According to Indiana University's Rooney, most charitable giving following a disaster falls off after the third or fourth month. Very few events galvanize us to continue giving beyond that point: only three other global tragedies between 2001 and 2017 have, 2004's Indonesian Tsunami, 2005's Hurricane Katrina and 2010's Haitian Earthquake.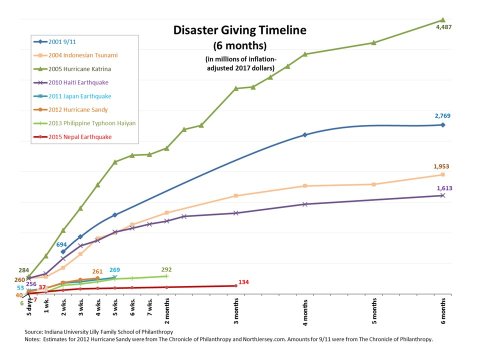 Charitable giving, however, only accounted for 10 percent of the total resources made available to deal with the aftermath of 9/11 in the early 2000s. The government provided the other 90 percent.
While the U.S. permanently reauthorized the September 11th Victim Compensation Fund in 2019 and granted $10.2 billion over 10 years to survivors, most 9/11-specific private charities don't exist today.
By 2006, only 56 of the 260 nonprofits created in response to the attack were still running. Five years later, that number dropped to 38, according to The Chronicle of Philanthropy. Many of these organizations, as well as the larger, more established charities, dispersed the funds collected and ended operations after fulfilling their stated goals within the first few years after the attack, according to a 2011 report by the Associated Press that examined 325 9/11-related nonprofits.
The AP investigation also uncovered organizations with questionable expenses, high administrative costs, shady dealings and little progress to show in achieving their stated mission. Almost four dozen 9/11 nonprofits lost their IRS tax-exempt status after failing to account for how collected money was spent. One charity soliciting donations for a 9/11 memorial quilt raised more than $700,000 but didn't make the quilt, instead giving one-third of the money to its founder and their relatives. Another charity set up in 2005 focused on creating a garden of forgiveness at the World Trade Center site raised $200,000 but gave its founder a $126,530 salary. The AP found that most of the dubious organizations it looked at were still actively soliciting donations 10 years after the tragedy.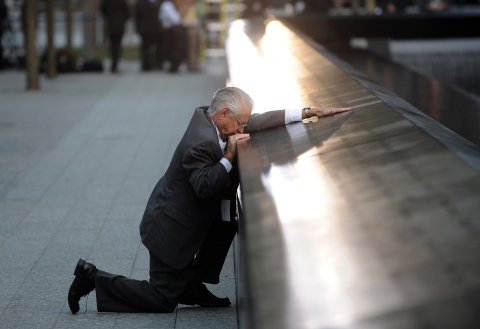 Today, there are a handful of well-regarded groups still collecting. If, especially on the 20th anniversary of the attacks, you'd like to honor those lost with a donation, nonprofit assessment organization Charity Navigator recommends the following groups:
Stephen Siller Tunnel to Towers Foundation. Created in remembrance of firefighter Stephen Siller who died helping others on 9/11, this nonprofit provides financial support to the families of injured or deceased firefighters, police officers, military members and other emergency services workers.
Tuesday's Children. Started after 9/11, this charity aims to provide support, such as mental health help as well as career and counseling programs, to survivors of the attacks and families of victims. It has now expanded its focus to include those impacted by terrorism or traumatic loss such as military families.
Scholarship America. This nonprofit's Families of Freedom Scholarship Fund was created to help those who lost family members on 9/11 afford higher education. As of last year, the fund had given away $176 million in scholarships to 3,848 students. It says need however has doubled since it began as it now provides aid to relations of rescue workers who contracted illnesses as a result of their efforts on 9/11.
FDNY Foundation and New York City Police Foundation. Honor one of the tens of thousands of firefighters and police officers who helped victims on 9/11 by gifting to the nonprofit arms of the city's first responders, which run a number of programs aimed at educating residents and making the city safer.
USA Cares, Inc. Created after 9/11 to provide support, financial assistance, and post-service skills training to the military veterans, service members and their families who were deployed to fight terrorism, this nonprofit aims to improve veteran's quality of life and prevent suicides.
Wounded Warrior Project. This nonprofit also works to support military veterans and service members who have suffered physical or mental injuries since 9/11. It connects those in need with mental health treatment, home healthcare, alternative therapies, stress management, peer support, civilian job placement and military benefit guidance.
Another way to help is by visiting or donating to the 9/11 Memorial & Museum, which maintains the memorial located at the World Trade Center dedicated to the 2,977 people who died on 9/11 and the six who were killed in the 1993 World Trade Center bombing.