Lindsey Buckingham is once again playing to live audiences on his latest American tour, which is somewhat miraculous given what he's been through over the last few years. In 2018, he was fired from Fleetwood Mac. The band's enormous success over 45 years was in no small part due to Buckingham's work as singer, songwriter, guitarist and arranger. Then in 2019, during triple bypass surgery his vocal cords were damaged by the insertion of a breathing tube.
Today, Buckingham says he's feeling great and is readying the release of his self-titled solo album (due out September 17), his first since 2011. The material on Lindsey Buckingham had been prepared prior to his split from Fleetwood Mac. "When I finished that duet album [2017's Lindsey Buckingham and Christine McVie] with Christine and toured it, then it was my idea to put this current album out back-to-back with that and do just a short American tour before going back out with Fleetwood Mac. There was some resistance from certain people to allow me to do that, which was disappointing. So it had been finished that long ago. But I do have to say that perhaps the themes that I was touching on, with all that's happened in the last three years, does inform the material in a way, which makes it way more visceral for me now for sure."
Buckingham recorded the album at his home studio in Los Angeles, and as on most of his solo projects, he produced it and played all of the instruments. The first single, the uptempo "I Don't Mind," has all the recognizable elements of his sound: melodic hooks, intricate production, multilayered vocals and shimmering guitar. Like most of the songs on the album, it's about relationships, particularly with his wife of over 20 years Kristen. (It was reported in June that the couple had split.)
"I think my wife was going through certain things with her own identity," he says of the track, "and she and I collectively were going through some sort of identity crisis. So you acknowledge that there's so much left to do and that we still have a lot to learn, and that you never stop learning if you're going to be honest about your relationship. At the same time, you've got to accept the joy and the sorrow all together because they live in the same space and sometimes they're indistinguishable. But you have to be willing and not minding the pain and the lack of clarity and the distance that sometimes can build up over time. And there has to be an acceptance. I think that that's probably the one word that describes the song is having acceptance."
As for Fleetwood Mac, there is a reference to the band on the track "On the Wrong Side" (which features a killer guitar solo) in the lyric: "We were young and now we're old/Who can tell me which is worse." "On The Wrong Side" is clearly about being a bit disillusioned with maybe the value set that Fleetwood Mac had collectively at that point," Buckingham says, "and the fact that for me, as one who has always made choices to continue to aspire to be an artist rather than a piece of a product, I felt that that was getting less and less of a tangible thing for anyone else in the band."
Two tracks, "Swan Song" and "Power Down," which Buckingham says are his favorites on the album, incorporate somewhat uncharacteristic electronic elements. "I wanted to do something that felt a little more techno," he says, "and the drum loops were just a great starting point and pretty much led to everything else. It was a way of having a little slap across the face just when you thought the album might be a little too pretty."
Lindsey Buckingham ends on a philosophical and somewhat melancholic note with the atmospheric and stark ballad "Dancing." Buckingham says some of the song's lyrics may have been inspired by Stevie Nicks. "Some of it could have been sort of a notion that was based on Stevie," he says, "and how she tends to sort of isolate herself emotionally and has put all her priorities into her professional life. I think at some point that some of those lyrics cross-pollinated with what was going on in my own life at home with some of the issues that my wife and I were trying to sort out—the fact that she was looking for something that she hadn't quite found yet. In the process of doing that, there were times when she tended to leave not only me in the lurch, but maybe our kids, too. On some level, we're all waiting for the circle to come around again, and what we're doing while we wait is basically dancing the dance of life."
Buckingham is touring the U.S. through December, and will play the U.K. and Europe starting in May 2022. In addition to his solo music, he is also performing songs he wrote for Fleetwood Mac, a catalog that includes "Go Your Own Way," "Big Love," "Second Hand News," "Tusk" and "Never Going Back Again."
On the band's 2018–2019 tour, Tom Petty guitarist Mike Campbell and Crowded House singer Neil Finn replaced Buckingham. "I can't say that I was crushed," Buckingham says. "The only thing I felt about that was that we had spent 43 years together as a band basically overcoming so much difficulty personally in order to fulfill a destiny that we knew we had. That has been in many ways the legacy of the subtext of Fleetwood Mac beyond the music. And so when I saw the setlist they were doing, which had [the songs of late Fleetwood Mac founder] Peter Green, Crowded House and Tom Petty in the set, I thought, 'Well, this is not honoring the legacy of what we accomplished.' That was the only thing that bothered me. And it bothered me that they were okay with that. But again, I don't think they had much of a choice."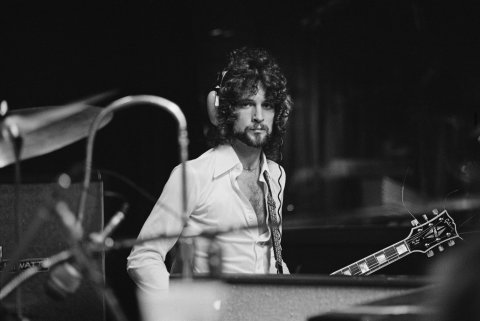 Buckingham says he remains on good terms with most of the other members of the classic 1970s Mac lineup. "I don't really communicate with Christine much. She's back in England...but everything is fine with her. All of that stuff that happened, it wasn't something Christine or Mick [Fleetwood] really wanted. But they had to go along, and I don't hold a grudge for that. Everyone has had their moments of weakness, and I just look at it that way." "I communicate with Mick all the time," he later says. "Mick talks to me about getting the five of us back together. And he knows I would come back like a shot because whatever happened then happened, and it would be very appropriate for the five of us to go out and at least finish on a note which had more context to it. Stevie I don't really speak to, so I assume she's doing okay, but I don't really know how she's doing emotionally or anything. But Mick and I have always been soul mates, and that'll never change."
Right now, with his new record and current tour (not to mention guest appearances on recent albums by the Killers and Halsey) Buckingham says that there's still quite a bit for him to do in the future. "Obviously the last few years have put up a few roadblocks." he says, "but hopefully those are behind me now, and it's basically onwards and upwards from here."
Further Listening
Law and Order
Elektra/Asylum, 1981
Buckingham's solo debut in 1981 containing the Top 10 hit "Trouble." The album could be considered a companion to the experimental songs he wrote and produced for Fleetwood Mac's commercially disappointing 1979's Tusk. After Tusk, Buckingham recalls, "Mick [Fleetwood] came to me one day and said, 'Lindsey, we're not gonna do that process again.' 'Okay, fair enough.' In that moment, I realized, 'If I wanna continue to take risks [and] try to define myself as an artist in the long term, I'm gonna have to start making solo albums.'"
Out of the Cradle
Reprise, 1992
A tour de force, Out of the Cradle contained tracks that rock with abandon ("Wrong," "Countdown," "Turn It On"), carry a laid-back Southern California feel ("Soul Drifter," "Surrender the Rain") and offer moments of poignance ("Street of Dreams")."That's still one of my favorite albums, and I'm very proud of that," Buckingham says now. "I think some of that was because I had taken leave of the band and had all that space around me to kind of figure out where I was going from there."
Seeds We Sow
Buckingham Records, 2011
The standouts on Buckingham's sixth album include the title track, "In Our Own Time," "Rock Away Blind" and "Stars Are Crazy." At the time of its release, he said: "On a lyrical level over the years, I try to get a little bit more poetic and subjective in terms of what lyrics mean so that they're not particularly literal. I think I hit my stride on this album in that way. It represents a level of maturity [and] a reflection of what my personal life has become."