If there was ever a time to reimagine what lies ahead, it's today as we envision our post-pandemic world. In every crisis there's opportunity, and for the 175th anniversary of the world's largest museum and research complex, the Smithsonian is celebrating innovations created out of disruption. For the first time in nearly two decades, the historic Arts + Industries Building (AIB)—America's first National Museum—will be temporarily opened for its first major building-wide exploration of the future.
"Now, more than ever, we need a way to think about the future with hopefulness and flexibility," Rachel Goslins, director of the Smithsonian's AIB, where the "FUTURES" exhibit will be staged, tells Newsweek. "To be able to imagine the future we want, not just the future we fear."
"With the tumultuous events of the last couple years, it's even more important to be able to imagine a future which is healthy, equitable and sustainable, so we can chart a course toward that future."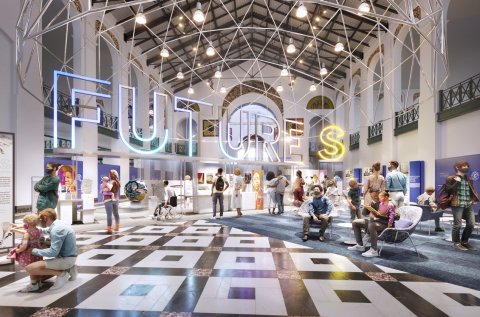 Fusing art, technology, design and history, "FUTURES" is opening in late 2021 and on view (with no admission charge) until summer 2022. Newsweek got an exclusive look at some of the most groundbreaking pieces that will be part of the exhibit, including some that will be unveiled to the public for the first time, such as Virgin Hyperloop; a model of an Oceanix floating city; and LightSail, a solar-powered spacecraft. Addressing the most pressing issues of our time, from climate change to social justice, this bold new exhibit is unveiling exciting new possibilities.
Goslins, the former executive director of President Obama's Committee on the Arts and Humanities, shares some of her favorite pieces that show technology can, at its best, work to make us more human, not less—like Doing Nothing With AI, a responsive sculpture that reads your movements to help put you in a state of creative daydreaming; and the Co-Lab, an interactive experience in which people work together with artificial intelligence to design their ideal community.
In an era when isolation and social distancing are hallmarks of the time, "FUTURES" celebrates our agency to create more human connections.
Take a look at some of the most groundbreaking pieces in "FUTURES".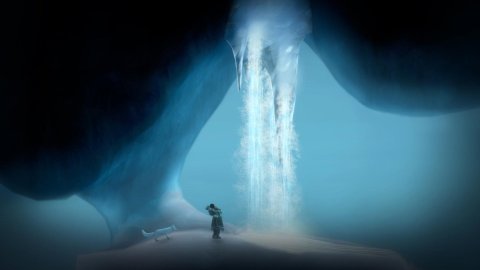 Never Alone Video Game
Iñupiat Territory, Alaska and Canada
Some video games may get a bad rap, but they can have a positive influence, as this one does, by featuring diverse cultures and voices. The award-winning "Never-Alone," features an Iñupiat girl and an arctic fox as they seek out the source of a blizzard that threatens their survival. The game was created in partnership with the Cook Inlet Tribal Council and native Alaskan folklore storytellers.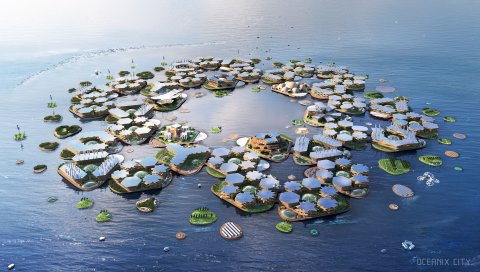 Oceanix
Pacific Ocean
Think of it as a more sustainable Waterworld. With rising sea levels affecting approximately 40 percent of the world's population living in coastal areas, Oceanix, self-sustaining and affordable floating communities that could be built off the coast of cities like Hong Kong, Shanghai, Singapore and San Francisco, would produce their own power using renewable sources. These cities could provide shelter, energy, food and water for villages of up to 10,000 residents without destroying marine ecosystems.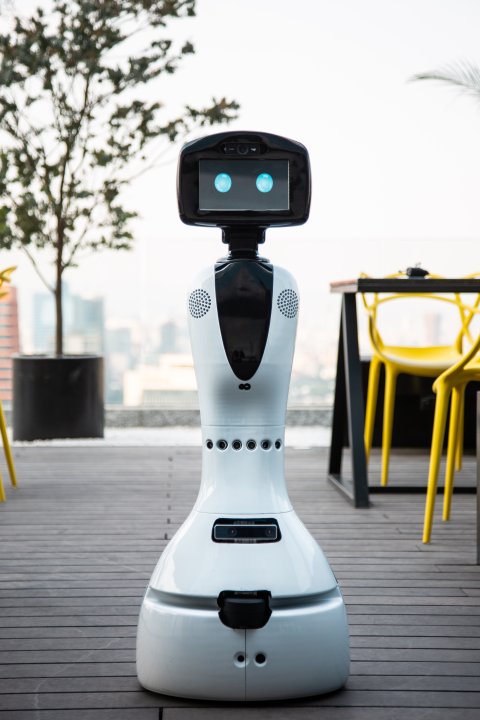 Roomiebot
Mexico City
One innovation to come out of the pandemic? RoomieBot, a social robot that can be programmed not only to test for COVID-19 infections, but also to reduce loneliness during lockdowns. This comforting humanoid has a natural language processing engine to provide emotional support for sick patients as well as the immunocompromised and the elderly.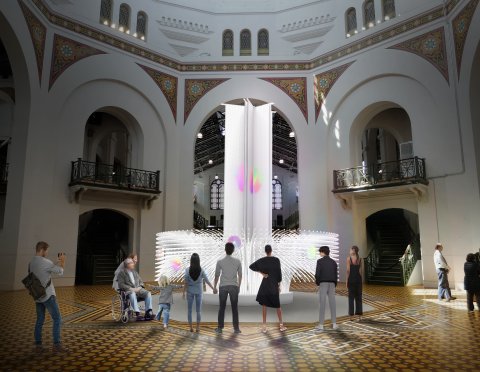 me + you
New York
This new, site-specific installation by Suchi Reddy makes a giant fountain of light using optical fibers. But that's not all: visitors are invited to share their feelings about the future into a microphone; those sentiments dictate changing colors and patterns at the piece's center which represent "humanity's collective wisdom."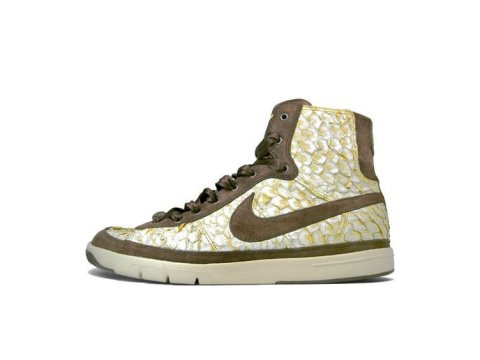 Fish Skin Fashion
Spain, Alaska, Japan
In an era of fast fashion, luxury designer Elisa Palomino-Perez innovates sustainability—by embracing the traditional practice of crafting with fish scales, found in many coastal indigenous communities. You heard it here first: fish is the new black this fall at "FUTURES."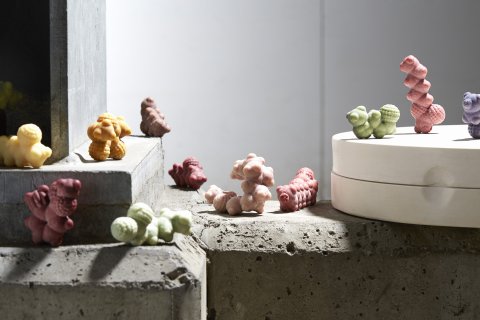 Atoma Spice Clusters
Berlin
Why consume limited resources growing, packaging and transporting real strawberries and other tasty foods when their flavor can be copied in the laboratory? Award-winning Russian-German food designer Alexandra Genis has developed a range of synthetic molecules that can be mixed and matched to create a wide variety of flavors. Her innovation turns the tables on the idea that "artificial" foods are always less sustainable than the real thing.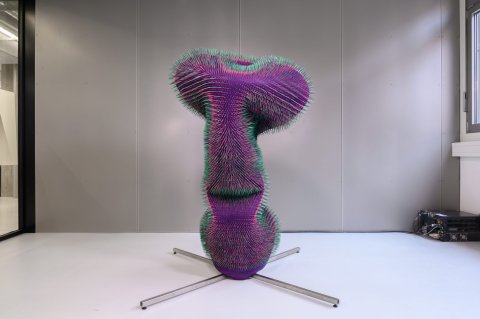 Doing Nothing with AI
Vienna
Fusing machine learning and robotics, this interactive installation by artist Emanuel Gollob creates a "moving, hypnotic, meditative state" using viewers' brainwaves. For "FUTURES," Gollob reimagined it to see what movements it can make to inspire visitors to relax, optimizing its effects over the exhibition's run.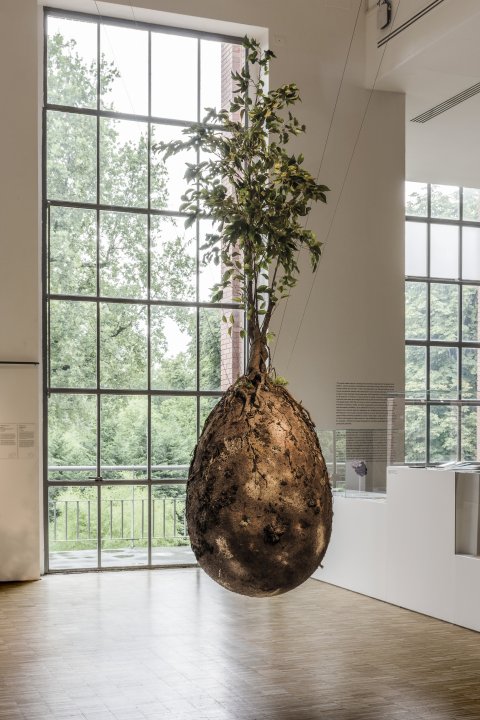 Capsula Mundi
Italy
This biodegradable burial method replaces graves with trees. Instead of removing living plants to make space for cemeteries, Capsula Mundi creates new life from death. These burial pods contain nutrients that feed growing plants and trees, which in turn benefit the living by converting carbon dioxide into oxygen.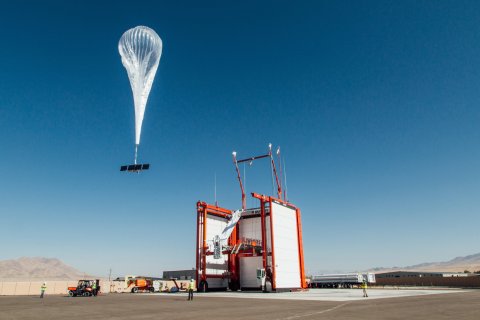 Loon Internet Balloon
Kenya
Right now, one of every two people worldwide lacks access to the internet. Lifting internet connectivity to the stratosphere, Loon filled coverage gaps in rural communities and can improve network resilience by taking to the sky. Via a network of tennis court-sized balloons traveling along the edge of space, X, Alphabet's Moonshot company, has made the internet available to victims of natural disasters in Peru and Puerto Rico and expanded coverage in Africa.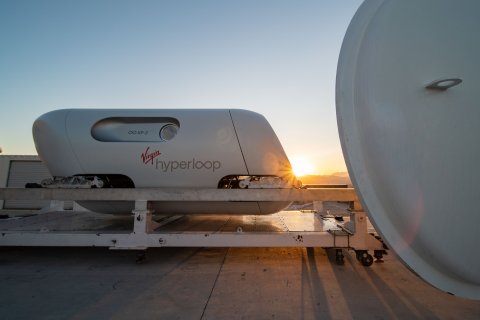 Virgin Hyperloop
Pegasus Pod
Mumbai to Chennai (test route)
Shown to the public for the first time at AIB, Hyperloop's Pegasus is a manned prototype pod for a new version of mass transportation. These uber-fast 600 mph trains float by electric propulsion through low-pressure tubes with zero direct emissions, connecting far-flung locations and redefining our future work, life and travel.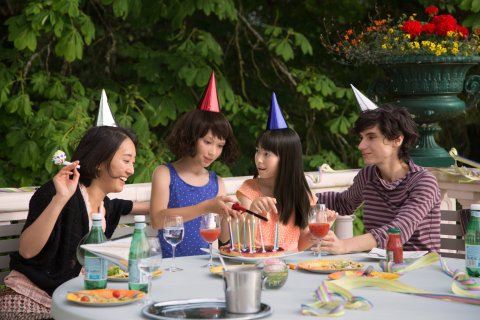 (Im)possible Baby
Japan
Recent developments in genetics and stem cell research are close to making it possible for same-sex couples to have their own genetically related children. This speculative photo/design project by artist Ai Hasegawa aims to inspire open discussion about the bioethical implications of these emerging biotechnologies.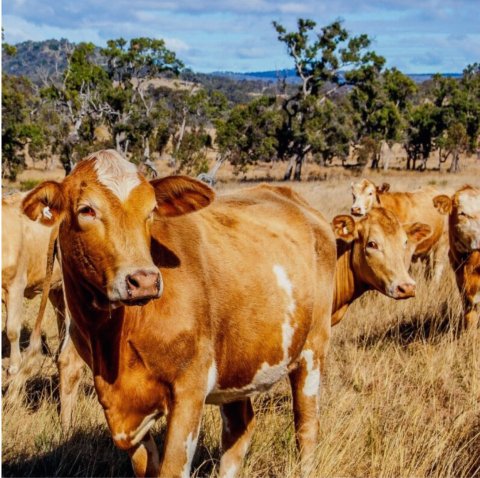 FutureFeed
Australia
By feeding livestock a seaweed supplement, FutureFeed both helps tackle global food security and fight climate change. How? The seaweed additive cuts greenhouse gases by almost 98 percent by significantly reducing cattle's methane emissions.