From the pages of the upcoming Gastro Obscura: A Food Adventurer's Guide (Workman, October), find wonder and be inspired by foods and eating traditions from around the world. From an orange matchmaking festival in Malaysia to a bachelor's stew prepared in a bathhouse in Morocco to the jiggly Jell-O salads of the Midwest, here are some of authors Cecily Wong and Dylan Thuras' favorite culinary experiences from the collection.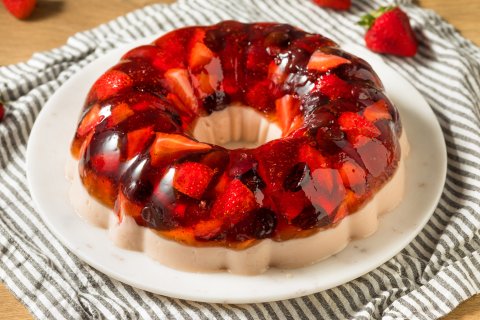 Instant Salads of the Midwest
Minnesota
In the American heartland, the term salad adheres to regional vernacular and often has nothing to do with vegetables. One example, Jell-O Salad rose to prominence as an easy, affordable way for housewives to prepare something new and stylish. Using a packet of instant gelatin, these molded salads could contain almost anything, sweet or savory.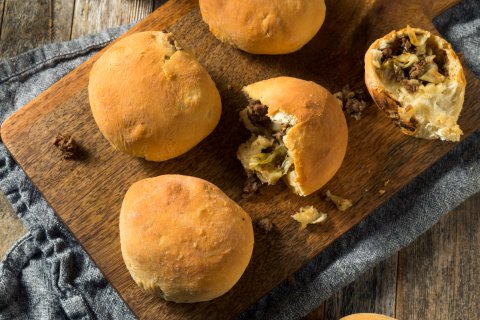 Beefy Handwarmers
Nebraska
Members of the Russian-German community opened small shops dedicated to these handheld, spiced meat pockets, which grew so popular that they spawned a chain. The first runza store opened in 1949. Today, there are about 85. Locals eat runzas regularly, but they are especially abundant at football games, where they're used as edible hand warmers.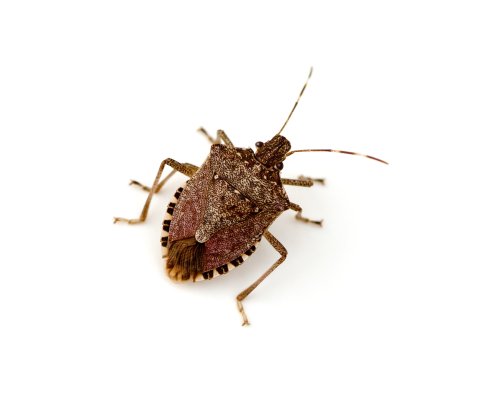 Cinnamon-Flavored Bugs
Taxco, Mexico
Harvested from their mountain homes, these ancient stink bugs—jumiles—are commonly doused with lime, wrapped in tortillas and consumed while the bug still has full capacity of its scuttling legs. An annual Jumil Day honoring them takes place on the Monday after the Day of the Dead because many locals believe the insects are the reincarnation of their ancestors.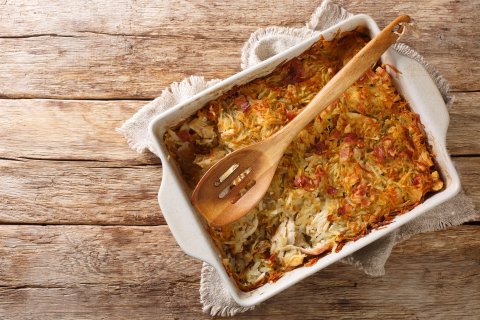 Acadian Gathering Pie
Saulnierville, Nova Scotia
Rappie pie calls for 20 pounds of potatoes, which must be peeled, grated and wrung out in small batches. Once dry, they are rehydrated with hot chicken stock, then poured into a casserole dish, topped with shredded chicken, more grated potatoes, hunks of salt pork and dollops of butter, then crisped in an oven. Processing this many potatoes requires time and teamwork, which is precisely the point of a rappie pie, an exercise in fellowship to gather the dwindling Acadian community of Nova Scotia.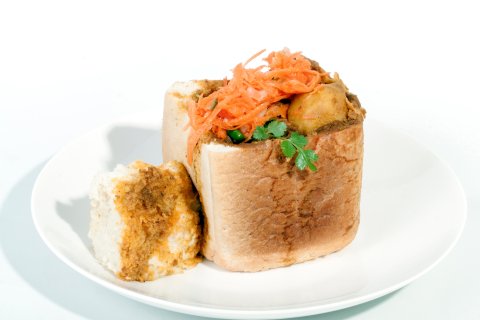 Bunny Chow
South Africa
A hollowed-out chunk of soft white bread filled to the brim with curry, bunny chow dates back to apartheid when both Indian and Black South Africans were banned from entering many establishments, including restaurants; bunny chow became a cheap meal that could be passed through a window. Over time, it transitioned into a food ordered out of desire rather than necessity.
Stargazy Pie
Mousehole, England
Tom Bawcock's Eve, a Christmastime festival held in this Cornish seaside village, celebrates a 16th-century folk hero who sailed out to fish despite dangerous storms and returned with enough catch to end a local famine. To honor the fisherman, revelers tuck into this classic savory fish pie of potatoes, eggs and white sauce, with the added flourish of intact fish heads craning their necks through the crust, as though looking up at the stars.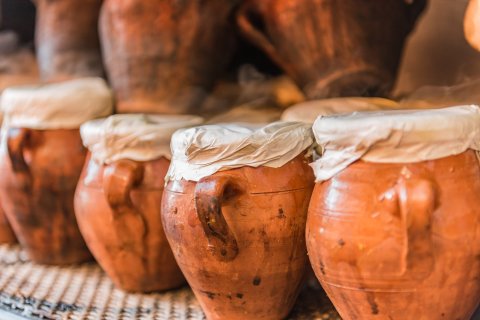 Bathhouse Tajine
Marrakech
Tanjia, a name for both the cooking vessel and the dish inside it, practically cooks itself. After the butcher fills the jug with meat and seasons and seals it, an attendant at the local hamman (bathhouse) will nestle the jug into the hot ash of the oven used to heat the bathwater, and leave it to slowly cook for at least half a day. The long, gentle simmer renders the meat so tender it practically melts. Because tanjia requires no cooking skills, it has a reputation for being a bachelor's meal.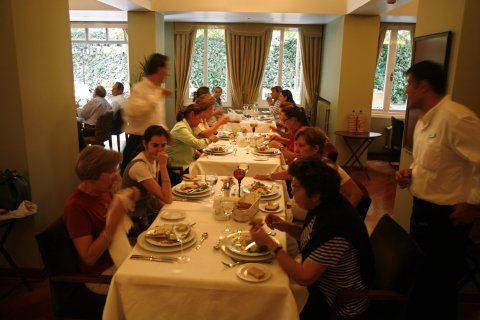 Sultan Cuisine from the Ottoman Empire
Istanbul
Asitane Restaurant prides itself on recreating Ottoman cuisine, which is not easy. During the Ottoman period (1299–1922), secretive guilds prohibited chefs from writing down recipes, and any records that were kept are in Ottoman Turkish, written in Arabic script. Undaunted, Asitane hired a team of academics and researchers to search for menus detailing historic feasts, records of foods purchased for palace kitchens and written accounts by travelers, and recreated them.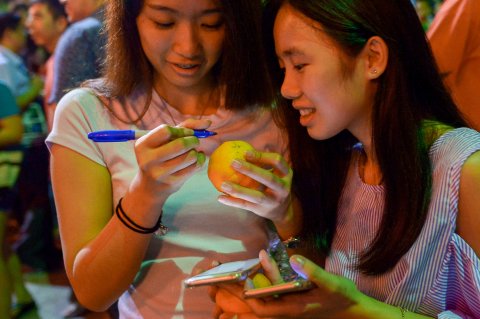 Matchmaking Orange Festival
Penang Island, Malaysia
During Lunar New Year on Chap Goh Mei, single women co-opt the symbolic gift of oranges (which represent wealth) to help them find love. Starting in the late 19th century, eligible women on Penang Island wrote on orange rinds and tossed the fruit into the water. Male suitors were meant to pluck a floating orb, then find the affiliated lady. Singles initially performed this ritual so that fate might bring them a spouse, but today, women add their phone number or social media handle and try to land a date.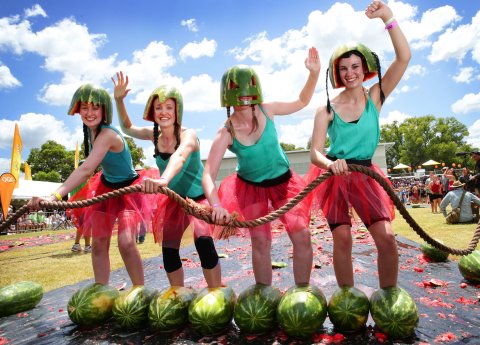 Watermelon Athletics
Chinchilla, Australia
Watermelon skiing is the main event at this biennial melon festival. Aspiring fruit athletes don a helmet, slip each foot into a hollowed-out watermelon and hold on tight. The rope they grasp is held on either end by volunteers, who pull the skiers down a long, slippery tarp strewn with smashed melons until they belly flop (common) or make it to the end of the line (rare).
---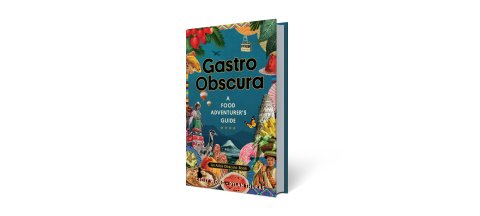 Adapted from Gastro Obscura: A Food Adventurer's Guide by Cecily Wong and Dylan Thuras. Published by Workman.
CORRECTION 10/06/2021, 12 PM: The article introduction was corrected to include author Dylan Thuras' name, which was omitted.