"A cemetery so beautiful, it invites one to die," said the caretaker of Tulcán, Ecuador's cemetery, before he was buried beneath the toucan topiaries he had sculpted. While ostensibly for the dead, burial rituals can also tell rich stories of a culture's living. From epitaph roasts in Romania, to cliff-hanging coffins in the Philippines, to a graveyard movie theater in Hollywood, here are some of the burial sites that are as fascinating as their tenants.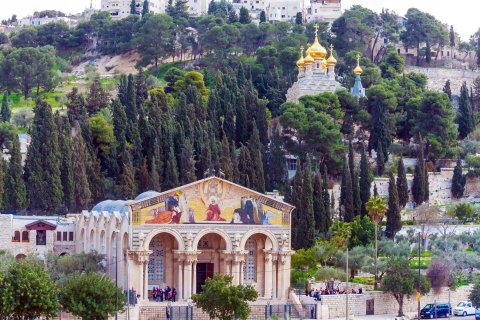 Mount of Olives
Jerusalem
Named for the olive groves that used to grow here, this is the burial location of many prominent biblical and modern Jewish figures including famous Hasidic rabbis; Eliezer Ben-Yehuda, the father of modern Hebrew; and Boris Schatz, the founder of the Bezalel School of Art. The site draws visitors from all religions who can experience panoramic views of the Old City, the Temple Mount and the Judean Desert from its top.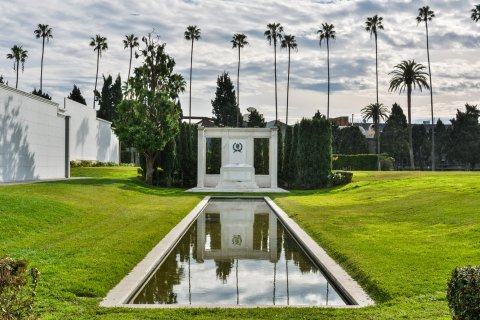 Hollywood Forever
Los Angeles
Notable residents here include actors Judy Garland and Iron Eyes Cody, silent film heartthrob Rudolph Valentino and figure skater Mabel Fairbanks—but this is not your average cemetery. It doubles as a lively event space that hosts concerts and summer movie screenings. It's also home to roaming flamingos, who bask in the sun near over-the-top reflective pools (because, L.A.).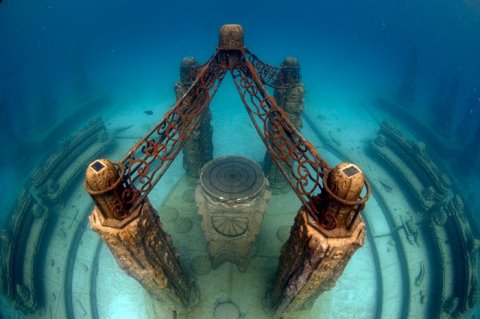 Neptune Memorial Reef
Off the Coast of Key Biscayne, Florida
You'll need your scuba diving certification to explore this one. This underwater necropolis doubles as an artificial reef and sits 40 feet under the sea. Cremated remains are cast in concrete then placed within a gated area that's guarded by sculpted lions.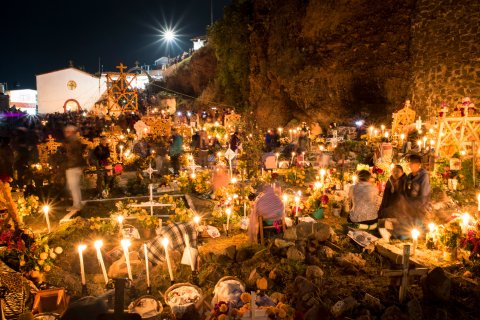 Janitzio Cemetery
Lake Pátzcuaro, Mexico
During Day of the Dead, family members embark on a candlelit boat procession across the lake to visit loved ones' tombs. They stay overnight, decorating altars with yellow marigolds, holding vigils, performing traditional dances and drinking mezcal. The cemetery bell tolls throughout the festivities, calling the souls to their graves.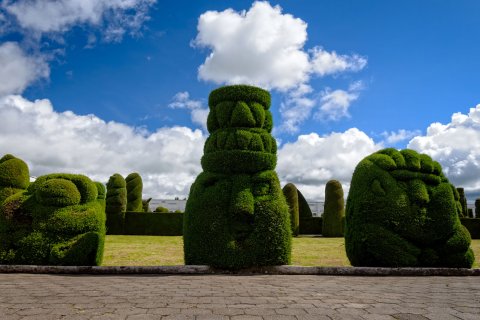 Tulcán Cemetery
Tulcán, Ecuador
While working as the graveyard's caretaker, José María Azael Franco Guerrero began planting hundreds of cypress trees. He then pruned them into huge topiaries of Incan symbols, mythical birds and other animals. When he passed, he was buried in the shadows of his art, his tombstone inscribed with a quote from him: "a cemetery so beautiful, it invites one to die."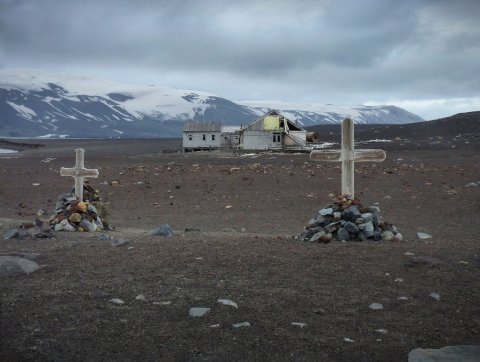 Whalers Bay Cemetery
Deception Island, Antarctica
In one of the world's harshest terrains are the remnants of an abandoned whaling station—including a burial site for whalers who died on the job and a memorial for those lost at sea. Deception Island is also home to an active volcano, and an eruption in 1969 covered most of the graves; however, a few small crosses survived to denote those lost here.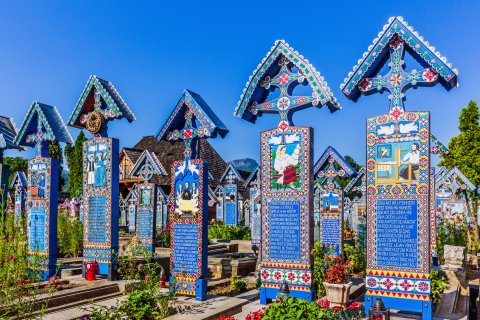 Merry Cemetery
Săpânța, Romania
The epitaphs on these bright blue tombstones are brutally honest, poking fun at the booze habits and workaholic tendencies of those lain to rest. One grave's inscription even jokes about a cranky mother-in-law residing there. The dark humor is symbolic of the culture's views on death, approached with celebration rather than solemnity.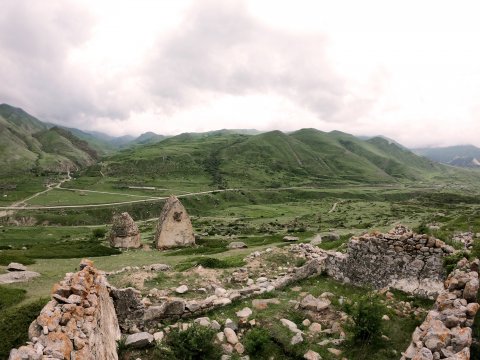 City of the Dead
Dargavs, Russia
According to local lore, no one returns alive from this remote necropolis in southern Russia, where burials date back to the 16th century. It's believed that during plagues, infected people quarantined in the above-ground crypts, waiting for death. Several bodies are interred inside wooden structures that look like boats, which some historians attribute to a belief that one had to cross a river to get to the afterlife.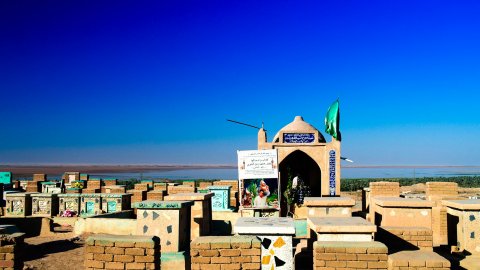 Wadi-al-Salam Cemetery
Najaf, Iraq
Over five million people are buried in the sandy ground here, and millions more of the living go on pilgrimage to the site—whose name translates as "Valley of Peace"—every year. It is thought to be the largest cemetery in the world and contains the remains of ancient imams and prophets—including the first Shi'ite imam, Ali ibn Abi Talib, relative of the Prophet Mohammad.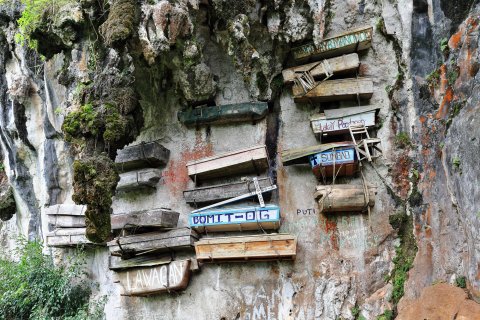 Hanging Coffins of Sagada
Echo Valley, Philippines
In this craggy region, painted pine coffins hang from the cliff faces. The Igorot people of Sagada carve their own caskets, then stack them high on the mountains. The practice protects the bodies from animals and flooding, and locals believe it also helps their spirits have an easier time reaching the afterlife.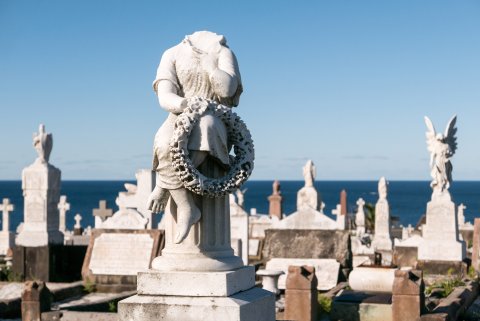 Waverley Cemetery
Cliffs at Bronte, Australia
This cemetery in the Sydney suburbs doubles as a refuge for local wildlife. Overlooking the Tasman Sea, kookaburras perch on gravestones, while foxes and reptiles burrow within ruins. Each detail is wrought with symbolism; at first glance, the broken columns look like signs of wear. In reality, they were purposely broken to signify ended life.