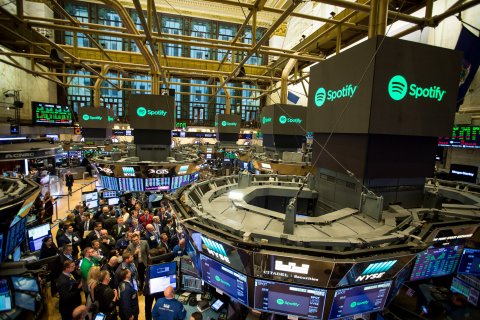 How do you make it to the top of our list of Most Loved Workplaces?
It's simple, but not easy: Build a company culture that actually puts people first. In the case of this year's winner, international music streaming behemoth Spotify, one key to doing that is starting with Swedish parts.
The company has offices all over the world and the largest is in New York City, but its headquarters and roots are in Stockholm. As it has grown, Spotify has kept big characteristically Swedish things like a relatively flat management structure, a "no prima donnas" employee policy, a corporate culture that emphasizes teamwork and openness as well as perks—some of which, though required by law in Sweden, are almost unheard of elsewhere. Like, for instance, six months of paid leave for all new parents, including men.
There's more. Much more.
This February the company adopted a "work from anywhere" policy under which employees are encouraged to live wherever they choose and connect digitally. This November, Spotify is giving all its employees the first week of the month off to recharge somewhat from the stresses of the pandemic, with all work—emails, Zoom meetings, phone calls—actively discouraged. (Spotify will still be available to listeners, of course, and employees who need to work to keep the network running will get the following week off.)
Then there are little things, like "fika." Although the word corresponds roughly to "coffee break" in American English, in Sweden fika is part of the national character, a daily reminder of commitment to work/life balance. Adam Winer, an American Spotify senior director for content strategy, analytics and insights says, in Sweden, "you hear "oh, it's fika time. Let's get out the cinnamon rolls and the coffee and whatever. " Winer says he now uses fika as a hiring tool, having a promising candidate hang informally with four or five Spotifiers over coffee as part of the interview process.
He confesses to having been a little skeptical at first about what he heard about collaboration and access to senior executives up to, and including, the founders. "It's not like Amazon where managers are expected to fire their bottom 10 percent...the level of transparency blew me away," he says. "You hear about it but then you're surprised to see it."
Winer adds: "With a lot of perks at other tech companies there's this sense that they're treating you nicely so you'll work hard, to keep you in the office. Here it's because they genuinely care about you as a human being: 'We're Swedish! We believe these things! Our culture is we all go to the beach for a month in the summer and shut everything down because Sweden is dark and terrible for nine months out of the year so we must all enjoy it and that's well-being and that's important to us.'''
Founded in 2006 in Stockholm by Daniel Ek and Martin Lorentzon, Spotify reshuffled the music business, replacing sharing operations like Napster with legal licensing and eventually making mobile phones the device most people use to find and listen to music. Some big stars like Taylor Swift complained—and many still do—about the royalty rates Spotify offers. But after pulling her music off the service, Swift and the company eventually came to terms.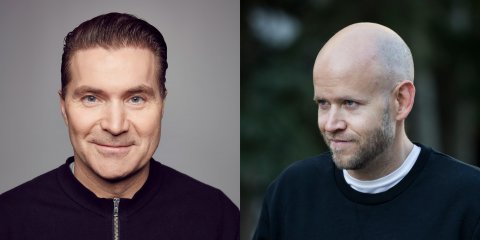 Spotify is very much in growth and investment mode. About 365 million active users listen each month; 165 million are paying premium subscribers, the rest listen to Spotify's roughly 70 million track, 2.9 million podcast library free with ads. The company now has about 7,000 employees in 79 offices around the world. Recently it has made a big push into podcasting, signing the likes of controversial comic and commentator Joe Rogan as well as Barack Obama and Bruce Springsteen. While it has yet to report a profit, the publicly-traded company is valued at about $46 billion. (Revenues in 2020: $9.1 billion.)
For all that growth, however, according to Ching-Wei Chen, director of machine learning engineering, "Spotify is the biggest company I've worked for and it feels like the smallest. In terms of red tape and hierarchy, it feels like a small company."
Playing in the Band
Maintaining the vibe of a people-centric Swedish operation has been a challenge as Spotify has become an international employer and cultural force. Gustav Söderström, Spotify's chief of R&D says, "It's hard and it probably should be if you want to be a great company."
Stockholm-based chief human resources officer Katarina Berg says the company has become somewhat "less Swedish" as it goes through an extended period of "hypergrowth," something she expects to go on for at least another four or five years. "We're bringing close to 150 warm bodies into the organization every month," she says. In that atmosphere of constant "controlled chaos," she adds, cultural change is inevitable: "We have founders who understand culture evolves."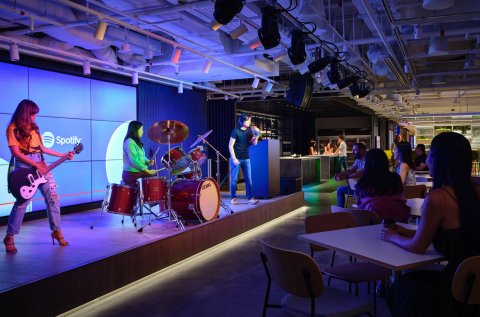 The traditionally Swedish way of doing things, for example, can involve a slow process of consultation and discussion across a company to reach consensus before any big move. At Spotify, Berg says, things are moving much too quickly for that and, in a company of more than 7,000 widely dispersed people that is rapidly adding products and making acquisitions, there's never going to be total agreement on anything. "We don't have time for politics," she adds. The tradition, though, of talking things through publicly, of making both information and senior executives available to employees, hasn't changed. The goal now, however, is "consent, not consensus."
R&D chief Söderström says, "I always say 'Talk is cheap'—so let's do a lot of it." Far cheaper, he says, than either talent or code. "Collaboration is sometimes slower," he says, "You need a lot more conversations with bigger groups...more people need to know the whole context."
The working paradox, Spotify executives say, is that while discussion and collaboration can take more time at first, the employee confidence it generates ultimately allows Spotify teams to act faster, out of a shared sense of purpose. As Berg says, "When trust goes up, speed goes up."
Söderström adds, "You can't win. There's no 'right' organization,'' but says the decentralized, collaborative model works much better for Spotify than the internal team competition favored at Amazon or the narrow focusing of all efforts on supporting a small core of products as at Apple.
He says it also fits Spotify's strategic goal of expanding beyond its original role as a distribution channel for professional musicians and established labels, to being what he calls a "platform," where music and audio of all kinds are made by people of all kinds and where creators and listeners are free to interact and even swap roles. The aim, he says, is an enormous "loop of creation and listening." Building that, he says, is an ambitious and exciting strategic and engineering challenge: "We want to get a billion people getting enjoyment from this...and that's a really big problem."
Although Spotify has made a move into both big name podcasts and in offering customers tools to make their own, music remains at the core of the brand. That has a lot to do with both the company's culture and the type of people it attracts as employees.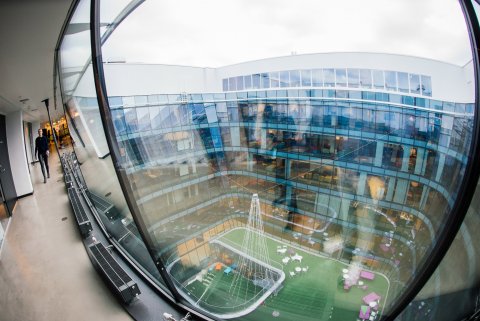 Spotify culture abounds with references to "the band," meaning the company itself. Think: the happy Beatles of A Hard Day's Night as opposed to the bickering Fab Four of Let it Be. HR chief Berg says the band concept, while useful, shouldn't be taken too literally. "We haven't found our Yoko Ono," she jokes, adding, "More it is the idea of active cooperation, of everybody contributing something distinct but necessary to the whole."
A love of music seems to be a core Spotify personality trait. Director of machine learning engineering Chen says, "For a lot of people [music] reaches to their core and is a part of who they are and when you come together with other people who share that passion...you like working with those people because you share that connection. "
The Secret Sauce?
The pandemic has hit Spotify hard just as it has everyone else, forcing employees out of the office and canceling most of the daily personal interactions that can make work life both more productive and enjoyable. Spotify has embarked on a number of online efforts both to reinforce and refine its core values and also to try to keep employees connected socially. What will be the long-term effect of the shift brought on by the pandemic?
Content strategist Adam Winer, who joined the company in New York City but now lives in Minnesota, says his team of about 40 people spread around the country and physically kept apart by the pandemic has now gotten big enough that he's had to be more proactive about simply "checking in on them as human beings." He says he misses all the daily interactions that used to happen in the office. Still, he says, he doesn't think the pandemic has led to any fundamental change in Spotify culture. As for working from anywhere, he says, "We were so international already that it was surprising how un-disruptive it was."
He also says that stress of the pandemic has, if anything, reinforced the company's employee well-being first ethos. "Managers are almost tripping over themselves to respect work/life balance," he explains. One personal example, he says, is reassuring colleagues that if he sends them an email at an odd hour, it is only because he likes to work when his young children are asleep and not because he expects an answer early in the morning or over the weekend. He says, "The last thing I want from everyone on my team is that they work so hard over these past six months that they quit and I don't have them for the next six years."
Machine learning engineering director Chen, who also started off in Spotify's New York City office but now lives and works in Asheville, North Carolina, agrees that company culture has not changed much over the last two years. "I've been pleasantly surprised how much that cohesiveness has held over into the post COVID-19 world. You never know. Back then we had really nice offices, a really nice coffee machine, is that what's keeping people together? But we have kept it through the pandemic."
The main reason is simple. "It's not some secret Spotify sauce. It's not only at Spotify you have nice people," he says, "but I would say this is the nicest bunch of people that I've worked with in my career."
See the full list of the 100 Most Loved Workplaces in America here.