With the climate crisis escalating, increasing focus is being trained on reducing our impact on the planet in every part of life—from electric-powered travel to more plant-based diets. And while building and development are often at odds with nature, some architects find a way to build smarter and more climate-friendly structures that minimize the negative impact on the environment, without sacrificing aesthetics. From a high-design climate research center on the edge of the Arctic, to a 3D-printed house made of raw earth in Italy, to a purified microclimate playground in Warsaw, these buildings are just as stunning as they are sustainable.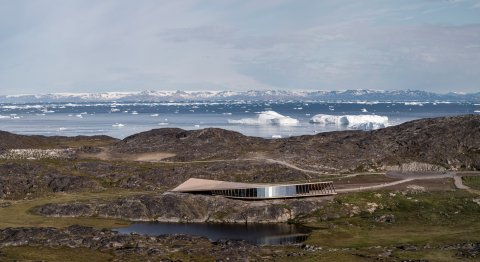 Ilulissat Icefjord Centre
Ilulissat, Greenland
Designed by Danish architect Dorte Mandrup, this new climate research and visitor center is now UNESCO-designated and home to the world's fastest-moving glacier, Sermeq Kujalleq. Once a spot only few could reach, the center allows everyday people a chance to see climate change at its most visible in the form of the world's most active calving glaciers. The building's sinuous steel frame is 80 percent recycled, lessening the environmental impact; its sloping, walkable roof both prevents snow buildup and provides a community gathering place.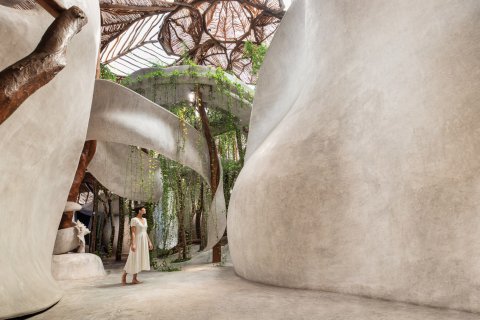 SFER IK
Tulum, Mexico
In an ancient Mayan village in the Yucatán, the SFER IK museum models engaging community around sustainable design. Built in a mere nine months from only three materials—vines, cement and fiberglass—it merges fine art with a jungle environment. Employing over 200 artisans from around the world, it seeks to be a spot for immersive installations and attracts creative travelers, as does its sister property, eco-hotel AZULIK in nearby Tulum.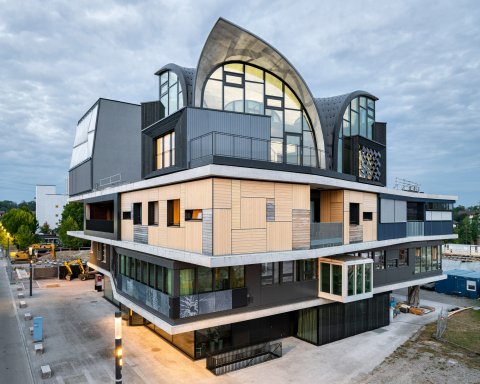 HILO Nest
Zurich, Switzerland
The High Performance, Low Emissions (HILO) project is a new, two-story office space installed on top of Switzerland's NEST research center, focused on architecture and sustainable technologies. Using the least amount of concrete and materials possible to reduce carbon emissions, the curved roof and lightweight, ribbed funicular floor system show that high design and a lower carbon footprint aren't inconsistent.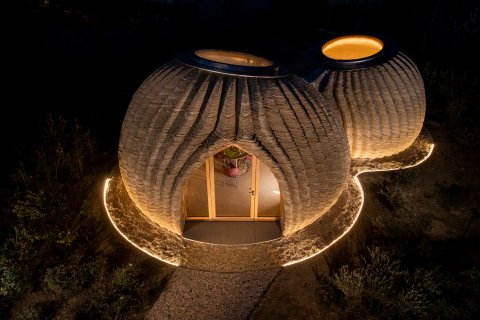 TECLA
Ravenna, Italy
The world's first 3D-printed house made entirely from raw earth, TECLA merges natural materials with innovative technology. Constructed with only one material—local soil—in only 200 hours, this zero-waste, biodegradable, low-carbon, yet striking avant-garde–looking building is an architectural wonder.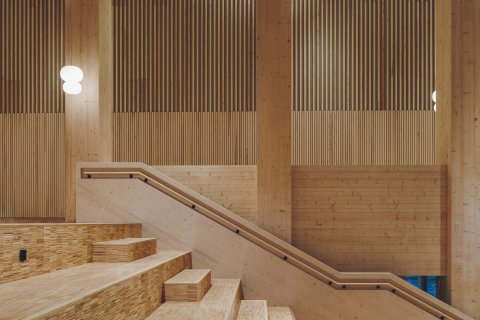 Sara Kulturhus
Skellefteå, Sweden
The sustainable material making a comeback? Wood. This 20-story, cultural center in northern Sweden is one of the world's tallest wooden buildings at almost 262 feet and built with cross-laminated timber. With a museum, theater gallery, library and a new hotel, this innovative building project is pushing to be carbon-negative with 100 percent renewable energy.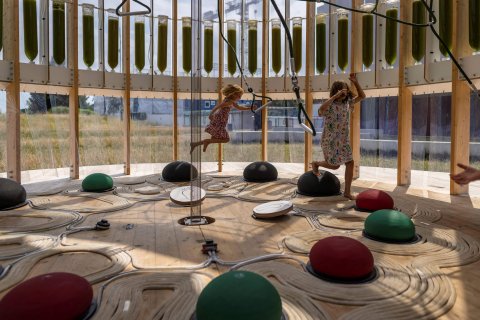 AirBubble Playground
Warsaw
Welcome to the playground of the future. Created by ecoLogicStudio as a purified microclimate in the center of Warsaw, one of the most polluted cities in Europe, this is the world's first playground created by a high-tech algae greenhouse. Even cooler? This architectural playzone's purified air is powered by the sun as well as children's energy as they jump on water foot pumps.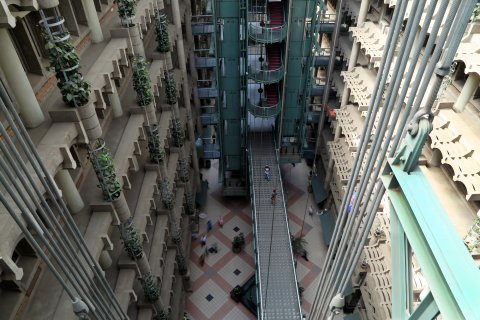 Eastgate Centre
Harare, Zimbabwe
The warm climate here requires year-round cooling. This shopping complex's innovative self-regulating ventilation systems were originally inspired by an unlikely source: termite mounds. Using a design approach also inspired by traditional Zimbabwean masonry, the building's climate control uses 10 percent less energy than other buildings its size, saving costs, emissions and rent.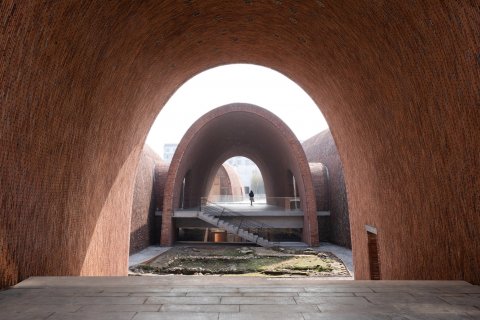 Jingdezhen Imperial Kiln Museum
Jingdezhen, China
Known as the "Porcelain Capital," this city in southern China has produced the finest Chinese ceramics for at least 1700 years. Located near the Imperial Kiln ruins, the museum's vault spaces designed by Studio Zhu-Pei are inspired by the ancient porcelain firing ovens. They were built with both recycled and newly fired bricks to preserve the traditional kiln culture in a contemporary way. The vaults also adapt to the local climate—providing natural cooling using wind tunnels for cross ventilation.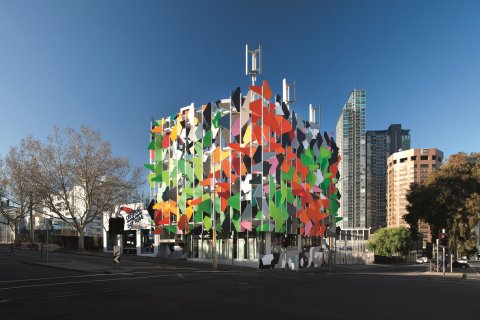 Pixel Building
Melbourne, Australia
A green design with a wealth of color, Pixel led the way in sustainable architecture when it was built as Australia's first carbon-neutral office building. It is self-sufficient, generating its own energy with solar panels and wind turbines and harvesting its own water with a native-planted roof that collects rainwater. Its multicolor, recycled panels offer shade and minimize glare and a bright pop of design not normally found in corporate spaces.