Living with a secret is hard, but add in systemic racism and cultural oppression, and the weight of that secret increases. Netflix's Passing (November 10) shows how two friends in 1920s New York City, Irene (played by Tessa Thompson) and Clare (Ruth Negga), grapple with the reality of racial passing in a segregated world. "I'm still haunted by it," Thompson says about the Nella Larsen novella the film is based on and the script writer/director Rebecca Hall wrote. "One of the compelling things about playing Irene was to play a dissatisfied woman. I think we exist, no matter the time, inside of systems that don't allow us to be the full, most authentic versions of ourselves." Part of changing the narrative of how stories like Passing are told is who gets to tell them. Hall's script comes from a very personal place. "She was contending with her own history and legacy of passing in her family. She had skin in the game, so to speak." Even the film being shot in black and white helps send its message home. "We're shooting in a style you've seen in Hollywood, but not with protagonists like myself and Ruth."
What first attracted you to this story?
So many things. I hadn't read [Nella Larsen's novella] before. And I read that in one sitting, and I'm still haunted by it. And then, soon thereafter, I read Rebecca's adaptation of it, which I thought was such a brilliant cinematic offering to honor Nells's work. Even before I had read those two documents, I knew that it would be [Hall's] directorial debut, and she's just an actor that I've long admired. She's so incredibly gifted and has made such incredible contributions to cinema just in her work as an actor. So I was really curious to see her behind the camera. I knew that Ruth Negga was attached, and I've been such a fan of Ruth's and thought it would be a tremendous delight and joy to play opposite her. Also, I knew they wanted to shoot in black and white, which felt like such a bold choice. We're shooting in a style you've seen in Hollywood, but not with protagonists like myself and Ruth. So all of those things made it a really compelling project.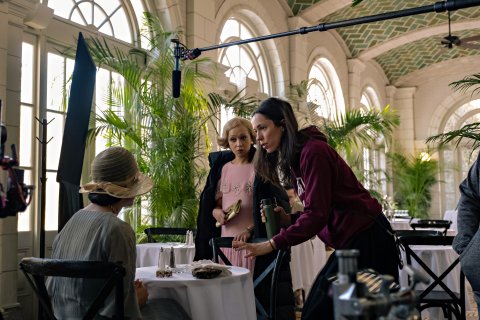 What was it like working with Rebecca Hall, and how is she different from other directors?
She was hugely helpful. We worked so closely as a director and actor. Rebecca wrote the screenplay over 15 years ago when she was contending with her own history and legacy of passing in her family. So she came at it from a very personal place. She was excavating things, she had skin in the game, so to speak. Hopefully, every director does that to a certain extent, even if it's not something personal, you find a way to personalize it. Rebecca had it in spades. I think the interesting thing that felt very different from some of the other close collaborations I've had with directors is that she's also an actor. We could talk about the process, there was no separation. A director is thinking about things in a certain way, you're sort of concentrated on the micro because that's your contribution. Rebecca could do both. She came in one of the most prepared directors I've ever worked with in terms of real clarity of vision. Especially because I was playing a character with so much restraint, there's so much she doesn't say or express. So it was freeing to know that there was a visual landscape that Rebecca created to express the inward thoughts of my work.
Even though it's a period film, it does feel relevant to modern-day code-switching. In what ways does the film resonate with what's happening today?
I think it's so deeply relevant. There's such modernity to it. In terms of code-switching or passing, one of the things Irene says both in the book and in our adaptation is that we're all passing for one thing or another. She says that to her friend, who is passing himself because he's a queer man who is married and puts on the artifice of being straight, although not very convincingly to his social community. So I think that is saying all of us sometimes find ourselves passing. There were women who were suffocated by domesticity that have to pass, queer folks that pass, all those things were happening then in the 1920s, and I think that still happens now.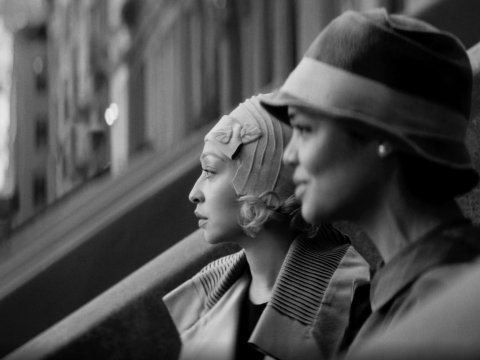 You have a line in the film that really hit me. Brian, your husband (played by André Holland) says, "You think they'd be satisfied being Black." And your character responds, "I am." Did that stand out to you?
She says it twice, actually. She says "I am" again. I don't want to be prescriptive on how the audience will perceive it, but I'm not entirely sure that's true of her. I think two things are happening: Brian, her husband, is lying in bed with her and implies that he's not entirely satisfied, which is something that she knows is true but doesn't want to be honest about. I think she herself is deeply unsatisfied. That territory felt like something I understood. I think we exist, no matter the time to a certain extent, inside of systems that leave us dissatisfied, that don't allow us to be the full, most authentic versions of ourselves. We're told lies about how we should feel being a woman and what we should be. So I think dissatisfaction is something actually that we can understand and something that doesn't get lensed an awful lot. From the female gaze, the nagging wife, you see women lensed by men, but the interiority of that dissatisfaction is something that is really rare. So, I loved that about [the film] and I think that's what the line means. I think she's trying to keep it together.
Alexander Skarsgård, who plays John, Ruth Negga's character's husband, plays a bad husband so convincingly, just as he did in Big Little Lies.
I want to say this, and I don't mean for it to sound salacious at all, but it was not easy to find actors for a number of reasons. Many Hollywood actors tasked with supporting women in films don't want to do it. So to have André Holland, to have Alexander Skarsgård, to have Bill Camp want to do that—particularly Alexander, who has to play a quite deplorable man who says things that are really uncomfortable, particularly at a time where you can be discarded and canceled, it's scary territory. It was really tremendous to watch him navigate that. And navigate it with heart, you feel it in his performance, you understand that the man is a product of his time. So he was able to play that part with real humanity, not to judge the man but also not over-humanize him either. Sometimes that happens. I think he really goes for it. He's willing to support an incredible female cast. It's something I admire about him, in addition to the fact that he's a fantastic actor.
What sort of projects do you hope to produce with your new production company, Viva Maude?
We're really interested in telling stories by singular voices, making work that speaks to the experience and gives the star treatment to protagonists that typically would be marginalized. We have a ton in development now that is centered around Black women, queer folks, around those that would typically be on the margins, voices that are telling stories that are left of center. We've really seen that some things that have made a cultural imprint are the things that on paper you wouldn't think would resonate with audiences or have commercial appeal. I think films [like Passing] prove that we can't make assumptions about what will resonate with audiences. What makes the story universal is actually specificity. Any kind of person should be able to relate to all kinds of folks as protagonists. So that's something I really hope to continue a conversation about with my company and the things that we produce.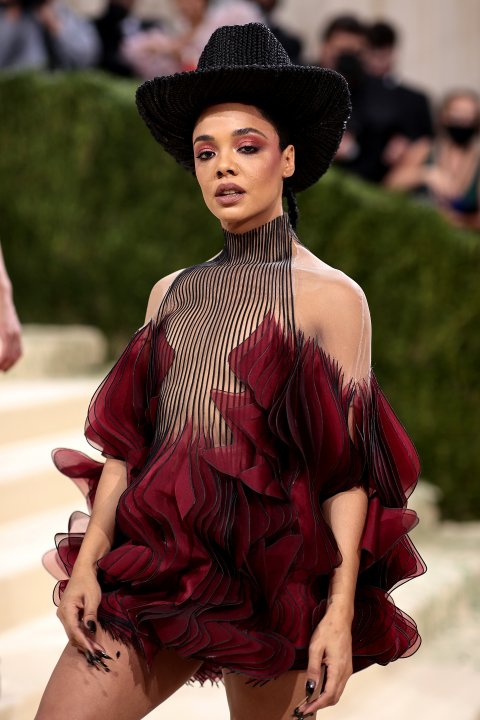 I have to ask you about your look at the Met Gala. You've been before, and this year you wore Iris Van Herpen. Considering this was the first one back post-pandemic, what did it mean to you?
First of all, I'm in the middle of shooting, so I was really grateful to get to go. One reason why the Met has always been something that feels really special, and even before I was going I would look at it from afar, is because costume and clothing means so much to me in my work. I'm one of those actors where putting on the costume really shapes the character. And even for myself as an actor going into a red carpet, I'm never exactly myself in those spaces, I think of clothing as armor and a way to sort of project personality. So I love the Met for that reason. I'll be honest, it was with some measure of hesitation because it's been such a tremendously hard time for so many people. There's this idea of the frivolity of something from afar like the Met is offensive in the face of people that have lost their jobs or lost family members, it's a really tough time. The Met was able to do it to make sure everyone would be safe. And those are the calculations that we're going to have to make because we're coming out of this really tough time. Frankly, we're not entirely out of it. So we do have to find ways to get together safely to celebrate that we're here and to bring joy. So when I think about it like that, that it might be a source of escape for somebody to look at the photographs of the Met, that's something I'd like to do. And of course, it's always fun; I get to collaborate very closely with friends of mine and make something. Like my hat was a nod to African American fashion, because it wasn't a cowboy hat, it was covered entirely with box braids, which is a protective style for Black women. And I think Black women make so many contributions to the beauty and fashion space and are often exploited in those spaces. That was a way of talking about that with this object. So for me, it's also a time to create, which is a joy. It's what I like to do most.