More than 1,000 ticket-buying fans bathe Stacey Abrams in adulation the minute she steps into the spotlight at the cavernous Chevalier Theatre in the Boston suburb of Medford in late October. She waves with both hands, sits down in a deep leather chair and flashes her famous gap-toothed grin until the standing ovation subsides and the sixth stop on her three-month, 12-city national speaking tour can start. That evening's moderator, NPR host Meghna Chakrabarti, says she's awed to be "sharing the stage with one of the great defenders of democracy," and tees up Abrams to deliver her core message: that efforts to suppress voting rights, particularly of people of color and young voters, are a scourge in this country that must be fought. And with that, the former Georgia State Representative and current Democratic breakout star gets to work.
Work for Abrams these days—whether speaking at events like this, stumping for like-minded candidates or mobilizing voters through her nonprofit Fair Fight—is all about bolstering the Democratic Party at a time when it badly needs help. A tough loss in Virginia and close call in New Jersey in bellwether governor races this month, coupled with President Joe Biden's sharp drop in approval ratings, are sounding alarms about a possible rout in next year's midterm elections. Abrams, who famously turned a bitter loss in Georgia's 2018 governor race into a powerful get-out-the-vote movement that helped deliver the White House and Congress to Democrats, is increasingly looking like a possible savior, although it's far too early in the process to place safe bets.
She's also made no secret of her own ambitions to seek political office again one day. But for now at least, Abrams is sticking to the script on voter suppression, thinly disguising a rallying cry for Democrats as a nonpartisan message—something she makes clear at the event in Massachusetts.
"My selections when I go into the voting booth may be partisan, but the process that gets me there should not be," she says as hundreds of heads bob in agreement. "I'm doing what I am doing so that the people who never want me to hold public office again have the same access to voting. The people who decry those who share my complexion or my ideology, or any of the inconvenient truths that I hold in their estimation, should have not been denied their access by virtue of their belief."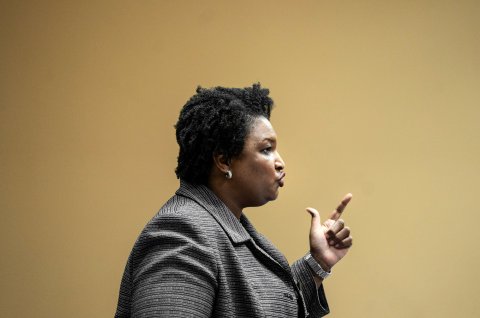 It's a clever inversion of her theme since nobody is actually trying to keep those people—white conservatives, presumably—from voting. But Abrams' more impressive feat here, a reflection of her drawing power, is that her audience has paid as much as $200 a seat to hear much the same spiel she regularly issues for free. A few days earlier, for instance, Abrams was in Virginia campaigning for doomed Democratic gubernatorial nominee Terry McAuliffe, delivering a similar message at no charge.
It's the same message she's been delivering since she lost in Georgia three years ago to now-Governor Brian Kemp, a defeat she asserts was the result of systemic voter suppression by Republicans. The massive voter registration and turnout drive she subsequently led brought some 800,000 new Georgia voters into the process, half of them people of color and 45 percent under 30. Most political analysts credit her organizing work with winning the Peach State for Biden (he topped Trump by a mere 11,000 votes), a critical battleground victory, and for Senators Jon Ossoff and Raphael Warnock, who won close runoff elections that gave Democrats control of the U.S. Senate.
Abrams did all this while simultaneously burnishing her reputation with a viral TED Talk and a central role in an Amazon Prime documentary about voter suppression in the 2018 election, and writing a best-selling Supreme Court crime thriller While Justice Sleeps (her sideline career as an author additionally includes the nonfiction political treatise Our Time Is Now and romance novels under the pen name Selena Montgomery). As if that weren't enough, she's also an entrepreneur, most recently co-founding a fintech startup called Now, which offers inexpensive short-term credit to small businesses.
It's all a giant precursor—but to what, exactly?
Those who know Abrams say her goals are three-fold. First, she believes she can teach Democrats in increasingly diverse, Republican-dominated states like Texas, North Carolina and Florida how to win by engaging long-neglected segments such as people of color, the poor and young voters. Second, she wants to prevent restrictive voting measures and manipulated district maps that suppress or dilute minority votes. If Abrams accomplishes the first two goals, she believes the third and ultimate goal is also possible: Launch herself by 2029 into the White House, perhaps via a term or so as Georgia governor.
"Stacey has a plan, and it's only a surprise to people who haven't paid attention," says an adviser who asked not to be identified to speak freely about her thinking. "She plans to become the first Black woman governor in the United States next year. And then run for president in 2024 if Biden does not, or in 2028 if he does."
For the record, Seth Bringman, spokesman for Abrams, says, "She has neither made nor announced such plans."
Either way, Abrams' fight to ensure that the administration of American elections is not stacked against people of color, against Democrats—and, therefore, against her—goes on. And to many who are paying to see her talks in theaters around the U.S. this fall, nothing less than saving democracy—and, in the process, the Democrats—is at stake. As Trevor Johnson of Somerville, Massachusetts, a 55-year-old Democrat lifer who attended the Medford appearance, puts it: "She may be the only one who can fix it."
The Very Long Game
To most Americans, Stacey Abrams burst into public consciousness in 2018 with a political idea that ran contrary to conventional wisdom: Instead of softening progressive views to appeal to moderate suburbanites, make those policies more relatable while encouraging the people most likely to agree with them—people of color, young people and those with lower incomes—to vote. She was among a crop of fresh Democratic faces to emerge in that first cycle of the Trump presidency; gubernatorial nominee Beto O'Rourke of Texas, now-Governor Gretchen Whitmer of Michigan and the four women elected to Congress who became known as "The Squad" also became national figures.
In Abrams' case, she drew attention both as the first Black woman nominated by a major party for a governorship and as a gifted orator with an army of volunteers pushing into long-neglected neighborhoods to teach residents the way to political power. She zeroed in that year on encouraging her supporters to use the state's no-excuse vote-by-mail option to avoid sometimes day-long lines at the polls on Election Day; mail-in voting had been among the very first reforms Republicans passed in 2005 after taking control of the Georgia Legislature because it was seen as a means of assisting rural and elderly voters who tended to be more conservative. In 2018, though, it worked in the Democrats' favor: Abrams thumped Kemp in absentee balloting by some 50,000 votes.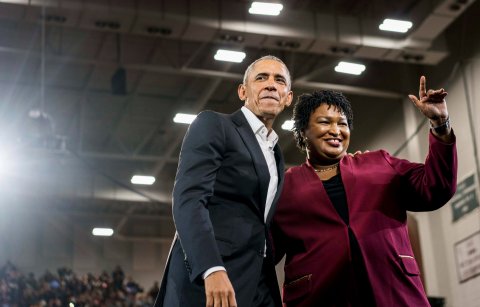 Her newfound national prominence may have seemed sudden after 10 relatively low-profile years in the Georgia House of Representatives, but it was not an accidental outcome for the notoriously long-term planner. At their first restaurant sit-down in 2011, Abrams told her future 2018 campaign manager Lauren Groh-Wargo that she intended to run for governor and had a plan to flip the state. Groh-Wargo was then an activist crisscrossing red states to find promising Democratic leaders, and Abrams was a second-term state legislator about to ascend to Assembly minority leader at a moment when the Republicans were redrawing district lines to bolster and codify their electoral advantages.
"We did sketch out the entire decade in terms of the transformation that needed to happen in Georgia, and specifically her goals to run for governor," Groh-Wargo says.
Abrams also had very clear ideas about what a winning strategy would be. "When she started her 2018 run for governor, everyone in Georgia basically said, 'You need to be focusing on moderates and try to get Republicans to swing over' but she said, 'No, no, the party needs to focus more on people who look like me,'" says longtime Georgia political analyst Bill Crane. "I admit I was one of those who doubted that strategy."
By then, though, Abrams had proof to bolster her theory that the Sun Belt state was seeing growing populations of minorities and moderate suburbanites poised to temper the hard-right white power structure. In 2012, she identified four districts drawn by Republicans with GOP pluralities in voter registration that she believed could be tipped to Democrats. Her goal then was to stave off a Republican supermajority in the Assembly that would've allowed them to steamroll legislation through. Abrams' hand-picked candidates won all four.
One of those four was District 66, a fast-growing suburban region west of Atlanta where Abrams recruited Kimberly Alexander, a Black single mother and professional corporate auditor, to enter the race. "Because Stacey saw that this seat was winnable, she groomed me," says Alexander, who has represented the area for 10 years after first defeating a former GOP state legislator seeking a comeback. "I came in, the first thing she asked me was, if you say you're going to run for this seat, you're going to have to really work hard to obtain it.'"
But "hard work"—persistent glad-handing and indefatigable door knocking, mainly—is a given among successful politicians. The ingredient added by Abrams, Alexander says, was the dozen or so young volunteers who fanned out across the district to encourage Black and younger voters to register. "She told me, 'If you look at the demographics, if you can get more of your people out to the polls, even though it may not show that you have the majority of Democrats in this district right now, you will win. And that is how I won the race. We worked hard to get out in the community, knock on doors and get people to vote. A lot of my voters told us they'd never had anybody come to their door."
As a legislator, too, Abrams' cleverness is legendary. Time and again, the Yale-educated tax attorney's keen understanding of the implications of legal language resulted in more influence on legislation than her power as minority leader should have granted her. Perhaps most notably, in 2011, she dug into the weeds of a GOP plan to cut income taxes while raising a sales tax on cable services and showed that the plan actually hiked taxes on 82 percent of Georgia families. That killed the bill and handed her a remarkable talking point, that she—an unapologetic progressive Democrat—had stopped a major tax increase.
"She was able multiple times to insert a handful of words in legislation that did move the needle in the direction of the people she was elected to serve without that confrontational tack that you would see in a Maxine Waters or Alexandria Ocasio-Cortez or any number of other Democrats," Crane says.
State Representative Carolyn Hugley, chair of the board of directors of Fair Count, a nonprofit Abrams founded in 2019 that advocates for a fair Census count and equitable redistricting maps, says: "She had a knack for evaluating pieces of legislation very quickly, and when people went to the well to speak on their legislation, they did not want her asking them questions."
If the 2020 election had gone differently—no wins for Biden in Georgia followed by the Ossoff and Warnock victories—perhaps Abrams' star would be dimmer. But the work done by Fair Fight, which she founded in the wake of her 2018 election defeat to engage infrequent and new voters and get them to use the vote-by-mail system to reduce Election Day havoc, changed all that. (Fair Fight, ostensibly focused on voting rights issues, also spends money on other seemingly tangental progressive topics such as the ongoing multimillion-dollar ad campaign to persuade Georgia Governor Brian Kemp to expand Medicaid and gave the $1.3 million to a nonprofit that buys and retires medical debt.)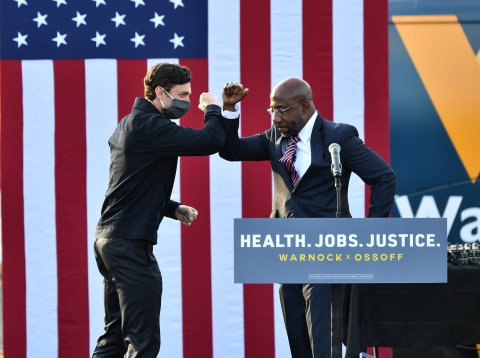 For one thing, it has inspired copycats, providing a literal blueprint for Democrats in other red and purple states looking for a proven strategy to turn votes their way. This summer, for instance, marked the launch of the New Pennsylvania Project, an initiative to engage unregistered or infrequent voters—particularly, Black, brown, young and women voters—and encourage them to participate in future elections. The organization is modeled after the New Georgia Project, the group Abrams founded in 2013 that works alongside Fair Fight to drive voter registration and turnout. There are also similar initiatives underway in Iowa and Missouri that use what's now referred by political insiders as "the Stacey Abrams method."
It's also made Abrams a go-to campaigner for other Democratic candidates, eager to benefit from her political rock star aura and ability to get out the vote. She put her most concerted effort recently behind McAuliffe in Virginia, headlining fundraising emails for him and hitting the campaign trail. That put her in the same company as Biden, former President Barack Obama and Vice President Kamala Harris, even though she's never held national office.
Political scientist Kelly Dittmar, chair of the Center for American Women in Politics at Rutgers University, says Abrams makes a better surrogate than more traditional party luminaries because she's not presently in office and, thus, "is not tied directly to what's being done or what's not being done. She's able to go out there and talk about the fight that she brought as a Democrat to fix the system in a way that would ensure that all voices were heard."
What Comes Next
Georgia Democrats eagerly await her announcement of a second run for governor next year, which most people in and out of Team Abrams seem to think is a foregone conclusion. Her loyalty to the Georgia Democratic movement she has built demands another bid for the governorship, says Fordham University political scientist Christina Greer.
"If she doesn't run, that will leave Georgia Democrats scrambling to find someone who can galvanize the Democratic Party the way she can," says Greer. "That could undo a lot of her work."
The Democratic nomination is hers for the taking whenever she deigns to claim it, most observers agree. While Kemp already has primary opponents, no Democrats have yet launched bids.
Early polling data supports the notion that Abrams could win even in what is shaping up as a hostile election year for Democrats; her favorability rating among Georgia voters is 51 percent versus just 42 percent with a favorable view of Kemp.
Also seemingly inevitable: a run for the White House in 2028—or sooner if Biden, who will be 82 on Election Day 2024, does not seek a second term. "Do I hold [the presidency] as an ambition? Absolutely," Abrams, 47, told CBS Sunday Morning in May. "Even more importantly, when someone asks me if that's my ambition, I have a responsibility to say 'Yes,' for every young woman, every person of color, who sees me and decides what they're capable of based on what I think I am capable of."
Crane and Greer both deduce from the timing of this fall's speaking tour that Abrams, who is single and has no children but financially supports her parents and other relatives, feels itchy to bank some money now before she's restricted by a 2022 gubernatorial campaign. What Abrams is worth is a matter of debate and won't be clear until she files a disclosure upon entering the 2022 race, but Fox News made big headlines out of the fact that she went from reporting on her 2018 financial disclosure that she was about $200,000 in debt to buying a $975,000 home in October 2020. By then, though, she had become a bestselling author, tech entrepreneur and sought-after public speaker.
"Stacey has to have a job like you and I do," says Groh-Wargo, now the CEO of Fair Fight Action, who also says Abrams does not draw a salary from her nonprofits. "She has a set of things she does to make money and to promote her various causes."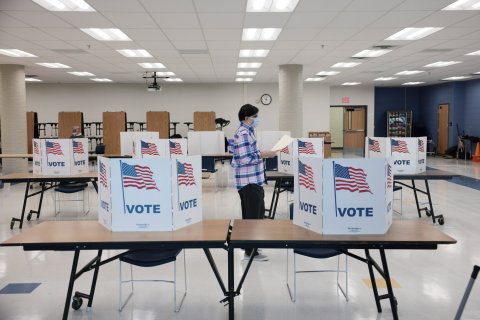 Few believe that's all there is to the tour, though. The dozen cities on the agenda include major liberal enclaves like Boston and New York City, but also cities in Texas and North Carolina—states that, like Georgia, are often discussed as trending away from solid Republican and toward battleground status.
"It's definitely strategic," says Jatia Wrighten, political science professor at Virginia Commonwealth University in Richmond. "It could be a revenue stream, too, but it seems like she wants to give people a way to get to know you in a more intimate setting than those bigger talks like what she did in Virginia and on the campaign trail. That may come in handy further down the road."
Savant or Sore Loser?
For now, though, the pivotal moment in Abrams' political career remains her loss to Kemp. A record-shattering 3.9 million Georgians cast ballots and she fell short of victory by nearly 55,000 votes or 1.4 percentage points. Ten days after the election, with no legal options left to contest the results, she made a career-defining speech through oft-gritted teeth that made her an instant hero to the political left and an epic whiner to the right.
"I acknowledge that former Secretary of State Brian Kemp will be certified as the victor in the 2018 gubernatorial election, but to watch an elected official who claims to represent the people in this state baldly pin his hopes for election on suppression of the people's democratic right to vote has been truly appalling," she said. "So let's be clear: This is not a speech of concession."
She predicted that night that some would attack her for departing from a norm that demanded she congratulate her opponent. Instead, she denounced Kemp for not stepping aside from overseeing the election as prior secretaries of state had done when running for higher offices. She laid blame on Kemp for the closure and consolidation of some 200 polling places in poor and minority areas that resulted in hours-long lines and an aggressive purge of registered voters that axed about 10 percent from the rolls. Abrams' team amassed a sheaf of testimonials from people who said they were denied their vote or forced to vote provisionally because of polling place confusion, worker error or malfeasance.
From that experience emerged Fair Fight and, later, Fair Count. By July 2021, Fair Fight's public filings showed it raised more than $100 million and spent $4 million on legal teams in 18 battleground states to challenge voter suppression efforts during the 2020 election season. And the work has continued. In the McAuliffe-Youngkin race, for instance, Fair Fight workers were also deployed to Virginia to advise voters on how to obtain and return absentee ballots.
One challenge for Abrams, as she nears another foray in the election arena, is that some of the complaints about the 2018 election from prominent Democrats that the election was stolen from her have been credibly disputed not just by Republicans but by independent observers. Fact-checkers for the Atlanta Journal-Constitution and Washington Post, for example, concluded that while there were some impediments to voting as the Abrams camp outlined, they almost certainly didn't affect the outcome.
"I've watched every election pretty closely in Georgia since the mid-'90s, and she lost. She lost by nearly 60,000 votes," Crane says. "There's a certain class of voter in Georgia who will never respect that she wouldn't play along enough at some point to say, 'I'll win the next time, but I lost the last time and congratulations, I'm a Georgian. I want our governor to be successful.'"
Thus, a powerful counternarrative about the Abrams juggernaut emerges. Every time Abrams points to a problem, she's swatted down by GOP leaders eager to tar her as an insincere sore loser exploiting anger to sell her books and speaking tour tickets. In July 2020, for instance, current Georgia Secretary of State Brad Raffensperger, took to his official website to eviscerate Abrams as a self-aggrandizing liar: "Implying that counties are not following Georgia law when there is no evidence of that, simply to get media attention, is the height of irresponsibility. Fundraising off of that misinformation is even worse."
That drumbeat got louder after Trump's 2020 loss and still-ongoing misinformation campaign about alleged voter fraud. Abrams insists her refusal to concede while acknowledging Kemp as the legal occupant of the governorship is nothing like Trump's refusal to acknowledge Biden as the legitimate president.
At her Medford appearance, Chakrabarti asks Abrams to explain how her reaction to 2018 was different from Trump's to 2020. Abrams notes that, unlike Trump, she never sued to challenge the election results. Rather, her efforts have been to expand voting access and ensure all votes are counted. "As for that guy, he has done nothing but try to throw votes out and restrict access to democracy through misinformation, false allegations and outright lies."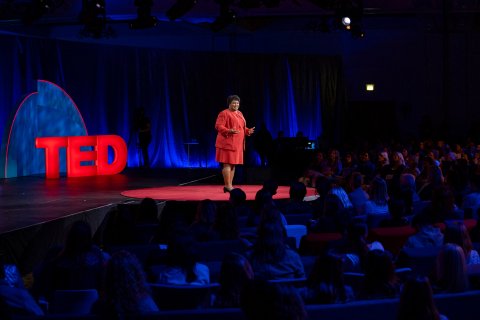 Surprisingly, Abrams has thus-far avoided becoming a national Republican punching bag on par with The Squad or House Speaker Nancy Pelosi. But that, too, may be changing. Jeremy Brand, an Atlanta-based GOP strategist, launched StopStacey.com in February 2021 via an independent expenditure committee not affiliated with any particular candidate. The site, he tells Newsweek, "will implement an aggressive and robust strategy that will highlight her out-of-touch and dangerous agenda, and expose Stacey Abrams as a radical, money hungry, power grabbing grifter who will do and say anything to achieve her unapologetic goal of becoming the President of the United States."
Yet another challenge to her political ambitions: Republicans in legislatures across the U.S. have spent 2021 pushing hundreds of "election integrity" bills that Abrams and others insist will make voting more difficult for people of color and the poor. For instance, Georgia's controversial SB202, which passed in March, cut the period for requesting mail-in ballots in half and added new identification requirements for voting that way or in person.
All of that hands Abrams a "moral victory to go along with what she's been saying in these last three years about how Republicans are trying to suppress votes," says Jeff Timmer, a co-founder of the Lincoln Project, an anti-Trump PAC. That, says Timmer, has helped Abrams become "this larger-than-life person in politics after losing a high-profile race, just as Abraham Lincoln rose to prominence by losing to Stephen Douglas [in the 1858 Illinois Senate race] and was propelled to a bigger stage than if he had been successful as a politician in Illinois. She's the Obi Wan; you drag me down and I become more powerful than you can ever imagine."
Abrams' recent past suggests she's a creative thinker when it comes to her future. She resisted the buzz to run in 2020 either for president or for one of two Senate seats up for grabs in Georgia. Instead, being the midwife for those Democratic victories gives her special status that someone like O'Rourke, whose presidential run was brief and disastrous, does not enjoy, Dittmar says.
Abrams did publicly state her desire to be Biden's running mate in 2020 once he won his spot on the ticket. Might the politically weakened president replace Vice President Kamala Harris, viewed by many as a liability with approval ratings even lower than Biden's, for the more popular Abrams in 2024—or earlier? Nobody who knows Abrams believes she'd be willing to undermine Harris' historic achievement as the first female and person of color to be VP.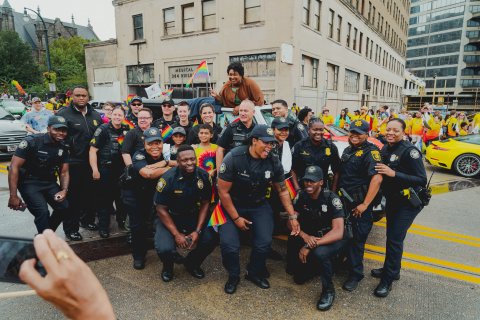 The more pertinent question for Abrams insiders these days is whether a second gubernatorial loss could short circuit her national ambitions and raise questions about her electability. Dittmar says that will depend on whether the loss is the result of a system that is perceived as fair.
"She's made choices that are certainly strategic and not the norm," Dittmar says. "Just because somebody said, 'you should do this,' like 'you should run for Senate,' she said, 'No, I'm not going to do that.' Clearly, she had another plan in mind. We don't all know the plan. That's part of her magic, right?"
The Stacey Show
"The odds were against her to even get this far," notes Gloria Neal, a former TV journalist in Colorado who moderated the Abrams appearance before 1,800 attendees at the Paramount Theatre in Denver in mid-October. "Being a Black woman just like Stacey with short, natural hair, full hips and dark skin, I know we have to have a made-up mind to take the hits, to just live through it. She's very no-nonsense, of course, but make no mistake. She is stacking the deck as best she can to make [what she wants] happen, whether it is the gubernatorial race this time or next time the presidential race."
Indeed, at her tour dates this fall, Abrams sits for a 90-minute chat with a hand-picked local moderator, typically a locally based journalist but sometimes she mixes it up (country superstar Trisha Yearwood will do the honors in Nashville, Tennessee, on November 16). At the talks so far, her rapt audience receives every word like communion.
"There is something that draws people uniquely to Stacey Abrams, that they will pay this kind of money," says political science professor Nadia Brown, chair of the Women's and Gender Studies Program at Georgetown University. "She doesn't go away, she doesn't say, 'Oh, I didn't get to be the vice presidential nominee, now I'm going to just fade into obscurity.' People find that inspiring."
Her "shows" are not raucous rallies or fundraisers for her causes. She doesn't collect email addresses, ask for donations or direct anyone to her websites. Moderators are given suggested topics but also emphatically told to ask whatever they want.
And so it is that Abrams dispenses political wisdom, shares what she learned from the failure of her various startup businesses that led to the credit firm Now, recalls her poor upbringing in segregated Mississippi. She talks about how her parents' emphasis on education resulted in her Yale law degree and brags about her high-achieving sisters, a federal judge and a prominent academic. She offers endearing personal tidbits about the monthly book group she and her five siblings have by phone; the time she taught horseback riding and cleaned stable stalls at Girl Scouts camp. (Abrams declined to be interviewed for this story; a spokesperson said her team felt, despite the speaking tour, that it wasn't the right time for her to "talk about herself.")
Such a tour is unusual for a figure like Abrams whose highest elected office was as a state legislator, Dittmar says. Typically, this sort of event is a common money-making post-career act for retired elected officials. Says Dittmar, "The question is, does this allow her to further build her brand and her community of support so that if she does run again, these might be people who then donate to her campaign? I'm not sure what the exact motivation is, but she's done things creatively in politics since she's begun and this might be another creative approach to building that profile."
Many Abrams attendees say this was the first time since the onset of the pandemic that they'd attended an indoor event without socially distancing. As Daniella Milton, 37, of Sterling Heights, Michigan, who in September saw Abrams at the Detroit Opera House, tells Newsweek, "It's Stacey. I had to see her for myself." Phoebe McNicols of Boston, who toted an oxygen tank at the Medford appearance, echoes that: "I'd pay double to listen to someone as smart as that explain how to save this country from what's happening to it."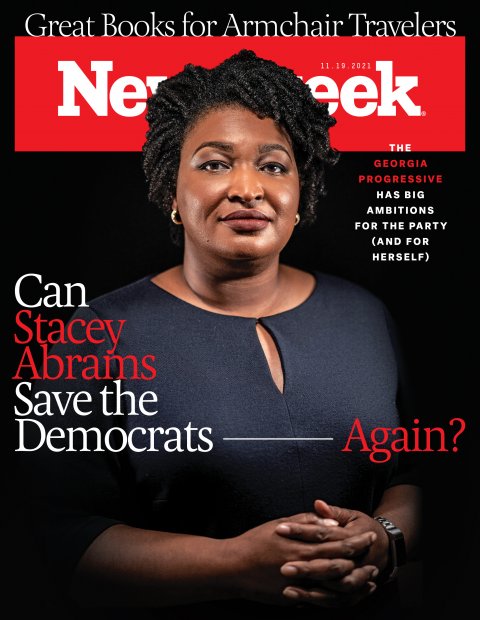 Correction 11/10/21, 9:56 a.m. ET: Carolyn Hugley is a current, not former, Georgia State Representative and chair of Fair Count's board of directors; Lauren Groh-Wargo is CEO of Fair Fight Action.
The story has also been updated to include a response from an Abrams spokesman about her future plans for political office and to clarify a comment about the 2018 Georgia governor's race.