"You can't fall in love with something you don't know exists," National Geographic photojournalist Thomas P. Peschak shares in his new photobook Wild Seas. "As a photographer, I am a matchmaker. I introduce people to wildlife that lies hidden beneath the oceans' surface." Originally trained as a marine biologist, Peschak began photographing threatened oceans, telling Newsweek "I realized that I could achieve more through photographs than statistics." From close encounters with friendly gray whales off Baja, Mexico, to photographing ravenous sharks feasting on sardines off South Africa, Peschak captures intimate moments in our most fragile and remote underwater worlds that few are so fortunate to see.
Below are some Peschak's photographs from Wild Seas: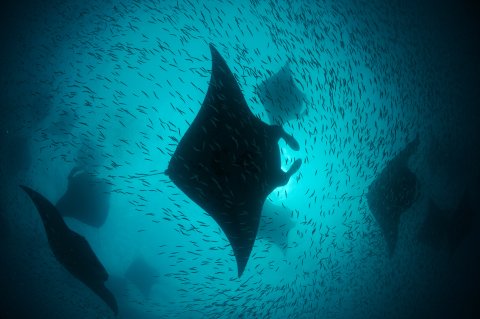 Giant Mantas
Maldives
What ocean phenomena has been the most unforgettable to witness for Peschak? "It would have to be a three-way tie between diving in the midst of a sardine feeding frenzy surrounded by hundreds of sharks and dolphins off South Africa, encountering a 9-foot leopard seal beneath an iceberg in Antarctica and free diving with hundreds of manta rays in the Maldives." Here he snaps a giant diamond-shaped manta silhouetted against the sun.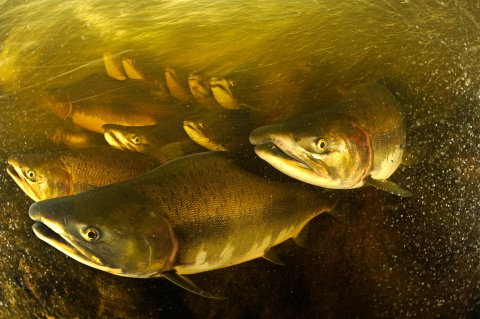 Salmon Run
Great Bear Rainforest, Canada
Wild salmon are key to protecting life in the Pacific Northwest, as they provide marine-rich nutrients to orcas, bears and animals which themselves contribute to economies, forests and more. Peschak captures this food chain cornerstone with hundreds of salmon about to leap into the falls and continue upstream to spawn, ensuring the next generation.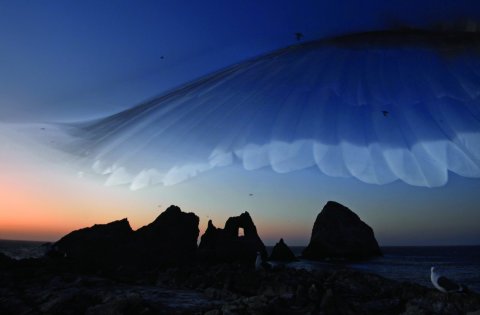 Wild and Free Seabirds
Farallon Islands, California
This national wildlife refuge about 30 miles west of San Francisco is home to 12 species of seabird, including the world's largest single colony of western gulls.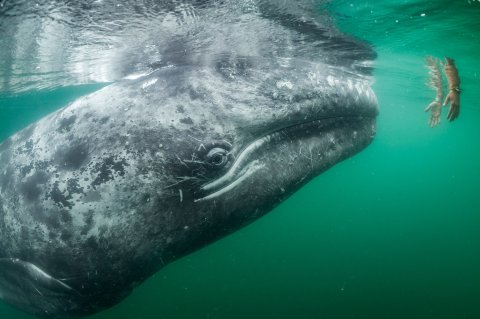 Human-Contact Seeking Gray Whales
Baja California, Mexico
Friendly gray whales approach a tourist boat in San Ignacio Lagoon. Baja is one of the few places in the world where whales actually seek out physical contact with people, even allowing awestruck humans to pet them. Once hunted in these waters, a curious, friendly culture has been passed down from mother to offspring for more than 40 years.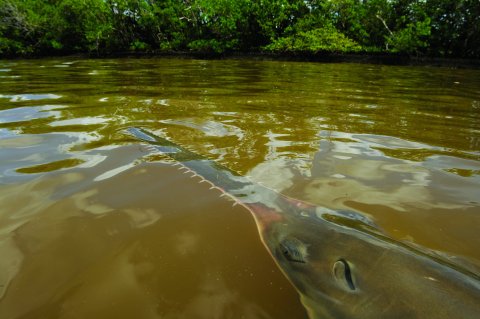 Smalltooth Sawfish Comeback
Everglades, Florida
"The two most significant threats to ocean health right now are overfishing and climate change," Peschak tells Newsweek. After near obliteration by hunting, a moratorium on commercial whaling helped the species recover. "The same is true for the smalltooth sawfish I photographed in the Everglades. Fishing and habitat loss reduced the species' once-vast range to small pockets of southwestern Florida. Thanks to the Endangered Species Act and net bans, the smalltooth sawfish is making a comeback."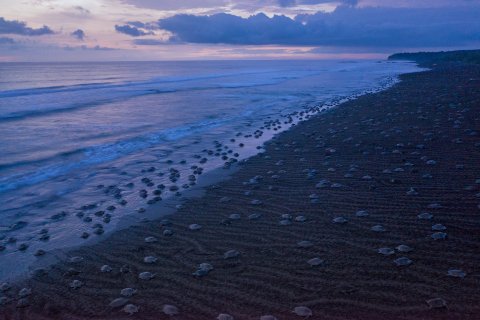 Turtle-Covered Shores
Ostional, Costa Rica
Though they look like hatchlings coming out of the sea in Peschak's drone image, these are adult olive ridley turtles, 3 feet in length. Says Peschak, "Once or twice a month during the rainy season, mature female turtles come ashore at Ostional by the tens of thousands."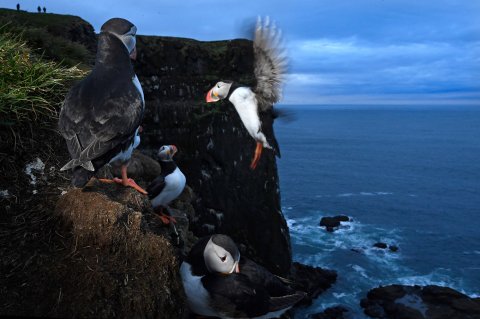 Puffins Nesting
Westfjords, Iceland
Lit by the midnight sun, an Atlantic puffin returns empty-handed to its nesting cliff. As the Atlantic Ocean has warmed in recent years, sand eels, the puffins' principal prey, have moved out of range to the north.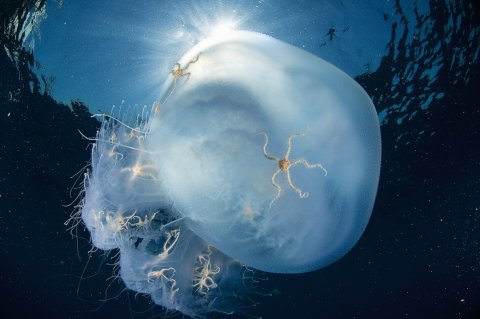 Nocturnal Brittle Stars
Bazaruto Archipelago, Mozambique
The nighttime seas offer unusual wonders, such as "brittle stars"­—five-limbed scavengers with a circular central body. Peschak captures this "constellation of brittle stars hitchhiking on a jellyfish," describing them as "opportunistic travelers that not only get a free ride, but also actively 'steal' planktonic food scraps from the jelly's tentacles."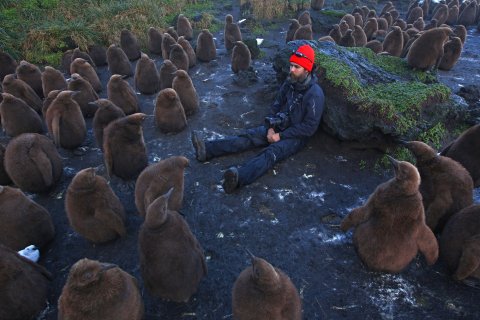 Penguin Attraction
Marion Island, South Africa
"Most of my life is lived behind the camera, and the only time I became a chick magnet on a National Geographic shoot was in a creche of king penguins," jokes Peschak about this animal attraction found on this subantarctic island, "These young birds were instantly drawn to me; they could not stop staring at this strange, bearded bird in a red hat."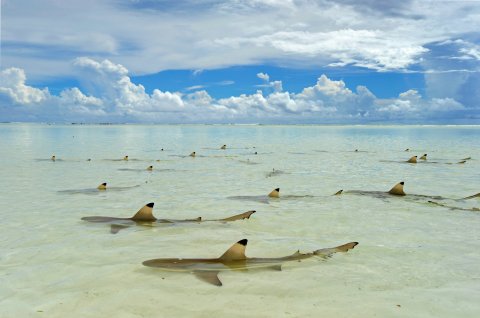 Sharks in Shallows
Aldabra Islands, Seychelles
Blacktip reef sharks wait in inches of shallow water for the tide to refill the lagoon. They keep water flowing over their gills by pointing their snouts into the current, as their bellies touch the sand.
Cape Seal Antics
Cape Town, South Africa
"Making photographs underwater is always more complicated than on dry land," shares Peschak. "It took imagination and years of planning before I finally found myself surfing alongside Cape fur seals to capture their playful antics."