"I think we've all moved in the Miranda direction, in terms of our view of the world, particularly our view of women and the challenges we face."
The excitement building for And Just Like That (HBO, December 9), the new chapter of Sex and the City, is palpable; its announcement during the pandemic was almost therapeutic. "I do think it is a thing that people return to, particularly in a time of crisis," says Cynthia Nixon, back as Miranda Hobbes. There are a few notable changes from the original. First is the absence of Kim Cattrall's Samantha Jones. "I can't speak for the other women. I hear people chattering about it. I will only speak for myself, it's not something I think about," partly because the new series has an "embarrassment of riches of these new characters." Another absence is Miranda's signature red hair. After a conversation about a hair mishap plot point, Nixon recalled telling writer/director Michael Patrick King, "She's 55. She's not going to screw up her hair...and he was like, 'Ahhh, Miranda doesn't give a f**k.'" In the end, fans will be comforted by the return of familiar characters. "Hopefully it's like rejoining friends that you haven't seen in a long time, but you can pick up right where you left off."
Did you ever think a project like this would come along?
Never. But I'm the person who hasn't seen this at any step. I never expected I would get cast, I never expected it would really be a hit, much less the hit that it is, I never expected that we would make a film, then make another film, or that we would come back now. I don't know where Sarah Jessica would place herself on this trajectory, but I think, in my mind anyway, Kristin Davis is the person who has always believed. People would ask me, and I'd be like, "I don't think so. Maybe 1 percent chance. I don't see it." [laughs]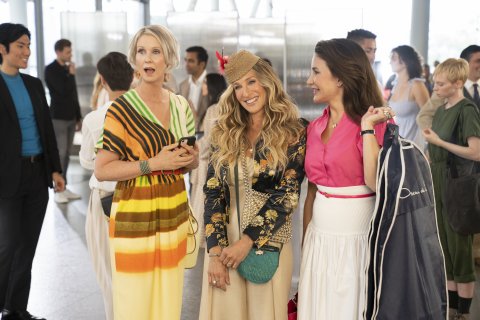 Without giving anything away, what's something unexpected fans can expect from And Just Like That?
One of the things that I love about our show, and when I say our show I mean our old show and our new show, is that our writers, and Michael Patrick King, in particular, held the writer's room to a very high standard. Any great show that's beloved and has been on for a lot of seasons, they start to repeat themselves. You can't blame them, particularly when it's a network show and you do a million episodes. But I have to say, I feel like we almost never repeated ourselves. They had this rule in the writer's room that if a plotline happened, it had to have happened directly to one of the writers or someone that the writer knew personally. So even though bizarre, outlandish things happened on the show, bizarre, outlandish things happen in life, and they always had their roots in this real thing that happened. So part of us not repeating ourselves was that we wouldn't go back to the same tropes of the characters again and again. We would actually allow the characters to grow and change and mature and in this one particularly, age. It's kind of an evasive answer, but I guess there are not a lot of shows about people, much less women, in their mid-50s. Hopefully, you love the characters and so it's like rejoining friends that you haven't seen in a long time but you can pick up right where you left off. Things have happened, wonderful things and terrible things. I don't know what the title means, it's very open to interpretation, but I think it does mean that suddenly something happens and everything is different.
When the project was announced at the height of the pandemic, it felt almost therapeutic.
Totally. This is something that people have always said to me. It's interesting because it's such an intricate show in a funny way. I think it's one of the reasons that it bears people watching it again and again. It's very dense. There's always something you didn't catch the first time and it's so economical the way they have these four characters, and you have to jam pack four storylines into 26 minutes. But yeah, I do think it is a thing that people return to, and people particularly return to in a time of crisis.
Each of the characters is so perfectly defined, but there's something about Miranda that has always been the voice of the zeitgeist. Why do you think that is?
It's really interesting because there was this Miranda Renaissance, right? These amazing women who have the Instagram (@everyoutfitonsatc), they're scholars of the show. They came out with the book We Should All Be Mirandas. Then a whole series of bags, when I ran for governor [of New York in 2018], we teamed up with them. "I'm a Miranda" and I'm Voting for Cynthia," that kind of thing. But there was stuff that Miranda kept trying to trumpet to the other characters, about ourselves, our obsession with men, not being honest with ourselves, that guy you're dating, he's not good for you...She was such a truth-teller. And she's was ahead of the curve in terms of so many things that we now just accept. I think we've all moved in the Miranda direction, in terms of our view of the world and particularly our view of women and the challenges that we face.
OK, there's one question that is on the mind of every fan, and it's probably not the one you're thinking: what happened to the red hair?
It's really funny. I was having a conversation with Michael Patrick King, and we were working out things that would happen in the new show. He had Miranda embarking on something new and she was a little nervous about it. He was thinking of this plotline about how her regular colorist wasn't there and she went to this new colorist, and they mess up her hair and it looked like Bozo. I was like, I'm just not feeling it. She's 55. She knows what colors to get. She's not going to screw up her hair. Also, we've done the Miranda with terrible hair from the '80s and stuff. I'm not interested in her being 55 and looking like a clown. It's really interesting because this is the brilliance of Michael Patrick King. What he heard me saying was "I'm not interested in Miranda and her red hair anymore," and he was like, "Ahhh, Miranda doesn't give a f**k." I think that's something that's happened to a lot of women, especially during the pandemic, when they couldn't get to a colorist, and they didn't want to try and do it. They looked at what they looked like and they actually liked it. It's a thing we do talk about in a bunch of different episodes, what relation do you have to aging and to your face having wrinkles and to your hair being gray.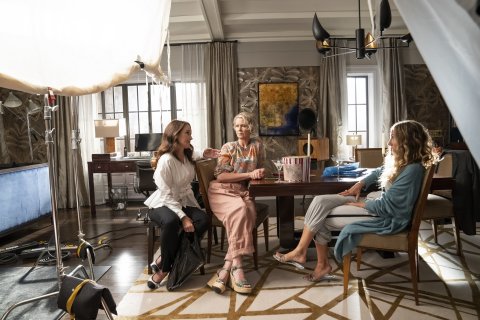 You must get asked a lot about Samantha's absence, previously played by Kim Cattrall?
No one is asking us. I mean, no one's asked me, I can't speak for the other women. I hear people chattering about it. I will only speak for myself, it's not something I think about because I feel like, first there's the three of us, and then there are the other characters, the husbands and the friends and the kids and all that stuff. We have this embarrassment of riches of these new characters. Sara Ramirez and Karen Pittman and Nicole Ari Parker and Sarita Choudhury! Yeah, honestly, I never think of it.
How has your style been influenced by Miranda, and how do you think she's evolved over the years?
I had a mother who really loved clothes. A lot of time in my childhood was spent in dressing rooms with my mother trying things on, and my mother saying to me breathlessly, "Do you love it? I can't afford it, but is it amazing?" And I would be like, "It's nice mom." When I met Patricia Field (the costume designer on Sex and the City), when we did the pilot, I was like, 31 maybe? I had been acting for almost 20 years at that point, but I had never had a role that was actually kind of focused on my body, not just in sex scenes and nudity, but the clothes and walking around. The main thing that Pat taught me was that you want to wear the clothes, you don't want the clothes to wear you. You don't want to be a hanger for the clothes and you don't want to kowtow to the orthodoxy of the very high-end designer that has designed this beautiful thing. You want to mix and match and you want to do high and low, which I think our show does in a number of ways. We do high and low with food, we do high and low with plot, we do high and low with locations. That's really the essence of it. Certainly having access to all this amazing designer clothing, but then also great vintage pieces. I never really wore high heels much before. I guess don't be intimidated by the clothes, the clothes are there for you. For me, whose belly has never been flat even before I had children, God bless the high waist. Point me to the high-waisted pants.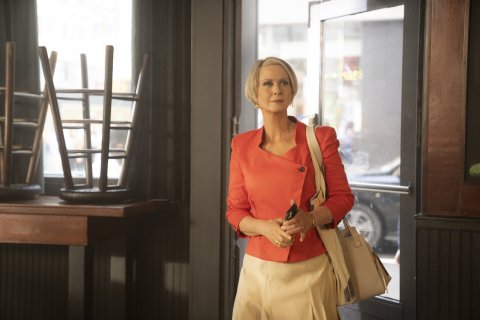 Broadway has reopened, which is so exciting! You're an icon of the stage. What was first show you saw after the reopening?
Two things. One is I go to the theater a fair amount. When the shows were closing in mid-March, I think it was maybe March 11, I woke up and I was like, "You know what, I'm going to go see the show that I most want to see. Because there's no time for messing around." I got tickets that night for Company, and it was one of the greatest things I've ever seen. Then the next day Broadway was shut down. So the amazingness and execution of that show nurtured me for a long time, but I really missed going to the theater. It was interesting to me because I'm a pretty informal person, but what I found is that I missed the ceremony. I didn't miss myself personally having to dress up but I missed being able to go to the theater as a form of church. Not just for being moved or entertained, but actually being with people in a collective experience. So I really missed it. The first show I went to see this summer was Merry Wives of Windsor in Central Park. We took our son and that was a delightful adventure. Then I've seen two shows already, one was my friend Douglas Carter Beane's totally charming, delightful Off-Broadway show Fairycakes. Fantastic! I also went to see a Caroline or Change. [Sharon D Clarke] was amazing. And I don't mind sitting in the audience in a mask. I don't know why I don't mind it, but I don't really mind it.
Do you have plans to come back to Broadway anytime soon?
I was supposed to be directing a play on Broadway. It's a really interesting play that was having its 40th anniversary in 2020 and we were going to do it in the fall of 2020. It's called Last Summer at Bluefish Cove, which is the first positive theatrical depiction of lesbians. It's about a group of friends in a beach community over one summer. So that was my next Broadway play, but I don't have any plans to come to Broadway in the near future. We're still talking about what are we going to do and how are we going to get that one together again. There is a play that I've signed on to that I'm very anxious to do by a great playwright named Jordan Seavey called The Seven Year Disappear. So maybe we'll workshop that a little in January.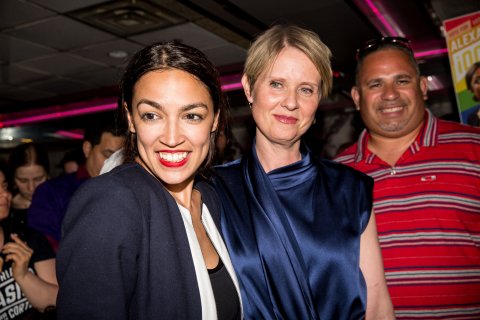 New York is changing politically, and you've been a voice in that change. What sort of positive changes do you see happening and would you ever consider running for office again?
I don't think that I would ever run again. One of the reasons I ran is that no one else would because no one else felt they could run. Andrew Cuomo was such a terrifying and vindictive and looming figure that anybody who was actually in politics as their bread and butter could not oppose him or their career would be over the moment they announced. Luckily, he is gone and other people will run and are running. So I don't have to. But one of the reasons I ran was to show what New York State could be like. And I think that as Democrats—and New York State is a two-to-one Democratic state—it's a very blue state and very progressive, very wealthy place, so we should be able to do a lot. We've got a lot of debate and a lot of infighting going on in the Democratic Party right now. I think there is a sense, from the electorate, like, "Oh the person in charge is a Democrat, I don't have to worry, I'm sure they're doing the right thing." And it's just not always the case. People who are really firmly entrenched in the establishment, there's not so much difference between who's a Democrat and who's a Republican. It's like, who are the people that are in power that want to stay in power, and that's their main concern rather than actually achieving any change or serving the people that they're supposed to serve and making those people's lives better. What I feel is, more and more people are being elected, they're younger, they're more diverse, they're more ethnically diverse, they're more economically diverse, they're more sexual-identity diverse, gender-identity diverse, and they are really part of a movement. I feel like there are more and more different kinds of people who are challenging entrenched elected leaders. And when we talk as progressives, when we talk about the change we want to bring, we have to fight against the socialist label, take the vilifying off and you just look at what we're talking about. People are like, I can have universal health care. I can have this Green New Deal because it would not only save the planet, but it's actually a tremendous jobs program and an economic engine. Where can I sign up for that? It's like, you can sign up for that. By voting.