What do you call the wife of a king? Careful, it's a trick question. Elizabeth, the mother of the current queen and wife of the last king of Great Britain, George VI, was the queen while her husband was alive, although technically her title was "queen consort," to signify that she wasn't actually the monarch. So when her grandson becomes King Charles III, his wife will be Queen Camilla, right?
Not necessarily. Royal names and titles are complicated; Charles might even choose to reign under a different name, since he has four of them: Charles, Philip, Arthur and George. The rules can be tweaked for reasons of state, or, nowadays, public relations. Charles is the Prince of Wales; on their marriage, his first wife Diana became Princess of Wales. But when he married Camilla, she took on the lesser title of Duchess of Cornwall. Charles is the Duke of Cornwall, among his other titles; he has 11 altogether, including two other dukedoms and several assorted earldoms and baronetcies.
So if the British public has a say, there won't be a Queen Camilla. Only 13 percent of Britons believe Camilla should be given the title "Queen" when Charles becomes king, according to YouGov polling in May. This compares to 41 percent who thought she should be called "Princess Consort" and 28 percent who thought she should have no title at all. Her problem, of course, is that she was the other woman in Charles' marriage to Diana (who had her own title for Camilla: "The Rottweiler").
"There were three of us in this marriage, so it was a bit crowded," Diana memorably told the BBC in 1995.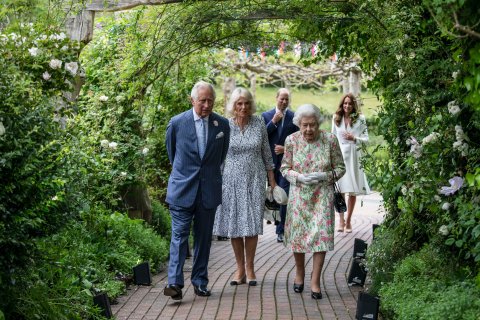 The official royal family position at the time of their 2005 wedding was that Camilla would be "Princess Consort." This was reiterated on the official royal family website which, up until around October 2017, read: "As was explained at the time of their wedding in April 2005, it is intended that The Duchess will be known as HRH The Princess Consort when The Prince of Wales Accedes to The Throne."
However, sometime before March 2018 the statement was removed. Historian Robert Lacey recently told Newsweek that Charles has been lobbying for Camilla to be queen after all, to Prince William and Prince Harry's frustration.
He said: "Privately I discovered both brothers are absolutely sick to the back teeth of Charles trying to negotiate full Queen status for Camilla."
Camilla has her partisans, of course. Penny Junor, who wrote her authorized biography, is one of them: "I think she should be Queen. There's no reason on earth why she shouldn't be. They were both divorcees and the past was unfortunate. It happened. All over the world people divorce, they make mistakes and they divorce. "She's been married to him 16 years. She has been a superb duchess. She has slowly, slowly worked her way into the role. There's no sense that she's in competition with him. She's put her name to some very brave causes."
Charles' affair with Camilla was first exposed in Andrew Morton's 1992 biography, Diana: Her True Story, which led to a precipitous decline in his popularity—accelerated by the Netflix series The Crown, whose fifth season, appearing next year, deals with the divorce and Diana's death.
Morton told Newsweek: "He's married someone who, as Diana famously said, was the third wheel in the marriage. "However Camilla is cast—as dutiful, as good for him, as loving, all the rest of it—there's a substantial segment of British society that will never accept her. And I'm afraid that is reflected in the polling."
And even thousand-year-old hereditary monarchies, these days, have to pay attention to the polls.