Introducing Newsweek's inaugural list of 50 visionaries, innovators and pioneers who are transforming the world through technology
---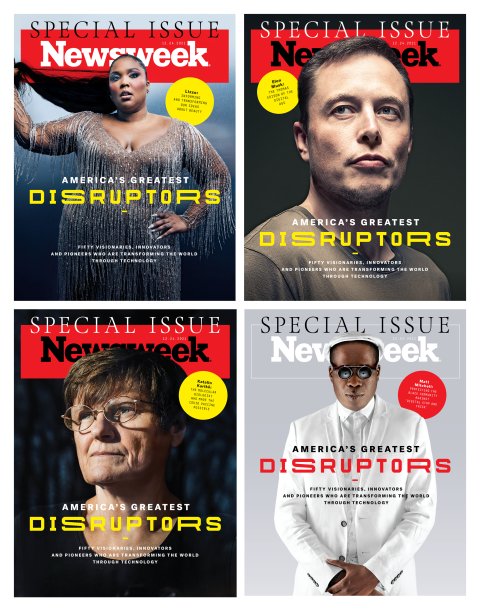 At first glance, Lizzo, the singer, rapper and style icon, might not seem to have a lot in common with Katalin Karikó, the molecular biologist whose research on mRNA technology enabled rapid development of the COVID-19 vaccine. Nor perhaps does Bela Bajaria, the Netflix executive whose global content strategy led to the streaming phenomenon Squid Game, seem naturally connected to scientist Tammy Hsu, who is making eco-friendly blue jeans, or engineer Amay Bandodkar, who is developing batteries powered by human sweat. Elon Musk, the tech entrepreneur who's doing everything from pioneering reusable rockets that send well-heeled tourists into space to fostering AI enhancements to the brain, and Darnella Frazier, the young woman who ignited a worldwide social justice movement with her cellphone? Not what you'd call an intuitive pairing.
Yet all of these people, and the other 43 visionaries and innovators on Newsweek's inaugural list of Greatest Disruptors share this critical quality: They are agents of change who are using technology in ways that will profoundly impact our lives—mostly or wholly for the better.
The Oxford Dictionary defines "disruption" as radical change to an existing industry or market due to technological innovation. The work being done by our 50 inductees in the 2021 Disruptors class certainly fits that description. What truly sets these pioneers apart, however, is their humanity. Whereas disruption generally, by this or any other definition, isn't necessarily spurred by good intention and may, in some cases, have unanticipated negative repercussions, the disruptors on our list are largely driven by a desire to contribute to a greater good, often inspired by personal experience—and, so far at least, their work seems on a path to fulfill that promise.
Consider neuroscientist Aadeel Akhtar, who was inspired to develop affordable human-like bionic limbs by seeing a little girl missing a leg using a tree branch as a crutch during a family trip to Pakistan when he was 7 years old. Or energy entrepreneur Bill Gross, whose interest in carbon emissions capture was sparked by memories of his family living through the 1973 oil embargo, getting by on $5 of rationed gas every other day. Or computer scientist Rana el Kaliouby, a pioneer in emotion AI, who was motivated in her work teaching computers to understand human emotion, by her own feelings of loneliness after moving from Cairo to Cambridge, Massachusetts, for her Ph.D. Or NYU Langone surgeon Robert Montgomery, whose own need for a transplant due to a rare, progressive disease of the heart muscle helps inform his work—including his recent, first-of-its-kind transplant of a pig kidney into a human being.
In the six months that Newsweek has been working on the Greatest Disruptors initiative, we have continually been fascinated and inspired as we learned more about the motivations driving truly disruptive achievement and the humanity behind the razzle dazzle, sometimes sci-fi-like gee-whizzery of the cutting-edge technology. We hope you find the stories and achievements of these 50 Great Disruptors as moving and as awe-inspiring as we do.
Read about the rest of the disruptors on our list here:
How We Created the 2021 Disruptors List:
For the initial list, Newsweek solicited nominations from more than 100 experts and change makers in a variety of fields, as well as our staff. The Disruptors research team, led by Newsweek senior reporter Kerri Anne Renzulli and Newsweek fellow Meghan Gunn, also combed research by universities, tech incubators, venture capital firms, futurists and other tech experts and organizations, to identify additional promising work that met our definition of disruption. To be considered, candidates had to be employing technology in a way that is driving fundamental, transformative change in business, health, the environment, culture or society—typically with measurable real-world results—or have clear and demonstrable potential to do so. Over six months, a short list of roughly 100 candidates was created, then culled to the final 50, through research, interviews and the judgment of the Disruptors team and Newsweek editors, led by Diane Harris, Newsweek's deputy editor in chief, and Fred Guterl, special projects editor, former executive editor of Scientific American and author of The Fate of the Species: Why the Human Race May Cause Its Own Extinction and What We Can Do About It.
Here is a partial list of the many experts who offered nominations or helpful insights over the course of this project. Newsweek is grateful for their wise counsel and our list is better for it.
Scott Anthony - Senior Partner, Innosight
Shannon Austin - Founder, Work in Progress Consulting
Erik Brynjolfsson - Director, Stanford Digital Economy Lab; Professor, Stanford Institute for Human-Centered AI
Joshua Gans - Professor of Strategic Management, University of Toronto
Mark Greeven - Professor of Innovation and Strategy, International Institute for Management Development
John Hall - Co-founder, Calendar.com
Arlan Hamilton - Founder & Managing Partner, Backstage Capital
Fran Hauser - Startup investor, author of The Myth of the Nice Girl: Achieving a Career You Love Without Becoming a Person You Hate
Linda Hill - Professor of Business Administration, Harvard Business School
Michael Hyter - President, CEO, The Executive Leadership Council
Stephanie Laffin - Executive Director of Creative Affairs for Wade Davis
Joseph LeDoux - Professor of Neural Science and Psychiatry at NYU
Rita McGrath - Professor, Columbia Business School
Bernard Meyerson - Chief Innovation Officer Emeritus, IBM
Adam Piore - Science journalist; author, The Body Builders: Inside the Science of the Engineered Human
Camila Russo - Founder, The Defiant
Josh Suskewicz - Partner, Innosight
Nora D. Volkow - Director, National Institute on Drug Abuse, National Institutes of Health
Amy Webb - Founder, CEO, Future Today Institute
Maxwell Wessel - EVP and Chief Learning Officer, SAP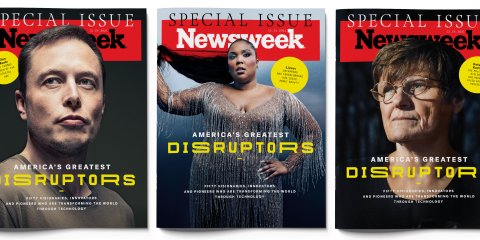 Read about more disruptors by clicking on the links below:
---