Innovators helping to counter climate change and other environmental challenges
---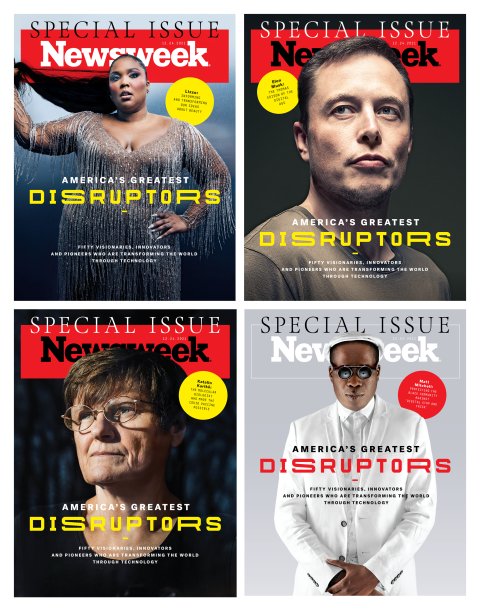 AI and Big Data to Help Feed the World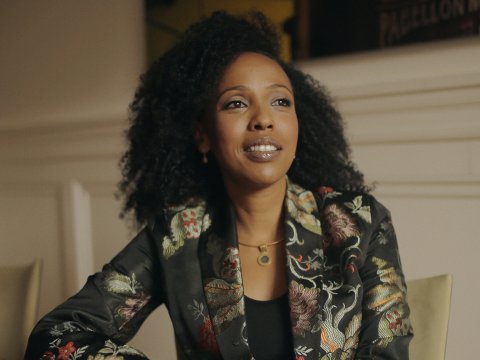 Gabriela Celeste/Gro Intelligence
SARA MENKER — FOUNDER, CEO, GRO INTELLIGENCE
By 2050, the United Nations says, we're going to need 70 percent more food to feed the nine billion people living on Earth. Global climate change threatens to upend their lives—worsening storms, droughts, heat waves and crop diseases. What kind of a world will we leave to our grandchildren?
Sara Menker says the problem may be even more urgent than the U.N. suggests. In 2017, she gave a TED talk in which she said a "tipping point," beyond which global food markets become too overwhelmed to function effectively, could come in just a few years.
"We discovered that the world will be short 214 trillion calories by 2027," she said. Or, in more familiar terms: "A single Big Mac has 563 calories. That means the world will be short 379 billion Big Macs in 2027. That is more Big Macs than McDonald's has ever produced."
Menker cannot change the world alone. But the firm she started, Gro Intelligence, is providing information that food companies, insurers, lenders and policymakers use to make food production more efficient, and perhaps help protect against that tipping point.
Gro says it tracks 650 trillion data points daily—from sources such as government and local food reports, satellite imagery, long-term weather forecasts and greenhouse gas measurements—and creates computer models so that clients, such as Unilever and Yum! Brands, can know how prices are likely to trend, anticipate surpluses and shortages, and be more resilient when climate change makes food supplies harder to predict.
A type of artificial intelligence known as machine learning is key to crunching the numbers because, as Allison Tepley of Gro's staff put it, "The best information is often local information, but it's often in local languages, in different formats and it all needs to be put together."
This is a larger compilation of food-supply data than decision-makers can find elsewhere. Gro tracks 1,000 different crops; the U.S. Agriculture Department tracks about 50. The level of detail, says the firm, is essential to catch trouble quickly and help producers take action to protect the food supply.
Gro has sounded alerts on African swine fever in China (which cut pork production 30 percent in 2018), locust infestation in East Africa in 2020 and global inflation in food prices—worsened in the short term by COVID and long term by climate disruption.
"It's not something that's going to go away soon," says Menker. "It's basically driven both by supply and demand shocks continuously happening."
She was born in Ethiopia, came to the U.S. for college and business school and was working as a commodities trader at Morgan Stanley when she saw the chaos in food markets. She started Gro in 2014. "What alarmed me," she says, "was there was a lot of conversation about food security and a lot of people trying to fix a system that we didn't understand."
History is filled, of course, with predictions of disaster that never happened. And Menker says there are many things the world can do now. America and Europe, for instance, enjoyed a so-called green revolution in the last century—doubling or tripling food output because of new crops and farming methods. India has had one, too. No countries in Africa have yet, but they still can.
Part of the answer, she says, is in adopting many of the commercial practices that have worked in the wealthier countries—more efficient markets, better transportation and changes in farming that will both increase the food supply and protect the environment. And her own work shows, she says, that "the most critical tool for success in the [food] industry—data and knowledge—is becoming cheaper by the day." —Ned Potter
---
An Eco-Friendly Alternative to Plastic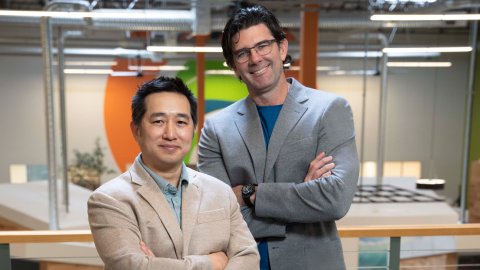 Courtesy of Footprint
TROY SWOPE AND YOKE CHUNG - FOUNDERS, FOOTPRINT
Working as Intel engineers early in their career, Swope and Chung made a shocking discovery while testing plastic-wrapped supermarket foods for contamination. "No food was left untouched by plastic chemicals leaching into it," Chung says. Every year in the U.S., 150 million tons of single-use plastic are used in consumer goods like disposable cutlery and containers. Along with the harmful health risks, less than 9 percent of this material gets recycled; the rest goes to landfills or is incinerated, releasing toxic fumes into the environment.
Swope and Chung's solution: Create plant-based biodegradable, compostable and recyclable alternatives to single-use plastic. Their company Footprint, founded in 2014, has already eliminated more than 60 million pounds of plastic through partnerships with mega food retailers like Costco, Whole Foods, Trader Joe's, Sweetgreen, McDonald's and Dunkin' Donuts, which use its plates, bowls, packaging and related products. Now the founders are taking their bid to save the planet to the next level with a partnership with the NBA's Phoenix Suns, aiming to make its arena—renamed the Footprint Center this year—into an innovation lab for sustainability that can be replicated in sports venues around the world. Among the first steps: As of October, Suns fans are getting their burgers and beer served up in Footprint's plant-based cups and containers, along with educational messages and advice about sustainability. —Meghan Gunn
---
MAKING BLUE JEANS LESS TOXIC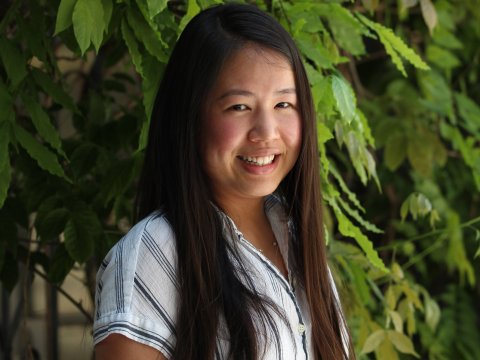 Courtesy of Good Nature
TAMMY HSU — CO-FOUNDER, CHIEF SCIENTIFIC OFFICER, HUUE
Killer-looking jeans, unfortunately, also contribute to killing the planet. Chemicals such as formaldehyde and cyanide that are used to make the indigo dye that gives denim its distinctive color are often toxic to workers and destructive to local water sources.
Hsu and her team created an eco-friendly, worker-safe bioengineered alternative by programming microbes to mimic the way color compounds occur in nature, using sugar to enzymatically produce the same blue shade as indigo. Huue's dye can be manufactured in existing factories, making it easily adoptable within the industry. This fall, Huue partnered with biotech company Ginkgo Bioworks to ramp up production and plans to begin shipping dye to designers early next year. —M.G.
---
Reducing CO2 Via Alternative Energy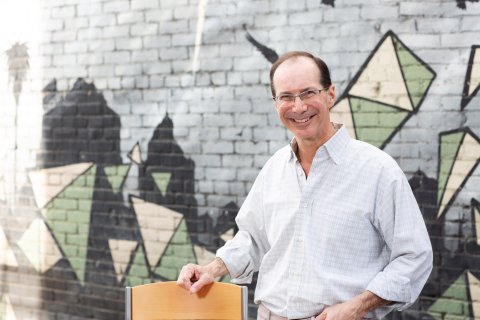 Courtesy of Bill Gross
BILL GROSS — FOUNDER, HELIOGEN; CO-FOUNDER, ENERGY VAULT, CARBON CAPTURE
Gross is a triple-threat, with not one but three separate ventures devoted to reducing carbon emissions through the use of alternative energy. It's been a lifelong interest dating back to 1973, when he was a teenager in Southern California during the oil embargo and his family could only buy $5 worth of rationed gasoline every other day. "That had a huge impact on me," he says.
Gross has devoted his career to developing technology to solve energy challenges. His company Heliogen harnesses the sun's power using mirrors so precisely positioned via software that they produce thermal energy up to 1,000 degrees Celsius—nearly twice as much as other systems. That's hot enough for industrial use, like steel and cement production, whose high heat demands currently account for about a tenth of global greenhouse gas emissions (more than all cars and planes combined).
Meanwhile, Gross' startup Energy Vault successfully built a system that stores energy in 35-ton blocks that are stacked in a tower; the blocks are made of dirt and waste materials, rendering it safer, cheaper and longer-lasting than other energy storage systems. As Bernard Meyerson, chief innovation officer at IBM notes, "There is no carbon footprint to speak of and the technology is based on absurdly simple science with some very cool engineering thrown in."
Lastly, Gross' Carbon Capture makes machines that remove CO2 from the atmosphere using Direct Air Capture tech. Gross says: "I would like my collection of companies to someday combine to be the largest CO2 'avoider' in history." —Kerri Anne Renzulli, Meghan Gunn
---
Better Farming Through AI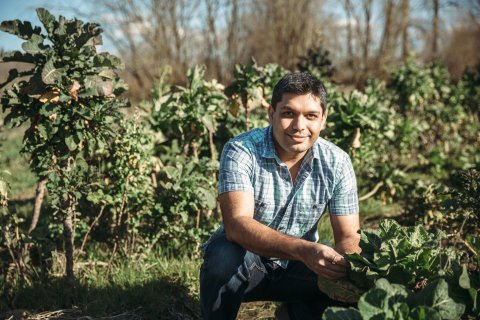 Microsoft
RANVEER CHANDRA — CTO, AGRI-FOOD; MANAGING DIRECTOR, RESEARCH FOR INDUSTRY, MICROSOFT
Can the WiFi chip in your phone help feed the world? That's the question Bill Gates posed about FarmBeats, part of Microsoft's first AgTech initiative, led by Chandra. FarmBeats aims to replace the educated guesswork in farming—say, feeling or tasting the soil to determine when to plant, water and harvest—with AI-informed tools and sensors like heat and moisture maps that help farmers use less water and save money on things like fertilizer and lime to control the pH in soil.
The sticking points were price (sensors are expensive) and lack of internet access on most farms, but Chandra and his team developed a clever workaround, using TV white space (unused TV broadcast spectrum, aka "snow") to transmit data. Instead of farmers buying hundreds of expensive sensors, they place a few far apart. The farmer then walks around with a smartphone attached to a drone or helium balloon, taking aerial video; data from the sensors is sent through the white space to a computer, where everything is aggregated into a hyper-specific data map. Now Chandra is working on taking FarmBeats to growers worldwide, starting with recent partnerships with Indonesia's Ministry of Agriculture and Land O'Lakes. —M.G.
---
AN APP TO REPLENISH FORESTS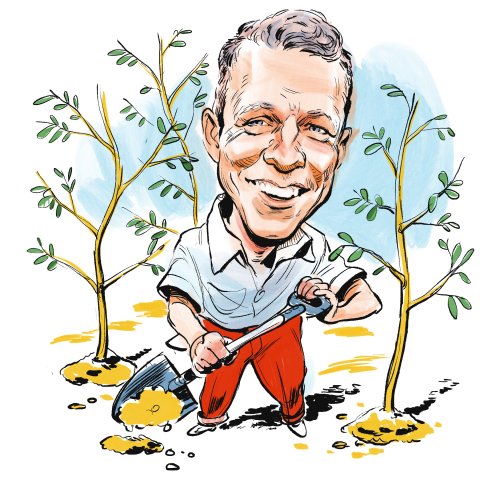 Britt Spencer
DAVID 'EZRA' JAY — CO-FOUNDER, EXECUTIVE DIRECTOR, GREENSTAND
David 'Ezra' Jay is working to combat deforestation one tree at a time—collectively, he's surpassed 1.2 million trees planted so far. He's also committed to trying to alleviate global poverty. The app Treetracker, an open-source, data-driven software platform developed by Jay and his team via Greenstand, the nonprofit he heads, attempts to accomplish both goals by verifying and monitoring farmers around the world who plant and care for trees, then facilitating payments to these growers from donations by partnering groups.
Planters submit geotagged photos of their trees periodically, the app calculates a value for the ecological impact based on the tree's location and rate of growth, then packages the data in a digital wallet the growers can access and trade. For poverty-stricken farmers in areas like sub-Saharan Africa and South Asia, the process provides income and a way to earn their livelihood by restocking forests rather than clearing them for crops. Today, the app is used by more than 4,700 growers worldwide and has the backing of the World Bank. —K.R.
---
Making Eggs Without the Chicken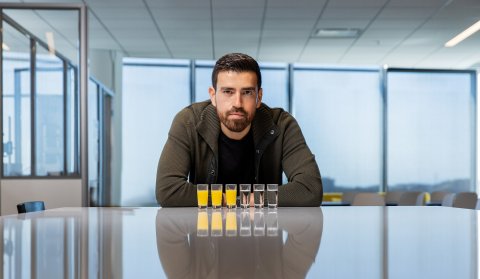 Tri Nguyen
ARTURO ELIZONDO — FOUNDER AND CEO, THE EVERY COMPANY
Ninety-nine percent of farmed animals in the U.S. are raised on factory farms—and most never see the sun or walk on grass. As a young intern at the U.S. Department of Agriculture, Elizondo learned that more than one million animals are slaughtered per hour at USDA facilities, and that animal agriculture is the number one contributor to deforestation and species extinction. "I knew there had to be a way to make protein without destroying the planet in the process," he says.
After more than six years of research, the startup he founded to devise a solution is finally coming out of its shell: This October, The EVERY Company launched the first animal-free egg protein, made by infusing a 3D-printed DNA sequence of chicken egg protein into yeast and then fermenting it, similar to the way brewers make beer. The end result is a protein that food and beverage makers can add to their products for nutrition, without the obvious taste of traditional alternate proteins. The process doesn't require animals and uses less water, land and energy than factory farms do. Says Elizondo: "The only way to truly transform our food system was to meet people egg-xactly where they're at." —M.G.
---
Tech Help for Food Insecurity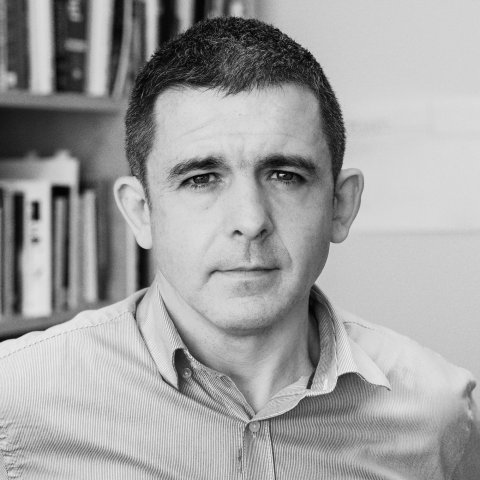 Courtesy of David Hughes
DAVID HUGHES - FOUNDER, PLANTVILLAGE
Penn State entomologist David Hughes originally started PlantVillage as a side hustle to his main work researching ant fungus (his early Twitter handle: "@ZombieAntGuy"). But the initiative, which leverages AI, mobile phones, drones, satellites and nanotechnology to help small farmers combat plant diseases that threaten their crops, has since become his main gig—and passion. The greater goal: to help end global food insecurity, which has 41 million people on the brink of famine, according to the World Food Program.
Among PlantVillage's innovations: a U.N.-backed app Nuru (Swahili for light) that uses AI to help farmers, mostly in Africa, diagnose, treat and track plant diseases. Last year, when historic swarms of locusts posed a major risk to crops in Kenya, Ethiopia and other countries, Hughes' team quickly created another app, eLocust3M, to track and forecast the insects' movement, helping save food for 40 million people. According to users, Hughes says, the two apps together have increased farm profits by 160 to 500 percent. —K.R.
Read about more disruptors by clicking on the links below:
---