In times of upheaval, skill sets fluctuate. New (or less-frequently used) skills may become more urgently necessary, while well-honed skills may take a backseat
For years, we have studied the skills executives utilize to lead their organizations. The COVID-19 pandemic gave us our first opportunity to examine the impact of a crisis on a global scale. We surveyed over 3,026 executives worldwide in partnership with The Official Board, a global corporate directory of medium and large companies. Thirty percent of respondents were based in the United States, with the remainder representing 120 countries from every continent, except Antarctica. Respondents represented 53 key functions including CEO, CFO and CIO and more than 86 industries—primarily banking, insurance, financial services, consulting and telecommunications. Notably, 84 percent of respondents offered text responses that elaborated on their quantitative estimates.
The survey asked two quantitative questions:
On average, what percentage of your skills became obsolete or outdated during the pandemic?
On average, what percentage of your skills became obsolete or outdated
on a yearly basis before the pandemic?
We found the average rate of skill obsolescence increased by 71.7 percent during the pandemic, a remarkable increase. But an average is just that; the variance is where the story gets more interesting.
Trends by Country, Industry and Position
Country
Nigeria reported the highest increase in the rate of skill obsolescence, 247 percent. The second highest was reported by the Philippines at 214 percent. Hong Kong and Brazil were virtually tied for third, with reported increases of 155 percent and 154 percent, respectively. A Brazilian utilities executive in business development cited "more and divergent information regarding the pandemic, economy, and political situations" as a contributing factor.
The availability of quality IT talent and infrastructure set countries apart. A manufacturing executive from Bermuda said, "The pandemic forced a whole new way of working with a variety of online resources, some of which are difficult to manage. That has accelerated the need for retraining and the need for IT departments to change even more rapidly. Not to mention internet infrastructure, which is far, far behind outside of the United States."
Greece was the only country that reported its rate of skill obsolescence actually decreased during the pandemic, by a rate of about 10 percent. Japan and New Zealand were the other two least-affected countries, reporting only relatively incremental increases: Japan at 4 percent, and New Zealand at 7 percent. One Greek board member in the finance industry said, "The pandemic had no influence on my existing skill set or my contribution to the boards on which I serve. Only the mode of contact was influenced."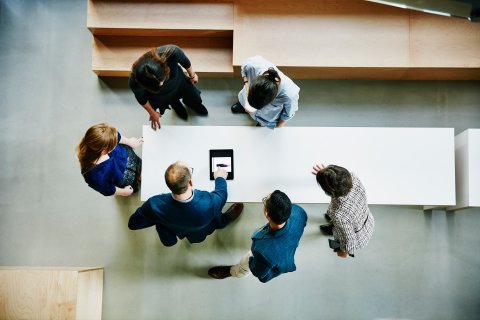 Industry
The defense and space industry had the greatest increase in the rate of skill obsolescence (226 percent), followed by agriculture (187 percent) and heavy electrical equipment (179 percent). "There is no way to conduct our type of business virtually," explained a U.S. defense and space industry executive. "To survive in defense contracting, you must be willing to be present with the customer regardless of the risk." An Australian executive in heavy electrical equipment said, "During the pandemic, tradespeople and labor-hire companies have increased the rates they charge with no justification apart from labor shortage. They are taking from the industry and putting nothing back." The heavy electrical equipment industry also faced challenges from manufacturing disruptions.
The three least-impacted industries were also the only three industries that reported a decrease in the rate of skill obsolescence. Ground transportation reported a decrease of 15 percent, consumer electronics a decrease of 11 percent and market research a decrease of 8 percent. A sales executive for a Turkish ground transportation company said, "With or without the pandemic, our business environment changes fast. The pandemic did not especially impact our skills."
Function and Role
Technology positions reported the greatest increase in the rate of skill obsolescence at 300 percent. Design executives experienced a 178 percent increase of the rate of skills obsolescence, and executives in customer-centric roles experienced an increase of 139 percent. One technology executive in manufacturing in the U.S. said, "My entire skill set is rooted in the ability to adapt to changing business conditions.... Relying on one, fixed skill set is not practical."
For some executives, the pandemic caused a complete reimagining of their roles. "My functional area is strategy and business development," said an executive in biotech in the U.S., "During the pandemic I was moved into the role of regional incident commander, supporting operations leaders in a very different way. Planning our market strategies paled in comparison to our need to plan strategies around the use of personal protective equipment, staffing, surgical cases, and so forth."
Executives in analytics roles reported only a 10 percent decrease in the rate of skill obsolescence. The other least-affected roles were engineering, with an increase in the rate of skill obsolescence of 13 percent, followed by services with an increase of 21 percent. "None of my skills were made obsolete," said an analytics executive from a South African accounting firm. "What changed was the use of more technology in execution...The pandemic just accelerated the pace at which that had to happen."
How to Gain or Maintain Relevant Skills
Keeping executive skills relevant is extremely important for all leaders, but especially those whose rate of skill obsolescence has skyrocketed. Here are a few strategies for staying on top of your game, both now and in future crises we will inevitably face.
Formalize the Process
It is common in organizations to have formal, written individual development plans. We encourage you to devise a similar document summarizing your strategy for staying relevant. Include areas where you regularly need to hone your skills or knowledge, and commit to measurable action steps and timelines to help you do that. Your plan should reflect your own self-assessment, as well as formal and informal feedback you receive from everyone who provides (or would provide) input for a 360-degree review. People assume they learn the most from their bosses, but that is only true if you have a boss who prioritizes performance and learning, which is often not the case. Oftentimes, people learn the most from their peers. We also recommend this process for everyone on your team and encourage you to hold people accountable for following through with their commitments.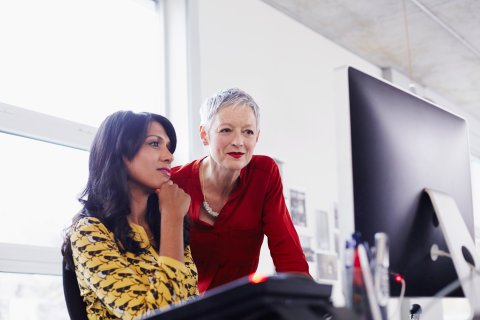 Choose the Right People
It is often said that leaders should surround themselves with people who can compensate for their weaknesses, but how often is relevance a factor in deciding what company to keep? One of the most effective ways to stay relevant is to surround yourself with people who will help you keep your skills relevant. This can be done in a myriad of ways. For example, if you are an executive who needs help with technology, you can arrange to be reverse-mentored by a more junior employee whose technological skill-level exceeds your own. You can also tap peer-to-peer networks as a way to establish relationships with other leaders from whom you can learn. It may also be beneficial to establish a personal board of directors—an informal, small group of individuals that you can lean on for support and guidance as you navigate your career.
A unique opportunity to reshape internal teams is currently presenting itself for many American executives. Dubbed the "Great Resignation," people are leaving their jobs in droves, and executives will have vacancies to fill. Strategically hiring people who can help keep you and your team relevant can be a lasting positive outcome.
Leverage Social Media
If the pandemic has taught us anything, it's that virtual platforms can be a way to meaningfully connect with other people. Social media can be a powerful tool to help you stay relevant. Leverage your account as a vehicle for delivering useful and insightful information. Who are the most influential thinkers in your function? In your industry? What economists do you hold in high regard? Follow these people on social media. Think of it as organizing a daily conference for yourself composed of only the best speakers.
Keep Producing
As executives climb the proverbial corporate ladder, they typically spend less time honing their hard (or technical) skills and more time honing soft skills, such as building and managing relationships, communicating, negotiating, problem-solving, strategizing and leading. An effective approach to staying relevant, however, is to keep your technical skills up-to-date by using them to be a producer (at least occasionally). This will reinforce your relevance to those around you and give you more credibility. People will be more receptive to you as a leader if they believe that you understand the ins-and-outs of the work and are capable of excelling at it yourself.
A powerful example of this can be found in the tech industry. In comparing and contrasting the styles of Jeff Bezos of Amazon, Larry Page and Sergey Brin of Google, Bill Gates of Microsoft, and the late Steve Jobs of Apple, we found one common thread: even as they led their companies, they never stopped producing. Using their patent submission history as a proxy for productivity, we learned that all of these CEOs were "PELMs," Producer-Expert-Leader-Managers. In fact, our analysis showed that they all actually did more patenting as their careers went on, not less.
Seek Learning in Real-Time
There are skills to be learned or improved with every decision and action. Executives who wish to remain relevant would benefit from learning in real-time as the consequences, good and bad, of their decisions and actions unfold. For the gold standard in how to do this, we look to the U.S. Army.
In the 1970s, the army developed "after action reviews" or AARs, which were implemented in the 1980s. AARs are typically in-person team meetings that take place immediately after the completion of a project or project stage. At the meeting, a facilitator asks:
What did we expect to happen?
What actually happened?
What caused any discrepancies
between the two prior answers?
What will we do next time?
(What did and didn't work well?)
Teams are charged with answering each question openly and honestly, with no blaming or fear of retribution. Whenever possible, objective data is used. Leaders listen without judgment to understand what can be learned and how to replicate successes or avoid failures in the future.
In the best of times, it is important to stay relevant in our work. That is especially true for executives, who have broad influence on a company and its employees. In times of crisis and rapid change, focusing on maintaining relevance is that much more important.
Now is the time to reflect on the ways the pandemic has impacted your skills and relevance and take steps to compensate for losses you have incurred (and maybe make additional gains). There are many ways to do this, including to surround yourself with the right people, keep producing and learn from successes and failures. Employing strategies to stay relevant will only serve you, your colleagues, your employees and your organization as the pandemic and future crises unfold.
---
Boris Groysberg (@bgroysberg) is Richard P. Chapman professor of business administration at the Harvard Business School and co-author of Talk, Inc.: How Trusted Leaders Use Conversation to Power their Organizations. Katherine Connolly Baden is a researcher in organizational behavior at the Harvard Business School.