It's the holiday season! Around the globe, cities are transforming into cozy winter wonderlands, chock-full of old traditions, glittery light shows and end-of-year celebrations. From a floating tree in Brazil's Rodrigo de Freitas lagoon, to a menorah lit by ice-skating rabbis in Budapest, to Thailand's lantern festival, here are some of the world's most festive holiday displays to bring cheer to chilly winter days.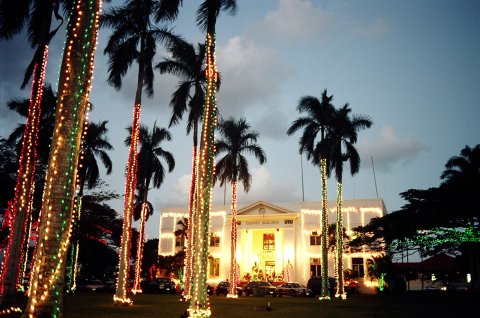 Santa's Gone Kauaiian
Kauai, Hawaii
There might not be snow on this island, but Christmas is still a festive occasion at Kauai's Historic County Building Park. Mr. and Mrs. Claus greet visitors from the porch at the annual Festival of Lights. Beneath the palm trees, you'll find decorations like the Over the Rainbow Tree, Santa's Cane Train Village, the SPAM Can Tree and Surfin' Santa.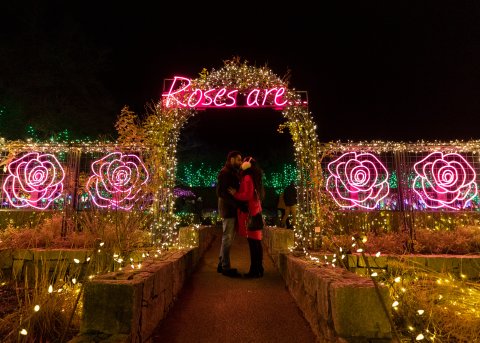 VanDusen Festival of Lights
Vancouver, British Columbia
During the holiday season, this Canadian botanical garden transforms into a fairytale land with more than one million lights. Bundle up and stroll down pathways with names like Candy Cane Lane and The Gingerbread Walk, and through the famed Purple Cave.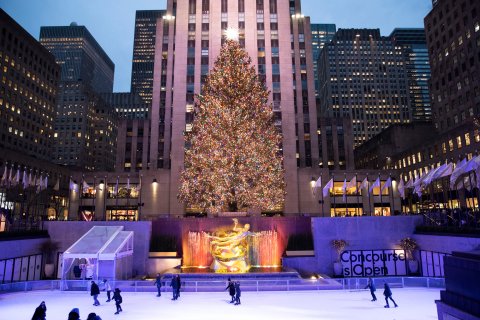 Rockefeller Center
New York City
This tree-lighting ceremony has its roots in the Great Depression, when local workers got together to purchase a 20-foot tree to raise spirits. That balsam fir was decorated in 1931 with homemade garlands. In contrast, today an estimated 125 million people visit the tree annually, and this year's 79-foot tall tree is topped with a Swarovski star that weighs around 900 pounds. Carrie Underwood and Mickey Guyton were among the celebrities who sang at the 89th tree-lighting celebration.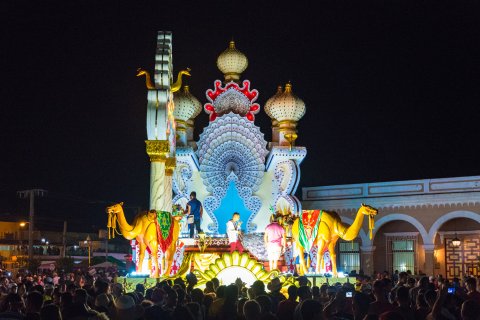 Las Parrandas
Remedios, Cuba
This carnival-like celebration is Cuba's oldest festival. Legend has it that back in 1820, a priest told children to play music and make noise in the streets, hoping it would draw people to mass (which was poorly attended). Now the festival includes band performances, parades, dancing and fireworks, as well as a friendly competition between neighborhoods for the best light display.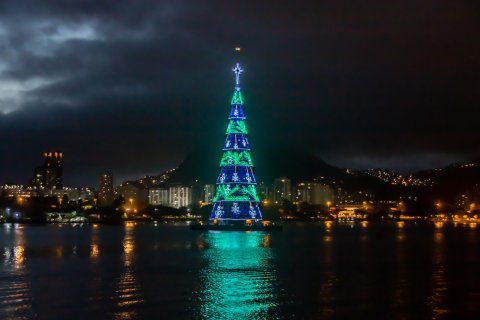 The World's Largest Floating Christmas Tree
Rio de Janeiro
Most years the city sets up a 278-foot tall metallic Christmas tree in the middle of Rodrigo de Freitas lagoon. Its lighting is one of Brazil's largest celebrations, and thousands of spectators line up for miles along the shoreline to watch.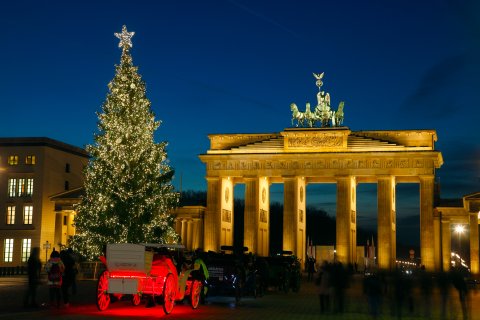 Christmas Markets
Berlin
During the holidays, this city's streets become home to Christmas markets that sell roasted almonds and mulled wine, as well as artisanal goods and crafts. Spectators flock to the light display at the Brandenburg Gate, a national symbol of unity.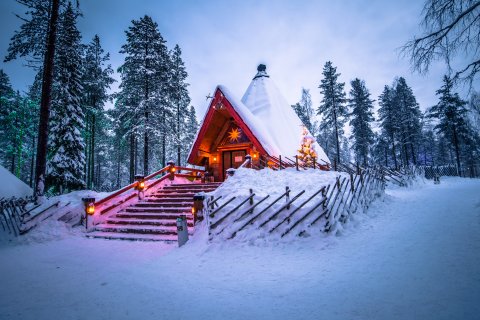 Holiday Sparkle Under Northern Lights
Rovaniemi, Finland
Every year, Lapland, Finland's northernmost region, draws visitors who want to cross the Arctic Circle and hand deliver letters to Santa at the Rovaniemi Santa Claus Village. Snowdog and reindeer rides, snowmobile tours and an igloo hotel are also available. Along with the artificial light displays, you might even catch a glimpse of the Northern Lights.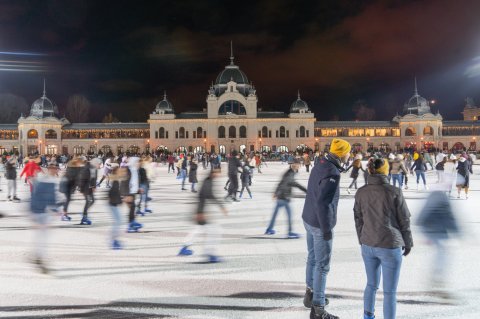 Quarter 6 Quarter 7 Festival
Budapest
On the first night of the eight-day holiday, rabbis dust off their ice skates, and head to Budapest City Park Ice Rink to light a menorah at the rink's center. "Hanukkah on Ice," as it is called, is a massive family Hanukkah party with performances, latkes and of course, skating. The menorah lighting is part of a larger celebration, Quarter 6 Quarter 7, named for the city's historic Jewish districts, that takes over the entire city for the night, too.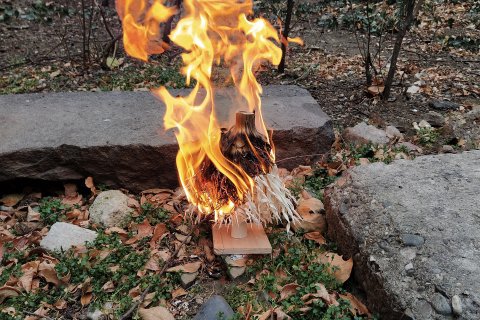 Freedom Square
Tbilisi, Georgia
Georgians have a tradition of taking dried hazelnut or walnut branches and shaving them into tree shapes, which are then decorated with small fruits, berries and flowers. On the feast of the Epiphany, these "chichilaki" are burned—to symbolically let go of the trials and tribulations of the previous year.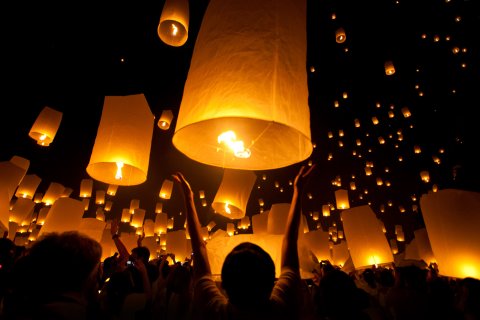 Yee Peng Lantern Festival
Chiang Mai, Thailand
On the full moon of the 12th month of the Thai lunar calendar, thousands of floating lanterns are released—both paper ones into the night sky and also down the Ping River on what are called krathong, small vessels typically fashioned from banana leaves holding tiny candles. The offerings look like thousands of fireflies drifting both downstream and overhead. Some locals say the tradition symbolizes letting resentment and grudges float away.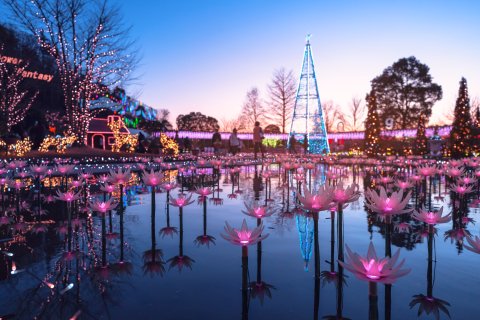 Garden of Illuminated Flowers
Ashikaga, Japan
In the wintertime, the wisterias at Ashikaga Flower Park turn from live to LED. The park boasts over five million flower-shaped lights, from lilac water lilies to a multicolored rose garden. After walking the grounds, head to one of the cafes to get your fix of warm local dishes, like lamb shabu-shabu and deep-fried lotus root.