2022 Aston Martin Vantage F1 Edition Review: Pushes to the Limit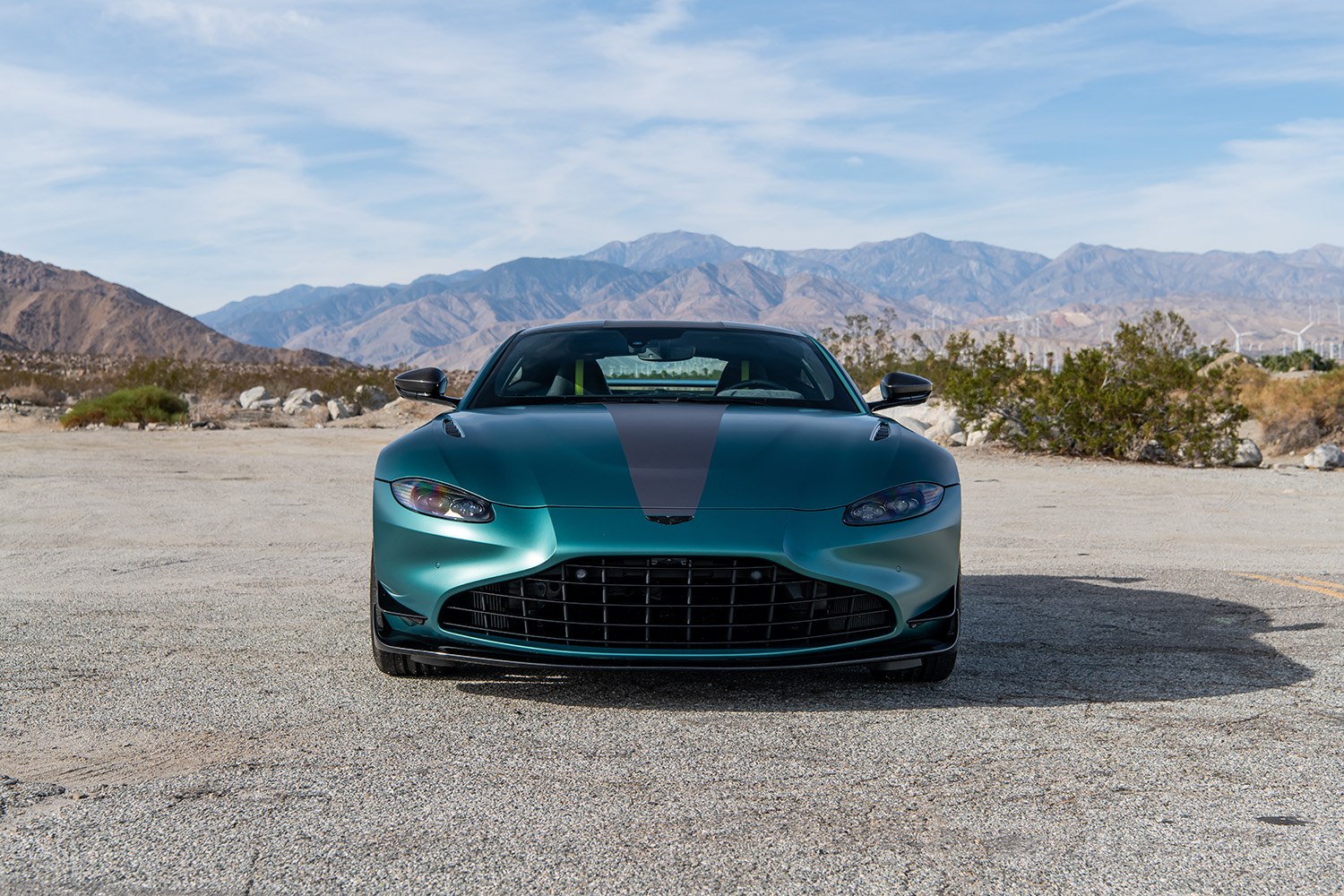 Super luxury cars tend to be either good on the track or comfortable to ride in on the road. Rarely is there one that provides a balance of both. The Lamborghini Huracán STO is one and the Aston Martin Vantage F1 Edition is another. Both deliver tremendous performance, sexy style and seating that doesn't wear on the hindquarters after a few hours behind the wheel.
The Vantage F1 Edition is a new take on the traditional Aston Martin Vantage sports car. It's a mix of the engineering that has gone into the company's Formula One endeavors and hallmark Vantage traits. It's the most powerful and fastest of the Vantage lot, ahead of the debut of the V12-powered Vantage later this year.
The coupe has a twin-turbo 4.0-liter V8 that churns out 527 horsepower and 505 pound-feet of torque. That's a lot considering the model weighs around 3,400 pounds dry.
The eight-speed ZF transmission is smooth as silk, not fumbling on the way up or down, even when abrupt acceleration is on tap.
Tested wearing a Satin Aston Martin Racing Green paint job, 21-inch Satin Black Diamond Turned wheels, vaned grille, carbon fiber exterior detailing, and quad exhaust, the coupe looked sharp enough to garner more than its fair share of thumbs ups, look backs and compliments on its way from Palm Springs to Idyllwild, California and back.
Its front independent double wishbone suspension and rear multi-link coil springs allowed the car to travel comfortably through all its paces, hugging corners at speed (and perhaps beyond) without instilling the notion of backing off the throttle.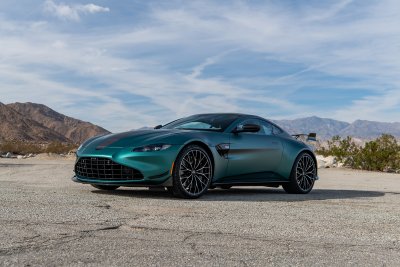 At higher speeds, on straightaways, the car doesn't like pushing the upper limits of its speed range - it begins to get a bit fidgety about holding a line. It's manageable with some effort, but ultimately the thrill is getting to that speed, not staying there.
Steering is smooth, connected, and precise, but not so strictly calibrated that you can't comfortably cruise.
Going up the San Jacinto Mountains' winding roads was fun, but heading back down them was even more so. Here, the Vantage F1 Edition showed its mettle, sticking to the road, practically asking to be allowed to go faster, and keeping its occupants stable around wide sweeping turns and switchbacks.
The interior of the Aston isn't much to write home about, but then again neither is the Lamborghini's. They're both of their design, mechanics and technology era and each, without a doubt, from their individual automakers.
The Aston is more refined. Alcantara and leather tastefully upholster the cabin with black chrome jewelry, aluminum thread plates, black anodized sill plaques, and accent stitching with richness that allows the car to earn its price tag.
The optional stitching and striping inside the tester was a nice touch that carried the exterior graphics package theme inside.
Vantage's standard 8.0-inch infotainment screen isn't nearly as graphically advanced as what you'll find in a Hyundai or Nissan, and its infotainment capabilities are haplessly held back by the arcane nature of the operating system.
There's only iPod or iPhone integration, and no Apple CarPlay or Android Auto, which means that your best bet at navigation is to have someone along for the ride who can give you directions from their phone.
There's good enough passenger and cargo space in the two-seater to make it a perfect weekend getaway vehicle. Cruise out to the desert. Take a trip through the mountains via that winding road you love. Inevitably sit in stop and go traffic on your way out of town on a Friday afternoon. Either way, the Aston Martin Vantage F1 is a worthy chariot for an on-road vehicular adventure.