2022 Ford Bronco Raptor: Mighty, Mighty Lettin' It All Hang Out
To create the 2022 Bronco Raptor, Ford Motor Company tasked its engineers with recreating the magic that makes the F-150 Ford Raptor so good. They succeeded on most every count.
With design that makes an immediate impact (like it or not) and engineering that was honed in the deep desert that hosts the Ultra4 Racing series, the 2022 Ford Bronco Raptor is an immediate force to be reckoned with on and off road. But, that doesn't mean that you'll be able to buy one anytime soon.
To gain its Raptor looks and capability, Ford widened the model by 9.8 inches compared to the Bronco Four-Door and upgraded the suspension to include Fox shocks with live valve technology; a fully boxed high-strength steel frame, and standard 37-inch tires.
For more aggressive terrain, rock rails, side steps, and front end bits can be removed to improve approach and departure angles.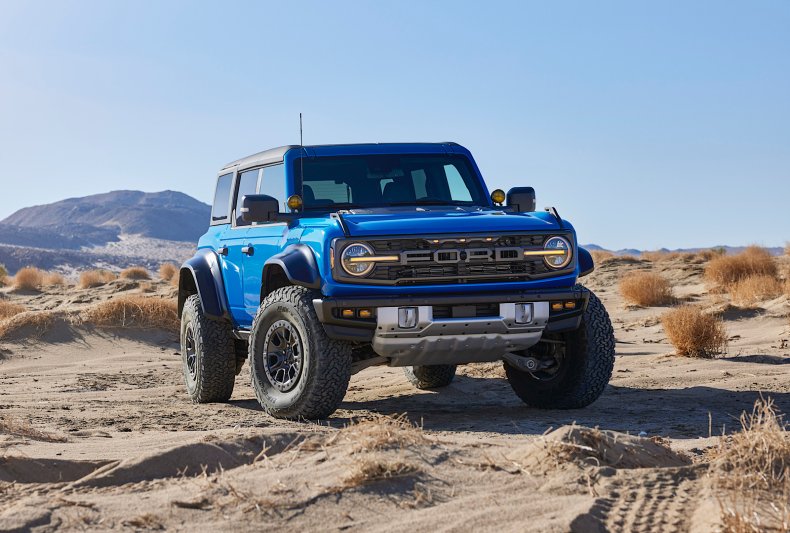 Its power got an upgrade too, with its twin-turbocharged 3.0-liter V6 delivering 418 horsepower and 440 pound-feet of torque. The engine is paired with Ford's 10-speed automatic transmission. That's plenty of power.
The powertrain combination is at its purest in Normal driving mode, on the road, below 5,000 feet of altitude. In most drive modes other than Normal, Off-Road and Sport, first and second gear are a bit of a mess with second gear holding too long and a not enough torque allocated to the wheels soon enough.
When off-roading, especially when climbing at slow speed, the Bronco's powertrain makes a driver wish for electrification, where instantaneous torque is available at the press of the accelerator.
Bronco Raptor is far better to drive on-road than the traditional modern Bronco. More power traditionally means the ability to have more fun behind the wheel and this truck is no exception.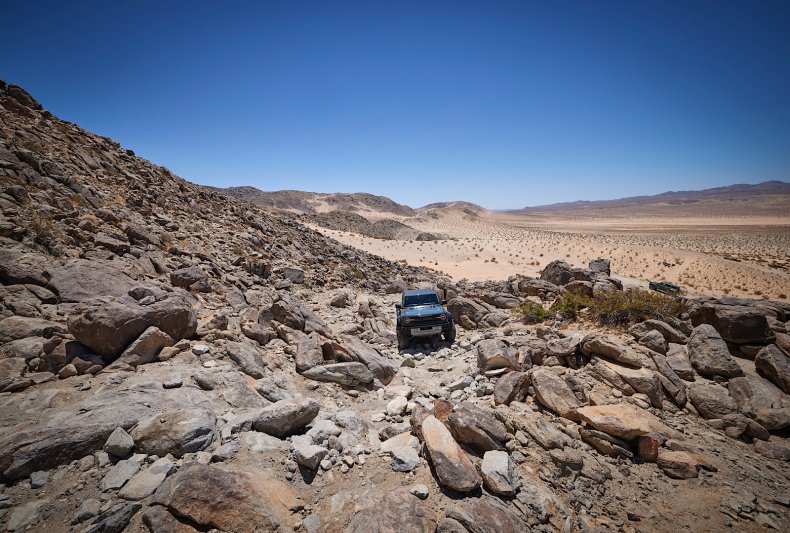 The fun is possible because of excellent chassis engineering. Bronco Raptor feels both stable and planted, absorbing most of the road's imperfections on pavement. Off-road, it's best at speed where the chassis allows the cabin to stabilize and let the shocks do the heavy lifting.
Bronco Raptor's a thicc girl, but easy to keep in the lane, unlike the GMC Hummer EV. Not only that, but on road, in the mountain twisties high above Palm Springs, California, the truck proved to be able to be pushed aggressively around corners, maintaining stability and inspiring confidence.
Bronco Raptor's rear aluminum and carbon fiber support structure works hard to keep the truck stabilized, with aplomb. Even when doing more extreme driving on the King of the Hammers course in Johnson Valley, California, the stability and comfort of the cabin wasn't compromised by the terrain.
Jounce was minimal, especially at speed. When tossing the truck through rough patches of trail, passengers could feel the terrain (as one should), but not in a fashion that caused the posterior to be uncomfortable.
Where the Bronco Raptor fails for passengers is in its seatbelt, which does a supreme job of rubbing against the neck of shorter drivers creating a slice-like bruise after a day on the trail.
The rest of the Bronco Raptor is like the Bronco four-door aside from some unique interior accents and badging. That's not a bad thing. Bronco, though not the most refined or nicely appointed, and despite it lacking good small item storage, is a glorious beast.
Ford's made the Bronco more in nearly every single way in this iteration. Sure, it's not perfect, but the Ford Bronco Raptor is exactly what it needs to be, and what buyers want it to be.
The good news for Ford, and bad news for those who want one is that the model is already sold out, at least in theory. Select Bronco reservation holders get the first crack at getting their hands on a Bronco Raptor, which has a starting price of $68,500.