The 2022 GMC Sierra 1500 is set for a mid-generation refresh next model year. In addition to anticipated exterior and interior changes, the full-size pickup truck will be getting a technology enhancement that includes Super Cruise, a General Motors advanced driver assistance system (ADAS).
Super Cruise technology will be available on the 2022 GMC Sierra Denali and it is engineered to be able to take into consideration the dimensions of a trailer when operating.
Super Cruise allows for hands-free driving on compatible roads unlike Tesla's Full Self Driving technology which requires hands-on operation of the vehicle. GM's technology uses a driver attention monitor (a camera plus infrared lights) in combination with LiDAR-generated map data to operate the vehicles' steering and acceleration/braking systems.
When Super Cruise is operational, a green light bar illuminates on the steering wheel. If a driver turns their gaze away from the camera for too long, the vehicle will alert the driver, in multiple ways, to return their attention to the road.
New for 2022, Super Cruise will include an automatic lane change feature designed to allow the vehicle's ADAS to determine if there is a passing opportunity available based on set adaptive cruise control speed and change lanes automatically to pass a slower vehicle ahead rather than waiting for driver input.
In recent years, numerous automakers have incrementally inched their way toward hands-free driving technology but most critics agree that Super Cruise is the best version of the tech able to be purchased on a car today.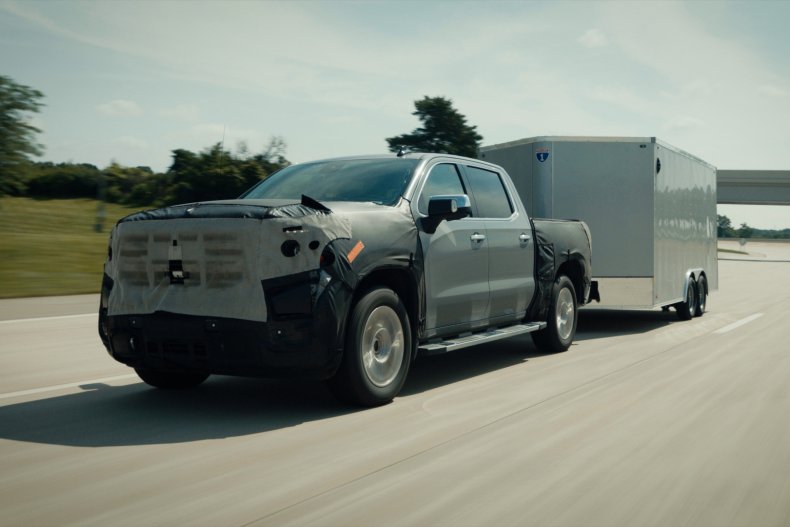 Ford Motor Company has promised Blue Cruise, a similar technology, will be available on the Ford Mustang Mach-E and F-150 by the end of the year. Both systems work on 100,000 miles of North American roadways and allow for hands-free driving. Ford will push an over-the-air update to owners of property equipped vehicles allowing them to install the technology when it is available.
Companies including Subaru, Hyundai, Nissan, and BMW offer drivers the option of adding lane centering technology to their vehicle that works in tandem with other safety and driver assist systems like lane-keeping assist and lane departure warning.
The 2022 GMC Sierra 1500 is expected to go on sale later this year. Pricing for the truck, including the Sierra Denali and Super Cruise technology, has not yet been announced.