2022 Jeep Grand Cherokee 4xe Review: A Suburbanite's Delight
In its steady creep towards premium brand territory, Jeep revealed the next step and the possible solution to the eco-conscious and outdoorsy suburbanite's plight: the 2022 Jeep Grand Cherokee 4xe.
The Grand Cherokee 4xe is a plug-in hybrid version of the company's second-most popular vehicle next to the Wrangler. Jeep stresses that the 4xe is not just another trim level of the gas-powered variant.
The plug-in hybrid SUV has a different type of powertrain than the 48-volt mild-hybrid technology that can be found in many Stellantis products. Mild-hybrids have smaller batteries, cannot be plugged in, and allow for fuel savings by pushing electric power to the wheels at times of high power requirements, instead of gasoline.
Plug-in hybrid electric vehicles (PHEVs) do not need to be plugged in, but can be, which allows them to maximize the distance they are able to go running solely on electric power. For most PHEVs, this means 20-50 miles of all-electric range. When their electric range is depleted, they run on traditional hybrid technology with electricity supplementing the gasoline power output via the battery and motors.
For families that land in suburbs, where the streets are practically overflowing with new SUVs, this one allows them to save on gas without going fully electric. It's also tough enough to take on some rocks or a dusty trail, while still having polish to make it an attractive daily driver.
The 2022 Grand Cherokee 4xe comes solely with a turbocharged 2.0-liter turbocharged four-cylinder engine that is paired with two electric motors and an eight-speed automatic transmission. The hybrid powertrain, which delivers 375 horsepower and 470 pound-feet of torque, is available on Limited, Trailhawk, Overland, Summit and Summit Reserve trims.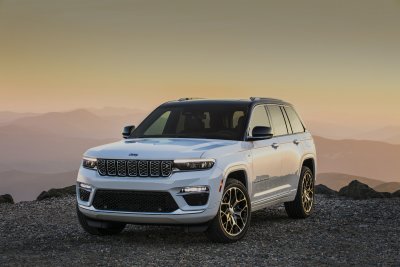 Giving the SUV its range is a 400-volt, 17-kilowatt-hour (kWh) lithium-ion battery good for a company-estimated electric range of 25 miles. Jeep says that it has a maximum charging capacity of 7.2 kilowatts. And if you can charge at home or the office, trips to the gas station can become a rarity, considering the average American drives just 39 miles per day.
There is an adjustment driving in electric mode, especially when maximum regenerative braking is engaged. That system automatically uses the engine and brakes to recuperate energy when slowing, but it can make accurate stopping and starting a bit of a guessing game until you get used to the rhythm. Max regen can be disabled with the push of a button, with standard regenerative braking feeling smoother.
Out on the highway, the Grand Cherokee 4xe provides a smooth ride with easy shifts from the eight-speed automatic. Once the battery is depleted, the Jeep automatically transitions to hybrid power, which only adds a little more noise from the four-cylinder.
The Grand Cherokee 4xe still manages to shine when taking life's more beaten paths. On a dirt road, the 4xe remains rigid and firmly planted. Rocks and bumps and mud don't phase it and the steering was accurate and direct.
All the while the interior provides solid insulation from road noise. The leather front seats are 16-way power adjustable, have adequate lumbar support and are memory enabled. Heating and ventilation are also available, which further adds to the comfort no matter the outside conditions.
Jeep's UConnect 5 infotainment system is handy, though sometimes a little laggy and unresponsive. If drivers commit the sin of aiming their finger a millimeter off of the location of the navigation interface square or the audio controls, they will need multiple button presses to get the desired effect. And sometimes that effect took longer than expected.
Despite all of the bells and whistles above, and the heated seats, adaptive cruise control and voice activated navigation, none of that is distracting when you decide to do some rock crawling. The Grand Cherokee 4xe is capable of removing all of those intrusions in these situations, with a front-facing, cleanable camera guiding your path.
Intuitive offroading controls, like switching to 4-Low to better manage torque levels or disconnecting the sway bar, affords the driver the opportunity to focus on the task at hand, be it climbing a steep grade, fording some water or zipping through a dusty trail.
A base 2022 Grand Cherokee 4xe Limited starts at $57,700. Moving up to the Trackhawk trim costs $62,485. Higher-appointed Overland and Summit variants run $65,760 and $69,820, respectively. The top-tier Summit Reserve trim will set you back $74,300.
The PHEV SUV segment is a crowded one. A 2022 Toyota RAV4 Prime is a popular choice that starts at $39,800 and provides almost double the electric range at 42 miles, though it's not as rugged. If you want something else in the premium space, the 2022 Lincoln Aviator offers a PHEV powertrain on its Grand Touring trim, which starts at $68,680. Though a little smaller, the 2022 Subaru Crosstrek Hybrid is also geared toward scratch your adventuring itch. Starting at $35,845, a full battery delivers 17 all-electric miles.
If you need a vehicle that can balance the demands of your family, save you a bit on gas and fold into your plans to cut through a few bumpy roads, the 2022 Jeep Grand Cherokee 4xe may be for you.