2022 Mazda MX-30 Review: Little Range and Little Incentive to Buy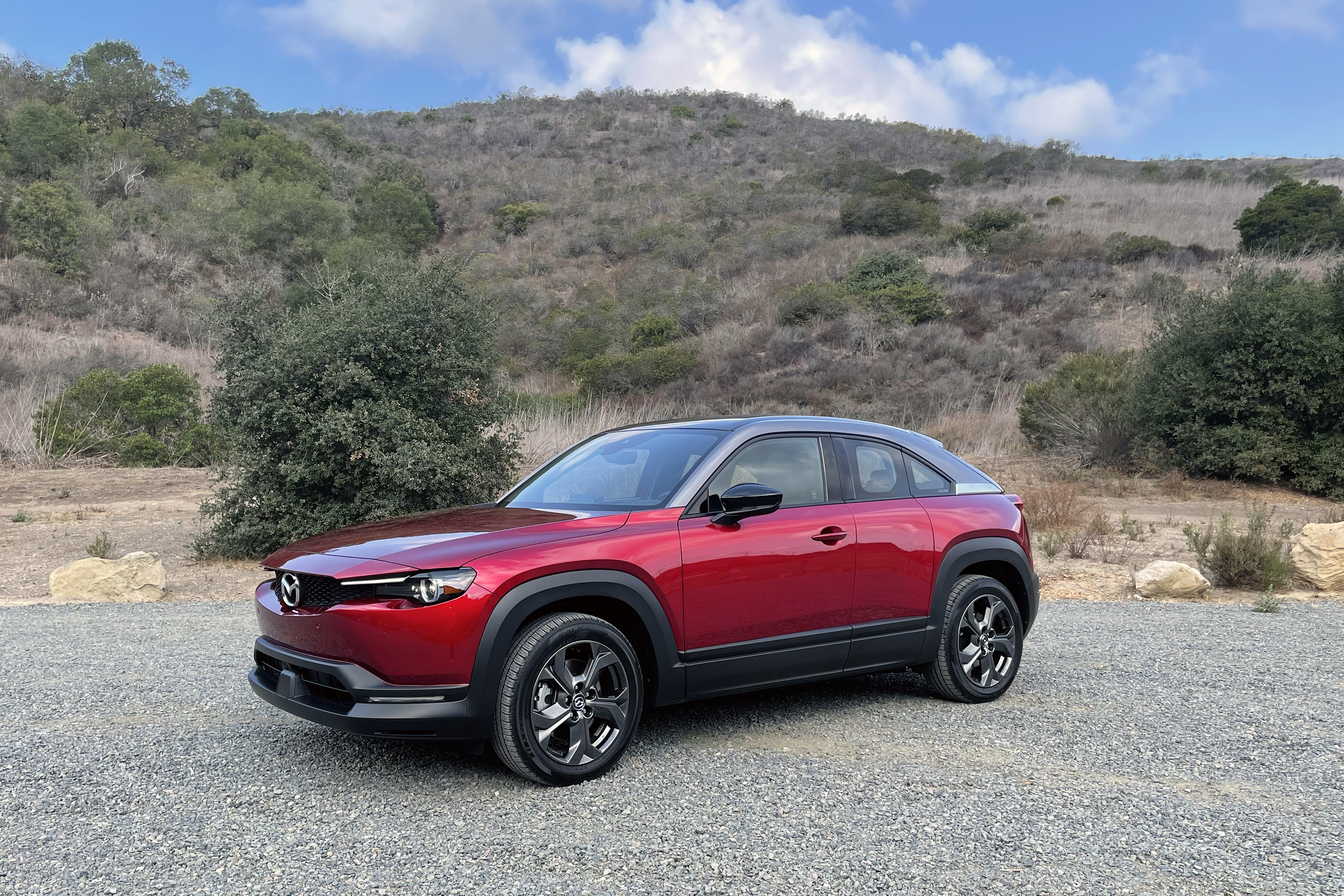 The 2022 Mazda MX-30 presents an interesting question: Are Americans ready for a low-range all-electric car? With the average commuter traveling just 30-ish miles per day, on paper an all-electric car that goes under 100 miles on a full charge has merit.
But, it's the way that Mazda has gone about constructing the MX-30 subcompact car that makes it problematic, not the range. Other vehicles offer similar mileage like the MINI Cooper SE (110 miles) and Hyundai Ioniq Electric (124 miles).
The look of the car is among the least appealing in the Mazda lineup, let alone on the market today. It's part contemporary Mazda, part Dodge Caliber, complete with suicide doors. Buyers who opt for the Premium Plus package can get it with a two-tone paint scheme that somehow works to cheapen the look despite the upgraded price point.
There's no front trunk thanks to the placement of the car's e-Skyactive power- and drivetrain components. There is a high rear cargo area load floor that provides access to a reasonable sized area.
The hardest square to circle on the MX-30 is the car's interior. Mazda is routinely lauded for its high-class, premium interiors. No one saying how great those are will add the MX-30 into that discussion when they take a look up close. The MX-30's interior is a blend of cockpit from the Mazda arsenal mixed with quirky materials like cork and felt that cover various surfaces and give the appearance that a driver is sitting behind the wheel of a knockoff Apple product box.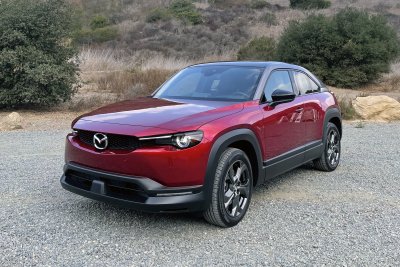 There's also flabbergasting design choices like lids for the cupholders and USB ports in the center console that are mostly unreachable without having a passenger in the front seat.
The car's 8.8-inch infotainment screen and climate control touch screen look cheap. Everything from their housing construction to screen resolution looks downmarket. Even Mitsubishis, notorious for low-quality components, have higher-quality screens.
The front seats are likely the only spot where passengers who aren't in infant car seats will be comfortable. Rear-seat legroom is at a premium, even with a short driver up front. That's to be expected given the car's door configuration.
Mazda does give the vehicle a decent list of features. Heated front seats, power moonroof, and leather-wrapped steering wheel are standard. Keyless entry, a Bose audio system, an eight-way power-adjustable driver's seat, heated steering wheel, heater power-adjustable side mirrors, and a 360-degree camera view are also on the list.
Power comes from the vehicle's 35.5 kilowatt-hour lithium-ion battery. The front-wheel drive model has a 80.9-kilowatt electric motor that delivers 143 horsepower and 200 pound-feet of torque. The output is solid, with acceleration that is steady and not slow.
Moving the model's shifter from park to reverse, neutral, or drive is a maneuver that requires a horizontal motion then a downward motion. It's a complication without an overt reason. The same can be said for cork flap-covered cup holders in the center console.
The best thing about the MX-30 is that it drives like a Mazda. Sitting behind the wheel for a connected drive experience will yield most of the dynamics you'd expect from a heavy, high-riding hatchback from the company's arsenal. Ideally, the steering would be able to be tightened up for when life's journeys take the car down twisty roads.
Buyers who decide to go with the MX-30 as their daily driver (just 560 will be available for the 2022 model year) can have access to Mazda's larger vehicles for road trip days. MX-30 owners are able to drive other Mazda vehicles for up to 10 days per year for the first three years of ownership as part of a unique program.
Mazda is selling the base MX-30 for $33,470. Adding the Premium Plus package to the model drives the price up to $36,480. All models are subject to a minimum $1,175 destination and handling charge. The car will only be sold in California.
Though it's not high-riding, the MINI Cooper SE is a far better buy than the Mazda MX-30. It gets 114 mile of all-electric range, has 181 horsepower, and has drive dynamics that put the Mazda to shame. Its $29,900 starting MSRP is a better deal and the mid grade Signature Plus trim level hits an appointments, features and price sweet spot at $35,700.