2022 Nissan Frontier Review: Brawny Makeover Creates a Tough Toyota Tacoma Competitor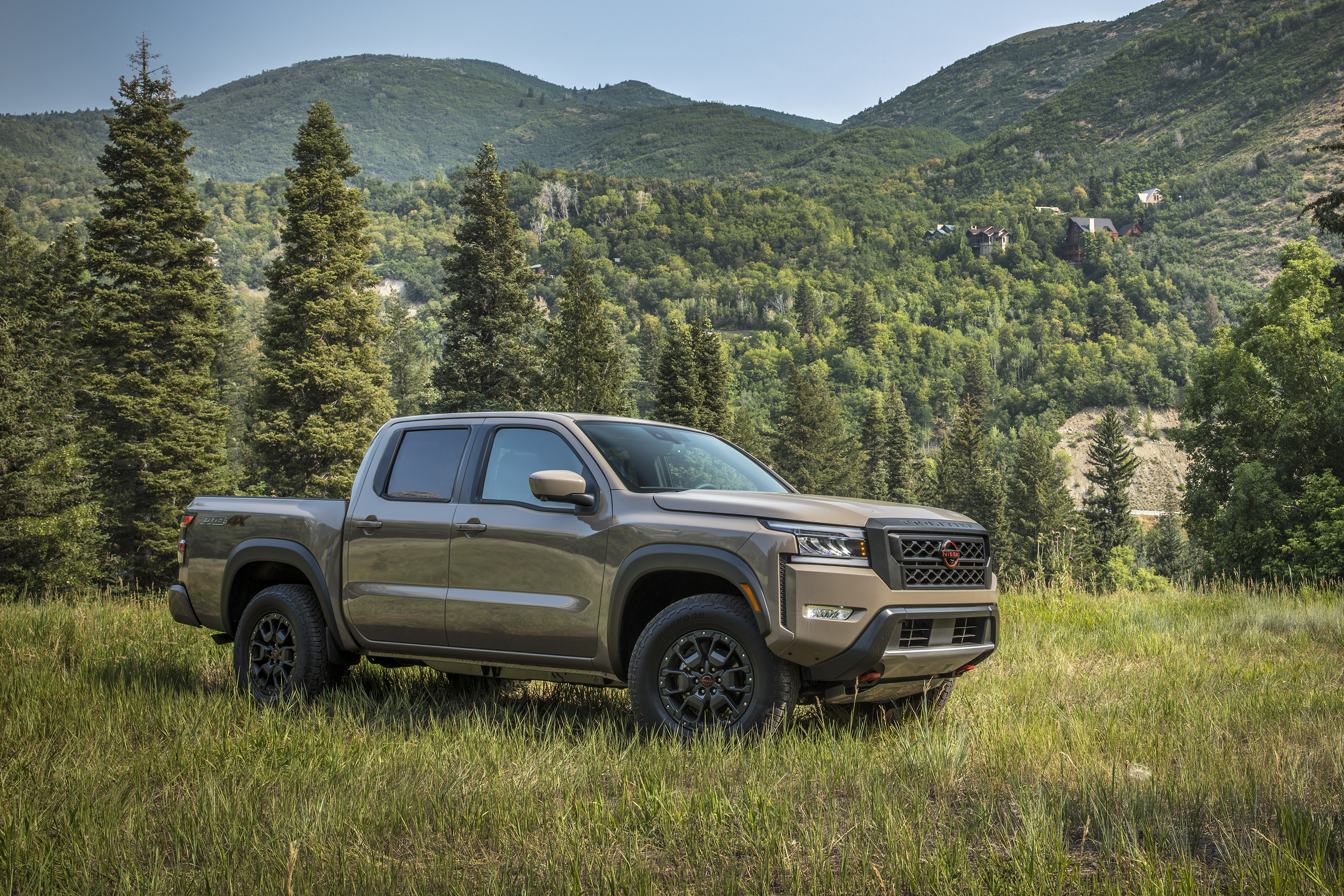 The redesigned Nissan Frontier has been more than a decade in the making. It now enters the arena as part of the automaker's Nissan Next vehicle rollout plans as the ninth of 10 vehicles that are either significantly refreshed or redesigned in the last two years. The forthcoming Nissan Z will be the last pice of the puzzle.
With its new mid-size truck, Nissan set out to make it rugged, capable, right-sized, utilitarian, and modern. It hits on all those accords, but doesn't offer much more. There's no je ne sais quoi that makes the truck any more or less desirable than its counterparts, but that's still a major improvement on the outgoing generation.
Its proportions and exterior aesthetics are spot-on with what the truck's potential buyers expect. Its high shoulders and robust fenders make it fierce and authoritative, solid and tough. LED headlights, daytime running lights and taillights grace the corners while "Frontier" is stamped on the tailgate and deep indents give brawniness to the hood.
Nissan sells the truck in Crew or King Cab configurations. Most Crew Cab models get a 5-foot bed and King Cab trucks have a 6-foot. The bed height has been raised by 1.4 inches as part of the generational redesign resulting in a seven percent increase in bed volume. Cargo lights and four tie-down hooks come standard. A factory-applied bedliner, 120-volt outlet and a three-channel Utili-Track system are available.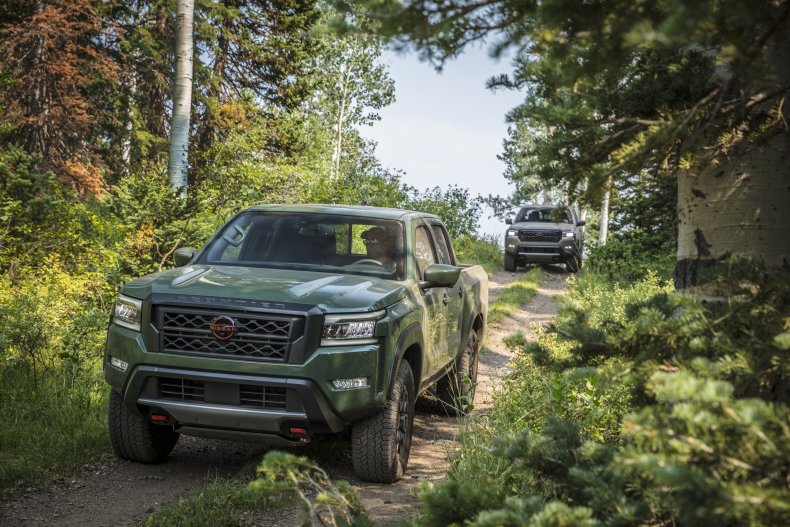 Every 2022 Frontier comes standard with Nissan's tried and true 3.8-liter V8 engine that is paired with a nine-speed automatic transmission. The engine delivers a best-in-class 310 horsepower and 281 pound-feet of torque compared to other base engines in midsize trucks.
The powertrain combination debuted in the Frontier about 18 months ago as a preview of what could be expected. There, as here, the engine is enough and the transmission performs on-par for the class, even when climbing 12,000-foot tall mountains
As tested in the Frontier Pro-4X grade, the truck is capable of driving most of the time in 2WD then switching to 4LO or 4HI for increased capability. Off the line in 2WD, the Frontier squealed its tires more than once and took a moment to have its back end catch up with the front. This is despite even-keeled, moderate acceleration.
Nissan has given the Frontier a 1,610-maximum payload capacity and the ability to tow up to 6,720 pounds. Trailer sway control technology is standard.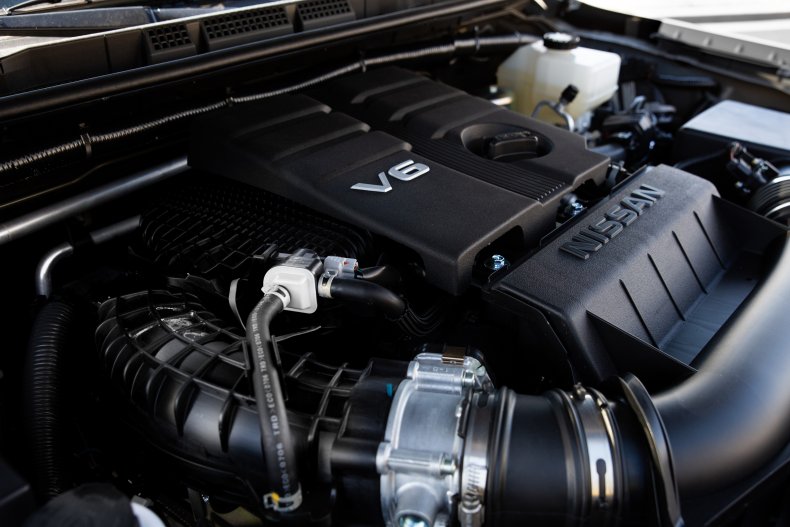 The Frontier Pro-4X is set apart from the rest of the Frontier lineup thanks to a host of equipment that makes it the most capable of the truck models. An electronic locking rear differential, Bilstein off-road shock absorbers, three steel skid plates, one aluminum front skid plate, unique fascia and interior design, surround view monitoring with Off-Road Mode, and an off-road meter come standard on the 4x4.
For the 2022 model year, the Frontier adopts a new Pro-X grade that is similar to previous Frontier Desertrunner models. It has 4x2 capability and Bilstein off-road shock absorbers, plus the rugged styling of the Pro-4X trim level. Both versions of the Frontier have aggressive 17-inch tires and tow hooks.
Off-roading in the Frontier Pro-4X on moderately difficult terrain is as easy as it comes. The truck glides across typical trail bumps and divots without protest. It's easy to steer around larger obstacles, and hill descent control works as advertised. Over blind ascents, the truck's forward-facing camera comes in handy but its low resolution screen is not ideal, even on sunshine-filled days, as the camera is unable to pick up on nuances in the terrain.
The ride is pretty quiet - comparable to most SUVs on the market today, and it's fuel efficient enough for a non-hybrid truck of its size.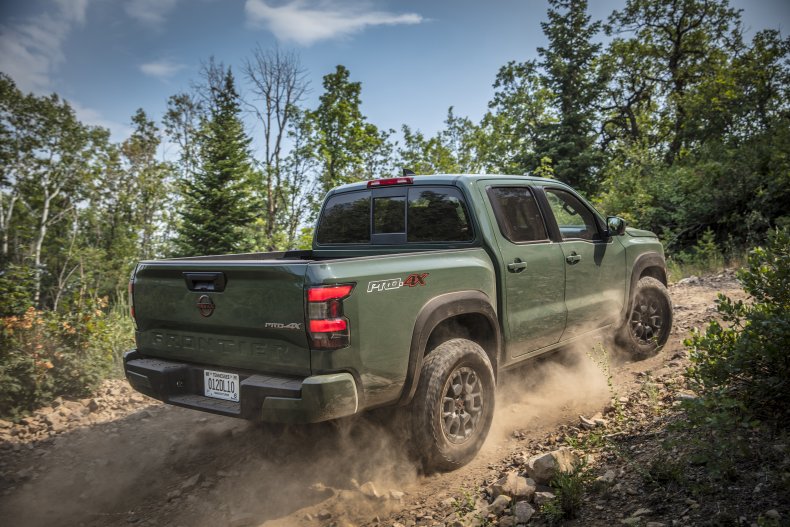 The interior of the Nissan Frontier is up to par with what the rest of the segment offers. It's fresher than what you'll find in the Toyota Tacoma and nicer than what is in the Chevrolet Colorado, GMC Canyon and Ford Ranger. Still, it's not as fresh and modern as what you'll find in some full-size and compact trucks.
Nissan has adapted the Rogue and Pathfinder's all-digital cockpit for use in the Frontier across all trim levels while mid-grade and lower Frontiers get an 8-inch infotainment touch screen and higher-end models get a 9-inch. The infotainment system operating system still has a long way to go with being modern, sleek, and refined, especially when compared side-by-side with what Ford and Stellantis products are offering these days.
The truck's available Fender Premium Audio system was tailor-made for the vehicle and provides better sound to the cabin than the system in any other midsize truck. Apple CarPlay, Android Auto, Bluetooth, cruise control, keyless entry and four USB ports come standard. Navigation, remote engine start and NissanConnect Services are available.
Base models of the Frontier don't get the long list of safety features that are available on higher grades. Lane departure warning, blind spot warning, rear cross traffic alert, rear automatic braking, high beam assist, adaptive cruise control and a rear sonar system are available. Forward collision warning comes standard.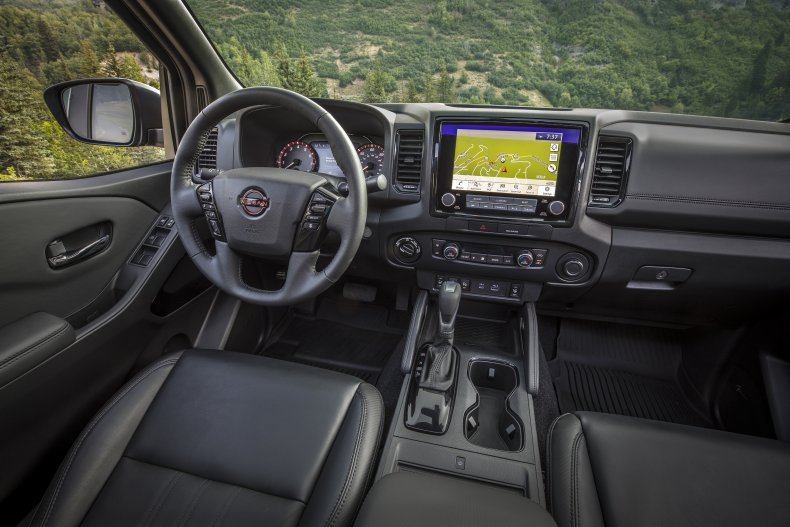 Pricing for the 2022 Nissan Frontier starts at $27,840. Opting for a Crew Cab model will cost you at least $29,340. The MSRP of the cheapest 4x4 with a crew cab, the Frontier S Crew Cab 4x4 is $32,340. The Frontier Pro-4X Crew Cab 4x4 tops out the cost roster with a starting price of $37,240.
Those prices are in line with the competition and squarely put the Frontier into territory that isn't purely reserved for the cost-conscious. It makes sense given how the truck matches up with what's already on the market, leading in some areas and matching in others.
The Frontier does enough to keep up, but doesn't outpace any of its rivals. Still, it makes a solid argument for buyer dollars, especially if those buyers aren't holding tightly onto Toyota loyalty.