2022 Rivian R1T Review: A Real Contender in an Adventure Enthusiast Package
The first Rivian R1T production model rolled off the assembly line in Normal, Ill. on September 14, marking a dream realized for company founder and CEO RJ Scaringe.
Rivian isn't just the first automaker with a production electric truck to make its way into owner hands. It's also the first of the budding electric vehicle companies to achieve a production model leaving Canoo, Lucid, Fisker and others squarely in the rearview mirror.
The R1T full-size pickup is a unique-looking take with traditional truck proportions. Despite having a skateboard housing electric battery cells underneath, the model doesn't shy away from the norms that make pickups so beloved in America. It enhances them.
The R1T's body uses all the space that the skateboard allows to give owners access to an abundance of storage areas. Under the hood is a lined space that can double as an ice chest, complete with drain. The truck's storage area has two tiers allowing equipment like charging cables to remain hidden from sight while groceries take their position on top.
Behind the back seats is a gear tunnel, an area large enough to fit multiple duffle bags and equipment, or the available pull-out Camp Kitchen. It can hold up to 300 pounds and stretches from one side of the model to the other.
The bed, though slightly smaller than what is on the competition at just 4.5 feet is plenty big enough for weekend warriors and overlanders. It is home to cargo tie downs, four accessory ports on the bed rails, two 15-amp outlets and a 120-volt AC plug.
The bed and roof are strong enough to hold tents that can be purchased as branded Rivian Adventure Gear accessories.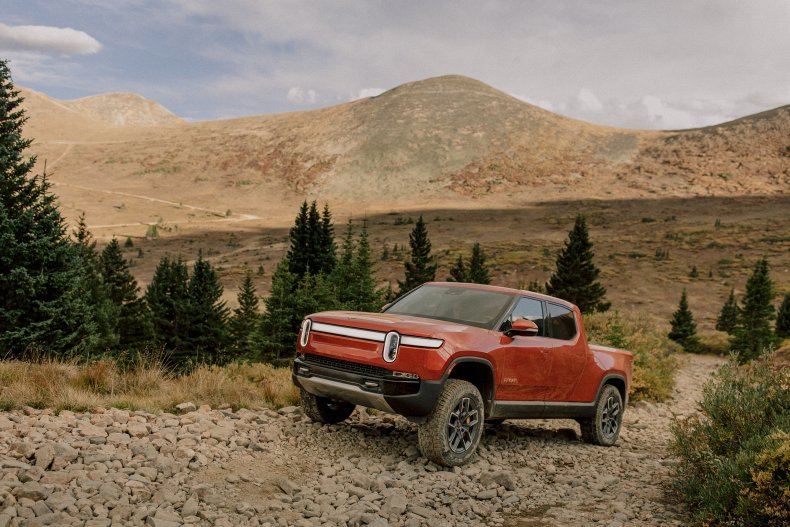 The tailgate softly lowers and expands to give haulers a nearly seven-foot platform of storage and work surface. Under the floor of the bed is an available full-size spare tire.
The truck comes with an available electronically movable, lockable and weatherproof tonneau cover that is operated via buttons located in the top of the bed wall.
The entire storage setup isn't just nifty, it works lending itself to adjectives like practical and intuitive. Rubberized control switches, in-car opening/closing controls and storage solutions that make daily life easier while never swaying from its truck mission.
The R1T has an EPA-estimated range of 314 miles, which is plenty for it to be used as a daily driver. The truck's power port is located on the front driver's side of the model and uses J1772 and CCS plug standards.
The quad-motor powertrain moves the heavy truck from zero to 60 mph in three seconds. It can tow up to 11,000 pounds and wade into water that is three feet deep with aplomb. Rivian says to expect a 50 percent reduction in range when towing at full capacity.
Engineers have made sure that the R1T turns on a dime in similar fashion to the Rolls-Royce Cullinan. Drivers won't feel out of touch at the wheel but won't need to stay nearly as engaged with management as they would if behind the wheel of a sports car.
An independent air suspension is standard and makes paved road driving sublime.
Navigating rock-filled trails leading up Wise Mountain outside Breckenridge, Colo. terrain like what Jeep typically has journalists try out during test drives of their most capable models was no trouble for the R1T.
The truck's motors were especially impressive. Their torque allocation allowed the wheels to operate independently meaning that overcoming obstacles didn't lead to the type of clunking and catching up that you generally get in a 4x4. The ride was smoothed but still allowed for the full connected off-roading experience.
At no time during the eight-hour trail drive through rocks, mud, standing water, dusty gravel, and hole-filled terrain reminiscent of Michigan's streets did the R1T hesitate or deliver a less than ideal performance.
The motors also mean that there's not the typical wheel jerks that can come with more extreme off-roading. That was a welcome change to the trail driving experience.
However, its auto hold function allows for far too much backward motion when moving from brake to accelerator.
Rivian designed the R1T with active lifestyles in mind. This plays out at numerous points throughout the vehicle, but is extremely apparent when it comes to locking and unlocking the vehicle. Owners have four ways to complete these tasks: key fob, key card, key band, or via the Rivian app. The key fob doesn't look like the traditional instrument you get from a car brand. It's a rubberized fob that looks part carabiner, part bike lock.
The interior of the Rivian R1T is nothing short of luxurious. Its natural wood grain finishes, supple vegan leather, and microfiber headliner made from 100-percent recycled materials isn't the type of luxury you'll see from the leather and metal in the Ram 1500 though on the sale level.
Front and back seats are comfortable and spacious. There's plenty of room for four full-sized adults in the trucks' cabin.
The screen in front of the driver is a progressive view of the vehicle's essential information. The speedometer doesn't sit directly in front of the driver like in a Tesla, but its visibility is no worse for its smaller position. Other information on the screen clearly displays gear, speed, range, navigation, and status indicators. There is no head-up display available.
The steering wheel controls take some getting used to, but are highly intuitive once their functionality is explained. Unlike other steering wheels with haptic sensors or a a bevy of buttons, two simple scroll controllers with buttons on either side are all that the wheel features. They aren't labeled but using them in combination with wands on either side of the wheel quickly becomes second nature after a few hours at the helm.
At the center of the dashboard, a cleanly designed infotainment touch screen reacts quickly to touch and displays information like drive modes, climate controls, hood release. Nearly all of its functions are no more than three taps deep, something other automakers could learn from.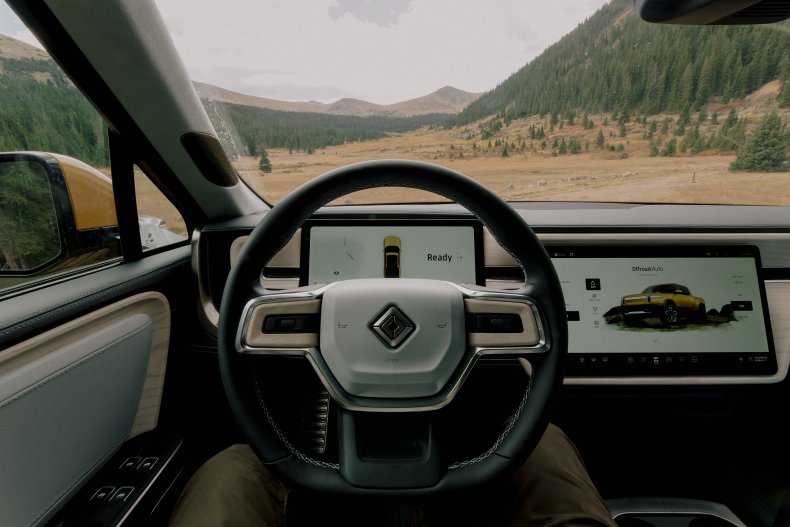 Generally, climate controls on a touch screen can be a chore to deal with. Rivian's responsive screen and user interface make changing temperature, turning on/off heated or ventilated seats, and adjusting airflow to be an intuitive and easy exercise.
During testing, the system was a bit glitchy but Rivian assured test drivers that the software was not in its final form and that issues could be easily remedied via over-the-air updates that the company was actively working on.
Buyers can opt to build their Rivian R1T with the available Elevation by Meridian sound system. The sound coming from the 18-speaker setup rivals the McIntosh stereo system in the Jeep Grand Wagoneer and is far superior than the heralded Bowers and Wilkins system in Volvo vehicles.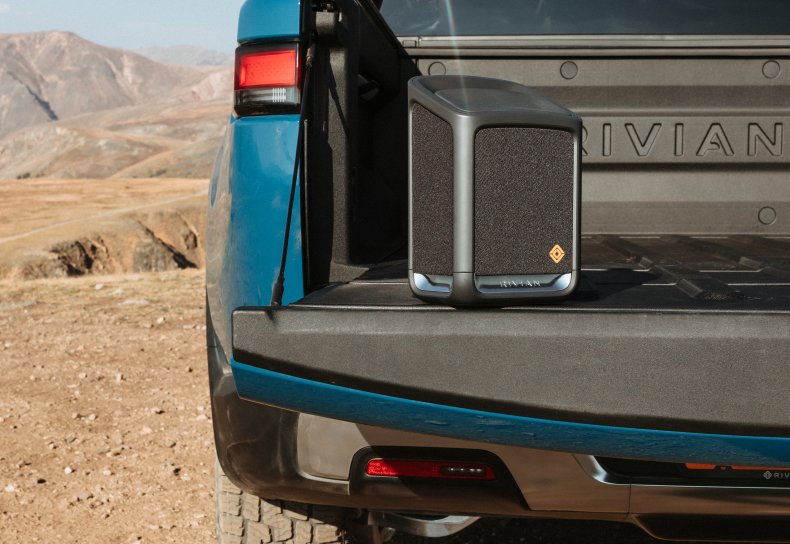 One of the truck's speakers, the Camp Speaker, is portable. It can be paired via Bluetooth then removed from its traditional home at the bottom of the center console to keep the sound experience going around a campfire or tailgate.
The spacious wireless charging pad and USB Type-C ports make charging on the go easy.
Rivian's Driver+ driver assist system puts safety in focus with lane keeping, blind spot monitoring, and automatic emergency braking tech. It accurately predicts traffic conditions ahead and reacts in a timely fashion, adjusting speed accordingly.
Driver+ isn't a set-it-and-forget-it type of assistance. The system allows for hands-free driving and deactivates the hands-free mode once a driver inputs steering (it can be easily reactivated with the flick of a steering column-mounted wand).
Driver+ can easily mistake large shadows for vehicles in the way and has a tendency to deactivate around curves where other system may be able to continue to take hold. When it is active, Driver+ accurately stays in its lane and works as advertised.
Drivers can choose to use the system or simply use adaptive cruise control. Having the option is a major plus.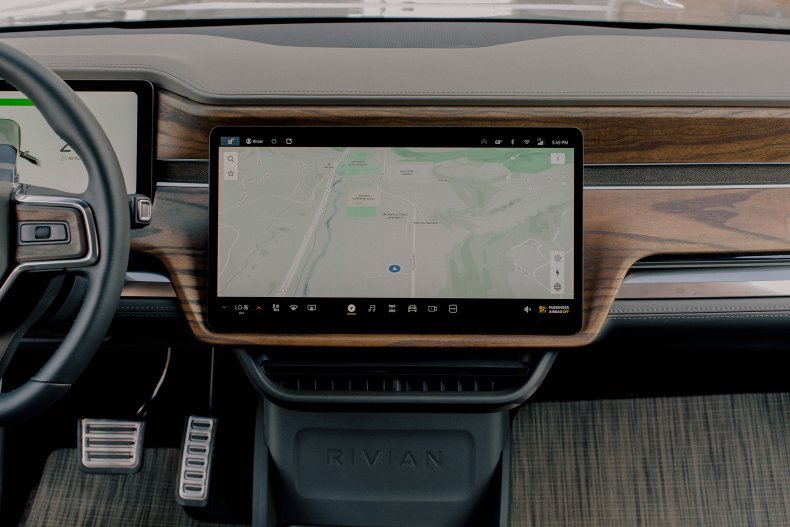 The 2022 Rivian R1T has a starting price of $67,500 with top-tier models running close to $75,000. It looks, drives and feels like it should be that price, or possibly more.
Rivian hasn't done everything right with the R1T but there's never going to be a perfect vehicle that makes its way to the market. The truck isn't just very good for a first effort from the startup. It's an excellent truck when compared to everything legacy automakers are doing, far more than an enthusiast entry. The Rivian R1T is a true contender.