2022 Toyota Corolla Cross Review: A Serviceable Crossover for a Large Audience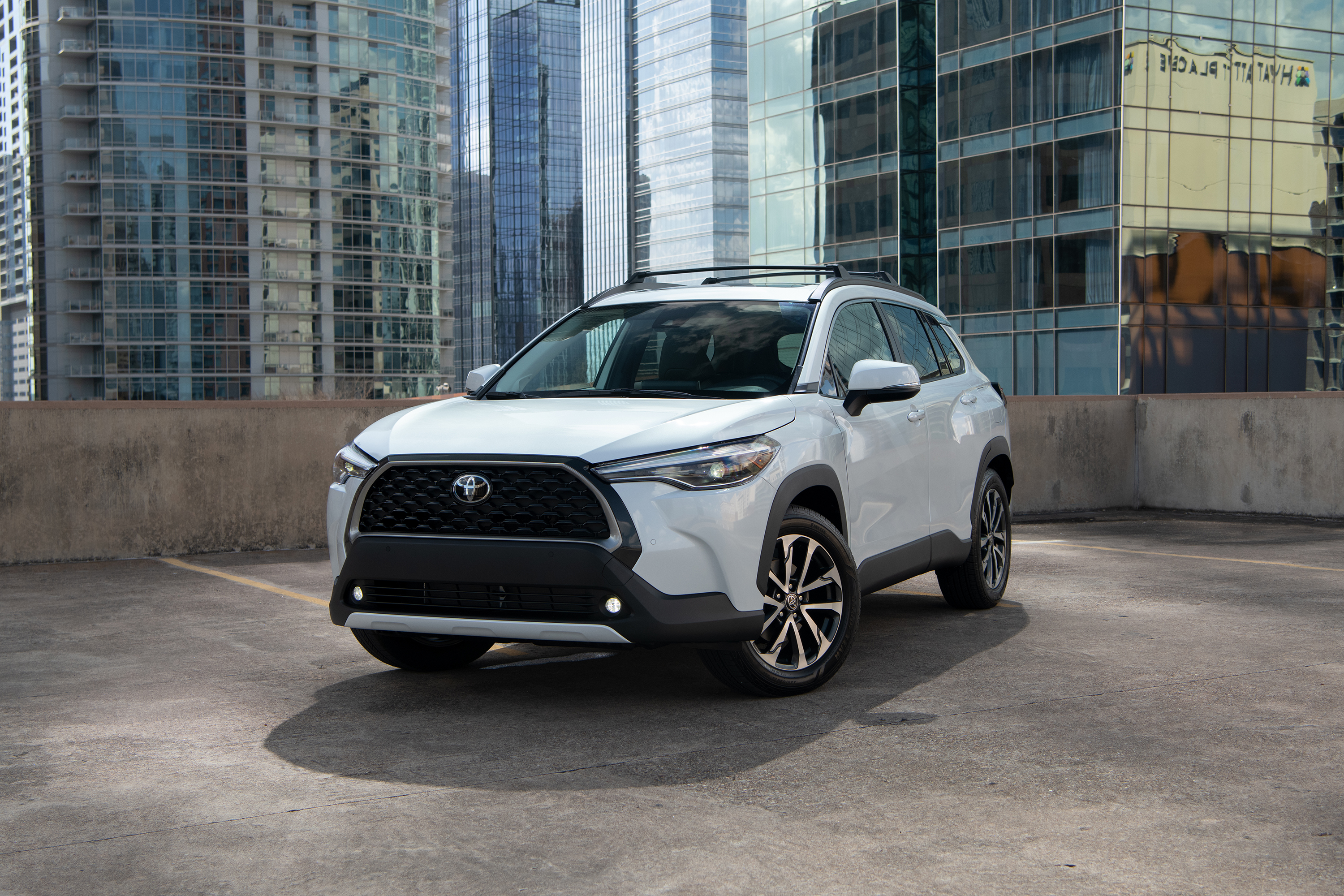 Its name doesn't hide exactly what the 2022 Toyota Corolla Cross is. The new model is the Corolla of crossovers, slotted in the subcompact SUV sweet spot ahead of the CR-V but below the RAV4. In the words of Jerry Seinfeld, "not that there's anything wrong with that."
Toyota will sell the Corolla Cross in three varieties: L, LE and XLE. The company expects that the mid-grade LE will be chosen most often by buyers.
The exterior of the model has an evolved Toyota SUV design, pulling notes from the RAV4 and three-row Toyota Highlander. Looking at it leaves no doubt that the Corolla Cross is, indeed, a Toyota model. The design of exterior elements, like the grille, outside mirror caps, and wheels, vary by trim level.
Under the hood of the 2022 Corolla Cross is the same powertrain that is found in the Corolla SE and XSE, a 2.0-liter four-cylinder power plant that is paired with a continuously variable transmission. The engine provides the same 169 horsepower and 150 pound-feet of torque, which is sufficient.
Drive dynamics are neither particularly engaging nor working against the driver. The SUV is steady on the street but a fair amount of road and transmission noise passes into the cabin. With a budget-friendly model this isn't a surprising revelation.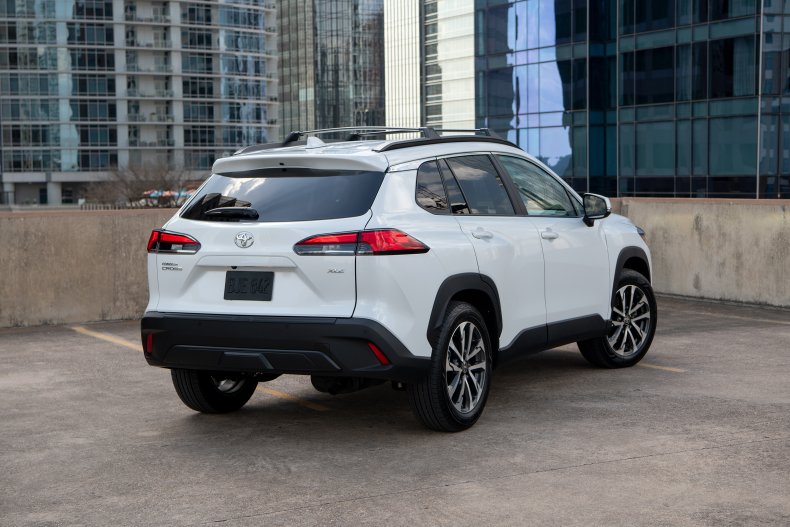 All-wheel drive is available in every grade. Front-wheel drive is standard.
Buyers can choose a model that has 17- or 18-inch wheels. LED headlights are standard but the LED daytime running lights, fog lights, and taillights are just available. Black roof rails are available on higher Corolla Cross grades.
The five-seater has an expected amount of leg-, hip-, and headroom, for a subcompact crossover. There's two inches more headroom and one inch more legroom up front than in the RAV4. The second row of the Corolla Cross has five inches less legroom than the RAV4 meaning taller adults and teens won't want to be stuck back there for long, but it is doable in a pinch.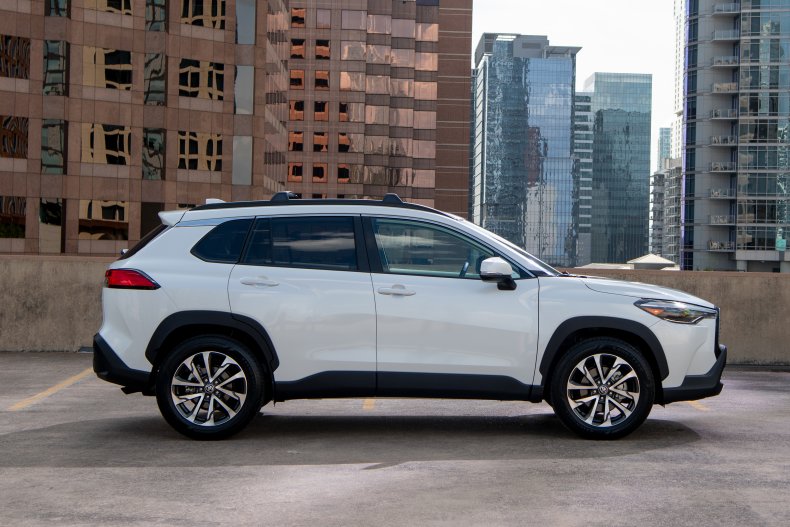 Its cargo capacity with the second row erect maxes out at 26.5 cubic feet, nine cubic feet less than in the RAV4. When the seats are folded, the maximum raises to 66.8 cubic feet, which is only three cubic feet less than the space available in the RAV4. Those numbers are generous considering the measly cargo space some of the car's top rivals have.
Thinking of the appointments and features of the Corolla will give buyers a good idea of what to expect from the Corolla Cross. It's neither stunning or innovative. It is completely serviceable and delivers exactly what buyers are looking for.
Corolla Cross L gets manual air conditioning while all other grades have automatic climate control. Corolla LE and XLE also come standard with wireless smartphone charging, heated front seats, a 10-way power-adjustable driver's seat, and Softex-trimmed seats (cloth are standard).
A 4.2-inch driver's information screen is standard on Corolla Cross L and LE while the XLE gets a 7.0-incher. A 7-inch infotainment touch screen, Apple CarPlay, Android Auto, Amazon Alexa, and satellite radio are standard while higher grade models get an 8.0-inch infotainment screen. Buyers can add JBL speakers to their model.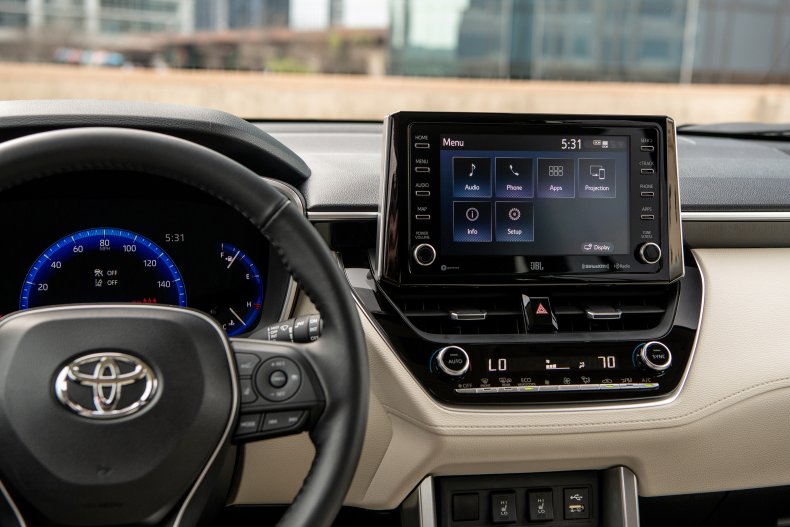 As tested on the Corolla Cross XLE, the infotainment system is good, but not great. It's easy to find most functions that are necessary as part of daily life, but small buttons on the screen surround require a level of preciseness when pushing that isn't ideal when on the go.
Every Corolla Cross comes with the Toyota Safety Sense 2.0 suite of safety and driver assist technology. That includes a forward collision warning with pedestrian and cyclist detection, adaptive cruise control, lane departure alert, automatic high beams, road sign assist, and lane tracing assist. This is usual Toyota fare and works as advertised with no particular quirks to write home about.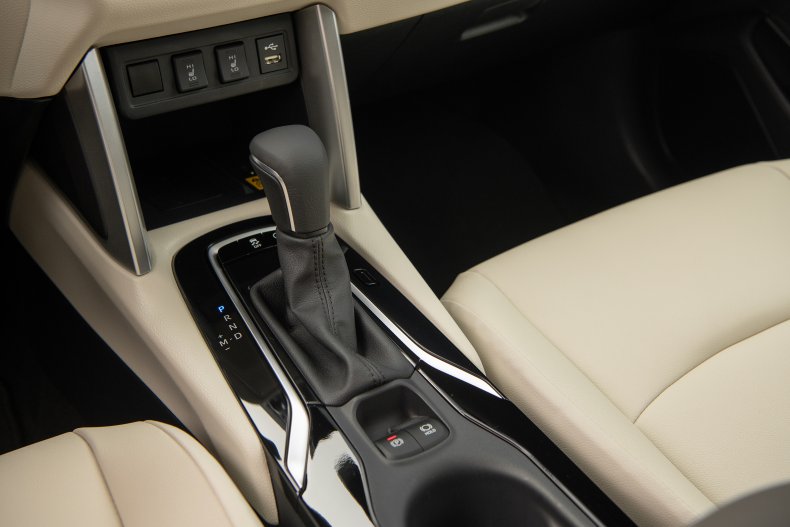 The 2022 Toyota Corolla Cross L starts at $22,195. Moving up to the 2022 Toyota Corolla Cross LE with all-wheel drive will set buyers back $25,845. Getting a top-tier 2022 Toyota Corolla Cross XLE with all-wheel drive costs customers $28,000. Those prices do not include destination and handling fees.
This pricing is nearly identical to one of the Corolla Cross's biggest competitors, the Hyundai Kona.
Everything Toyota has done with the Corolla Cross is both expected and competitive. There's no doubt they'll sell gobs of them, and they should.