2022 Volkswagen Golf R Review: Aggressive, Expensive and Technologically Advanced
The Volkswagen Golf hatchback has traditionally been a little bit sportier than its Jetta sedan sibling. The Golf GTI is sportier than that, and on top of all Golfs, in both price and power for the last 20 years, is the all-wheel drive (AWD) Golf R.
The 2022 Volkswagen Golf R is based on the current eighth-generation hatch, and it's probably the best handling street car the company has ever made. Unfortunately, the button-less infotainment system might be a deal breaker for some.
The 2022 Golf R uses the fourth evolution of VW's 2.0-liter EA888 turbocharged four-cylinder engine. It makes 315 horsepower in the Golf R, a 27-horsepower increase over last year. Opting for the six-speed manual transmission gets drivers access to 280 pound-feet (lb-ft) of torque while versions with a seven-speed dual-clutch transmission (DCT) get 295 lb-ft.
The new hatchback features a Drift drive mode that sends all those horses to one rear wheel, the one on the outside during a corner, to allow the AWD car to handle like a rear-drive sports car. VW, for legal reasons, notes that the feature is "for use away from public roads".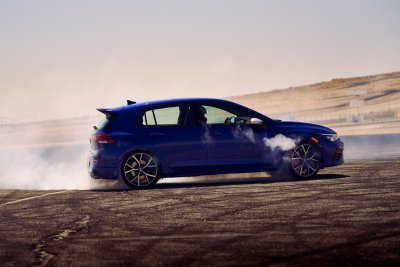 The combination of a small footprint, all-wheel power, a sporty suspension and larger brakes make the Golf R one of the most confident handling cars on the market today. In comfort mode, the transmission feeds the power in gently on takeoff, leading to a slight delay from a standstill. Sport and Race mode are much more immediate, as is the new Nurburgring mode.
That mode, named for the famous racetrack in Germany, features the most aggressive steering and throttle response, but with a softer setting for the adjustable suspension. The 13-mile Nordschliefe section of the racetrack is notoriously bumpy. It also works well on four-season Midwestern roads.
The span between Comfort and Race driving modes is wide, though buyers also get a Custom mode to program to their liking. Different animation and gauge styles come up on the standard digital driver cluster as the modes change.
Sport seems to be a good medium, with forgiving suspension and plenty of aggressiveness in the throttle. With all-wheel drive owners don't have to worry about when they floor the gas pedal, as VW's 4Motion system splits up the power to the wheels that need it most.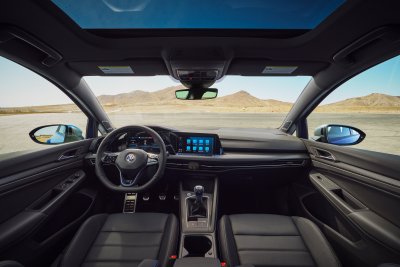 Shifts using the paddles on the steering wheel are fast, but not race-car fast. Upshifts seem to come faster than downshifts, but those downshifts bring an automatic throttle blip for smoother and better sounding gear changes.
All 2022 Golf R models get bigger front and rear brakes than the GTI. They use aluminum to save weight and a new electromechanical brake servo to sharpen pedal response, according to VW. In practice it makes for confident stopping on any surface, with only a little pedal travel before maximum braking.
Around an expressway cloverleaf the Golf R hangs on with aplomb, with all four tires starting to chirp before they slide, allowing for super confident, high-g-force turns right at the limit of traction. The steering is quick and a little low effort. But it does make the whole vehicle feel lightweight and controllable.
With so few buttons, the cabin feels spartan. But the dual standard digital screens, one 10.25-inch for the cluster, one 10-inch touch screen for infotainment, both look great. The problem comes when a driver wants easy access to climate speed or mode, or jump between menus. It takes more button presses than expected and is a pain while driving.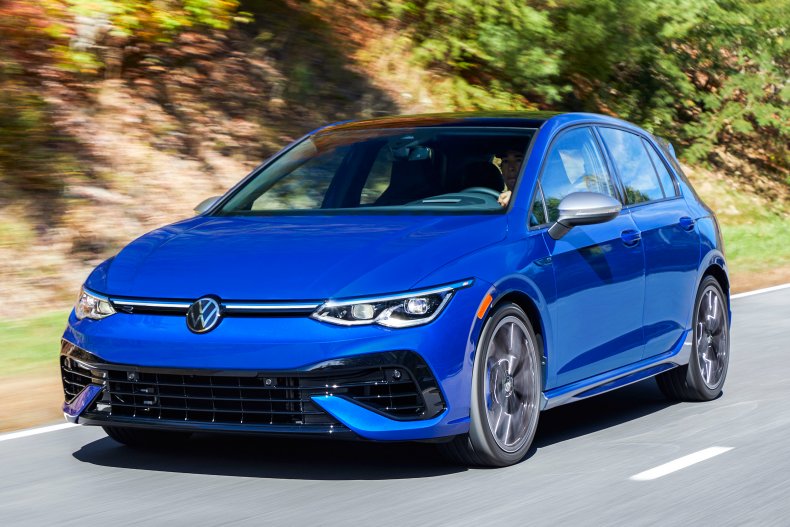 Volume and climate temperature are done through sliders below the touchscreen, which take about a week to get used to. The steering wheel controls help with easy functions and voice control is also offered. The "if it ain't broke don't fix it" model would have worked here; physical controls for volume, radio tuning, climate and fan speed just work better.
Wireless charging and wireless Apple CarPlay and Android Auto are standard (and easy to use), as is navigation, keyless entry, a premium audio system from Harman Kardon, a head-up display and six months of satellite radio.
Volkswagen's IQ.Drive safety and driver assist technology is also included on the 2022 Golf R. It comes with Travel Assist (semi-automated driving assistance); Front Assist (forward collision warning and autonomous braking); Active Side Assist (blind spot monitor); Rear Traffic Alert; Adaptive Cruise Control, Lane Assist (lane keeping system); and Emergency Assist, which will pull the car over if the driver becomes unresponsive.
As the hatchback market dwindles, there aren't as many competitors as there used to be for the Golf R, and there are even fewer that match its starting price of $44,445 with the DCT. Looking at AWD vehicles, the Subaru WRX might take some sales. That new sedan delivers 271 horsepower from a turbocharged four cylinder for $31,605 but doesn't have as much heart as the Golf R. The forthcoming WRX STI will be more powerful and more expensive.
The Honda Civic Type R is front-wheel drive but brings 306 horsepower for $37,895. The Hyundai Veloster N, also a front-drive hatch, comes in at $32,500 and lays down 275 horsepower. The 2023 Toyota GR Corolla hatch might be its closest competitor with 300 horsepower, 273 lb-ft of torque and AWD. Toyota didn't reveal a price yet, but expect it to land below the Golf R.
The biggest problem the R has, besides a steep learning curve for the infotainment, is VW's own GTI. That hatch is better than it's ever been. It's down on-power from the R with just 241 horsepower, and can be had for a 25 percent discount at $29,880.
If money is no object, the 2022 Golf R will out handle and outrun all of its competitors. However, if buyers are looking for something that's almost as good, for much less, they have plenty of options.