As we begin a new year and the pandemic continues to rage on, travel is more complicated than ever. But with glimmers of hope from the widespread availability of vaccines in 2021 and reopening borders, we're cautiously optimistic about the year ahead. One thing is more certain than ever, though: when we do travel, we want it to count. COVID-19 gave us a chance to reassess what matters, and for many of us, we realized what a great privilege it is to travel.
We've put together a list of dream escapes for 2022 with that in mind—experiences that are as meaningful as they are thrilling, trips that have as positive impact on the places they touch as on the travelers themselves. From swimming with migrating Mobula rays in Mexico to meeting the great mystics in Turkey or seeing what's at stake with climate change by exploring Greenland's ice fjords, these trips will make up for lost time. They might even shake off that jaded pandemic burnout into a newfound sense of awe for the world again.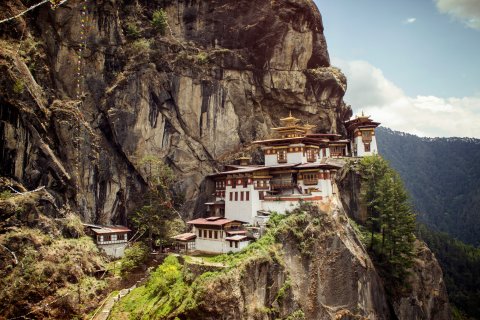 Hike the Happiest Country in the World
Trans Bhutan Trail, Bhutan
If there was ever a time for a walk through a designated happy place, it's two years into a pandemic. Explore the "happiest country in the world" on a newly restored Trans Bhutan Trail. Walk in the footsteps of royals and monks on this 250-mile historic pilgrimage route, set to reopen in March 2022 after 60 years. G Adventures—the only tour operator to offer trips on the trail—offers a sustainable 12-day tour that helps distribute much-needed income to these remote communities while offering travelers a chance to camp and sleep in homestays along the trail.
In addition to being the birthplace of "Gross National Happiness," a term coined by His Majesty the Fourth King of Bhutan that suggests sustainable development give equal importance to non-economic aspects of well-being, Bhutan is also the world's only carbon-negative country. Sam Blyth, Chair of the Bhutan Canada Foundation and lead donor to the trail says this community-based project will not only provide a sustainable, net carbon zero experience in the country for travelers but for the people of Bhutan as well, to "allow the children of Bhutan to walk in the footsteps of their ancestors."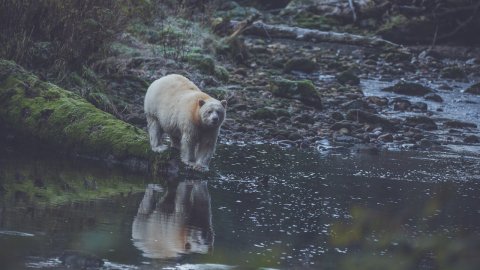 Search for the Elusive "Spirit Bear"
Great Bear Rainforest, Canada
Post-pandemic travel will be marked by more intentional, responsible travel, and venturing further into the wild. British Columbia's Great Bear Rainforest—one of the world's largest remaining temperate rainforests—offers all that and more.
"In BC's Great Bear Rainforest, the citizens themselves designated it a center for conservation-based travel back in 2001—and 20 years on, that is what it's known for," says Maple Leaf Adventures co-owner Maureen Gordon.
Maple Leaf Adventures focuses on respecting and working with the Coastal First Nations and offers a week-long small expedition yacht trip to explore the rainforest's wild islands. You'll help scientists track and identify whales—and maybe even spot the elusive "spirit bear" or white Kermode bear. While seeing the "spirit bear" is rare, in September and October in a particular region you'll be exploring on this trip, the chances are in your favor.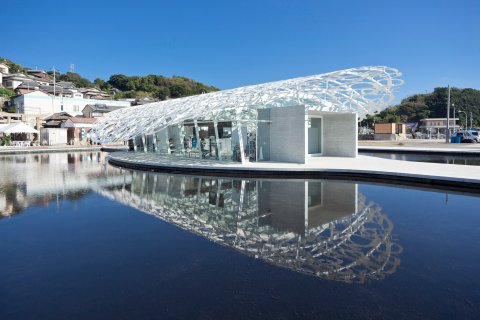 Hop Japan's Art Islands
Seto Inland Sea, Japan
While the Venice Biennale may get all the headlines, the Setouchi Triennale, which has been held every three years since 2010, also showcases world-class art but in a rather unlikely setting. On a cluster of small and sparsely populated islands in Japan's Seto Inland Sea, you'll find the likes of James Turrell, Olafur Eliasson, and Japan's own Yayoi Kusama. Slated to begin mid-April 2022, the art festival was created to revitalize these sleepy rural islands that have suffered from massive depopulation. Now abandoned homes are filled with contemporary artwork, shutdown elementary schools are hosting pop-up art exhibits.
You can visit the islands via a ferry pass or maximize your art-hopping with InsideJapan Tours' personally tailored itineraries for the Triennale, which include on-demand charter yacht service between the 12 islands. The island of Naoshima will be home to a new luxury ryokan, Ryokan Rokasumi, opening on April 2022 with open-air onsens in all of its 11 suites and contemporary art throughout.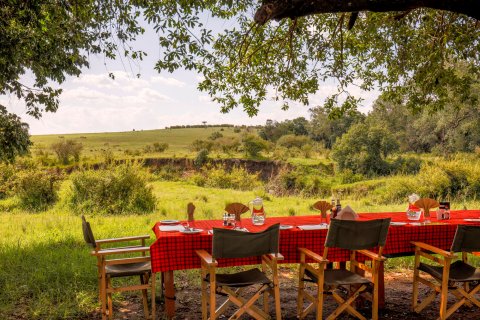 Safari, Vegan Style
Cape Town, South Africa
Want to see the animals—but not eat them? Now you can with Alluring Africa and Vegans, Baby on the first-of-its-kind vegan luxury tour. On this nine-day journey, you'll view wildlife on safari at Shamwari Private Game Reserve, home to a wildlife rehab center, while also getting a taste of South Africa's burgeoning sustainable plant-based scene. From a vegan high tea to a multi-course vegan dinner menu at La Colombe, rated one of the top 50 restaurants in the world, you'll feast on locally sourced—often foraged—plant-based dining experiences from renowned restaurants and chefs throughout Cape Town.
"The pandemic brought about a lot of change in people's lives, especially in regards to looking at what people are consuming and the global impacts of climate change," says Diana Edelman, Vegans, Baby founder, and former elephant rescuer. Edelman vetted every aspect of this trip to make sure it aligns with a vegan lifestyle while also working to support local businesses that have been ravaged by the pandemic. So if your 2022 resolution is to eat more plant-based or be a more conscious traveler, this is the perfect trip to get back out there.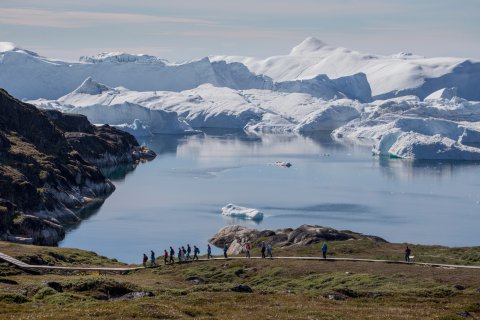 Take a Climate Conscious Trip to the Arctic
Greenland and Iceland
While Antarctica is on many travelers' lists, Greenland offers an Arctic alternative that's easier to get to with equally dramatic polar landscapes. Explore its fjords and glaciers on Hurtigruten's new hybrid-battery operated MS Fridtjof Nansen, rated the "world's most sustainable cruise ship" on their Disko Bay expedition. You'll explore Ilulissat Ice Fjord, a UNESCO World Heritage Site, home to the world's fastest-moving glacier, Sermeq Kujalleq, and the Ilulissat Ice Fjord Centre, a new climate research and visitor center. Once a spot only few could reach, the center allows visitors a chance to see climate change at its most visible in the form of the world's most active calving glaciers.
The glaciers are melting at an alarming rate next door in Iceland as well. Global Family Travels believes there's no time to waste to get the next generation involved with climate action too. They launched a unique trip for 2022: a family adventure in Iceland to teach kids about climate change. This nine-day trip includes glacier hikes, learning about the natural habitats of puffins, whose population has dropped 20 percent since the start of the century due to changing ocean temperatures, and dining in a geothermal greenhouse to learn how this affordable energy source can feed a nation.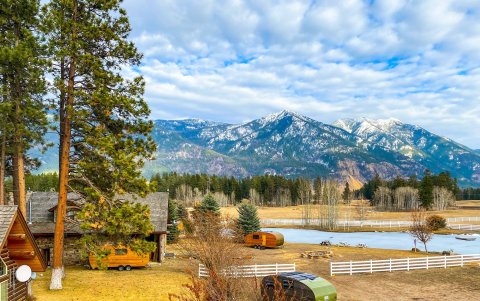 Revel in the Silence in a "Quiet Park"
Glacier National Park, Montana
Escape the noise in 2022 and recalibrate in one of the quietest places in the U.S. A designated Dark Sky Park and also a newly designated Quiet Wilderness Park (as defined by the non-profit organization Quiet Parks International) Glacier-Waterton International Peace Park is a respite for pandemic burnout. Part of Recal's new Quiet Park Series, their Glacier National Park trip lets you dive into the stillness with silent hikes, stargazing and e-bike rides on car-less roads.
"Today, we live and work in distraction-filled, noisy environments—and with our constant connection to work, the news, and social media, our minds match that noise level," says Recal founder Anthony Lorubbio, who created the Recal as a result of his own work-induced burnout. "A two-time founder, three-time CEO," Lorubbio created Recal to help others overcome stress and burnout through mindful adventures. Their Quiet Park trip series ventures deep into the last few quiet places, far from human-made noise, says Lorubbio. "This enables us to be more present in the natural environment around us, and ultimately quiet our stressed, burned out minds."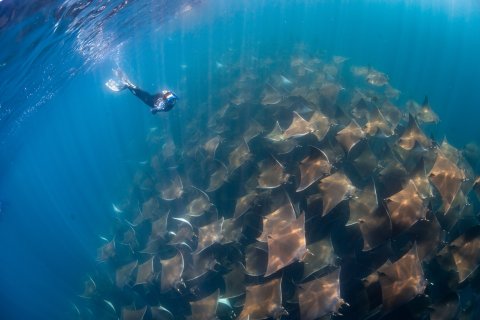 Swim With the Mobula Migration

Baja California Sur, Mexico
You've heard of the great whales that migrate to Baja every year—gray whales and humpbacks—but have you heard of the great Mobula migration in Mexico? Every year, Baja California Sur is home to the largest migration (or aggregation) of Mobula rays in the world—tens of thousands of Munk Devil/Munkiana rays congregate on the coast of the Gulf of California from April to June for a spectacular synchronized dance party. Experience this incredible sight on a marine scientist-led Dive Ninjas five-day expedition. You don't need to be a scuba diver to see the Mobulas either; this is a snorkeling trip as bubbles disturb the Mobula rays.
See the rays take flight as they pop out of the water, but the real adventure is swimming with thousands of them in the water. You'll be on the water every day with marine scientists at Mobula Conservation to learn about their conservation efforts, including working with local fishermen to show Mobulas can be more valuable alive than dead with true eco-tourism.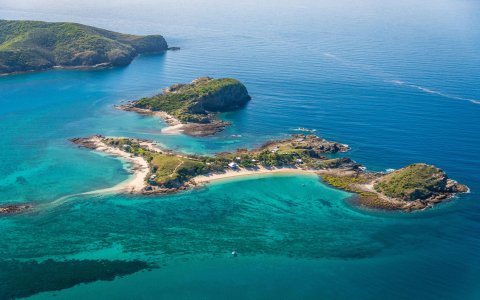 See the Great Barrier Reef (Sustainably)
Whitsunday Islands, Australia
While its borders were closed to international travelers, Australia refocused its tourism goals to protect its natural treasures. See Queensland's beauty sustainably at Elysian Eco retreat, which is the first 100 percent solar-powered resort in the Whitsunday Islands, and at Pumpkin Island, another eco-luxury villa that sits in the Great Barrier Reef and is "beyond carbon neutral," powered by wind and sun. Or take an epic eco-minded 22-day "Coast, Outback and Reef" tour with Audley Travel to see more with a lower footprint.
See Life on the Nile
Egypt
Egypt has a lot to celebrate in 2022—the centennial of its independence and Howard Carter's incredible discovery of Tutankhamun's tomb; the much-anticipated Grand Egyptian Museum opening; and the long-delayed release of Agatha Christie's Death of the Nile film adaptation. See life on the Nile without a crowded cruise with Extraordinary Journeys' Pyramids and Pharaohs trip which includes an intimate sail on a dahabiya, a small, traditionally-designed sailing boat. You'll even have your own private Egyptologist on hand to give you insight into the country's history and culture. Or for a more action-packed adventure, Exodus' Edits Egypt trip brings together like-minded travelers in their 30s and 40s for kayaking on the Nile, sandboarding across the dunes, and taking a sleeper train cross-country.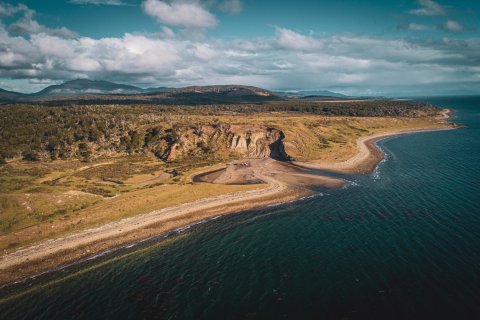 Road Trip to the End of the World
Tierra del Fuego, Chile
With Chile's borders reopened to international travelers, your Patagonia dreams can be a reality once again. Chile Nativo offers a unique way to explore the end of the world—or the southernmost tip of South America, Tierra del Fuego—with their new overland road trip. Overland trips are pandemic-friendly options for families or for those seeking to travel at their own pace. Guests will be equipped with a Toyota Four Runner outfitted with full 4 x 4 features, an AirTop roof tent, and a Volcano Off-Road camper trailer. This mobile base camp will include everything you need—a kitchen, heating system, hot shower, separate sleeping areas—even an express maker for waking up to the sunrise. You'll feel like a true adventurer exploring the remote stretches of Tierra del Fuego: seeing king penguins, kayaking between icebergs and driving through the region's expansive and otherworldly landscapes.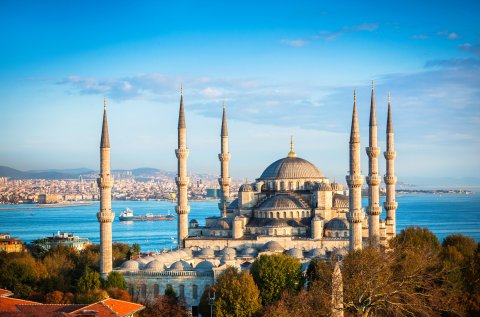 Experience the Mystical World of Sufism
Istanbul, Turkey
Dreaming of reconnecting with the world and yourself? Explore Turkey through the lens of renowned poet and philosopher Rumi on an Arcadia world-first expedition. Led by a Sufi storyteller and expert, you'll meet mystics with visits to 500-year-old Dervish lodges and Rumi scholars from Istanbul to Cappadocia.
"Like all of our expeditions, this trip is like a traveling dinner party, " says David Mannix, co-founder of Arcadia Expeditions, adding it's not a lecture tour, but a chance to hear stories from different angles over the dinner table.
"This trip not only allows a deeper connection to Turkey and the story of Rumi but it also allows for some self-reflection and to contemplate Rumi's messages of universal love and connection, something that all of us need in 2022."