"I eat all those costume dramas up."
Audra McDonald is a Broadway icon, having won more performance Tonys than any other actor, and she's the only person to win in every acting category. She's starting 2022 off with Downton Abbey-creator Julian Fellowes' new period drama, The Gilded Age (HBO). "I was a huge fan of Downton Abbey. I eat all those costume dramas up." What sets The Gilded Age apart is how it tells the diverse stories of Black Americans of the era. "I had to learn how a Black woman of my character's stature would eat. In which way would she address her husband. Where would she walk on the street or not walk." She's also returning for season six of the Paramount+ drama The Good Fight. "The Kings' [Michelle and Robert King] writing is incredible. The characters they create and the trust they have in their actors is so fulfilling." Considering how busy she is this year (she'll also be seen in the Michelle and Barack Obama-produced Netflix film Rustin and will return to Broadway with the play Ohio State Murders), one would think she struggles picking projects. Not so, says McDonald. "Life is short; you need to do things that make you happy."
What was it about The Gilded Age that first inspired you to do it, and were you a fan of Downton Abbey?
Oh, yes, I was a huge fan of Downton Abbey. I eat all those costume dramas up. Word started circulating that this project was happening and I knew from my good pal, Christine [Baranski], that she was going to be a part of it and it seemed like every person on Broadway was being cast. I also knew that Denée Benton was going to be playing the Black lead. At that point, I thought she'll just sort of be this little Black sheep amongst all these other people in the show, it just never even occurred to me that there would be a part for me. So part of me was envious as I was seeing this whole thing coming together, and then I got a phone call one day saying they want me to be on The Gilded Age. I was like, "Are you kidding me? Yes. Yes. Yes." There was no, "Let me think about it." Just like, "Yes. When do I show up? And do you want me to help with catering as well?" [laughs]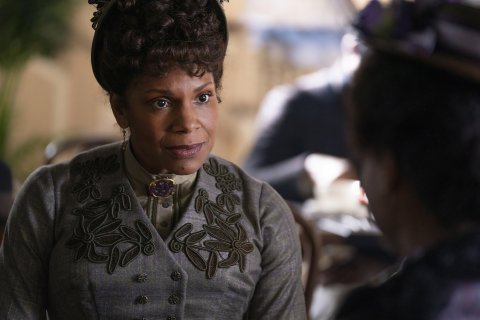 Period dramas sometimes only tell one aspect of an era. How is The Gilded Age different?
I've already heard certain rumblings on social media or whatnot, "Oh, now we're trying to be politically correct, by bringing in Black people to this time period." We were always there. It's not messing with the historical timeline, this is actual fact. So now we're just opening our eyes to the fact that Black people were always there and how they contributed not only to the excesses of the Gilded Age. That economy grew with slave labor, even though slavery wasn't happening, per se, in New York City, so much of what happened economically in the South directly affected and enriched the pockets of so many Northerners. But you can't not tell their story. They were a part of it. So I think it's quite wonderful and necessary that Julian Fellowes said, "This is a part of it, and it's a part that needs to be explored and discovered and those stories need to be told." There were many, many different classes of Black people during that period. I'm thrilled to be a part of it and thrilled that it's happening. I would have been thrilled as a fan to watch it and see stories being explored. You're hearing all of their stories, not just that we were enslaved or that we were housemaids in the back and then went away at night.
What is it about period pieces and why do you think you seem to fit into them so seamlessly?
In the end, it's about the human condition. The human condition is being affected by what era you're in, what gender you are, what your social status is, what your class is and how you're moving through that. So that is what's most important in the end. For me, I find it a great and fulfilling challenge, even with The Gilded Age, to learn how a Black woman of my character's stature in that time would eat her food. It's all about specific character work, how a person is moving through the world at any particular time in any particular era. I find that fascinating. In which way would a Black woman address her husband at that time, or address her child, or where she would walk on the street or not walk on the street, all of that is really rich character work. How does she move through that and how does she conduct herself in a way that was appropriate or considered inappropriate, and a lot of that can only be defined by what era they're living in.
You and Baranski are becoming a bit of a dream team, with The Gilded Age and The Good Fight. Can you offer any hints as to what's to come for season six of The Good Fight?
Oh my God, I love her so much. I had a certain acquaintanceship and there was a mutual admiration before we ever worked together. So when they called about The Good Fight, again, it was like, "Yes, what time? Do you want me to bring fries? I'm coming." [laughs] The King's [creators Michelle and Robert King] work is so incredible and their writing is so incredible. The characters that they create, and the trust they have in their actors is so fulfilling. So it feels very collaborative when you're working with them. Then, for me, after decades, the opportunity to finally be able to work with [Baranski], I was like, this is just going to be a blast. And it absolutely was. So now my love for her is just so deep that we're constantly trying to get Robert and Michelle to give us a musical episode. They give us little tidbits, maybe we should roll it out with season six, maybe this is where we get our musical lives. But I just so enjoy her [Baranksi]. Being in a scene with her is like playing tennis with a pro. I'm hoping that I'm hitting the ball back in a way that's good for her so that she can get it back to me.
You're in the upcoming Obama-produced film Rustin. Why do you think Bayard Rustin's story, in particular, is important to tell?
I think because it's necessary. One of the main reasons that enormous historical moments took place is because of his work and because of his brain and his mind and his passion and his commitment to the cause. And, in some ways, his sacrifices. He sort of hid in the back and in a way covered up who he was, or attempted to in order to make sure that the movement didn't suffer. That had to have been an incredibly painful thing for him. So it's just time that his story was more widely known. And again, they've always been here, LGBTQIA people have always been here. Not only have they always been here, they have been a part of history and moving this country forward. And we shouldn't diminish their stories, so this is an opportunity for us to tell their stories. Not just about a Black man, but a gay Black man. So I'm just thrilled to be a part of it.
You're returning to Broadway with Ohio State Murders. What can you tell us about the show?
This was a piece that was produced in New York but never produced on Broadway. And Adrienne Kennedy is an incredible playwright who has never had a Broadway show. Adrienne is 90 years old, a Black woman who has been writing for decades and has a powerful voice telling these stories in her very specific and unique voice. Her language is so specific, dagger-like. So the fact that she hasn't had a show produced on Broadway just feels criminal. So I wanted to be a part of making sure that that happened. And this is a very heavy but powerful piece. And it's a different type of character than I've ever played before. My character is very staid and calm as she guides the audience through the story of something that happened to her when she was younger. So this is going to be a very different thing but a very important story that I think needs to be told.
Does holding that Tony record add more pressure to the shows you decide to do?
In terms of the shows that I pick, life is short; you need to do things that make you happy and not worry so much about what other people think. That's the period of life that I feel I'm coming into. And trusting my gut more and more. I think I always did, I just think I'm more aware of it now. For me, I'm not trying to get a Tony. There's nothing wrong with wanting a Tony. I've been so very lucky and had so many incredible opportunities come my way, but I just want to do good work. And because I still have a little one at home, if I'm going to be spending time away, I want to make sure that it's something that really feeds my soul. Obviously, it has to feed the bank account so that I can feed the 5-year-old, but it really needs to feed my soul. So that's just kind of where I'm at now.