The pandemic has shone a bright light on our country's social safety net. Record numbers of Americans applied for unemployment. The federal government issued hundreds of billions of dollars in stimulus checks. Federal and state programs like the Paycheck Protection Program (PPP), mortgage relief, rental assistance, even free vaccine delivery—all of which had trouble gaining bipartisan support in previous years—were quickly implemented as the crisis unfolded and millions of Americans lost jobs, fell ill or were sidelined at home caring for children whose schools and day care facilities were closed due to COVID.
Now, most of those benefits have ended or will soon: Over the summer, Americans lost federal protection from evictions and foreclosures. In September, pandemic unemployment insurance supplements expired nationwide, the expanded child tax credit followed suit at the end of the year and federal student loan payments, paused since March 2020, will resume in May. Even with those benefits expiring, though, it seems that COVID-19 taught us a valuable lesson about how seriously we need to take our social safety net. The Biden administration's embattled $1.75 trillion Build Back Better Act would lay the groundwork for a stronger and more inclusive safety net with provisions to reduce the cost of child and health care, revive the expanded child tax credit and bolster state pre-K programs as well as help combat climate change.
Though the fate of the bill is unclear, there is no doubt that the debate over its provisions, combined with the programs created to cope with the pandemic, have revived the conversation around the importance of supporting our most vulnerable citizens in times of crisis. They've also highlighted a serious problem with the social safety net that far fewer people talk about: Many Americans can't access the benefits they're already eligible for.
Take, for instance, a child going to school. Even though the child is eligible for free public education, they still need a way to get to school, like a school bus. They need to get clear information about where and when to meet the bus. They need a safe route to walk from their home to the bus stop. The benefit of free education does nothing to help the child if the student cannot access their school via the school bus.
Never has the importance of access been more clear than during the past year. A combination of archaic systems, complex technology requirements and understaffed agencies meant that nine months into the pandemic, up to seven million people were still waiting to find out if they qualified for unemployment.
And it wasn't just unemployment where problems cropped up. The government relied on banks to make PPP loans, creating an obstacle for borrowers who didn't already have established banking relationships and leaving many small businesses, especially minority-owned small businesses, disproportionately underserved by the relief efforts, while larger, wealthier clients were prioritized. Gig and part-time workers earning less than $20,000 were waiting longer than their more affluent peers, in some cases more than four months. Even stimulus checks, delivered automatically, came with issues of access for individuals who earned too little to file taxes, didn't have a bank account, were incarcerated or experiencing homelessness—all groups disproportionately needing the aid.
"A safety net that denies access, intentionally or not, is unacceptable," says economist Claudia Sahm, a senior fellow at the Jain Family Institute and former member of the White House Council of Economic Advisers.
Cause and Effect
When Sarah Dahlberg, a 42-year-old mother of two and a marketing manager at Cirque du Soleil, was laid off last year, she immediately applied for unemployment benefits. "I did not dillydally, I did it the next day," she says Because Dahlberg had been an independent contractor the year before, though, the system mistakenly flagged her as ineligible, denying her claim. Even though freelance and contract workers are increasingly common, the system simply wasn't set up to properly analyze her claim.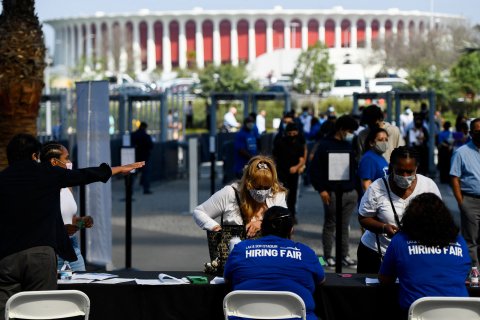 "I'd sit on the phone for hours, getting a busy signal, and then I'd just be disconnected," Dahlberg says of her efforts to reach anyone at her state unemployment office. Increasingly concerned as week after week went by, Dahlberg started sending emails and packages with copies of her W2s and 1099s, including highlights and notations explaining why she should be eligible for benefits. After months of this effort without resolution, Dahlberg realized her family's lifestyle was no longer affordable without her income. She says, "At some point, I told myself that I don't know if I'm ever gonna see a dime of unemployment, so we need to operate on the assumption that all we have is my husband's income."
Dahlberg's struggles are but one example of the problems many eligible recipients have taking advantage of existing benefits—a problem that will inevitably worsen unless ameliorative action is taken, given the prospect of ongoing climate disasters, the increased risk of pandemics and a rapidly changing workforce. Without steps to ensure that vulnerable people can access the aid they're entitled to quickly and easily, the consequences can be severe—and swift: Even a month's delay can render someone unable to feed their children, keep their lights on or ward off eviction.
Last year, for example, the Boston Globe reported that an estimated 58,000 children in Massachusetts who were eligible to receive benefits under the expanded Child Tax Credit might not get them, typically because their parents earned too little money to file taxes or were undocumented, according to IRS research. Similarly, a recent analysis of internal FEMA documents by NPR suggests lower-income disaster survivors are the least likely to receive aid. Time and time again, the data shows that Americans with the most need for the safety net, face the greatest delays and obstacles to accessing those benefits.
To be clear: It's very encouraging to see a post-COVID world where government aid is starting to be seen as a necessity and recipients of that aid face less stigma. But any conversation about the social safety net needs to include a discussion of access. No matter how generous or far-reaching an aid package is, if it requires a physical address, an accountant or spending 10 hours on hold waiting for someone to pick up the phone, it's not going to aid the people who need it most.
Aid and Access: Inextricably Bound
Even before the pandemic, challenges with safety net access were common: An estimated $65 billion a year in benefits went unused by families that need them due to issues with access, the Rockefeller Foundation reports.
One of the most basic access barriers is technology, for both the user and the system. On the user side, a recent Pew study showed that 24 percent of low-income adults don't own a smartphone, 41 percent don't have a personal computer and 43 percent don't have home internet. Yet aid programs increasingly require digital skills in order to apply for benefits.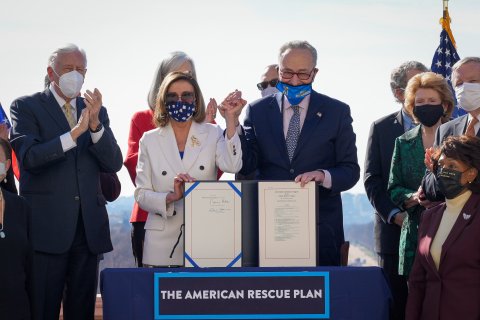 In Colorado, you can't get unemployment without a smartphone, but in Arizona, a local Fox News station reported that using a smartphone, instead of a desktop computer, might result in your claim being denied. Even those who are technologically proficient find themselves facing outdated and glitchy systems and frequent error messages without explanation. A recent Rockefeller Foundation report showed that 87 percent of major government software projects fail or face significant challenges.
"It is inexcusable that the United States—the tech hub of the globe—has unemployment insurance systems programmed in archaic languages and the inability to get money to children in the poorest families," says Sahm. "Billionaires are shooting themselves off in rockets, but millions of renters will be evicted, because they cannot find anyone to process their claims to rental assistance."
Barriers to access extend beyond technology. It might be a requirement that can't be met, such as having a bank account (over 7 million American households do not have a checking or savings account, with rates higher among lower-income families, according to the FDIC's most recent survey) or a permanent address (including those who have lost their homes as well as people who live in remote areas without street addresses).
Or the issue might be complex forms that take hours to fill out, or aren't written in the correct language. Or questions that don't apply to your situation but must be answered in a particular way or you will be automatically declared ineligible. Often lengthy waiting times might mean you spend months applying for aid that arrives well after you need it. Or, as Sarah Dahlberg experienced, you might call a number dozens of times yet never get through.
Not only do these barriers leave the needy unable to benefit from the very programs designed to aid them, they also take a heavy mental toll. At the same time that Dahlberg was trying to get answers from the unemployment office, she was also dealing with getting laid off, schooling two kids at home and her father dying of Parkinson's disease. When people are forced to do an unreasonable amount of labor to access benefits earmarked for them, it creates a lack of trust in the safety nets available, and causes many to believe that maybe they shouldn't even bother.
Proposed Solutions
One of the most ingenious approaches to tackling the access challenge comes from Sahm herself. The "Sahm Rule" is a method of identifying a recession based on changes to the unemployment rate. Sahm has advocated using her "rule" to trigger direct stimulus payments in response to recessions. According to a 2009 report produced by The Hamilton Project, an economic policy initiative from the Brookings Institution, "research finds that broadly distributed, lump-sum payments to individuals directly boost spending and help stabilize demand." This is something we saw firsthand last year when automatic stimulus checks were incredibly effective at helping Americans navigate the pandemic.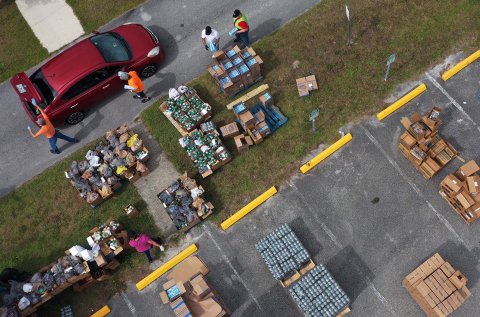 In addition to automation, investing in helpful technology is key. And it's promising to see that Biden's proposed plan includes a promise to overhaul and modernize the unemployment insurance system. But perhaps the most important ingredient in fixing the problems with safety net access is that the people proposing policies and procedures listen to and engage with the people who actually receive those benefits to better understand their challenges.
For Dahlberg, the months without unemployment benefits took their toll. She says, "By the end of the summer, I was in a really bad place. I had to go back on antidepressants."
Believing that she was likely never to get the benefits she was owed, Dahlberg and her husband ended up moving to an area with a lower cost of living. Then, finally, after attempting to reach the unemployment office dozens of times, Dahlberg was able to speak to someone on the phone who confirmed her eligibility. She says, "When I heard a human voice on the other end of the phone, I couldn't even help it, I was just streaming tears."
Stefanie O'Connell Rodriguez and Emma Pattee are the co-founders of Statement, a community at the intersection of gender equity and financial power. They write frequently on the topics of power, equity and gender.