For photographer and conservation advocate Chris Burkard, traveling the world is not just about catching the perfect break, it is about capturing the perfect photograph. As a surf photographer, he has immortalized some of the most challenging waves and locales on Earth. Burkard shares his global adventures since 2005 in his new book, Wayward.
Northern Light-Lit Crest
Iceland
"I dreamed of a surf session under the Northern Lights for years. It took years of planning and many trips to make it happen. Even this trip had been thrown off course by a once-in-a-lifetime storm that ravaged the country, forcing us into a life-threatening situation. We thought about quitting while we were ahead (alive and safe), but the idea of something like this happening was too strong. To say the least, we made the right call."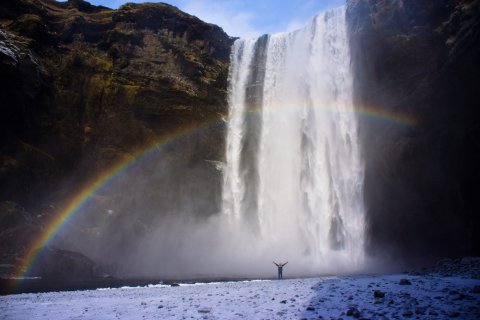 Magical Moment
Skógafoss Waterfall, Iceland
"While in Iceland shooting a project for Men's Journal, we circumnavigated much of the 3,700-mile coastline and found so much more than swell. I couldn't get enough of the light and barren moonscapes backed by rain, rainbows, snow, wind and waves. This moment occurred during one of our many marathon drives."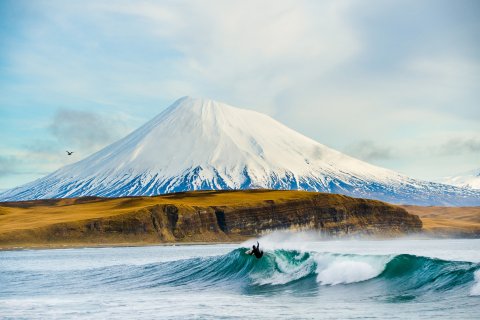 Picture-Perfect Wave
Aleutian Islands, Alaska
"This day is forever ingrained in my head. In a way, it's a culmination of my whole career—a remote, untouched cold-surf location, perfect empty waves and a stunning backdrop. It took days of travel to get there. The weather was so volatile we could only surf two of the 14 days we were there, and most of the time it was a gloomy shade of gray fog. But, we ultimately struck gold. Here, cold-water surfing specialist Josh Mulcoy makes the best of a picture-perfect wave."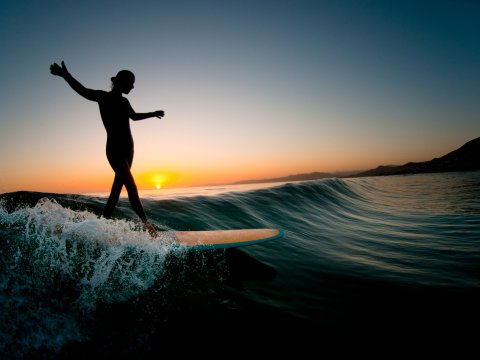 Glassy Evening Surf
Cayucos, California
"I've traveled the world, but I don't think there's anything much better than a sunset surf at home. This evening, the waves were perfect and the ocean was as calm as it gets. We stayed out until it was too dark to see the ends of our boards and paddled in under the moon. These are the moments I will spend my whole career chasing."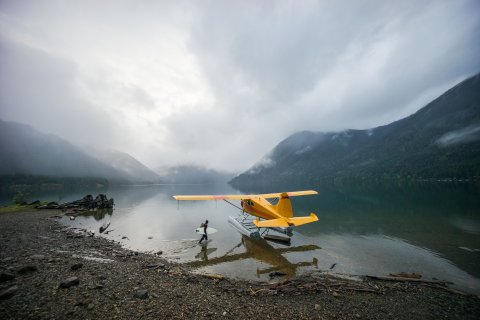 Searching for a Swell
Washington
Using a floatplane to explore remote locations has always been one of my favorite ways to experience a new place. On this trip, we would make day excursions up and down the coast of the Pacific Northwest each morning in hopes of finding new waves and then make our way back to our basecamp. Thankfully we never hit traffic or had an issue finding a parking spot.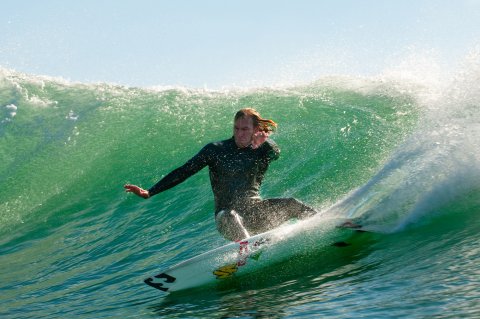 Unexpected Wave
Central Chile
"After a few days of rain and not much resembling waves, I knew the surfers I had convinced to come down to Chile with me were more than skeptical of the trip I had planned. Yet when I unzipped my tent the next morning, radiating around the rugged point was the most incredible wave I had ever seen. World-renowned surfer Peter Mendia lost no time getting out into the waves."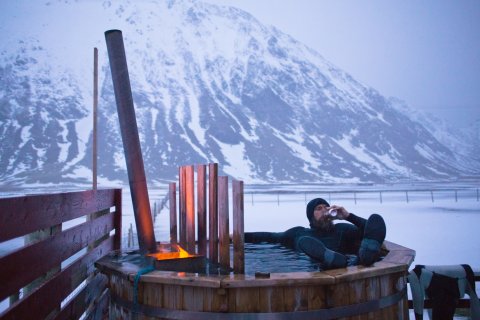 Post-Surf Soak
Lofoten, Norway
"Once we got acquainted with the arduous process of snow surfing, we fell into a good rhythm. We would wake up to a few feet of fresh powder, shovel the driveway, scarf down some food and light the wood-burning hot tub on the deck. The most essential conclusion to our day would require the tub to be properly steamy by the time our frostbitten fingers and toes really needed a post-surf thaw."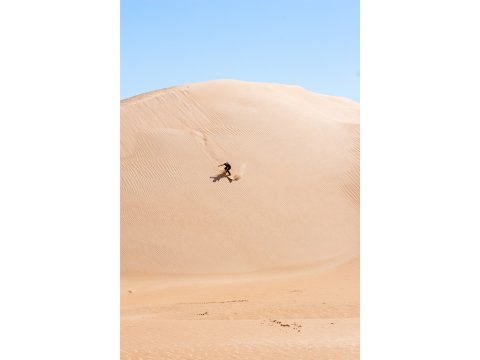 Sand Surfing
Wahiba Sands, Oman
"I was in the Middle East on my first international surf trip in 2007. A few days after hunting for waves in Dubai, a group of surfers from California and I headed to Oman. After unsuccessfully scouring Masirah Island for surf, we drove an otherworldly highway through the undulating dunes of Wahiba Sands. Although we didn't find many waves out there, the surfers still made use of their boards."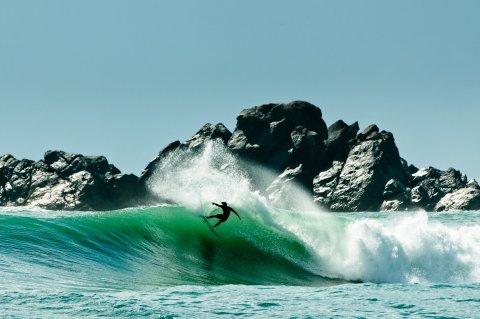 Unusual Break
Shikoku Island, Japan
"Japan is often overlooked when it comes to waves, but the annual typhoon season is capable of producing perfect waves across the island. This particular break sits at the base of a river mouth, meaning it is constantly changing and evolving according to the rains and swell. Most of the year it can be totally unrideable, but every once in a while it all lines up and looks like this."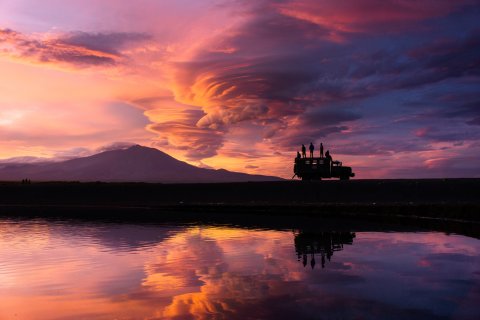 Cloud Formation
Kamchatka Peninsula, Russia
"After a long day of surf and casting lines for steelhead trout, a view like this is the icing on the cake. Back in 2012, I spent time exploring Russia's coastline with an incredible group of surfers. It was the biggest adventure I had ever been on at that point. On this night, these amazing lenticular clouds formed amidst a glowing red sunset and all we could do was stop and take it in."
Standout Sunset
The Gold Coast, Australia
"I was in Queensland documenting the Hurley Burleigh Pro surf competition in 2007 with some of the best young American surfers in the world when I caught this sunset. However, it was largely this trip that made me move away from shooting traditional surf toward cold, remote areas. I had had enough of overcrowded beaches packed with tourists, Wi-Fi and partying. I wasn't living my purpose and wanted to chase something more meaningful."
---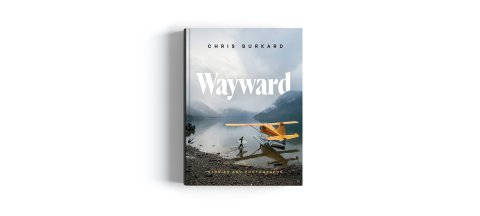 Abrams
From Wayward by Chris Burkard. Published by Abrams.