Little endures very long in Super Bowl history. Dynastic teams come and go. Stadiums and commissioners, too. Even Tom Brady, it turns out, could not last forever. But on February 13, as he has on every single Super Bowl Sunday, 93-year-old Jerry Green expects to don a collared shirt and dungarees, loop his credentials lanyard around his neck and head to "the office."
This time, that will be SoFi Stadium in Inglewood, California, where he'll watch the L.A. Rams take on the Cincinnati Bengals and then tap out some observations for The Detroit News. In doing so, Green will extend an unbreakable streak: He'll become the only newspaper reporter of the 338 credentialed journalists to document Super Bowl I in 1967 who will have attended and covered all 56 of them. "I'm the last one," he says with a grin. "How about that?"
This one­—fittingly with the hot local angle of formerly long-suffering Detroit Lions quarterback Matthew Stafford competing in his first year with the Rams—might also be Green's finale. He's had to use a wheelchair at the games for the past few years and can't physically chase stories the way he did in 1969 when he raced to a hotel pool in Fort Lauderdale to be one of a half-dozen reporters present for an iconic impromptu press conference with a shirtless Joe Namath. Also, Green is charmed by the poetry in stopping at 56; in 1941, New York Yankee legend Joe DiMaggio, Green's childhood idol, hit safely in 56 consecutive games, "another unbeatable record. That might be enough."
Green's daughter, Jenny Klein, who travels with him to ensure his safety, puts the odds he'll actually give it up at 50-50. "It's frustrating for him to try and get through the airport and get on an airplane, especially with the COVID mask thing. He's got funny reasons for things, that's just how he is. He's very quirky."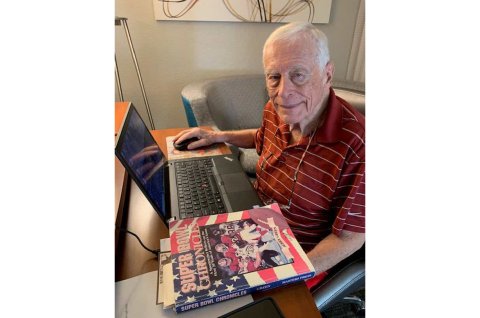 Age notwithstanding, it's also just not as much fun to be a Super Bowl reporter as it once was, says Green, a New York City native whose journalism career began in 1957 in the Ann Arbor, Michigan, bureau of the Associated Press. He'd be hired away by the News in 1963 to cover the Detroit Lions and then sent to Super Bowl I, known at the time as the AFL-NFL World Championship Game, the first finale between the newly merged leagues, in L.A. in 1967.
It was quite a different affair then. Super Bowl I was played at L.A. Memorial Coliseum, where some 62,000 people witnessed the Green Bay Packers rout the Kansas City Chiefs and about 65 million Americans watched on two TV networks. This year, just 17 miles from the Coliseum, SoFi will seat 100,000 spectators and the game will be beamed to a billion viewers worldwide. Back then, local print newspapers were at the top of the media ecosystem—the News was in the top 10 in circulation with 500,000 subscribers; today it has about 140,000 and survives as the weaker half of a joint operating agreement with the rival Detroit Free Press.
Sport journalism was different in 1967, too; reporters could easily approach players, coaches and owners in all manner of uncontrolled settings. "Back then, I went right to Fred Williamson's home, some place in Long Beach, I think, to track him down and talk to him," says Green of an interview he did with the Kansas City Chiefs' loud-mouthed defensive back before the 1967 game. "You can't do that anymore. It's become an immense show."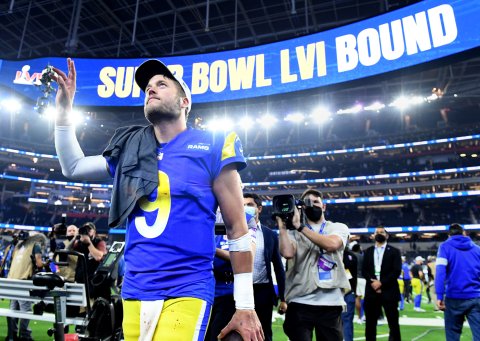 He does have a dream interview this year, but he knows it's unlikely to happen because of how limited access has become, particularly for newspaper reporters: "I'd love to really talk to Matthew [Stafford] because I remember two or three times through the years I was standing in line to get seated at a restaurant during a Super Bowl and there's Matthew and his wife. We said hello, shook hands, he went his way, I went mine. Matthew would go to Super Bowls on his own. Now [he is] playing in one. 'What intrigued you about going to Super Bowls when you weren't in it? Why?' That's an angle for a column for me today. I ask questions."
The first couple of Super Bowls were duds that suggested the big game "might not be so super," Green says, but then came the AFL's New York Jets' Super Bowl III upset over the NFL's Baltimore Colts in 1969. Days before, Green spotted Namath peeling off his shirt by the pool on the quarterback's second day of refusing to attend NFL Commissioner Pete Rozelle's mandatory press availability. Moments later, a fellow sports columnist whispered to Green that Namath agreed to talk with a few reporters and did he want to come? "That's how I ended up in the picture," Green says via FaceTime, pointing to a framed version of an iconic Sports Illustrated photo of smiling Namath holding court poolside. A 40-year-old, buzz-cut Green sits behind Brent Musburger on a lounge chair. Namath's famous guarantee of victory wouldn't come for another couple of days, and Green says he didn't make much news by the pool. The photo was important to building the "Broadway Joe" legend, though, Green says.
For all his pride in his Super Bowl streak, Green is not awash in memorabilia. A widower for 20 years, he lives alone in a one-bedroom apartment in an independent living facility in Grosse Pointe, Michigan. The Namath photo is on the wall next to a shot of Green with boxing legend Joe Louis, but other than that, there's no clutter of artifacts from a career in which he covered championships by all four Detroit teams and was a voting member for the football and baseball Halls of Fame. Green has been inducted into the Pro Football Hall of Fame as well as the Michigan Sports Hall of Fame and the Michigan Jewish Sports Hall of Fame.
When Green retired from the News in 2004, his editors asked him to keep covering Super Bowls and writing columns when topics inspired him. These days, most have a good-old-days sheen to them—a recounting in September 2021 of the 1961 home run chase between Yankees Roger Maris and Mickey Mantle, say, or an appreciation of longtime Lions linebacker Mike Lucci, who died at 81 in October. "Jerry has basically what appears to be a photographic memory–and the ability to put the history into context in the present," News sports editor Gerald Ahern says.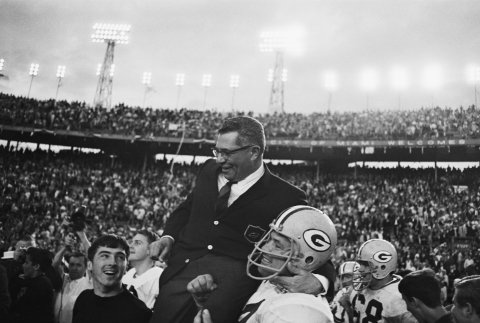 Green's January 18 column on the 90th birthday of Lions linebacker and head coach Joe Schmidt sounded a wistful note: "This was how Detroit —and most of Michigan—adored its stars back then, many generations ago. It was our era when the people cherished Schmidt and Gordie Howe and Al Kaline. The 1950s. What a wonderful town for a rookie sports journalist, and for the fans who loved sports."
Green, it should be noted, sees journalists and fans as distinctly different categories and says he stopped rooting for anyone when he became a reporter. "I felt we had to be impartial and without interest, particularly in a team," he says. That attitude has been a balm against the disappointment of his other intriguing distinction: Of the original Super Bowl reporters, Green is the only one whose hometown team, the Detroit Lions, have never played in the Big Game. (They won NFL championships he covered in the 1950s, though.) Then again, in keeping with his impartiality policy, Green insists, "I don't have a hometown team."
John U. Bacon, author of several best-selling books on Michigan sports whom Green mentored in the late 1990s when both were on staff at the News, attests to Green's professionalism: "I followed Jerry's lead. It's never 'we,' never 'us'. No school colors and obviously no cheering in the press box. You get the immediate sense when you're with him that the press box is an office, and it's all about business."
That's not to say Green doesn't have favorite athletes–"I am looking forward to watching Matthew playing," he texted after the Rams beat the 49ers to win their ticket to this year's Super Bowl. "He had a dozen tough years playing in Detroit." Other favorites: "Tom Brady would be one of them. Kirk Gibson would be another. Jim Harbaugh, too, since he was in college playing from Michigan for Bo Schembechler. I wrote a column about Jim once and I received a letter from his mother thanking me for what I wrote about her son. His mother's name is Jackie. It's the only letter I've ever received from an athlete's mother."
Age, of course, has taken its toll. Once-smooth cheeks are now slightly sunken with thinning, glassy skin. His back aches. He wears fussy hearing aids. He's grouchy about the fact that he takes three pills a day for pulmonary fibrosis. He gave up his car only three months ago and it still irks him. Usually, he walks with a cane "except at the airport because in a wheelchair you rush right through." Six years ago, at Super Bowl L, NFL staff drove him and one other original Super Bowl scribe, Jerry Izenberg, to the press box in golf carts but wanted them to take wheelchairs down after the game. "I refused," Green says. "I walked right behind Izenberg in a wheelchair the whole way down."
Izenberg, 91, of The Newark Star-Ledger, stopped going in 2020. Green considered ending his streak then, too—the News had long since stopped paying his way—but both the NFL press office and his daughter urged him not to. Izenberg, who still covers the game but now lives in Henderson, Nevada, and watches from a casino sportsbook, is thrilled Green stuck it out. "If I had to nominate anybody who I'd like to be the last one, it would be him, not only because I liked him so much but because he's the guy with skills that make him the one that should turn out the lights when it's over."
Of course, it won't be over when Green stops attending, but it will be different, says Michael Signora, the NFL's senior vice president for communications: "Jerry Green is a legend. He's become synonymous with the Super Bowl and I cannot imagine walking into the press box on game day and not seeing him. Jerry has chronicled this event from its inception, watching it grow and develop into something that has become part of the fabric of American life."
Green says he likes the idea of mimicking DiMaggio's streak of 56, but he gives himself an out. "Yeah, it's probably my last," he insists, not particularly convincingly. "Probably. It's probably time. I guess."
Jerry's Picks
Highlights and lowlights from 55 years in the press box at the Big Game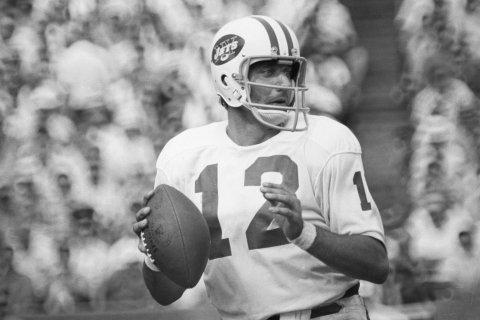 Best Super Bowls
III: In 1969, the New York Jets of the AFL upset the heavily favored NFL Baltimore Colts, 16-7, fulfilling quarterback Joe Namath's shocking guarantee of triumph. "The first two Super Bowls were so lopsided, we in the NFL side, thought the AFL would never catch up" Green says. "Joe Namath took care of that."
LI: In 2017, the New England Patriots defeated the Atlanta Falcons 34-28 in overtime. "They were 25 points behind in the second half behind Atlanta and the Patriots tied the game, won the coin flip and Atlanta never got to touch the ball again. It was amazing to see."
Worst Super Bowls
II: In 1968, the Green Bay Packers crushed the Oakland Raiders, 33-14. "I was crossing the field to go to the locker room at the Orange Bowl in Miami after it was over and I met [future Vikings head coach] Jerry Burns, who was on Lombardi's staff. He looked at me and said, 'Horseshit game, wasn't it?'"
XXIV: In 1990, the San Francisco 49ers stomped the Denver Broncos 55-10. "I wrote after that game that we saw a team that was so good. We didn't see a good game, we saw a team that was so good."
Worst Super Bowl Coaching Decision
The Buffalo Bills in Super Bowl XXV not trying to get closer to the end zone with eight seconds left and down 20-19 to the New York Giants in 1991. Instead, Coach Marv Levy sent kicker Scott Norwood to attempt a 47-yard field goal. Norwood missed, sealing Buffalo's loss. "I didn't understand why they did that," Green says.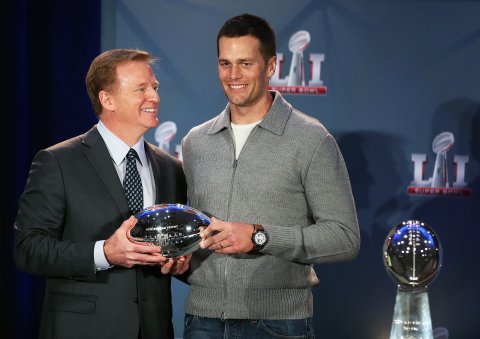 Best Super Bowl Quarterback
Green long held to the view that San Francisco 49ers legend Joe Montana was a better Super Bowl quarterback than Tom Brady, but more recently he's relented as Brady continued, year after year, to win championships. "Nobody's ever won seven Super Bowls, so you have to respect that, and now I like the fact that he's 44, he's old for a football player. He's still less than half my age."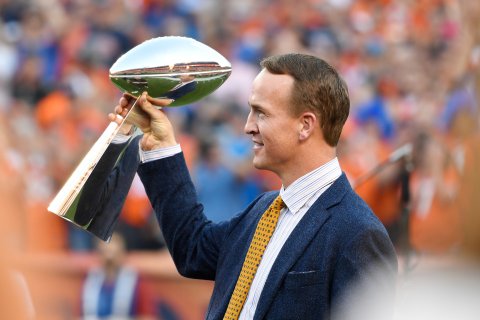 Most Overrated Super Bowl Quarterback
Peyton Manning. "He's 2-2 in Super Bowls. His brother was 2-0. Eli Manning belongs in the Pro Football Hall of Fame. There's too much presence of Peyton Manning in commercials and things like that. I don't like that."
On Aaron Rodgers' COVID Drama
"A lot of the media has become too judgmental. He should have gotten the shots and not fib about it. But I'm a lot less condemning of him than a lot of other people. He did what he wanted to do for Aaron Rodgers. He is also an American citizen and has his constitutional rights."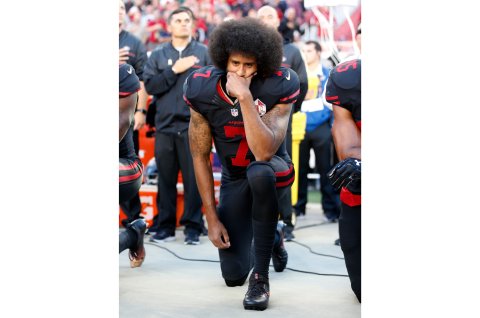 On the Blacklisting of Colin Kaepernick
"That really, really goes against our ethos in the United States. Even though he protested, which I don't like, he's entitled to play, and I know a team that could use him. I'm not a big fan of that Goff," referring to Lions starting quarterback Jared Goff who led the team to a 3-13-1 season this year.
On How Much the Game Has Changed
"Not as much as people think. I think the Packers in 1967 could play today. They probably need more depth. But I think Lombardi could coach in the NFL today. The athletes have changed. The defensive linemen, who used to weigh 220 to 250, now weigh 310. The players got bigger and faster."
Note: A GoFundMe campaign has been set up to help defray Green's expenses for his trip to Los Angeles.