An ongoing pandemic, mounting inflation and massive supply-chain disruptions don't seem to have done much to cool American consumer demand. Last year, according to the Census Bureau, shoppers spent more than $7.4 trillion on retail, including food, gas and autos, which was up 19 percent from 2020 and surpassed pre-pandemic levels. All that cash was spent across a wide range of retail categories, everything from athleisure clothing to outdoor furniture.
In fact, consumer demand was so great that halfway through 2021 the National Retail Federation actually had to double its annual growth forecast, because "the economy and consumer spending have proven to be much more resilient than initially forecasted."
Newsweek spoke with retail experts to find out why we shopped so much last year and what we spent those trillions on.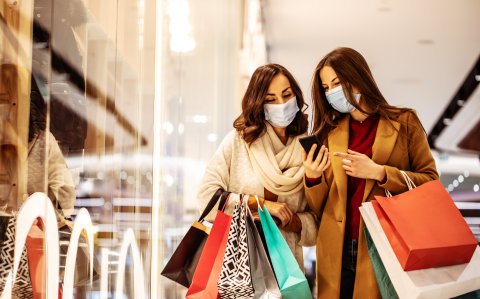 Why We Spent so Much
While the pandemic triggered a range of economic woes, for a lot of Americans it also led to an increase in disposable cash in 2021. Although 67 percent of Americans believed the economy was getting worse, according to a Gallup economic poll conducted last year, they didn't stop spending.
Americans' household wealth hit record highs throughout 2021, according to the Federal Reserve. That increase came partly from government aid, including three rounds of stimulus payments, increased unemployment benefits, federal student loan forbearance and monthly child tax credits. It also helped that households cut back on expenses like vacations, commuting and childcare at the same time wages rose as businesses fought to attract and retain workers in a tight labor market.
"People shopped because they had money," says Daniel Bachman, U.S. economic forecaster at Deloitte Insights. "With the pandemic, we switched our spending from certain consumer services to goods. We stopped going to the gym and bought a home gym instead. Now we're moving back to pre-pandemic ratios but we're not there yet."
Adding to the motivation many Americans felt to spend: a desire to help recharge the economy and assist local businesses, says Rod Sides, vice chairman and U.S. retail and distribution leader for Deloitte Insights.
"Consumers wanted to support local vendors," Sides says. "They realize that a lot of what's going on in the market requires them to step up and drive this recovery."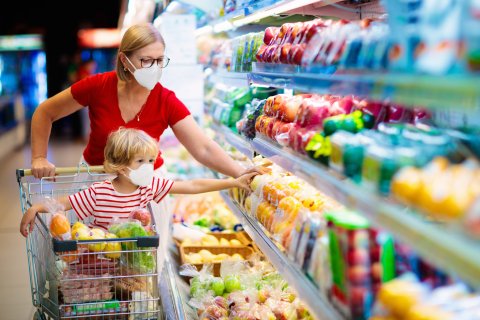 What We Bought
Americans snapped up a wide range of goods last year. The 16 broad retail categories the Census Bureau tracks monthly all saw spending increase from 2020 to 2021. Groceries had the smallest increase at 4 percent, clothing and accessories the highest at 47 percent. Items that people stocked up on during the pandemic, like cooking supplies, athletic gear and home repair tools, continued to be hugely popular but consumers also returned to splashing out on new clothes and accessories, restaurant meals and other items that were sidelined in 2020.
"COVID caused a fundamental change in our mindsets around life and what's important to us and that caused certain spending categories to benefit," says Jon Weber, managing director at L.E.K. Consulting.
Take groceries, a sector that saw huge growth in 2020, when two-thirds of Americans shifted to cooking at home more frequently. This new penchant for home-cooked meals carried over into 2021 too, with 75 percent of people telling market research firm Hunter at the start of last year that they'll continue to cook more at home post-pandemic. Many were as good as their word, with sales at food and beverage shops and grocery stores both rising about 4 percent throughout 2021—and that's after posting double-digit growth in 2020, according to Census Bureau data.
Similarly, 68 percent of people told McKinsey & Co. that they "prioritized their health more after the onset of the pandemic," leading us to spend 20 percent more in 2021 on athletic equipment, according to NPD Group.
Americans also increased the amount of time spent in nature and engaging in sporting activities, with Amazon seeing outdoor living and camping product demand grow 130 percent. The retail giant also reported that sales of sweats and athleisure were up 60 and 40 percent respectively on top of previous huge spikes in 2020.
This wellbeing kick even extended to what we read. "Educational books experienced big growth in 2021 and part of that is a reflection of remote schooling, but also self-help and health and wellness instruction for adults," says David Garfield, managing director and Americas business unit leader for AlixPartners.
With about 45 percent of full-time U.S. employees working from home at least part of the time during the year, according to Gallup, many continued the 2020 trend of beautifying the spaces they spend nearly all their time in.
Home goods and furnishings ended the holiday season up 15 percent year over year according to the NRF. And home improvement and gardening stores also saw sales blossom 14 percent, according to the Census Bureau.
Even those working outside the home sought to revamp their abodes last year as well, largely thanks to a surge in home entertaining. Still cautious about re-entering public spots, many Americans opted to host gatherings for family and friends—often outside: purchases for outdoor furniture nearly doubled and grilling product sales were up 70 percent by mid-2021, Amazon reported.
The red hot housing market contributed to demand for home goods too. More than 6 million homes were sold last year requiring kitting out by all their new owners. And, with house prices surging 17 percent in a single year, many chose to revamp their existing space rather than find a new one.
"If you can't move, you want to make your space as nice as possible but also as you spend more time at home, you notice things you didn't before and want to fix them," says Oliver Wright, global lead of consumer goods and services industry group for Accenture. "And if you're entertaining at home more frequently, you don't want people to see that ugly wallpaper."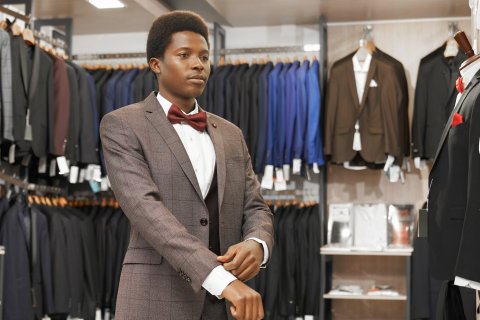 What Was Unique to 2021
There are a few areas where we did indulge ourselves differently than we did in 2020. During the pandemic's first year, consumer spending dropped by 15 percent or more compared to 2019 when it came to electronics, appliances, clothing, accessories, department store buys, gas and eating out. Americans rectified all that this past year.
Easier summer travel options and the return to more normal school operations kickstarted spending on clothing last year and by December we'd spent more than $300 billion on clothing and accessories, or 47 percent more than we did in 2020—the largest rebound of any shopping sector.
"Apparel was challenged by the lockdowns. For clothing retailers, physical shopping is a huge part of how people buy," says Katherine Cullen, senior director of industry and consumer insights for the NRF. "People also didn't need business or going out clothes as they once did so it took a lot longer to see growth in these areas, but we started to see it in 2021."
The desire to refresh appearances lifted spending on cosmetics too, says Molly Seitel, vertical strategy lead for InMobi. According to Amazon, sales of toothpaste, teeth whiteners and mouthwash were up 66 percent; sunscreen and bronzer 70 percent; lipstick 58 percent; and curling irons 30 percent.
Americans also treated themselves more, dropping 31 percent more on jewelry and 47 percent more on luxury items this past December than they did in 2020—outspending what they did even back in 2019's pre-pandemic holiday season, according to Mastercard data.
And finally, people got out of the house a lot more than they did in 2020. Overall, spending at food and drinking spots shot up 31 percent, surpassing $817 billion, according to Census Bureau data.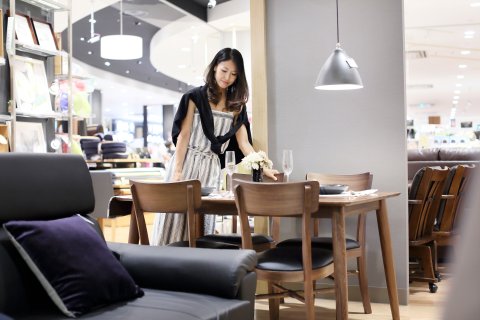 What's In Store for 2022
Growing supply-chain issues and inflation might dampen the ability and enthusiasm to keep spending at 2021 levels.
Already the personal savings rate has dropped to 7.9 percent, down from a high of 33.8 percent in April 2020, putting it on par with pre-pandemic levels, as the effects of coronavirus government aid wane and inflation eats into wallets.
Two thirds of U.S. consumers feel that their budgets are being squeezed, says Wright, indicating that while "things look buoyant, there are dark clouds on the horizon."
Experts are predicting that although overall spending will rise, the growth will not be in the double digits as it was this year. Expect a more modest increase driven by the continued recovery of service spending for things like flights, accommodations and dining out. In turn, spending on physical goods, which was huge in 2021, will likely decline, returning consumption and buying trends to the typical balance of the pre-pandemic era.