The Great Resignation has been hammering the retail industry hard for months. Merchants are scrambling for employees and wringing their hands about how they're going to get enough staff to run the registers, stock shelves, and work in the warehouses.
The labor shortage, of course, isn't ideal for retail businesses, or companies who sell products directly to consumers. But it can be a good thing for their employees, who are using their in-demand status to land higher wages and better benefits. And, for job hunters, the perks aren't the only thing improving. Some retailers are relaxing job qualifications, making it easier to find a new gig.
With the retail industry navigating more than 880,000 open jobs right now, these new terms of employment won't be changing soon. Here's the new landscape.
Retail's Staffing Issues
At the end of 2021, 4.9 percent of the retail sector's workforce–some 759,000 employees– quit their job in a single month, a record high for a field well accustomed to turnover. But December's single-month exodus is far from an anomaly. Beginning in April 2021, at least 4 percent of retail workers began ditching their jobs each month. At no other point in the Bureau of Labor Statistics' 20-plus years of record keeping did the quit rate ever top 4 percent for retail or more than 600,000 retail employees voluntarily dropping out in a single month.
"Retail workers aren't satisfied with the pay for the risks they've had to take and still are taking," says Marc Perrone, president of the United Food and Commercial Workers International Union, which represents 1.3 million workers in the United States and Canada. "Workers took quite a lot of abuse for policing mask mandates, social distancing, and limiting items people could buy. Also, many workers realized they were more essential to the economy than they realized during the pandemic."
Improved Compensation
Merchants are sweetening their pay packages. Target, for instance, announced in March that its minimum wage will reach as much as $24 this year in some locations, while Hobby Lobby began paying $18.50 an hour for full-time workers at the start of the year. CVS intends to raise its minimum to $15 an hour for all employees by July, while Macy's plans to do the same by May.
In February, the average hourly wage for all employees in the sector reached $22.83–the highest ever recorded for retail. It represents a 7.1 percent increase over the typical pay earned just 12 months prior, which is more than double the average annual earnings increase over the past 15 years. Junior retail staff saw even bigger changes to their pay, earning $19.39 an hour, on average, in February or 7.7 percent more than they did a year ago. The last time non-management wages grew that fast was more than 40 years ago, according to BLS data.
But higher salaries haven't proven enough. A survey by executive search firm Korn Ferry of major U.S. retailers last year found that 29 percent had implemented sign-up bonuses. Amazon, Ollie's Bargain Outlet, Sheetz, Aldi, Nugget Market, Woodman's Markets, and Tops Market all, for instance, offered $1,000 or more sign-up bonuses for certain positions last year.
"Sign-on bonuses were typically used to poach people away from competitors or to compensate for a move or loss in equity," says Julia Pollak, chief economist at ZipRecruiter. "Now businesses are giving them to entire categories of workers. It's become the No. 1 tool companies are relying on in a labor shortage, largely because they are flexible and temporary. They don't affect the entire cost structure."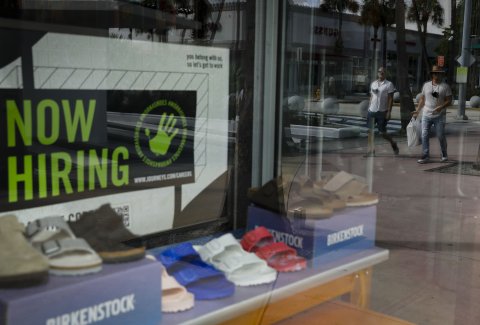 Better benefits
Retailers have also turned to beefing up fringe benefits like covering educational and training course expenses. Target, for instance, now allows all employees to enroll for free in courses for associate or undergraduate degrees, high school completion, or English language learning. Walmart too updated its Live Better U education program to cover 100 percent of such tuition costs for its employees last year. Meanwhile, Best Buy unveiled a $100 monthly reimbursement that covers tutoring fees for those with school-age children.
"Those are things we've never seen before for these kinds of roles," says Lori Wisper, managing director at Willis Towers Watson.
While merchants typically can't let staff work from home like other companies, stores are attempting to level the playing field by creating job share options, compressing workweeks, and investing in better scheduling software to allow easier swaps, callouts, and additional hour pickups, LinkedIn's Global Talent Trends 2022 report found.
"Workers that need to be on-site want more flexibility," says Guy Berger, LinkedIn's principal economist. "Workers are no longer willing to be on call at any time."
Best Buy, for instance, now allows employees to work reduced schedules–20 or 40 percent less than full-time–and job share, where two employees split one full-time position between themselves. Target has launched an app aimed at making it easier for store workers to choose or swap shifts that fit their schedule—and pick up extra ones. And Amazon said its workers can cancel a shift up to 16 hours before or swap shifts at the last minute.
Relaxed job requirements
Businesses are so desperate to hang onto folks that they are, at least according to the numbers, more hesitant to fire workers. In December, just 0.8 percent of workers were dismissed, a record low according to the BLS. For retail employees, it was 0.5 percent.
"The number of layoffs in December was so low that it looks like a typo, a mistake. Pre-pandemic we usually saw 240,000 discharges a month. It was 75,000 in December," says Pollak. "Retailers are giving second chances and when employees threaten to leave, they beg them to stay."
They're also more forgiving when it comes to recruiting. For instance, in August, CVS announced it would no longer require most entry-level workers to have earned a high school diploma—nor require minimum grade averages when recruiting on college campuses.
While retailers started being less demanding before the pandemic, the trend accelerated in 2021, says Pollak. Back in 2016, 15 percent of jobs posted to ZipRecruiter required a bachelor's degree. Now it's down to 7 percent. And the share of job postings requiring no prior experience went from about 9 percent in 2016 to 19 percent now.
Also on the chopping board: drug testing. Last summer, Amazon stopped testing for cannabis in its drug screening program for all positions not regulated by the Department of Transportation. Current Consulting Group found that about 10 percent of companies have decreased the amount of employee drug testing done, while another 7 percent have halted it altogether since the pandemic began. And ZipRecruiter found that retail job postings stating a drug test is required dropped from 2 percent in April 2020 to 0.1 percent last month.
Will These Changes Stick?
Economists expect more people to rejoin the workforce as Covid-19 concerns wane, but that won't be enough to meet demand. Retail executives cite labor issues as their top concern this year, with 83 percent reporting they're heavily investing in solutions to attract new workers—and retain current staff, according to Deloitte.
That's good news for workers, who will see these relaxed job requirements remain and higher wages continue. Data collected by Willis Towers Watson shows that businesses in the retail and wholesale trade industries expect to give the largest salary increases, 2.8 to 3.6 percent, this year.
"Businesses may pare back some of the temporary signing bonuses and hero pay bonuses, but the large increases we saw in base pay will be difficult to reverse. The large companies that raised starting wages to $15-plus have set a trend and established a new norm in the industry," says Pollak, adding that increased scheduling flexibility and other new staffing adjustments are likely to be similarly permanent.
The bottom line: "Many of these changes," Pollack says, "are proving to be a win-win for employers and employees alike."