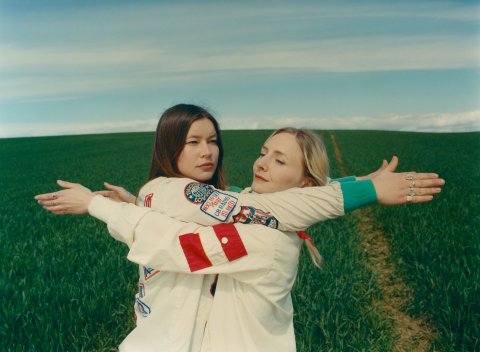 Sometimes even the most-talked-about indie rock acts need to decompress. Take, for instance, the British duo Wet Leg—Rhian Teasdale and Hester Chambers—currently on the second leg of a tour in America.
"Me and Hester did yoga the other day," Teasdale tells Newsweek, laughing. "The bus expands on the front lounge, so there's enough room to do like a YouTube yoga session diagonally."
In a span of less than a year, the duo from the Isle of Wight have generated tremendous buzz from their singles—most notably the extremely catchy disco/punk/New Wave number "Chaise Longue," which has garnered over 11 million streams so far on Spotify. The attention brought Wet Leg widespread press coverage, sold-out shows, and American TV appearances on Late Night With Seth Meyers and The Tonight Show Starring Jimmy Fallon.
Yet on a recent day after Wet Leg's performance before a packed crowd at New York City's Brooklyn Steel, Teasdale and Chambers seem nonplussed about the attention "We're so busy," Teasdale says. "Our calendar is so full. You just kind of have to take it day by day. It's pretty fun, just having a really nice time with our friends."
Amid much anticipation, Wet Leg is releasing its self-titled first LP via indie label Domino on April 8. "We're really stoked. [It's] nice to have all of our cards laid out. We're excited," says Teasdale about the release of the record, which was recorded in London in April 2021. Adds Chambers, "We went in with Dan Carey, [who produced most of the album], and we just spent two weeks being guided by his wisdom. He was really the magic man. We were so lucky. I can't imagine what we would've made [with anyone else]."
With their charmingly down-to-earth demeanor and funny rapport, Teasdale and Chambers, longtime friends before they became musical partners, behave more like a comedy duo than your typically serious and brooding indie rock act. They joke around, laugh and finish each other's sentences. The irreverent and sarcastic humor of their lyrics is complemented by their catchy post-punk rock sound. Their music videos have a similarly absurdist bent recalling Monty Python's Flying Circus and The Monkees. However, the lyrics on the Wet Leg album sometimes show a serious side, tackling such things as the trials and tribulations of relationships ("Piece of S***," "Loving You"), and the angst of being a young outsider ("I Don't Wanna Go Out," "Too Late Now").
"Looking back on it, I don't think we really intended to write with any theme or thread running through," says Teasdale "because we were like, 'They're giving us this opportunity to write an album? How the f*** are we gonna make an album?' So we weren't very objective about it." She adds with a laugh, "It just so happens there is a running theme of disenchantment—like being sad at parties."
Teasdale acknowledges that the lyrics on Wet Leg are about 99 percent autobiographical. The single "Wet Dream," which was based on an interaction with an ex-boyfriend. "We broke up," she recalls, "and I would receive messages after the breakup, saying, 'Oh, I had a dream about you and we were married.' So it was like that. But mainly, it was describing that kind of character, that kind of person [who] will try to pick up girls by being like, 'Oh hey, do you know this band?' 'Oh hey, do you know this indie cult film?' They kind of use that as currency."
The pile-driving rocker "Oh No," a previously released single, captures society's fixation on doom scrolling "Some of our songs have a lot of inside jokes, and that is one of them," Teasdale explains. "When me and Hester were hanging out quite a lot, we would be lying around her flat on the floor with our phones in front of us. One of us would realize that we've been [scrolling for] an hour past—we hadn't spoken to each other. So to break the spell, you have to be like [shouting], 'I'm scrolling! I'm scrolling!'"
Chambers and Teasdale also included their signature hit on Wet Leg. "Chaise Longue" is a deadpan look at 20-something boredom and angst. It begins ''Mummy, Daddy, look at me/I went to school and I got a degree/All my friends call it the big D/I went to school and I got the big D," then proceeds to, 'Is your muffin buttered?' a line from the movie Mean Girls before getting to the chorus: "On the chaise longue, on the chaise longue, on the chaise longue/All day long on the chaise longue."
The track was actually written on a chaise longue. "It's where Rhian sleeps when she comes around for a sleepover," Chambers says. "So it's there. It's real."
"'Chaise Longue' has a lot of sarcasm in it," she adds. "It's such a lighthearted, funny song. We got asked the other day in an interview if 'Chaise Longue' is a political song. We were like, 'No, it's just about a chaise longue.'"
The two admit the viral reaction to the song, whose accompanying video has been seen over 3 million times on YouTube so far, caught them off guard. "It was a big surprise," Chambers admits. "It wasn't what we were expecting. It doesn't make any sense."
"It hit like 10 million streams the other day, which is just so silly," Teasdale chimes in. Chambers and Teasdale hail from the Isle of Wight, located off the south coast of England, population just over 140,000. The two first met in 2012 at the Isle of Wight College in their late teens, and then later dropped out, according to Chambers. "We had musician friends," she recalls, "so we would do little bits of singing here and there together. And then one day Rhian blew up my phone and being like, 'Hester, you have to play guitar with me!' And I would say, 'Sure, I'll do that,' just to make her calm down."
"I was really blowing up your phone," Teasdale says. "I was incessantly calling and texting you, and then I'd call your boyfriend and get him to pass the message on."
"You even put notes under my door," Chambers responds. "And then during that time playing together," says Teasdale, "we were like, 'Why don't we make this like a band thing?'"
They hit on a name for the band when they started looking for a name that could be conveyed via emoji. Wet Leg made their live debut in 2018 at the local stage of the Isle of Wight Festival. "We played to about six people because we were on very early in the day," says Chambers. "It was our very first gig. So they did us a massive favor by putting us on at all. We had fun. It was scary."
Since then, the crowds and venues have certainly gotten bigger for Wet Leg after the overwhelming reception to "Chaise Longue" and the follow-up single "Wet Dream." The duo have also been name-checked by Iggy Pop, Hayley Williams of Paramore, Florence Welch of Florence + the Machine, and Simon Le Bon of Duran Duran, who told Sky News in 2021, "Wet Leg is definitely my artist of the year."
"It's changed our lives entirely," says Teasdale about the public's reaction, "because we're never at home anymore. We're away a heck of a lot. So yeah, a big change—especially coming out of lockdown where we were all indoors for 18 months. It's great. It's such a fun experience."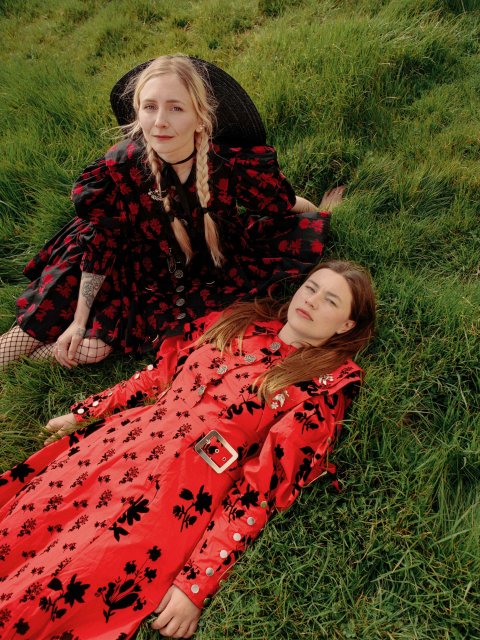 They still have trouble believing all of this attention is happening to them. Teasdale explains, "Everything that we do and everywhere that we go, we're like, 'We're not supposed to be here.' When are we gonna get found out? They're gonna kick us out.' Especially the TV things—they're so funny. I'm pretty sure the tour bus we're in right now is not [for] us, but we accidentally commandeered it."
"Let Weg," jokes Chambers, to which Teasdale responds, "Let Weg want their bus back."
"None of it really makes sense," says Chambers. "We're just flying by the seat of our pants." Following the U.S. tour, the remainder of this year for Wet Leg will include show dates in the U.K. and parts of Europe.
As for what she would like people to feel listening to their debut album, Teasdale kiddingly says "distraught and anger" and then adds, "Probably the opposite of that. I hope that they enjoy it if they want to. I hope that they're not disappointed in us." "You can't do it all," Chambers admits. "I want people to say, 'I'm not angry. I'm just disappointed,' when they listen to the album," adds Teasdale.
David Chiu @newbeats is a Newsweek associate editor who writes frequently about popular music.