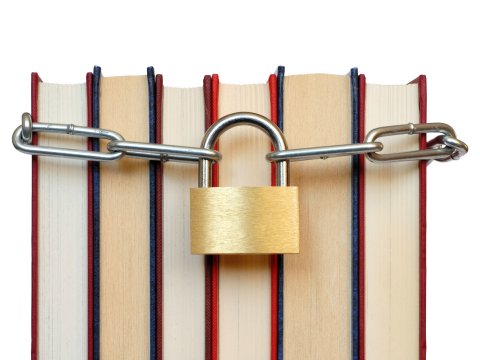 Some 1,597 books have been challenged or removed from libraries over the past year, according to the latest figures from the American Library Association (ALA)—the highest number since the organization began keeping track 20 years ago. Deborah Caldwell-Stone, director of the ALA's Office for Intellectual Freedom, says, "We're seeing an unprecedented volume of challenges since last September, honing in on books that deal with the experiences of Black persons and LGBTQIA persons."
Also unprecedented: Books like George M. Johnson's memoir about growing up Black and queer, All Boys Aren't Blue (published in 2020), and The 1619 Project (2021) by Nikole Hannah-Jones and The New York Times Magazine are not only facing removal from schools this year, but legal opposition as well. Several states including Florida, Texas and Iowa, recently passed bills that prohibit teaching or discussing what they call "divisive concepts." Caldwell-Stone refers to the restrictions as educational gag orders, adding: "Books are being removed under the falsehood that they are 'critical race theory' or 'obscene' simply because they address topics dealing with gender and sexual identity."
On the ALA's list of 2021's top 10 most challenged books (see below), released earlier this month, every title focuses on marginalized communities or issues of sexuality. Newcomers to the list include Gender Queer (2019), Maia Kobabe's memoir on growing up nonbinary and asexual; Juno Dawson's This Book Is Gay (2014), which also focuses on sexuality and gender; and Jonathan Evison's Lawn Boy (2018), the coming-of-age story about a young Chicano landscaper.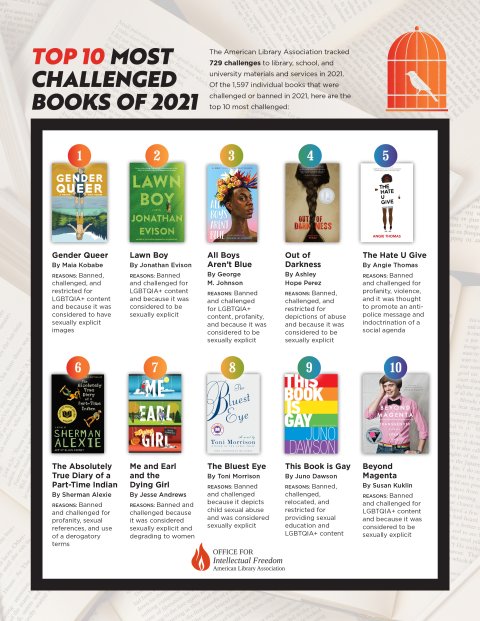 Advocates who want to keep the challenged books out of schools argue that they are inappropriate for young people. "Books like Lawn Boy, which graphically describes oral sex between a young boy and an adult, don't belong in schools," says Elana Fishbein, founder and president of No Left Turn in Education, a national organization against what it describes as a "Leftist agenda" in public education. "Neither do books that teach kids to view each other through the lens of race." Those opposed to the challenges, however, note that they were written specifically for young people, and that book bannings violate the First Amendment—as well as depriving students of different perspectives and experiences. The public seems to agree: A recent ALA survey found that seven out of 10 voters across party lines oppose books bans.
The following selection of books tell the stories of marginalized protagonists—the target of most of the recent bans—from around the world. All have faced challenges or bans within the past few years, and most hold the dubious honor of spots on ALA's list of the Most Challenged Books of the past decade.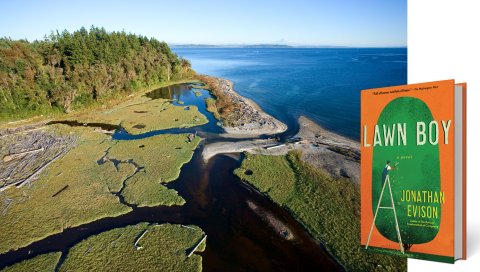 Lawn Boy by Jonathan Evison | Algonquin
Bainbridge Island & North Kitsap, Washington
Evison's coming-of-age, semi-autobiographical novel follows Mike Muñoz, a young Chicano living in Washington State who has recently been fired from his job on a landscaping crew. Parents from a Texas school district filed two police reports over the book, and officials in Minnesota removed the book from the high school library altogether for alleged pedophilia and inappropriate language, among other reasons.
The Bluest Eye by Toni Morrison | Vintage
Lorain, Ohio
Published in 1970, the story is set in Morrison's own hometown and follows the abused Pecola Breedlove, who yearned for blue eyes and to escape her circumstances. The book made headlines earlier this year when a St. Louis, Missouri school district voted to remove it from libraries, citing "graphic sexual violence." The ban was overturned in February.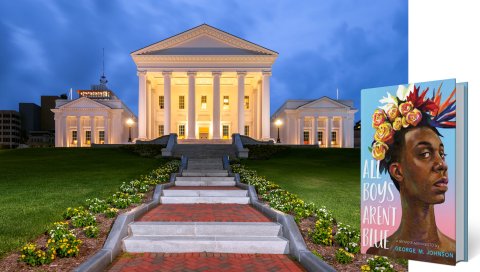 All Boys Aren't Blue by George M. Johnson | Farrar, Straus and Giroux
Richmond, Virginia
This young adult memoir details the author's experiences growing up Black and queer in New Jersey and Virginia, from dealing with bullies to finding a sense of community within the Alpha Phi Alpha Fraternity at Virginia Union University. Removed from several school libraries across the country, a school board member in Florida even filed a criminal complaint, alleging the book violated state obscenity laws.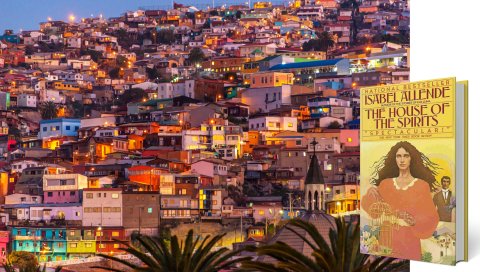 The House of Spirits by Isabel Allende | Bantam
Chile
Allende's debut novel is an epic story that follows four generations of women in the Trueba family through post-colonial Chile. A critically acclaimed bestseller, it's the winner of the Hans Christian Andersen award. It's also been relentlessly challenged since its publication on the grounds of being "immoral."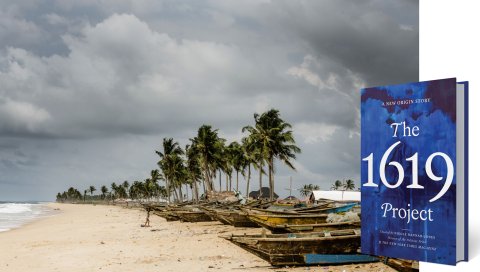 The 1619 Project by Nikole Hannah-Jones, The New York Times Magazine | One World
Africa and Virginia
Targeted by Republican lawmakers since its publication, the book attempts to reframe American history within the context of slavery. It begins with the first ship bringing enslaved African people to Virginia in 1619 and features essays by various authors and historians who explain the enduring present-day ramifications on American society.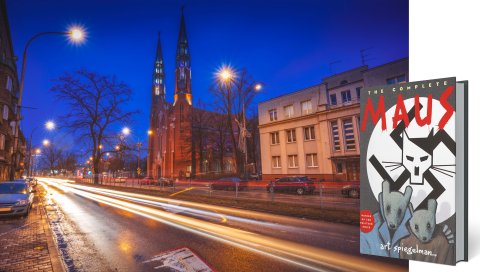 Maus by Art Spiegelman | Pantheon
Poland
The Pulitzer Prize-winning graphic novel (1992) tells the story of Spiegelman and his father, Vladek, a Holocaust survivor. Vladek lived in Sosnowiec before being arrested by the Gestapo and taken to Auschwitz. This year, a Tennessee school board voted to remove the book from its eighth-grade curriculum, citing nudity and "rough, objectionable language." The ban sparked renewed interest in the book, which recently topped Amazon's bestseller list.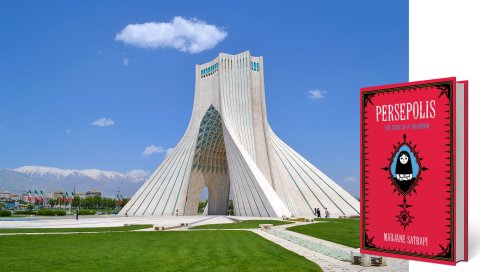 Persepolis by Marjane Satrapi | Pantheon
Tehran, Iran
This graphic memoir details Satrapi's youth in the capital city during the Iranian Revolution in the late 1970s. Since its publication in 2000, the book has been the target of multiple bans in school districts across the country. In the past decade, most of the removals have stemmed from Islamophobic sentiment. This March, it was pulled from a Pennsylvania school district curriculum due to parents' complaints of violence and "promoting liberal ideology."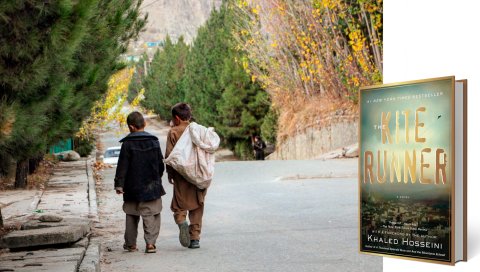 The Kite Runner by Khaled Hosseini | Riverhead Books
Afghanistan
Set during the Soviet intervention in Afghanistan, The Kite Runner follows the friendship of two boys, Amir and Hasaan. The bestselling novel has been on the ALA's most challenged list multiple times, stemming from its inclusion of a homosexual rape scene and fears it promoted Islam and terrorism.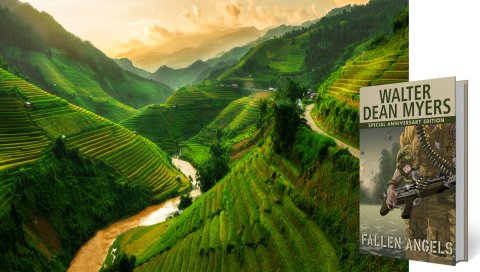 Fallen Angels by Walter Dean Myers | Scholastic Inc.
Vietnam
The story follows a young Black protagonist named Richie Perry from Harlem to Vietnam, where he's enlisted in the army during the war. Schools around the country have banned the Coretta Scott King Award winner on the grounds of profanity, drugs, violence and sexual content.