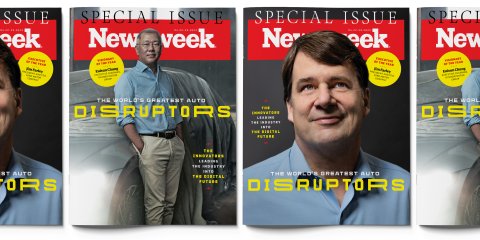 For our inaugural awards honoring the World's Greatest Auto Disruptors, Newsweek is honoring individuals and companies that are using technology to drive transformative change in the industry. What all of our winners have in common: They are in the forefront of the movement to bring the cars of today into the digital future, and are doing so in ways that benefit both consumers and their companies' bottom lines.
Here's a closer look at this year's winners in six categories. (For details on how Newsweek picked the recipients of the 2022 Auto Disruptors awards, see "How We the Picked the World's Greatest Auto Disruptors 2022" at the end of the story.)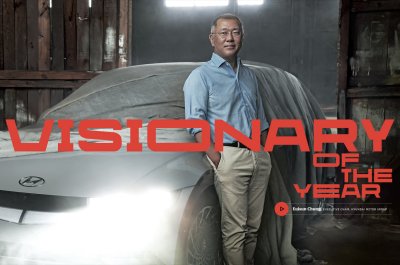 VISIONARY OF THE YEAR
Euisun Chung
Executive Chair, Hyundai Motor Group
Hyundai Motor Group's Executive Chair Euisun Chung isn't just focused on the cars of today. He's pushing the company, and its Hyundai, Kia and Genesis brands, into the future in several key ways. The company is becoming more vertically integrated, with Hyundai acquiring stakes in many of the companies that supply it with materials and components. It is bringing numerous electric models to market and testing hydrogen fuel-cell powered vehicles. And it has acquired a major robotics company with an eye toward a future in which wheeled devices will move people and things around their homes and workplaces.
Those initiatives, which collectively put Hyundai Motor Group at the forefront of disruptive change in the industry, make Chung Newsweek's Auto Disruptors Visionary of the Year.
"From the very start, when my visionary grandfather, Ju-Yung Chung, founded the company, we have always wanted to make a genuine and positive difference to people's lives," Chung tells Newsweek. "You could say that we have always been disruptors and today the ambition to create, improve and move forward is evident in the people and teams around the world who are part of Hyundai Motor Group. Personally, I feel compelled to drive change where it is needed and I believe it is imperative that those of us in a position to change the world for the better must accept the responsibility and embrace it."
Alternative fuels play a major role in Chung's plans for Hyundai's future, as the Group pushes forward in an ambitious way on electric cars and trucks. The company will have 14 battery-electric vehicles under the Kia brand by 2027 and 11 Hyundai and six Genesis battery electric vehicles by 2030. The goal: to sell 3 million units and capture 12 percent of the global electric vehicle market by 2030.
Chung isn't just planning on an electric future, though; he's also betting on hydrogen. "We believe fuel cell and battery electric technologies are complementary, not competitive," he says. "To realize zero-emissions mobility at a global scale and counter the climate change crisis, we should foster both. One cannot replace the other."
Considerable progress has already been made. In 2021, 46 hydrogen-powered Hyundai test trucks in Switzerland drove 1.2 million miles. Diesel fueled trucks would have put 1,268 tons of carbon into the air. The hydrogen trucks' only emissions were small amounts of water from their tailpipes.
Still, challenges remain. The necessary support infrastructure for hydrogen vehicles—for example, networks of fueling stations—hasn't been built at scale yet, so Hyundai is trying to speed that along with a series of global corporate collaborations. "Through strategic partnerships with hydrogen, energy and logistics companies around the world, we will help accelerate the development of a hydrogen society. All in all, we are building what tomorrow needs," Chung says.
Hyundai is also planning a future for itself that goes beyond cars and trucks. "We are focused on multi-disciplinary innovation and are reshaping the potential of the automotive industry by providing holistic solutions to these challenges," Chung says. "Our work includes supporting the development of smart cities with a fully integrated approach and by developing a variety of eco-friendly mobility solutions tailored to diverse customer lifestyles. By doing so, we aim to provide mobility solutions for individuals, business and society overall. This is a key differentiator for Hyundai Motor Group and one of our strengths," he adds.
Toward this end, Hyundai last year acquired Boston Dynamics, a robotics company best known for its four-legged "dog" robots named Spot. The company showcased the acquisition at this year's CES in Las Vegas, considered the premiere platform for technological innovation. There, Hyundai displayed small "Mobility of Things" modules that can move people or things, not on roads but rather in homes and businesses. The company also talked up what it calls "Metamobility," a combination of robotics and virtual reality that would connect users and their vehicles to the "metaverse."
Meanwhile, Hyundai's Urban Air Mobility unit, under the company name Supernal, is working on both electric vertical take-off and landing vehicles and the various logistics challenges surrounding mass adoption of the technology.
Through all of this, the company has placed especially high importance on further integrating its business, research and design and manufacturing operations. "One needs to look no further than the ongoing supply chain challenges to understand why vertical integration is necessary," Chung says. "While strategic partnerships and a robust supply chain will always be essential, in this business there are areas where we need to be self-sufficient, from components to finished goods." —Eileen Falkenberg-Hull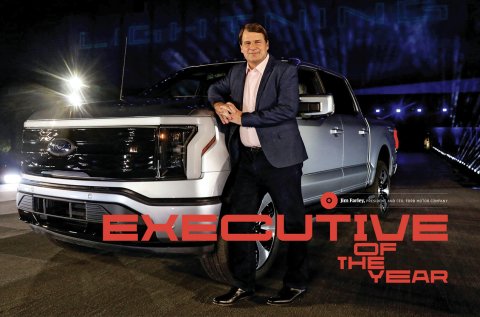 EXECUTIVE OF THE YEAR
Jim Farley
President and CEO, Ford Motor Company
Ford president and CEO Jim Farley's grandfather worked on the line that built the Model T more than 100 years ago. Now Farley has been tasked with advancing the Ford family legacy of auto disruption and innovation into the twenty-first century by moving the company to the forefront of the industry's digital future.
The steps taken in 2021 to push Ford forward toward this goal, blending the company's storied history with goals around sustainability and digital innovation, are why Farley is Newsweek's Auto Disruptors Executive of the Year.
Farley has introduced electric vehicles starting with iconic nameplates: Ford Mustang Mach-E and F-150 Lightning and Lincoln Zephyr. Those models can be modified without stops at dealerships. Their connected technologies allow for digital range, suspension and handling upgrades wirelessly.
"This digital transformation has ripped its way through business and, after years of talking about it, it's finally arrived in our industry. I think Tesla deserves a lot of credit for their acknowledgment of the shift more than 10 years ago," Farley tells Newsweek. "We call that 'Always On' at Ford. You're always improving the product, you're always talking to the customer. It's not this episodic thing when you buy a car and if something breaks you go to the dealership—those days are over."
Interconnectedness is key. "For us, 'Always On' means that yes, it's a digital powertrain with electrons but, more importantly, the electrical architecture shifts to an embedded system like the phones," Farley says, holding up his Apple iPhone.
To gain insight into the process, Farley talked to the chief executives of General Electric and Sysco, big companies also going through digital transformations. "They all had the same drumbeat," he says. "During the transition, supply chain becomes really important. And don't ask your team to do too many things. That really resonated with me."
Those conversations led to a fresh way of doing business at Ford, including the launch of two new divisions: Ford Blue and Ford Model e, which work separately to innovate current (Blue) and future (Model e) products. It's part of a push to disrupt the industry quickly.
"Watching my team struggle with this change to digital product," Farley says, "it became very clear to me and the leadership team that the only way to make this go faster, and to catch up to where customers already are, is to create an innovation team."
To shore up its supply chain, Ford has broken ground on BlueOval City, a $5.6 billion campus in Stanton, Tennessee. The facility is intended to revolutionize the way Ford makes components and vehicles, emphasizing sustainability while bringing 6,000 jobs to one of America's poorest regions.
"This is our chance to build a carbon neutral plant and do so in a socioeconomic location where there was very high unemployment and not a lot of jobs," Farley says. "So it's kind of like what we did in the '20s in the company [when] lots of people moved from the South and overseas to work to get $5 a day from Mr. Ford."
Ford is also planning a $5.8 billion battery manufacturing complex with SK Innovation in central Kentucky that will create 5,000 new jobs.
"It's really a revitalization of our commitment to America," Farley says. "Ford is one out of every five vehicles that are built in the United States. We're the largest employer in the U.S. in our sector even though we don't sell the most. We bet on the U.S. This is a revitalized bet on the U.S., merging our aspiration for carbon neutrality with our history as a great manufacturing company and our history of doing social good. —Eileen Falkenberg-Hull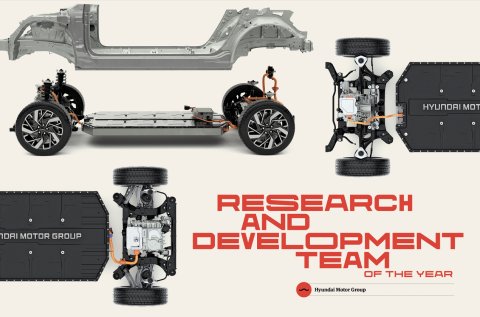 RESEARCH AND DEVELOPMENT TEAM OF THE YEAR
Hyundai Motor Group
Hyundai Motor Group's engineering team developed the company's new Electric Global Modular Platform (E-GMP), which underpins a new generation of vehicles aimed at democratizing an electrified future. It earns its creators Newsweek's Auto Disruptors Research and Development Team of the Year Award.
One of the benefits of electric powertrains is the ability to have a more spacious interior. Hyundai aimed to take advantage of this by creating an interior design the company says is a reflection of how people live and work today.
"Over the past few years, humanity has gone through major changes," Fayez Abdul Rahman, senior vice president of Hyundai's Vehicle Architecture Development Center, tells Newsweek. "As a result, having mobility that provides a smart living space where we can safely and comfortably spend time has become more highly valued." That includes features like a movable console and vehicle-to-load charging, which allows the car to provide electricity for other devices for uses like car camping and remote office work.
According to Rahman, E-GMP has also improved vehicle dynamics. "We took advantage of the EV's structure to enable more stable and comfortable driving by lowering the center of gravity," Rahman says.
Going forward, Hyundai expects the E-GMP platform to be used in 23 battery-electric vehicles by 2025 ranging across the Kia, Hyundai and Genesis branded lineups. Currently, the Kia EV6 and Hyundai Ioniq 5 ride on the architecture. Vehicles built on the platform will be capable of getting up to 310 miles of all-electric range.
Rahman adds "By developing this new platform, we are proactively preparing for the autonomous driving era." —James McCandless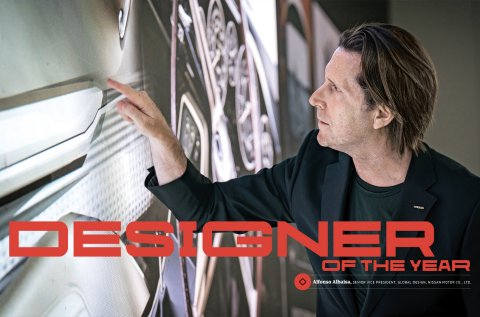 DESIGNER OF THE YEAR
Alfonso Albaisa
Senior Vice President, Global Design, Nissan Motor Co., Ltd.
When it comes to automotive design, the passion is in the process for Alfonso Albaisa, Nissan's senior vice president of global design. That passion has led to a reinvigoration of Nissan and Infiniti design.
In just 20 months, Nissan has introduced, revised or launched nearly every key model it makes, from the fully electric Ariya to the highly-anticipated next-generation Z. The Rogue, Pathfinder and Frontier also underwent generational overhauls. This disruptive, accelerated cadence is why Albaisa earns Designer of the Year honors.
In order to create a sense of uniformity in the line up, Albaisa and his team selected a list of terms to define their new design approach. One of them is ma, a Japanese approach to minimalism that can be seen throughout the line up. "In music, the silence between the claps is ma," Albaisa says. "But it's not empty, actually. It's full of tension. It's also full of some sound waves. [Nissan design] fell in love with all of this stuff, and that's how we create this minimalism, and this harmony, and this completeness, with very few elements."
Albaisa and his team are focusing on the future. They'll be busy. The company plans to have 23 electrified models, including 15 new battery-electric vehicles in its lineup by the end of the decade as part of its Nissan Ambition 2030 plan. –Tatiania Perry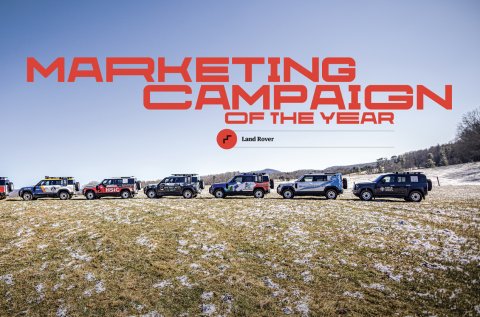 MARKETING CAMPAIGN OF THE YEAR
Land Rover
Land Rover has been supporting volunteer organizations and nonprofits across the world for almost a century. The company's Defender Above & Beyond Awards are an extension of those efforts, combining the launch of a new vehicle with a marketing campaign that disrupts the traditional way of advertising a model, earning Land Rover Newsweek's Auto Disruptors Marketing Campaign of the Year honors.
"For the last 70 years, we have a strong legacy of providing vehicles to organizations that are doing good not only for the community but also those that reach around the globe," Joe Stauble, public relations and communications manager at Land Rover, tells Newsweek. "When we launched the Defender, after a hiatus of about 24 years in the market, it was right around the time that the pandemic was taking place. It was just such a great opportunity for us to give back."
To be considered for the awards, organizations were required to produce a video explaining their mission and why a new Defender would help them fulfill it. Land Rover opened up entries to community service organizations in seven categories: search and rescue, marine conservation, urban improvement, fire and rescue, environmental conservation, animal rescue and first responders. Land Rover's brand ambassadors, including Winter Olympians Lindsey Vonn, Steven Nyman and Meghan Duggan, along with pro surfer Laird Hamilton, narrowed down the initial applicants. Those who made the cut were then voted on by the public. Over 350 submissions and 175,000 votes were received. Winners were announced in September 2021. The organizations then sat down with Land Rover design to create custom vehicles for their respective missions.
"This program really creates a lot of linkage between Defender capability, and the desire to serve, and being connected to a community," says Michael Curmi, director of brand experience for Jaguar Land Rover. "For me, those are the three things that we came in every day and worked on for this project. This was a labor of love." —Tatiania Perry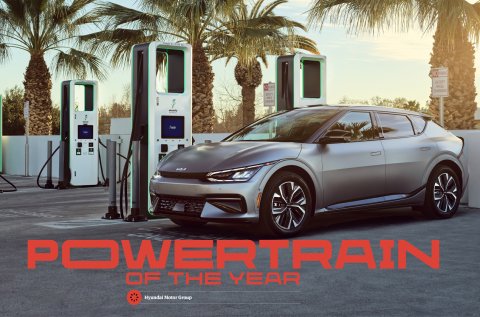 POWERTRAIN OF THE YEAR
Hyundai Motor Group
Hyundai Motor Group went into development of its new generation of electric vehicles aiming to improve efficiency and range. The company is now offering buyers a choice of a 400- or 800-volt electrical system that enables long ranges and fast-charging capabilities—at prices that are far lower than those of cars previously on the market with the technology.
The democratization of that advanced power technology, and its potential to disrupt the auto market, is why the company wins Newsweek's Powertrain of the Year award.
With the creation of a new power distribution technology, engineers sought to emphasize Kia, Genesis and Hyundai vehicles' quick acceleration, made possible by the instantaneous throttle response that EVs deliver. The new system is capable of achieving up to 310 miles of all-electric range. Its architecture enables reduced charging times, with some vehicles able to go from 10 to 80 percent charged in around 20 minutes, down from the hours it currently takes most models.
Creating an electrical system that could support such a strong power flow meant proving the technology under a multitude of conditions that drivers would face. "Many parts were newly developed for our E-GMP platform, with a huge amount of work done to ensure durability, performance, robustness and safety," says Alain Raposo, Hyundai Motor Group executive vice president and head of the electrified propulsion development tech unit. The models are built with an ultra high-strength steel frame and are designed to distribute the force of an impact more safely across the vehicle's body and battery.
Years before its debut, the widespread adoption of EVs seemed a distant dream. As far back as 2017, the team was making decisions on battery architecture, design and cooling systems, and betting on the future. Now, the new system can be found in the Kia EV6 and Hyundai Ioniq 5 models that are at dealerships worldwide.
"The next step is clear: maintain our lead in EV technology to best meet our customers' evolving needs," Raposo says. "We have ambitious technology road maps that will enable us to continue improving and offering our customers an exemplary EV experience." —James McCandless
******
How We the Picked the World's Greatest Auto Disruptors 2022
For its initial list of candidates, Newsweek asked America's automakers to submit nominations for the World's Greatest Auto Disruptors awards from within their ranks. Then, led by Newsweek Senior Autos Editor Eileen Falkenberg-Hull, the Autos team combed through a year's worth of infotainment, powertrain, platform, marketing, business and information about other advances in the industry to further identify the accomplishments of nominees. To be considered, candidates had to be employing technology, marketing or vision in a way that is driving fundamental, transformative change in the automotive market, with measurable real-world results—or have clear and demonstrable potential to do so. The list was then narrowed by the Autos team, which includes editor Jacob Lingeman and writers Tatiania Perry and James McCandless. Winners were chosen after a consensus was reached among the Autos team and Newsweek top editors.