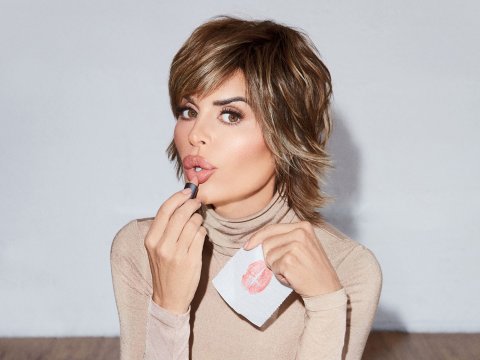 If there's one person who has changed the landscape of modern reality TV, it's Lisa Rinna. Do a GIF search for any myriad of reactions and you'll find Rinna from Bravo's Real Housewives of Beverly Hills. Part of the reason for this is how honest she is on the show. "No one's more hated than someone who's honest. The truth is a tough pill for people to take. What you see is what you get with me." And part of what you get is a multi-hyphenated resume beyond just reality TV star: actress, businesswoman and now, makeup maven with Rinna Beauty. "Life is short and you don't have to just do one thing." Known for her lips, Rinna says she is "100 percent involved; nothing is created without me," and that part of the goal of the beauty line is to get people to think about their lips differently. "How can we treat your lips like we do our skin?" With everything she does, it's fair to assume Rinna isn't going to slow down. "I really figured out that it was time to start saying yes to the universe. And I haven't stopped since I was 40. It seems to have worked."
You've become such a memorable Housewife, did you have reservations before joining the franchise?
I did. My husband [actor Harry Hamlin] did too. He was like, "I don't understand this. I don't think it's a good idea in any way, shape, or form." And it's never something I aspired to, but I am smart enough to know that as I aged, in this business, as an actor, as a female, you don't get to work for very long. I remember thinking when I turned 40, I better diversify. I better figure this out. Because my time's up at 40. Because that's what happened to me. It just started to dry up. And I thought, I feel great. I think I still look great. So I'm not going to accept this. That's when I started to branch out and be open to other opportunities.
With your makeup line [Rinna Beauty] and your clothing line, how did you approach new endeavors other than acting?
I have a lot of passion and a lot of different interests. I literally said to Harry, you know what, I can't just support myself and us on one job, we got to do more. And that's where it came out of. I love clothes, I love to shop, how can we make money off of that? It was born out of following your passion, doing some other things because life is short and you don't have to just do one thing. And that's how it started and I've never really said no to anything after that. Unless it's really skanky, then I will say no. You know what I mean? There are some things I've said no to, but I really figured out that it was time to start saying yes to the universe. And I haven't stopped since I was 40. It seems to have worked, I guess.
And I feel like it's worked for you. You seem more successful now than you've ever been.
I think I am. I mean, what's been so incredible is to be able to launch a beauty business at 57 years old. Who does that? Nobody. I think the thing about me that has helped me in many ways is that I'm so naive. I don't think, oh my god, you're 57 years old, no one's going to want to start a beauty business with you. Like, I don't think like that. I go, I want to do this lip line. I've wanted to do it for 15 years. I'm not going to give up. That's kind of where my head is. So I think because I'm positive and because I grew up in a household where my mom taught me how to be a survivor, and be positive and never give up. That's the truth.
I'm shocked that people said no to you, especially for a lip line. That's such a no-brainer.
I had a couple of deals fall through. I thought, "Okay, well, maybe the universe is telling me I'm not supposed to do this." I mean, it seemed like such a no-brainer for me to start a lip line. Why isn't this easy? I literally had five deals in place that fell through, like real deals, the agents were making the deals, it was all happening. So it wasn't even like people were just saying, no, go away. It's never gonna happen. We were making deals and then something would happen and it would fall through. But I have a lot of tenacity.
Because of your reputation from RHOBH, it can feel like we know you, and it feels authentic, even though it's an edited version of you. Do fans ever cross the line?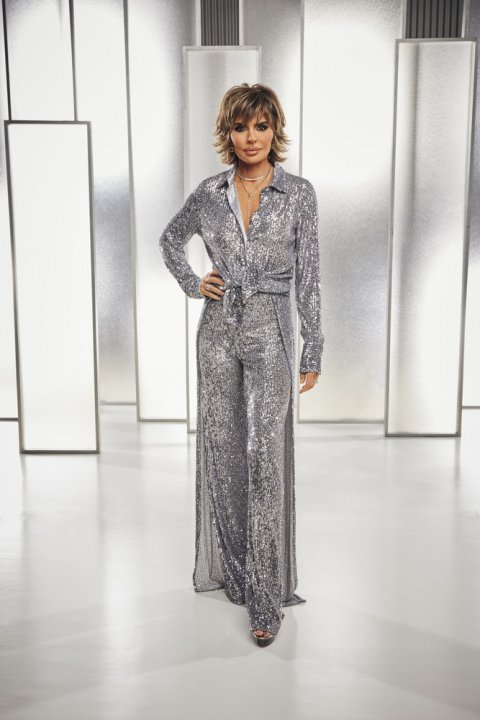 Lisa Rinna from Bravo's 'Real Housewives of Beverly Hills.'
Tommy Garcia/Bravo
Well, yeah. And I think what's hard for me is you really only get to see me being my authentic self in this situation where bombs are thrown at me that are not thrown at me in life. So you don't really get to see a full 360 view of how I am in all different situations, because of the way the show operates. We operate in a way where you're in certain situations that maybe I'm not necessarily in on a daily basis in my life. So I appreciate you saying that I'm authentic in the moments that you see me in, and I do believe I am. I just don't think that in my real life, I am put in those kinds of situations. The show does show you a side of me that isn't really the side of me that everybody lives with on a daily basis. I'm more fun. I'm calmer. I think the skew happens for the fan base as they think I'm much more angry and mean than I really am in life. I'm just reacting off of what I'm being thrown on the show.
It's interesting that people think you're angry or mean. Why do you think that is?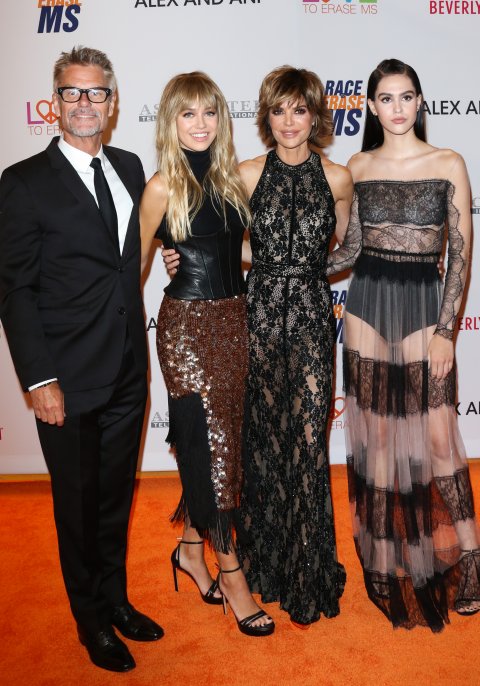 (L-R) Harry Hamlin, Delilah Belle Hamlin, Lisa Rinna and Amelia Gray Hamlin attend the 24th annual Race To Erase MS Gala at The Beverly Hilton Hotel on May 5, 2017 in Beverly Hills, California.
Paul Archuleta/FilmMagic for Fashion Media
Oh, I get that more than anything. Because I'm honest. And I'll tell you what, no one's more heated than someone who's honest. The truth is a tough pill for people to take. I'm honest and people would prefer me not to be and I'd be liked a lot more, but that's not what you're ever going to get. What you see is what you get with me. Most people don't like that because they don't want to know the truth. I think, in a nutshell, that's why I'm so polarizing on the show. You either love me or you hate me. There's really no in between. I'm okay with that. When I was growing up, and I started acting, it was really interesting. My first acting teacher said to me, you have no opinion. You don't have a point of view. And if you don't have an opinion, you can't be an actor unless you figure out how you feel about things. He was right. I was afraid to have an opinion. I was afraid to say how I felt. So that was probably one of the greatest critiques I've ever had in my life. By the time I got to Housewives, it was like free rein. Housewives is like, we want you to think out loud and to say how you feel. So then the floodgates opened, and all of a sudden, I was able to really exercise what that teacher had said to me when I was 24 years old.
How involved are you in coming up with the products for Rinna Beauty?
I am 100 percent involved. Nothing is created without me. I mean, of course they bring ideas to me. I test everything. Everything that's sent to me, I either say yes or no, so I send it back until we get it right. It is a beautiful collaboration because obviously I'm not in the beauty business. I needed a team that is in the beauty business that makes this stuff. It's a beautiful collaboration. My daughters get involved because they really have their finger on the trigger. Recently I got a sample of something that's coming out and I gave it to Delilah and she flipped. She said, "Mom, this has to come out right away." When your 23-year-old daughter says something like that, that's a real good sign.
It's wild that anybody would turn you down for a lip line? You are lips!
That's why I love this whole thing we are doing about it being vegan and cruelty-free and about lip care. It's not just about throwing something on your lips. How can we treat your lips like we do our skin? I think we've really come up with some amazing ingredients to help your lips stay looking younger.
I feel like when a celebrity comes out with a business, they don't get political or express their opinions on hot-button issues. You're the opposite. Was that ever a concern for you, the impact your opinions might have on your business?
Of course. It does affect my business and it has affected my business. But here's the thing, I have to be my authentic self. So if my business is going to be affected, and by the way, it doesn't really affect it that much. I mean, there might be a hit. I can always tell on my Instagram, if I put something out that was really polarizing or whatever, all of a sudden I will lose followers. Then a couple days later it zooms right back up. So yeah, I just won't sacrifice who I am. I won't. And, yeah, who doesn't like to make money? Of course, I want my business to do well, but I'm not going to sacrifice who I am in order to do that. And that's the truth. Because at the end of the day, when you're on your deathbed, I'd much rather be able to say, "You know what, I stood up for what I believed in, rather than I pushed out because I was too afraid."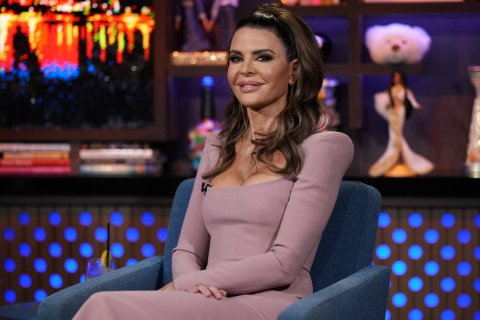 I would put you up there with former Real Housewives of New York City cast member Bethenny Frankel in terms of your business savvy.
God. I mean, she's my idol. She's one of the reasons why I got Harry to agree with me doing Housewives. I presented Bethenny to him and what she's done. She really changed the game. I've always aspired to that because I think she's so smart and so savvy and no one's done it like Bethenny. I feel so grateful and so blessed that you just even put me in the same sentence with her.
Are you surprised at how savvy you are at business?
I guess I am. But I'm also not. People will say to me, "Oh my god, you could sell ice to an Eskimo." So I guess it's just ingrained in me. I'm surprised because it was never what I've set out to do. But I'm really happy that I'm able to do it.
What can we look forward to from the new season of Real Housewives of Beverly Hills?
I think it's one of the best seasons ever. I really do. There's so much that goes on that is real. My mom's passing and Dorit's home invasion. Erika and what she's going through and still going through. There's just so many real issues that we're dealing with. And then what goes off of that, it's beyond.
Listen to the full conversation with Lisa Rinna on Newsweek's Parting Shot with H. Alan Scott (@HAlanScott).