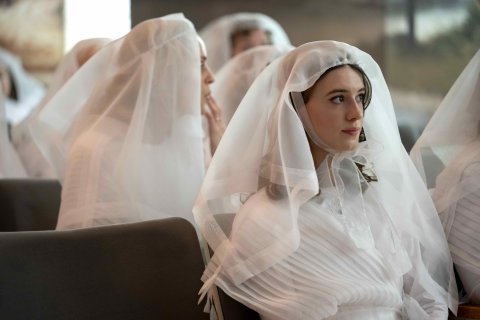 Under the Banner of Heaven is not your typical true-crime drama; there is a crime and a detective―played by Andrew Garfield―trying to solve it, but it is also an intricate examination of faith, fundamentalism and the truth behind a shocking crime.
The seven-episode FX series, which premiered on Hulu on April 25, details the deaths of Brenda Wright Lafferty and her 15-month-old daughter Erica in 1984. The two were killed at their home in Utah by Brenda's brothers-in-law, Ron and Dan Lafferty, after they had received a "revelation" from God. The brothers were found guilty of murder in 1985: Dan received two life sentences which he is currently serving; Ron was sentenced to death, but died of natural causes in prison at the age of 78 in 2019.
In addition to the killings and subsequent police investigation, the series also explores the creation of The Church of Jesus Christ of Latter-day Saints (LDS), and Brenda Wright Lafferty's life.
Show creator Dustin Lance Black tells Newsweek, "I want to celebrate her courage because to be curious as a Mormon woman, particularly in that time, was courageous. Once I got to know her family, and her family trusted me with her journals, entrusted me with the letters she wrote to her sister at the time, I felt very close to Brenda, very inspired by Brenda."
Daisy Edgar-Jones, who plays Wright Lafferty, says, "That was a really important aspect of why I signed on because when I read the first few episodes and I spoke with Lance about it, I was quite clear to him that that was something I really wanted to deal with Brenda, [to] really celebrate what an incredible person she was."
Garfield's Detective Jeb Pyre is a man whose faith is tested by the horrors of Wright Lafferty's death. His belief both in God and the teachings of the LDS Church waver the more he learns of the dark secrets of the family she married into.
While his character was created specifically for the show, which is based on Jon Krakauer's nonfiction book of the same name, Garfield says his performance was informed by talking with a real Mormon detective who had gone through a comparable ordeal.
"I managed to speak to someone in Utah who had been through something similar," Garfield says. "He talked to me under anonymity, but he was a detective that was Mormon and that was on a case that really tested his faith. A horrific case that had connections to the early days of Mormonism, and he gave me lots of insight. His experience of struggling with his own faith while he was working on this particular case was kind of the thing that put the flesh on the bone for me, in terms of making Jeb feel as if he was a real human being."
The tick, tick...BOOM! star says he was eager to be part of a show that would be very different from his other work. "Recently I've been doing much more physically expressive, emotionally expressive, more theatrical characters, wearing their hearts on their sleeves," he says. "There was something exciting for me about being a more stoic internal [character]. A Mormon detective doesn't get further away from a musical theater, flamboyant writer. That was an exciting muscle for me to work and see if I could express a lot without expressing very much, and the struggle that he goes through is fascinating, it's extreme."
Sam Worthington and Wyatt Russell take on the roles of Ron and Dan Lafferty, respectively. While playing a real-life killer might have been a daunting prospect, Worthington chose not to focus on the murder. "I don't think you can actually approach those types of characters from a dark and evil point of view," he says. "The way Lance and I discussed it was that if we found something that was genuine and true to the character of Ron, his pursuit of that might turn dark, it might be perceived the wrong way, but for me to play it was always a positive, a man who just wanted to keep this family together. That gave us lots of options, which way we could play certain scenes and the tone that we could set certain scenes, so, as an actor, you're trying to find the simplest way through to the truth."
Russell, by contrast, likened playing Dan to experiencing "seasickness." He says, "There was a constant feeling of seasickness because he was a well-liked person and so you're having these scenes and you're having fun, that was part of what you had to do. Knowing what the end result was, every time you started to have a little fun, it was that sick pit in your stomach, that feels like you shouldn't be having fun. But that was kind of what it needed to be."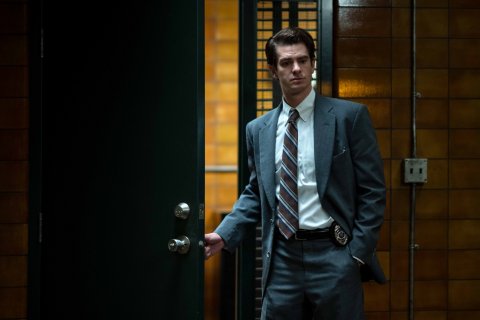 Russell says he tried to contact Dan Lafferty but the two never connected. "After that kind of happened I thought 'well, maybe I don't want to talk to him,'" Russell says. "I had already listened to a lot of audio recordings; I didn't know what questions I could ask that would lead me to some new insight on who he was and his character."
Worthington says rather than speak to anyone who knew Ron he relied on Black because the showrunner has been connected to the story and been trying to adapt Krakauer's book for a decade.
He explains: "Lance was my source. I always went back to him if I had any questions about the religion, because he was raised as a Mormon, and I know he has a lot of respect for that community still. With regards to the story, he's lived with this for 10 years, so he knew the story that he wanted to tell and how he wanted to tell it."
Roxy Simons is a television and movie reporter at Newsweek.
Twitter @roxysimons