Americans are scooping up second-hand items at a record pace, thanks to a surge in digital resale platforms like Poshmark, Depop, thredUP and The RealReal. Now more traditional retailers want in on the action.
This year alone, Americans will spend almost $179 billion on secondhand goods, up 96 percent from 2015, according to research from Mercari and GlobalData. By 2030, those firms contend, that number will nearly double to $354 billion— a growth rate 3.2 times that of the retail sector as a whole. And it's not just a small segment driving the pre-used market: Three quarters of consumers, the Mercari/GlobalData research shows, bought at least one secondhand item last year.
Those numbers are only part of the reason well-known name-brand retailers are now diving into the "new to you" business too. This embrace of secondhand offers them access to new customers, perhaps a hedge against inflation and green credibility.
"Brands see this wave of re-commerce, or secondhand sales, as an opportunity similar to what happened with the rise of e-commerce," says Nellie Cohen, who previously directed Patagonia's re-commerce program and now runs her own sustainability consulting firm, Baleen. "Retail execs can see that at any time there are 15,000 of their items for sale on eBay," Cohen adds. "They can see the dollar signs and want to capture this part of the customer journey."
Indeed they can. Six in 10 retailers already offer secondhand or are seriously considering it, research conducted by thredUP and GlobalData shows. More than 40 percent of retail executives predict resale will become an important part of their business within the next five years. But for a third of retail leaders, adopting a resale program has become "table stakes."
In other words: the bare minimum.
Why? "This is where consumers are shopping," says a Levi's spokesperson. Adds David Hayne, president of Nuuly and chief technology officer of URBN, the parent company of Urban Outfitters, Free People and Anthropologie: "Our...brands were already some of the most sought-after brands on the resale market, so there was a big opportunity to activate those loyal customers."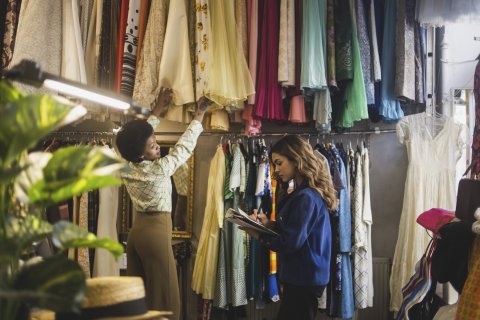 How Brands Sell Secondhand
There are three main ways companies engage with secondhand. The easiest: partner with online resale platforms, using their infrastructure and marketplaces to encourage people to resell their items in exchange for store credit. Some who do this with thredUP: Abercrombie & Fitch, Crocs, Adidas, Reformation, Gap, Athleta, Banana Republic and Christy Dawn.
Others get more directly involved, allowing you to bring old items, bearing their labels, back in exchange for store credit or discounts on new products. The retailer then resells the old stuff. Apple, Best Buy, Amazon and GameStop all offer this option for certain electronics. Eileen Fisher, Levi's, Allbirds, Lululemon, Rachel Comey, REI, Patagonia, and Arc'teryx resell apparel, footwear and outdoor gear bought from them. And select IKEA stores have also begun buying back the brand's assembled furniture and selling it in their "As Is'' department.
Some retailers are even running their own customer-to-customer resale platforms: Apparel giant ASOS operates such a marketplace; URBN launched its own platform, called Nuuly Thrift, in October and H&M launched its version in Canada last September.
Is Resale Good for Customers?
Well, it depends.
Expect to earn less on your old stuff by selling it to a store as opposed to, say, on eBay, where you name the price. REI estimates it pays about half the retail price for its customers' used goods, Levi's says it pays $15 on average for a pair of its used jeans, and Lululemon pays $10 for its old leggings, hoodies, bags and dresses.
Buying through a brand's secondhand program can be a sweeter deal though. Prices are comparable to many listings you'll see on resale marketplaces, and items come with the guarantee that they're authentic, clean, in the condition listed and returnable.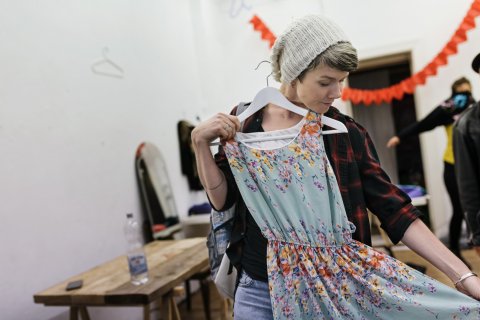 Regardless of personal profit, shoppers overall like having the option to buy secondhand from their favorite brands and snag a beloved item at a reduced price. REI's resale business, for example, sold more than a million items in 2021. And the merchants say these programs are attracting new clients, particularly younger, eco-conscious and budget buyers, as they provide access to higher-end, aspirational goods. For instance, a pair of used Lululemon align leggings sells on the brand's "like new" website for $49, or 44 percent less than a new pair, which retails for $88.
Secondhand's smaller price tags could also be a win-win for brands and consumers as inflation continues to rise. A Harris Poll, conducted in April, found that 84 percent of Americans are planning to dial back their spending as a result of price hikes.
"People want to make more of their budgets and the money they have," says Neil Saunders, managing director at GlobalData.
The "Green" Angle
"The sustainability aspect is growing in importance, especially among millennials and Gen Z, who look at secondhand shopping as a way to reduce their footprint," says Saunders. Adds Ken Voeller, REI's director of circular commerce and new business development: "More of our members are recognizing that buying used is a way to reduce the environmental impact of their purchasing decisions."
And it can be. Wearing a garment for just three additional months leads to a 5 to 10 percent reduction in its carbon, water and waste footprint, according to the Waste and Resources Action Program. Additionally, REI found that selling a used item has a 50 percent smaller carbon footprint than selling a comparable new item, according to Voeller.
As customers increasingly understand the environmental toll their shopping can take, they're pushing companies to adopt more sustainable alternatives. Half of Americans have already shifted their purchasing behavior to be greener in the past five years, Simon-Kucher & Partners found, and more than half of fashion and textile executives said consumer demand was driving their pursuit of environmental-friendly practices, of which secondhand is a top choice.
"Resale is a very palatable program to the C-suite," says Cohen. "In terms of sustainable changes, it's fairly easy to do" and one of the few that can make money and garner new sales.
To be sure, some experts also remain skeptical over just how earth-friendly these resale programs really are. Cosette Joyner Martinez, a professor of merchandising at Oklahoma State University, notes that the secondhand boom does not seem to be slowing people's consumption or retailers' production of new items. Almost all trade-in or buyback programs rewarded customers with store credit, thus encouraging them to buy another product. And sometimes that credit was only good for purchases of new items.
Regardless of how planet-helping these programs are, the secondhand frenzy will only grow more popular with C-suiters—not only for the sales but the opportunity to attract a new generation of customers. And that is, as always, the bottom line.