His every utterance seems calculated to send progressives into a frenzy. He's one of the most prolific political fundraisers in America. His endorsements of other like-minded America First conservative candidates help those beneficiaries pull ahead in crowded primaries. And the worst-kept secret in American politics is that he wants to swap out his Sunshine State address for 1600 Pennsylvania Avenue as soon as possible.
No, the politician is not Donald Trump but rather Florida Governor Ron DeSantis, who lately seems bent on executing just about every page of the former president's political playbook—only with a sunnier demeanor, less offensive language and fewer of the personal antics that make Trump so polarizing. At 43, the once little-known backbench congressman has transformed himself into perhaps the hottest, most consequential political figure of his generation so far—possibly the only one capable of going head-to-head with Trump for the GOP nod in 2024 and with a shot at taking the presidency away from Joe Biden or whoever the Democrats nominate. The only real question is whether he'll run against Trump if the former president enters the race or risk his flame burning out by waiting until 2028 or beyond.
"He is Trump without the boorish behavior and name calling, the insults and the bullying—the very reasons Trump lost suburban women in 2018 and lost a significant number of college-educated suburban men in 2020," says Jim Dornan, a veteran GOP strategist who worked on Trump's 2015 exploratory campaign committee and this year is advising Republican candidates in Oregon, Maryland and California. "On the Republican Party circuit, whether it's in D.C .or the suburbs, DeSantis is the first name that comes up when people start talking about 2024."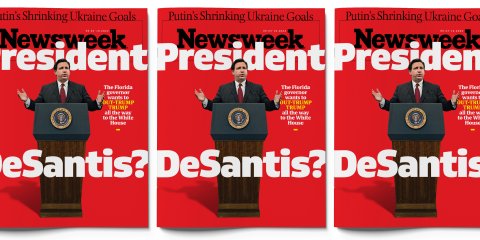 That DeSantis aims to be president, possibly sooner than later, seems clear from the rat-a-tat pace of political moves he's been making lately, taking frontline positions in the culture wars against Woke America. There's his ban on instruction of critical race theory and discussion of sexual identity in public schools (a.k.a. the "Don't Say Gay" bill). Limitations on how schools and workplaces can handle race and gender discrimination and new penalties and restrictions on protestors. Outlawing abortion after 15 weeks. New rules on voting and transgender women playing women's sports. He's even battling Mickey Mouse, after Disney's CEO spoke out against the governor's agenda.
DeSantis, who is up for re-election this fall and holds commanding polling leads over his likely Democratic opponents, does not do interviews that focus on his national ambitions, his communications staff tells Newsweek. But in more than a dozen interviews with people who know him personally or have observed his career at close range, there is little doubt he is positioning himself to run for the presidency. The timing is all that's up in the air.
Only DeSantis—or perhaps not even DeSantis—knows when he'll run. He must weigh not just whether he can beat Trump in a Republican primary in 2024 but, even if he can, whether he'd be badly hobbled by a direct battle with the former president whose 2018 endorsement for governor launched his national career. But if DeSantis waits until 2028, he could risk missing his moment and having another out-of-nowhere star emerge to steal his thunder.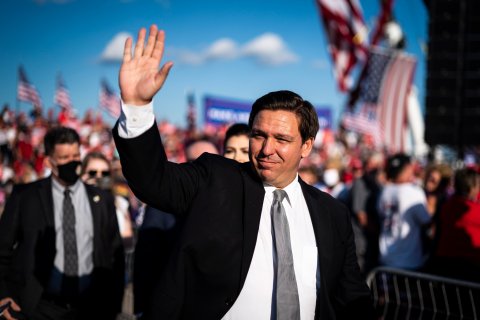 A lot can happen before 2024, of course, but many Republicans sense that DeSantis would prove the stronger candidate against Biden in a general election, partly because many Americans have yet to form a firm opinion of the governor. That presents an opportunity to grow his support in ways Trump cannot. "DeSantis has a better shot, in my opinion," Dornan says. "Trump versus Biden would be a toss up—a total 'hold your nose' contest. DeSantis hasn't pissed off as many people as Trump. He's Trump without, mostly, the personality baggage."
It's a prospect that sends chills down the spines of Democrats, particularly those in Florida who are more familiar with DeSantis and his success in using the power of state government as a weapon in the country's culture wars. "Florida is a Petri dish for what authoritarianism look like in America," says Alex Berrios, co-founder of Mi Vecino, a progressive group working to register Hispanic voters in the state. "It's not just our problem. DeSantis is going to be a national problem."
Or a national hero, depending on your point of view—and, either way, quite possibly the next or future president of the United States.
Signs of a Ron Run
DeSantis is publicly coy about his long-term intentions. The next White House race, he told Fox News earlier this month, is "way down the road. It's not anything that I'm planning for." Still, his fundraising efforts, travel schedule, legislative agenda and attempts at political theater make his national ambitions apparent.
Consider the war chest he's amassing. Between the governor's re-election committee and Friends of Ron DeSantis, his political action committee, he hauled in almost $10.5 million in April alone. That's his best fundraising month ever and more than the combined take of the leading candidates seeking the Democratic nomination to oppose him, Representative Charlie Crist, a former GOP governor who switched parties in 2012, and Florida Agriculture Commissioner Nikki Fried.
That's on top of the more than $100 million DeSantis had already raised through the end of March, despite having no serious competition in Florida's GOP gubernatorial primary and with a sizable lead over his Democratic opponents. (A recent Mason-Dixon poll has him up by 8 points over Crist and 11 points over Fried.) Yet so far, according to the Florida Division of Elections, he's spent less than $6 million, suggesting his fundraising prowess may be put to use beyond his current re-election bid.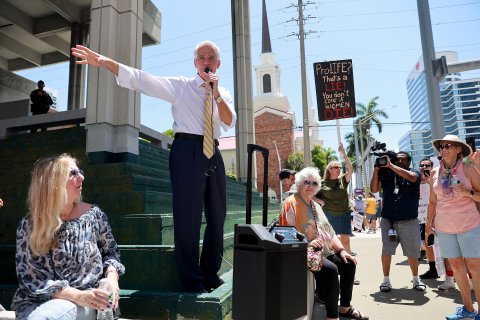 The totals, in any case, are dizzying and without precedent for a first-term governor. DeSantis, according to Ballotpedia, is the top fundraiser among candidates running for state office in the 2022 election cycle. Republican Governor Greg Abbott of Texas is a distant second, with about $44 million as of his most recent campaign filing in March.
The only politician with more—barely? Trump, whose Save America PAC has raised more than $120 million since November 2020.
DeSantis' trips to other states, in the middle of his own reelection campaign in Florida, are also telling. In mid-May the governor appeared at a fundraiser hosted by a group of prominent GOP donors in Charleston, South Carolina, a key early presidential primary state—the second time DeSantis has visited in the past two years. He also attended the Nebraska Steak Fry hosted by Republican Governor Pete Ricketts last September just across the river from Iowa, the first state on the presidential nominating calendar. Former Vice President Mike Pence and Texas Senator Ted Cruz, both possible presidential candidates in 2024, showed up as well.
Like Trump, DeSantis also flexes political muscle in endorsements, albeit on a more local scale. In March, for instance, DeSantis backed State Representative Blaise Ingoglia for a Florida Senate seat over a candidate favored by the incoming Senate president, who is also a Republican. The other candidate dropped out days later.
"Governor DeSantis' endorsement is the most powerful thing in a Republican primary right now," Ingoglia told Politico in April.
Then, of course, there is the masterclass he is putting on in plopping himself firmly at the center of just about every national political debate. That began in earnest in the summer of 2020 when most of the country was on lockdown to curb the spread of COVID-19. DeSantis rebranded his state as "the Free State of Florida" as he ended lockdowns and opened schools for in-person classes in the fall of 2020 despite strident warnings from the public health experts that doing so could be deadly.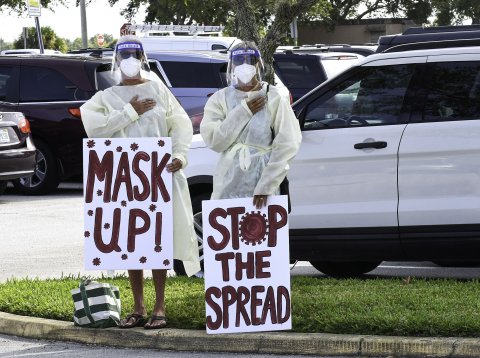 While more recent data has found that Florida's infection and death rates from COVID were higher than states with more stringent and long-lasting lockdowns and mask mandates, DeSantis nonetheless swiftly took credit for a relatively healthy state economy and fewer nursing home outbreaks than New York, Michigan and other Democratic-governed states.
"Ron DeSantis said, 'Florida is open for business, we're not changing our way of life, we're not taking away your freedoms or closing our schools, we're going to continue to do things as we've always done them because this too shall pass,' " says C.J. Pearson, a 19-year-old conservative activist, podcaster and social media star from neighboring Georgia. "People called him crazy. They called him evil. They called him Ron DeathSantis. That is the type of leader we need in conservative politics, a person who isn't going to balk just because the left and the media turn against them."
And DeSantis has continued to push back against COVID-containment restrictions and public health officials who advocate for them. Among them: Anthony Fauci, Biden's chief medical advisor. In January DeSantis' re-election campaign began selling sandals that read "Fauci can pound sand" and "Don't Fauci My Florida" beer koozies. In March, as he arrived for a press conference in Tampa to tout a new education initiative, DeSantis asked the students who were to stand behind him to take their masks off. "Honestly, it's not doing anything," he said. "We've got to stop with this COVID theater.
A Political Style Makeover
DeSantis' choice to become one of the most visible elected officials to defy the conventional wisdom on COVID—especially after Trump left office and President Joe Biden imposed various mask and vaccine mandates that conservatives opposed—quickly elevated the Florida governor among Republicans. In straw polls assessing support for 2024 presidential candidates taken at Conservative
Political Action Conference (CPAC) events in 2021 and 2022, Trump won big with more than 50 percent both times—but DeSantis was the only alternative candidate to garner double-digit support. In the 2022 version, DeSantis took 61 percent of the vote when Trump was not among the choices; second place was a tie between former Secretary of State Mike Pompeo and Donald Trump, Jr., each pulling just 6 percent.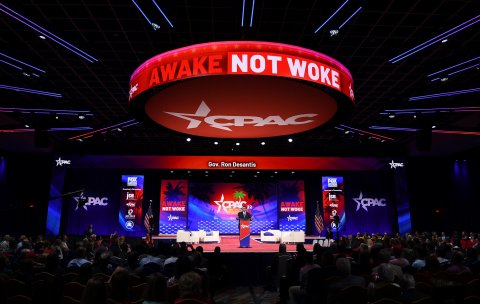 After the 2021 straw poll, observers say, DeSantis began leaning in harder on Trump-style feuds with "the media." In May 2021, he signed an "election integrity" bill that put restrictions on mail-in ballots and the use of drop boxes but only permitted Fox News to cover it live. And after businessman Glenn Youngkin pulled off an upset in Virginia's gubernatorial election by harping on the alleged teaching of critical race theory in public schools, DeSantis began beating that drum and others.
"It's very clear that what happened in Virginia, that political earthquake, really affected him and emboldened him to go down the path of these education battles," says political scientist Susan MacManus, professor emerita at the University of South Florida. "If a state like Virginia, a battleground state for years, could have that kind of upset, then obviously he's going to study why and how it happened."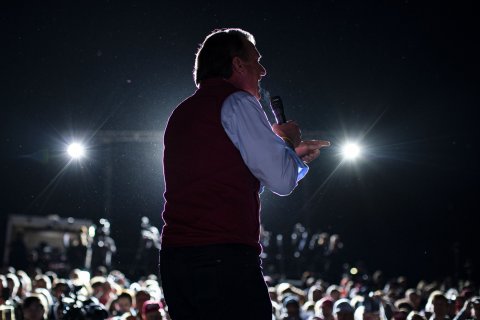 DeSantis' best-known moments this year have, in fact, come with the Parental Rights in Education law he signed in March, known by its critics as "Don't Say Gay" because it prohibits any classroom instruction that involves discussion of sexual orientation or gender identity for students in kindergarten through third grade. After that bill passed, legislatures in a dozen other states introduced similar legislation.
Then there's his ongoing battle with his state's largest employer, the Walt Disney Company. After the CEO publicly disparaged the measure, the Florida Legislature swiftly passed a repeal of special tax privileges for Disney at DeSantis' behest. Some wondered whether DeSantis went too far, given that damage to the company could spur job losses and increase taxes for people in the Orlando area where Disney World is the top tourist attraction. But GOP political strategist Sarah Longwell, who has led a so-far futile battle against the party's turn toward Trump-style politics, says such battles only enhance DeSantis' popularity among conservatives, both in Florida and across the nation.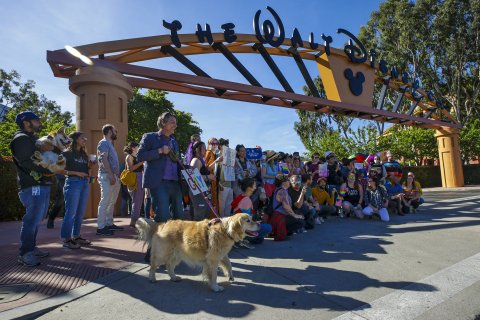 "The essence of Ron DeSantis' emergence at the top of the field is that he drives the Democrats crazy," Longwell says. "Their hatred is the spinach that makes him grow stronger. He figured out that his popularity has everything to do with whether or not the right people hate you. Trump understood and Ron DeSantis understands that people love the combative style of politics."
That style is relatively new for the governor, who became the unexpected GOP gubernatorial nominee in Florida in 2018 after a Trump endorsement boosted him over the initial front runner, former U.S. Representative Adam Putnam. DeSantis, who beat Democrat Andrew Gillum in the general election four years ago by just 0.4 percent of the vote, made efforts during his first year to be a can-do, work-across-the-aisle leader. Among those early moves: appointing Democrats to prominent positions in his administration, championing bipartisan legislation to improve water quality and boost teacher pay, and bucking GOP efforts to ban use of medicinal marijuana.
Many observers see the shift to a more hardcore stance as yet another indication of his desire to build his national profile in a way that resonates with conservatives en route to a White House run. "It's just been in the last two years that he's really taken some high-profile stances on COVID and another half-dozen other issues that have put him even more into the national spotlight," says political scientist Aubrey Jewett of the University of Central Florida. "His political rise has been meteoric. He has managed to come from one of 435 members of Congress to one of the most well-known political figures in the country. You don't get there by accident."
What prompted the change? It's not difficult to discern what's going on," says Longwell. "It became pretty clear to him he could be president."
Will He or Won't He?
The big unknown is whether DeSantis will run in 2024 if Trump does too. They've both batted away media stories of a rift between them, but seemed at odds earlier this year when Trump criticized DeSantis for refusing to say whether he'd received a COVID-19 vaccine booster.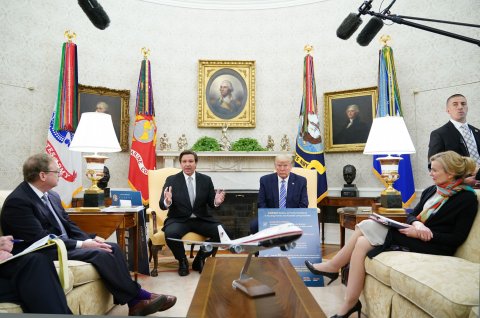 The real test, says MacManus of the University of South Florida, will be whether Trump endorses DeSantis for re-election in Florida before the primary on August 23. There is no other viable Republican seeking the nomination for governor, but Trump's refusal to express public support, she says, "will give some insights as to the degree to which friction between the two exists."
That could, in turn, play into DeSantis' decision about a presidential run. "There's a 50/50 split among people like me, with half thinking DeSantis runs even if Trump does run," MacManus says. "A lot of his timing is going to be related to how well Trump does with his endorsements this year because they're getting national visibility. If Trump starts losing a few of those, that probably incentivizes Ron DeSantis' mind that he's gonna go for it no matter what." (Despite high-profile losses for his candidates in major races in Georgia on Tuesday and isolated losses in North Carolina, Nebraska and Idaho, Trump has an overwhelmingly winning endorsement record so far in House, Senate and governor races in 2022.)
Others aren't so sure. Jewett notes that DeSantis wouldn't even be 50 in 2028 and could short-circuit his career by moving too fast and taking on the man who plucked him from congressional obscurity. He says, "He's still pretty young, and Trump's political and corporate history is littered with former friends who he thought betrayed him in some large or small way."
Conflicting polling data makes it tough to say if DeSantis could beat Trump. An NBC News/Hart Research Associates/Public Opinion Strategies survey in early May found 43 percent of Republican primary voters say they'd like the party to move on from Trump to a new leader. Some pundits saw that as a new high-water mark for intra-party opposition to a Trump 2024 run. But a Harvard/Harris poll less than three weeks earlier had very different results, with just 32 percent of Republicans saying Trump shouldn't run in 2024.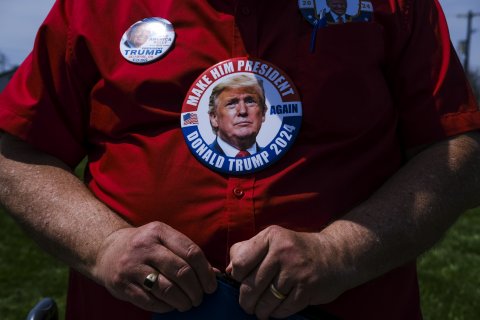 DeSantis will need to determine whether he has a path to victory over the next two years. He's been steadily gaining ground in national polls, and is both a strong front runner if Trump isn't in the race and the clear second choice if the field includes the former president. A lot can change between now and 2024. But if the GOP presidential primary were held today and Trump was among the candidates, it's obvious DeSantis would lose: An April poll that pit Trump against DeSantis had Trump winning 55 to 34 percent, the closest DeSantis has come yet but hardly a serious threat.
The dream for many Republicans in 2024 is that Trump does not run and instead throws his weight behind his savvy, more likable protégé DeSantis.
"If Trump would just swallow his ego for one brief, brief, brief moment in time and say, yeah, I'm 70-whatever years old and I would love to spend more time with kids and grandkids, so I'm going to enthusiastically endorse Ron DeSantis, who I made—I mean, he can brag, he can say that Ron wouldn't be governor if he hadn't endorsed him, which is likely true—I think it would be good for our country," says Fred Costello, a former Florida House member who came in second to DeSantis in a 2012 primary when DeSantis was elected to his first of three terms in Congress.
"I really believe DeSantis will be president someday," Costello says. "He has the same pro-America, conservative, states-rights values that President Trump does, but he doesn't have the baggage."
If DeSantis does run in 2024 and wins the nomination, it's far too early to know how he might fare against Biden should the president run for re-election—and how his chances compare to Trump's. Early polling is all over the map. In a Marquette Law School poll earlier this year, DeSantis loses to Biden by 8 points, which is better than the 11 points Trump loses by. A Rasmussen poll in May, however, found DeSantis beating Biden by 11 points and Trump beating the current president by 14.
Political Catch-22
If a Ron run without Trump in the race is the dream for many Republicans, what's the nightmare? Trump and DeSantis go head-to-head with one of two outcomes: Either the former president aborts the audacious new star's national career the way he dispatched more than a dozen prominent Republicans in the past, including Senators Cruz and Marco Rubio of Florida and former governors Jeb Bush of Florida and Chris Christie of New Jersey, en route to the 2016 nomination. Or DeSantis defeats Trump and an embittered ex-president splits the party by running as an independent.
"There's no world in which Trump loses gracefully, we all know that," says a Trump-supporting Republican member of Congress from Florida who spoke on background for fear of going public with even a hint of criticism of the former president. "If he can't destroy DeSantis, he'll burn the Republican Party down. He'll say the whole thing was rigged, many of his supporters will agree with him, and suddenly the most pressing issue in the 2024 general election for Republicans will be whether Trump really lost rather than what the Democrats have done to the country."
It's a tricky row for DeSantis to hoe because there is clearly a hunger among the rank-and-file for a younger, fresher candidate whose finesse and disposition can attract independent and suburban voters repelled by Trump. In a six-minute compilation of clips from several 2022 focus groups of conservative voters shown to Newsweek by Longwell's firm, a consistent theme was appreciation for how Trump has remade the GOP but a desire for a 2024 candidate they believe will be more electable. DeSantis is the most consistent alternative name offered unprompted in these sessions.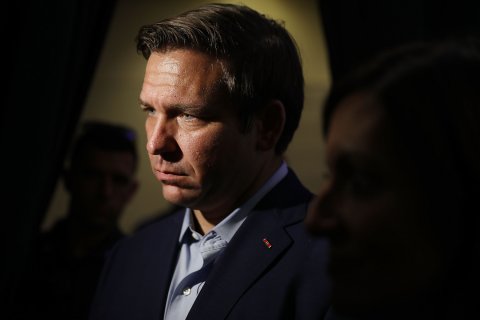 "There's a question we ask in every focus group: 'Do you want Trump to run again?' It runs about six yes, four no. Then we ask, 'If Trump doesn't run, who would you like?' and Ron DeSantis' name is far and away, without any competition, the name that comes up," says Longwell, host of The Focus Group podcast. "Other names that come up are Kristi Noem and Tucker Carlson. People who don't come up: Mike Pence, Mitt Romney, Marco Rubio. Every now and again, you get a Nikki Haley. But it's almost always DeSantis."
Evan Power, chair of the Leon County Republican Party, hosted DeSantis at the Tallahassee-area group's annual Lincoln Dinner fundraiser in early May and doubts the governor will take on Trump if Trump decides to run. "I don't see a situation where they run against each other at the moment," Power says. "Trump has to decide whether it's time for him to run again or whether it's time for him to step back and help take the movement to another level. They're still friends. Despite the media narrative, they were at an event at Mar-a-Lago two weeks ago and still very friendly. But if DeSantis tried to stand in the way of Trump, yeah, Trump won't do well with that."
Then what? Some suggest Trump pick DeSantis as his vice presidential running mate, but that would require Trump to switch his voter registration from Florida to another state because the Constitution prohibits the president and vice president hailing from the same state. (DeSantis, as the sitting governor, could not change his residency.)
One big upside for DeSantis in waiting for 2028: The odds of a Trump-less GOP primary are exceedingly high. If Trump retakes the presidency in 2024, he'd hit term limits after that time in office; if Trump loses again in 2024, he'd be unlikely to run for a fourth time in 2028 when he'd be 82.
"DeSantis is the best governor in the country and he is the biggest asset to the party that we have right now," says Pearson, who believes DeSantis should stand down if Trump runs. "When I talk to people my age about Ron DeSantis, [whether they're] from Florida or not from Florida, they absolutely love him, and want him to run for president, but they still love President Trump and miss him and want him back in the White House."
Yet history shows there's lurking danger for DeSantis in being patient. As quickly as he has risen, another face could burst on the scene or unforeseen events could deflate his bubble. Just ask Christie, who most pundits believe missed his chance by not seeking the GOP nomination in 2012. He ended 2012 with a 77 percent approval rating in his state and the moniker bestowed by the Washington Post of "the most popular Republican in the country."
In 2013, Christie was engulfed in a scandal in which his appointees shut down lanes of traffic on the George Washington Bridge for several days, allegedly to punish the mayor of a New Jersey town who refused to endorse him for re-election. By the time he ran for the 2016 nomination for president, he was an afterthought who was quickly crushed by Trump. He dropped out after finishing sixth in New Hampshire's first-in-the-nation primary.
"DeSantis looks at that and he probably thinks, 'Oh, man, I gotta go now or I'm not gonna have my shot," MacManus says. "And he may be right about that."