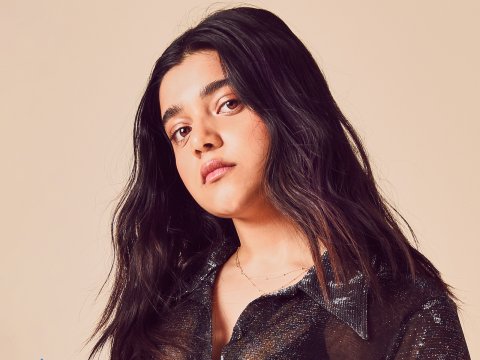 "People just seeing someone like me on screen is enough. That's what it was for me when I read the comics for the first time. I just saw myself."
Some high school graduates get luggage, others get cast as Marvel superheroes. Well, actually, that only happens to Iman Vellani, who plays the title character in the new Disney+ series Ms. Marvel (June 8). "I got the part literally on the last day of high school, which was the most perfect graduation present." Based on the popular comic series, Vellani was "a huge Ms. Marvel comic book reader," and she "knew exactly which comic books they were pulling the scripts from" once filming began. "We still very much stay true to the themes and tone of the comics." One aspect that sets teen superhero Ms. Marvel (aka Kamala Khan) apart: she's the first Muslim superhero, an aspect of the character Vellani could relate to. "Growing up, religion and culture was always just a part of my life. It never felt like a burden." Vellani hopes that children of immigrant parents in particular take something from the series. "People just seeing someone like me on screen is enough. That's what it was for me when I read the comics for the first time. I just saw myself."
SUBSCRIBE TO THE PARTING SHOT WITH H. ALAN SCOTT
ON APPLE PODCASTS OR SPOTIFY
Mrs. Marvel is your on-screen debut. How wild is it that this huge Marvel show is your debut?
I think only maybe a month ago we started processing it. I was like literally running on autopilot for the last two years because every time I think about it, it's so big that I can't.
Walk me through the process of how this all started for you.
All right, February 2020. [laughs]
Serious music starts now.
No, my aunt was a part of a WhatsApp group chat that she never opened. One day someone forwarded this casting call and that was the same day she decided to open the group chat. It was a Ms. Marvel casting call. And she sent it to me because I dressed up as Ms. Marvel on Halloween a couple years prior. I was huge a Ms. Marvel comic book reader. So I was like, fine, okay, I'll send in a self tape and the headshot and then they sent self tape sides [scenes to read as part of the audition]. I looked at it and I was like, "Oh, I can't do this. This is apparently real." And I knew exactly which comic books they were pulling the scripts from. Then I started making excuses, because I was just scared. I was like, I have a test tomorrow. I've got university applications. I can't do this. And the night it was due, I recorded all of it. I think a day or two later, I get a call and they're like, "Do you have a lawyer? We want to fly to L.A." And so my dad and I flew on a plane—first time flying first class. It was crazy. My dad, he was so funny, he was like, "This is Marvel's way of paying me back for all the movie tickets." It was the most fun I've ever had in my entire life.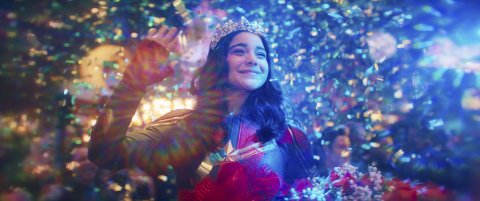 And this all happened right at the beginning of the pandemic, right?
Yeah. Especially because they took a break to figure out life. They wanted to do another screen test in March but I couldn't, my flight got canceled the day before because of COVID. I think it was like a two- or three-month wait. All I got was an email from them saying you're very much in the running, just hang on, we've got to figure some stuff out on our end. And I had to accept university offers because what was my life gonna be if I didn't get the part? I was literally going crazy. And then we did my last screen test over Zoom in June and I got the part a week later, literally on the last day of high school, which was the most perfect graduation present.
How did you prepare to physically do this role?
They gave me an acting coach, not for the actual acting bits, but because I came from a theater background in high school. I did a lot of theater. And it's very different because you're a lot bigger on the stage, whereas in film, the camera catches everything. If you feel it, we can see it. So they worked with me on the terminology that you're gonna hear on set and just gave me a crash course on film and how acting for the camera is different from theater. And our entire crew was very cognizant of the fact that I was super new. They weren't throwing technical jargon at me or, expecting me to know things beyond what I should know, at this age and at this point in my career. So it felt very comfortable. No one was super famous on set, so I wasn't getting nervous acting, and I felt very safe. Their advice was always just be yourself. We cast Iman. That's all we want.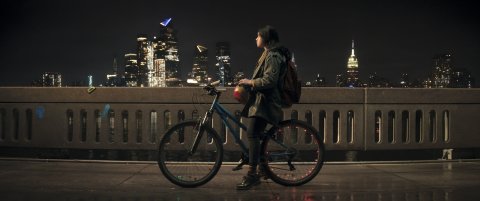 What I love about Kamala is the discovery of her superpower. What is it about her power that makes her so unique and how does she use it?
Themes of the comics have always been about identity, about marrying the 50 million things that only when combined make Kamala Khan, throwing out the labels and subverting all expectations of everyone else about what a superhero is. Kamala uses her powers, initially copying the heroes that she sees, because that's all she knows. She doesn't know how to fight. She's a high school kid who reads comic books and probably watches breakdown videos on Captain Marvel sightings. So she obviously takes that to heart and then copies it, only realizing that she has to be herself. That's how she can fight crime. Her part is when she becomes this bada*s version of what a superhero can look like. I think we still very much stay true to the themes and tone of the comics and brought that into the show.
Yeah, who she is at her core is just as much part of her superpower than whatever physically happens to her.
Yeah. It's like in Spider-Man: Homecoming, where Tony Stark says to Peter Parker, if you're nothing without the suit, then you shouldn't have it. That's not why we watch these movies and these shows and the comics. We don't care about the powers. For all I care, Kamala could shoot fireworks out of her hands, as long as she goes on that same journey of self- discovery. I'm invested because of her motivations and what inspires her and what keeps her going and the way she fights and how different she is from other heroes.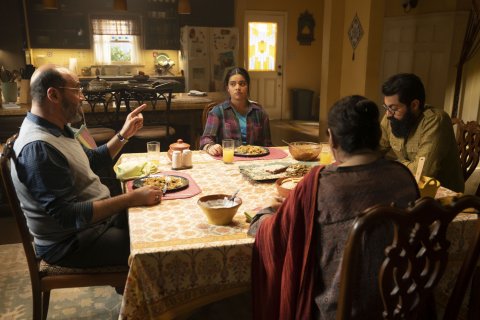 What I find striking about Kamala is that her Muslim faith is central in her life. She's the first Muslim superhero! Was that something that stood out for you?
First of all, it's so important to showcase children of immigrant parents who don't neglect their culture and are proud of it. There was never a point in Kamala's life when she's going through a hard time that it was religion, where she needed to step away from family and stuff. Her family is her rock and we very much rely on them to be the backbone of Kamala's story. The same goes for me. I'm going on a very similar journey as Kamala. She becomes a superhero, I became a Marvel superhero, the parallels are insane. I think growing up, religion and culture were always just a part of my life. It never felt like a burden. It was just, this is the time I eat breakfast. This is the time I go to school. This is my time to do soccer practice. This is the time I go to the mosque. That was just a part of my life where every time I see Muslims and young Muslims in mainstream media and Hollywood it's just, it always feels like they don't like being religious or their culture because it's a burden in some way. I was like, so should it? It feels normal. It's just a religion. I think it's incorporated quite organically in our show.
Considering how much this will mean to so many kids, does carrying that weight intimidate you in any way?
It doesn't feel like that. I think the work is really going to speak for itself. And people just seeing someone like me on screen is enough. That's what it was for me when I read the comics for the first time. I just saw myself. Just seeing how normal it was for her and how normal it is for me in my life. Marvel striving for more inclusivity having characters like Kamala and Shang-Chi take up space in their world is so important. Their movies play all over the world and represent people from all over the world.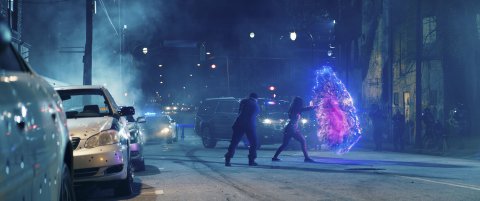 You're also going to be in the Marvel film The Marvels. Are you excited to be joining the others in the Marvel universe, and who among them are you most excited about?
It's super exciting, but extremely intimidating because I cannot do a one-handed pull-up like Brie Larson can. I am so inspired by her career. She's amazing. There's nothing you can hate about that woman. She's so humble and nice and down to earth. As soon as I got cast, like two days later, she called me and we just talked over FaceTime for a hot minute, just sharing stories. Even though she was an Oscar winner beforehand, the Marvel universe changed her life. She was kind of prepping me for what's to come, how lonely it can be being the only person in a super suit on set and being a woman in this industry. It was so nice to have her by my side while I was also filming the show and then the movie. But on Ms. Marvel we were all younger, and everyone's more new, so the movie just felt so much more grand. I think it's gonna be exciting.
Besides Brie and Captain Marvel, what other superheroes from the film were you most excited to perform with?
Well, I can't tell you that. [laughs]
I had to ask. What do you hope kids take away from the series?
I just hope that they can find some of themselves in her. It's okay to be a nerd. It's okay to not know your direction in life. High school is no one's peak. Everything in high school that you go through is so heightened, like minor inconveniences feel like the end of the world. We really lean into the awkwardness of growing up and all the growing pains that come with it. It's hard growing up and figuring out where you're supposed to be in this world and how you fit in and how you can contribute to society in a positive way. So I think Kamala just represents what we're all kind of feeling at that age.
Now that you're part of the Disney family, are you prepared to see yourself in the parks? And do you get to go to the parks for free?
Oh my god, they did tell me that there's gonna be someone dressed up as Ms. Marvel. I haven't been to Disneyland. I've been to Disney World in Florida when I was 8, but I was such a short child that I couldn't go on any of the rides. But Brie is very much a Disney dork. The first time I told her that I've never been to Disneyland, she was so ashamed [for me]. She's like, "When you come to L.A., we're going to Disneyland. We're going to dress up and get all the food." So I'm excited to go.
Listen to H. Alan Scott's full conversation with Iman Vellani on Newsweek's Parting Shot. Available on Apple Podcasts and Spotify. Twitter: @HAlanScott